Test Done with The AMD Radeon R9 390X?
StarDock CEO, Brad Wardell, spilled some beans about the development of Microsoft's Low-Level API, the DirectX 12.  It appears that the said API will feature a great performance leap over its predecessor at up to 100 FPS as the CEO stated on their tests.
The test is still unknown, but we're pretty sure it has something to do with StarDock's lighting effects. According to him, the test shows that DirectX 11 scored around 13 FPS, while the DirectX 12 one using the same benchmark / test reaches up to 120 FPS. That's the cap of most games nowadays. Do note that the test is based on lighting and lens effects.
Did a test of DirectX 11 vs. DirectX 12 on an unreleased GPU with an 8core CPU. DX11: 13fps, DX12: 120fps. Lighting and lens effects.

— Brad Wardell (@draginol) February 16, 2015
The test system appears to be an AMD based one, since it is said to feature an 8 Core CPU, and Dual Graphics in AMD CrossFire mode.What's intriguing however, is that Power Color Graphics asked a question at facebook on what graphics card the StarDock CEO tested the DirectX 12 API with, and since it's an "unreleased" card, it might be a Radeon R9 390 or 390X. Why would Power Color do that if it is from the competition, right? The graphics card must be from them too.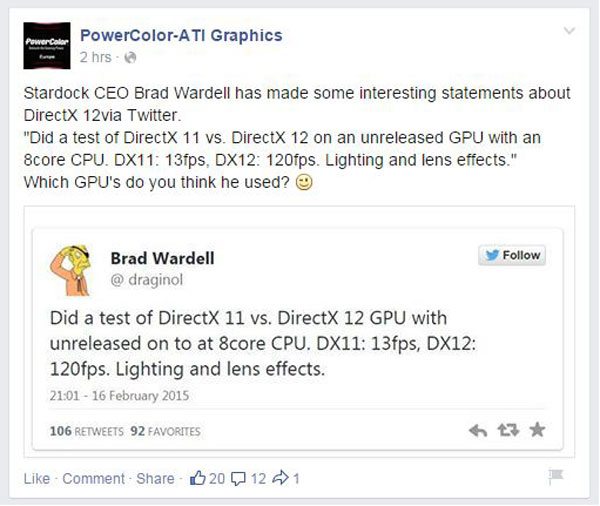 @Brad_D80 One thing it does is make it easy to treat multiple GPUs as a single entity. — Brad Wardell (@draginol) February 16, 2015
In addition, multi-GPU support seems to be great with DirectX 12 based on the CEO's tweet to a fan. It's still unknown if Windows 7 users will experience the benefits of DirectX 12, but if it will be only available in Windows 10, then it might be time to actually ditch the beloved OS once Microsoft released the new one. DirectX 12's prowess is expected to be revealed at the GDC 2015 next month.
AWESOME SAUCE: eTeknix