Apologies for the lack of a unique introduction but today, we are taking a look at another specimen of the Nvidia GeForce GTX 1060. This time, it's from GALAX – a brand that has Nvidia DNA embedded on its roots since day one.
The GALAX GeForce GTX 1060 OC 6GB features a 1518 MHz core clock and a 2002 MHz memory clock. Being a non-reference card, the GALAX GTX 1060 OC also boasts a non-reference PCB design, coupled up with a shroud apt for today's gamers.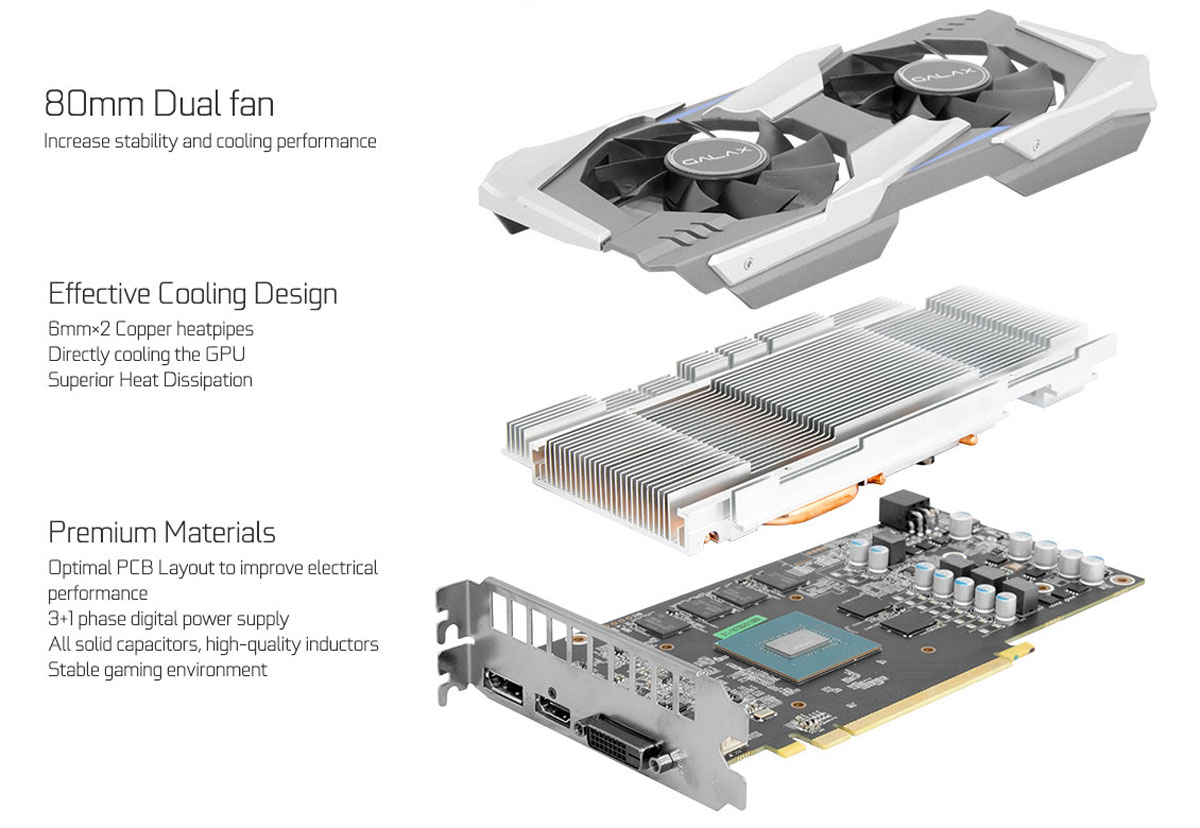 The card features dual 80mm fans. They are not 0dB compliant, so these will stay spinning constantly while the system is powered on. Now the card features a 3+1 power phase design which means there's 3 phase for the GPU, and an extra one for the memory. The GTX 1060 is a power efficient card and this is actually the same configuration used on the Founders Edition model. Refer to THIS LINK for more details about the card.
QUICK SPECS COMPARISON

MAKE & MODEL
NVIDIA GTX 1060
GALAX GTX 1060 OC
GPU
GP106
GP106
CORES
1280 CUDA
1280 CUDA
CORE CLOCK
1506 – 1708+ MHZ
1518 – 1733+ MHZ
VRAM
6GB GDDR5
6GB GDDR5
MEMORY BUS
192-BIT
192-BIT
MEMORY CLOCK
8000 MHZ
8008 MHZ
POWER OUTPUT
120W
120W
POWER INPUT
6-PIN
6-PIN
SLOT TYPE
DUAL
DUAL
DESIGN
REFERENCE
NON-REFERENCE
PRICING
249 – 299 USD
TBA
PACKAGING & BUNDLED ACCESSORIES:
GALAX had the card packed on a simple yet effective packaging. Shielding the card from elements while at the same time, providing the end user the bits of info he or she needs to know.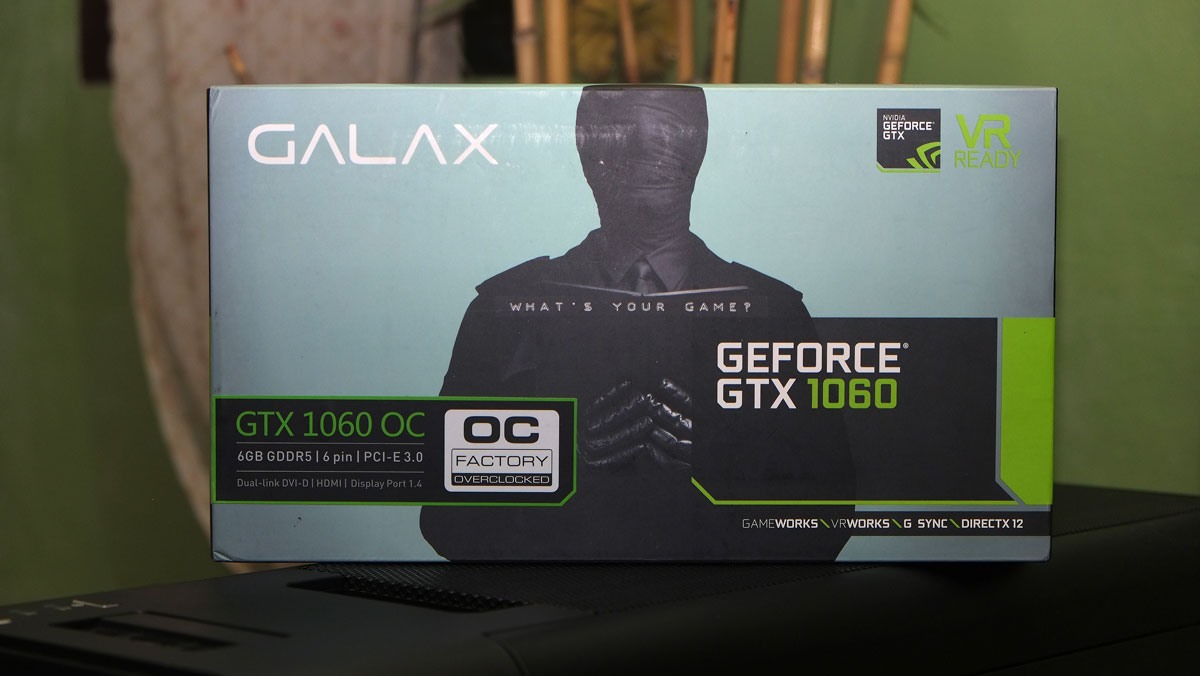 The box contains a quick installation guide, a driver disc, and a dual molex to 6-pin power adapter. Not the best we've seen, but not the worst either.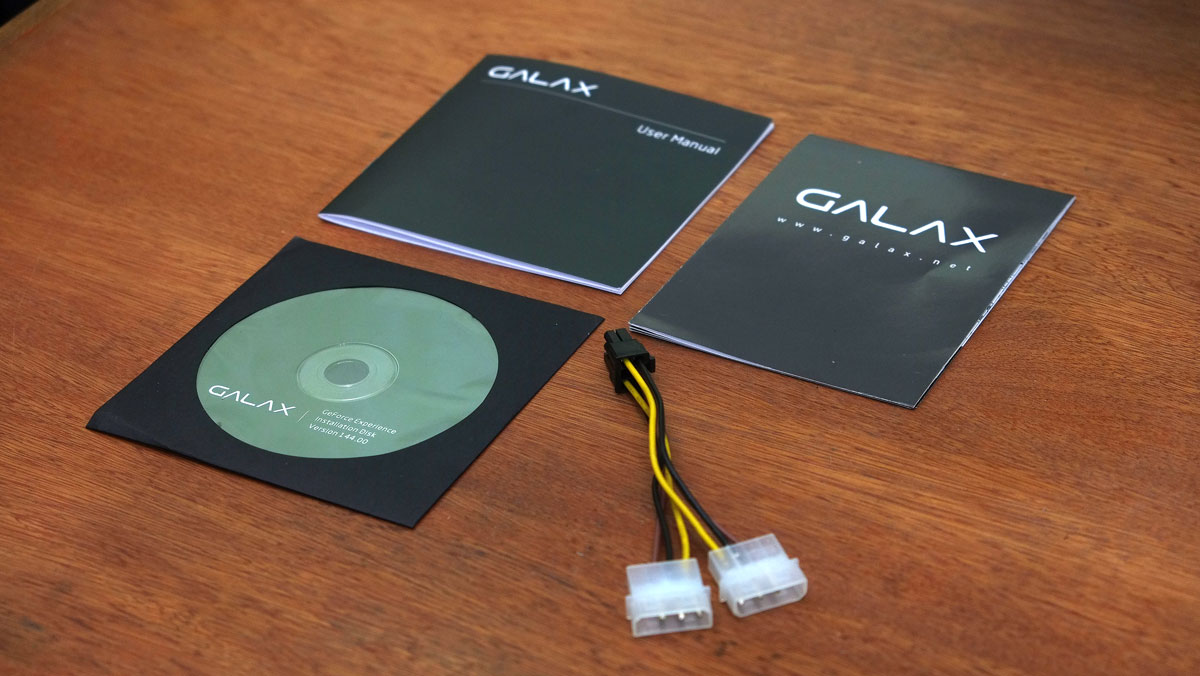 THE GALAX GTX 1060 OC:
Standing in at around 9 inches long, and 4.8 inches wide, the GALAX GTX 1060 OC is one medium sized graphics card. It's not the best looking per se, requiring you to match it with the other components to blend well with the rest of the system. But, if you want a card that looks unique and will stand out on your system, this will do a mighty great job at that.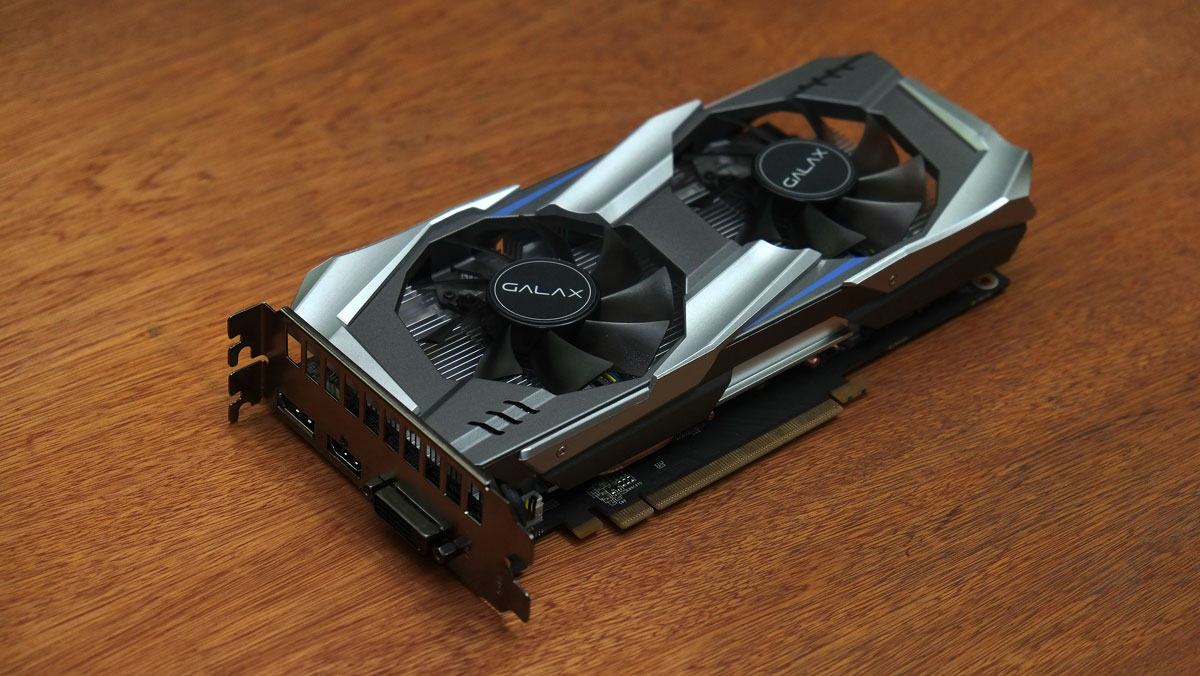 The dual 80mm fans are not 0dB compliant, but is controlled to deliver a minimum of 31c to a maximum of 65c temperature. That means the fan's RPMs are variable and will deliver the right amount of speed required for those values. We will see about that.
The card has no back plate, but it features a matte black PCB so it looks rather good. Compared to brown PCB cards, this one is definitely a better option. Power is supplied via a 6-pin power connector.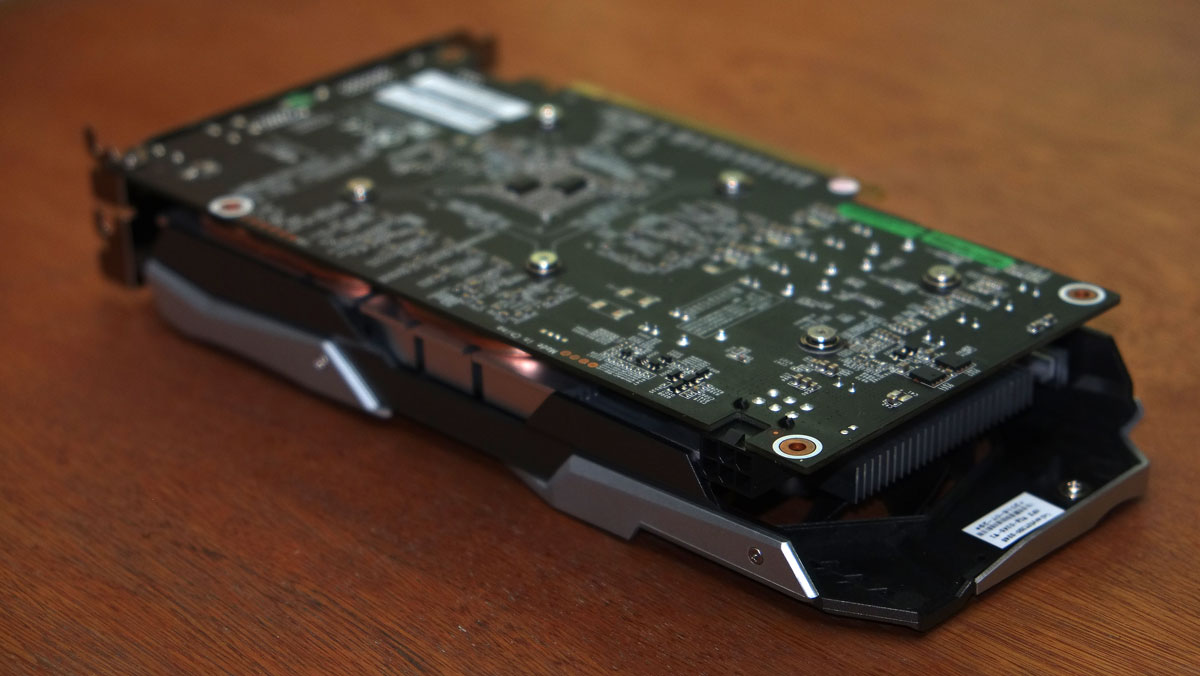 Voltage read out points are provided at the corner of the PCB, should you require it and its accuracy. We are not 100% sure though that these read points actually works since they are not specified at GALAX's website. They could have traces, or nothing at all to be honest.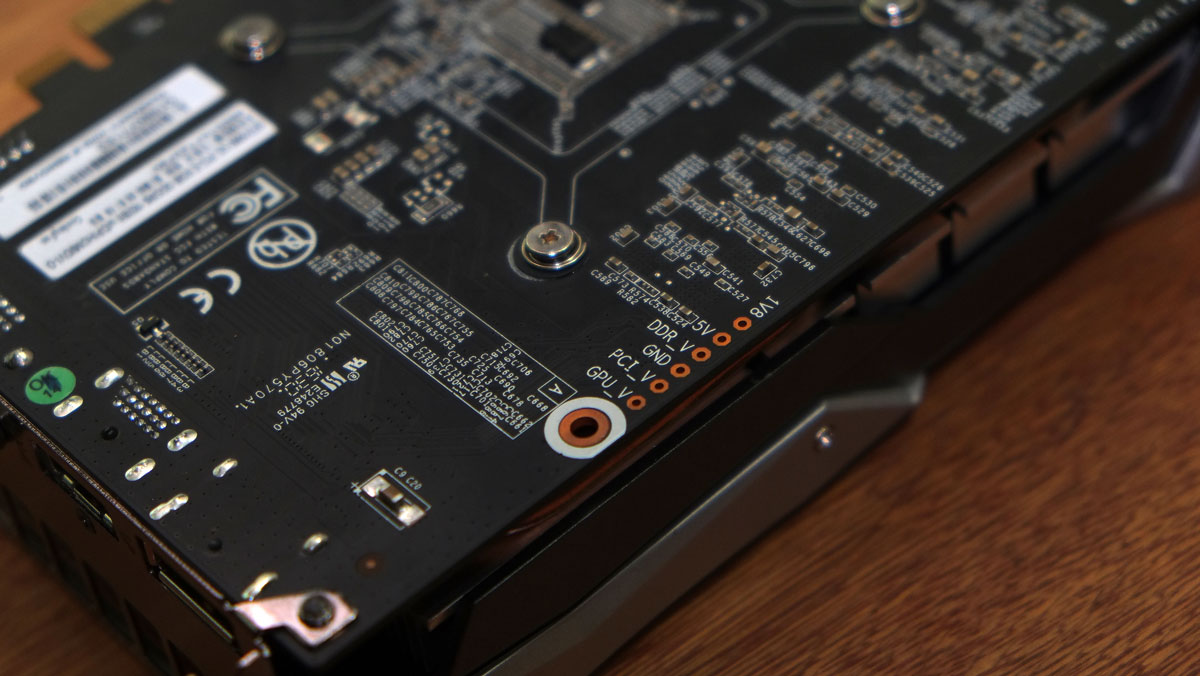 Interesting enough, the GALAX GTX 1060 OC only features 3 display outputs. That includes a single DVI, an HDMI 2.0b port, and a DisplayPort 1.4. Without extra ports at the top, this card can expel heat better than other cards in theory. Not bad, but if you wish to use this card on a multi-display setup, you have to make sure that your displays supports at least 2 or 3 of these ports. Not a problem with DisplayPorts though since you can easily daisy chain them.
THE TEST SYSTEM & BENCHMARKS:
Our test system is based on a Intel Core i5 6600K gaming system, which should be in-line with the latest mainstream gaming components. The operating system used is a 64-bit Windows 10 Pro Edition with power options set to balanced. Third party background softwares are disabled unless they are absolutely required. Benchmarks should include 720p, 1080p, 1440p, and 2160p results if necessary to the hardware being tested.
TEST SYSTEM SPECIFICATIONS

CPU
INTEL CORE I5 6600K
MOTHERBOARD
ASUS Z170-A
CPU COOLER
CRYORIG H5 ULTIMATE
MEMORY
CRUCIAL BALLISTIX TACTICAL 16GB
GRAPHICS CARD
GALAX GTX 1060 OC 6GB
INT. STORAGE
PLEXTOR M6E BLACK EDITION 256GB
PSU
CORSAIR RM850X 850W
DISPLAY
27″ DELL U2715H WQHD IPS PANEL
OS
MICROSOFT WINDOWS 10 PRO
FRAMES PER SECOND 101:
FPS is the general unit of which we measure a graphics card's performance and the higher value, the smoother the gameplay should be. Higher FPS means that there are more frames rendered each second. Check out the difference of 30 and 60 FPS ON THIS LINK.
FPS values are recorded by FRAPS in-game using a linear methodology for consistency. The results includes the Average FPS and 1% Minimum FPS, unless the game does not support FRAPS. The 1% Minimum FPS represents the negative spikes or drops in-game sufficient enough for a gamer to notice. If the game doesn't support FRAPS, we will use the in-game benchmark or have the frame rate recorded via EVGA's PrecisionX OC.
TEMPERATURE NOISE & POWER CONSUMPTION:
Unigine Heaven is an intensive GPU benchmark that measures the performance of the graphics card. Temperature values are taken directly from GPU-Z, and will be cross referenced from other temperature logging tools. The ambient room temperature is checked at 27 Degree Celsius. Overwatch is used for the in-game temperature test.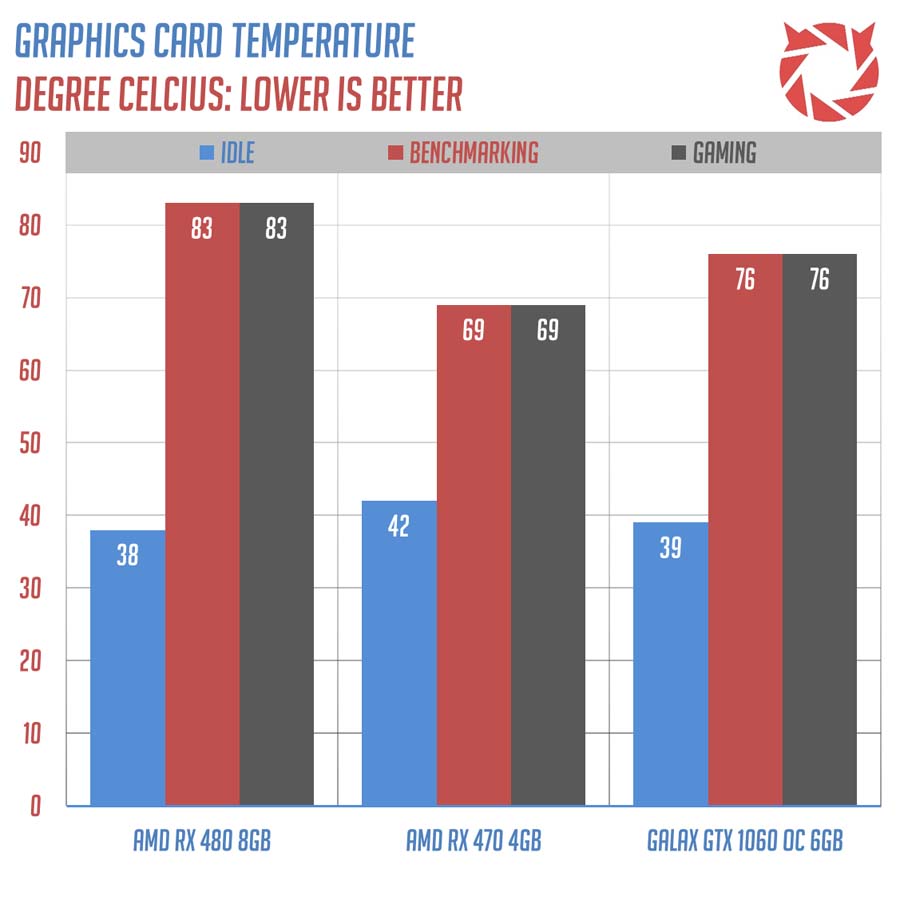 Our power consumption test shows how the GPU impacts system power consumption using Unigine Heaven, and Overwatch. Both applications will run for approximately 15 minutes. Power readings are taken from the entire test system using a watt meter connected to the wall socket.
The sound level of the system with the graphics card is taken as well. The room has an ambient noise level at around 37 dBA which is good enough to test the acoustic performance of any system or a graphics card's cooling solution. The sound level meter is situated 2 feet away from the system.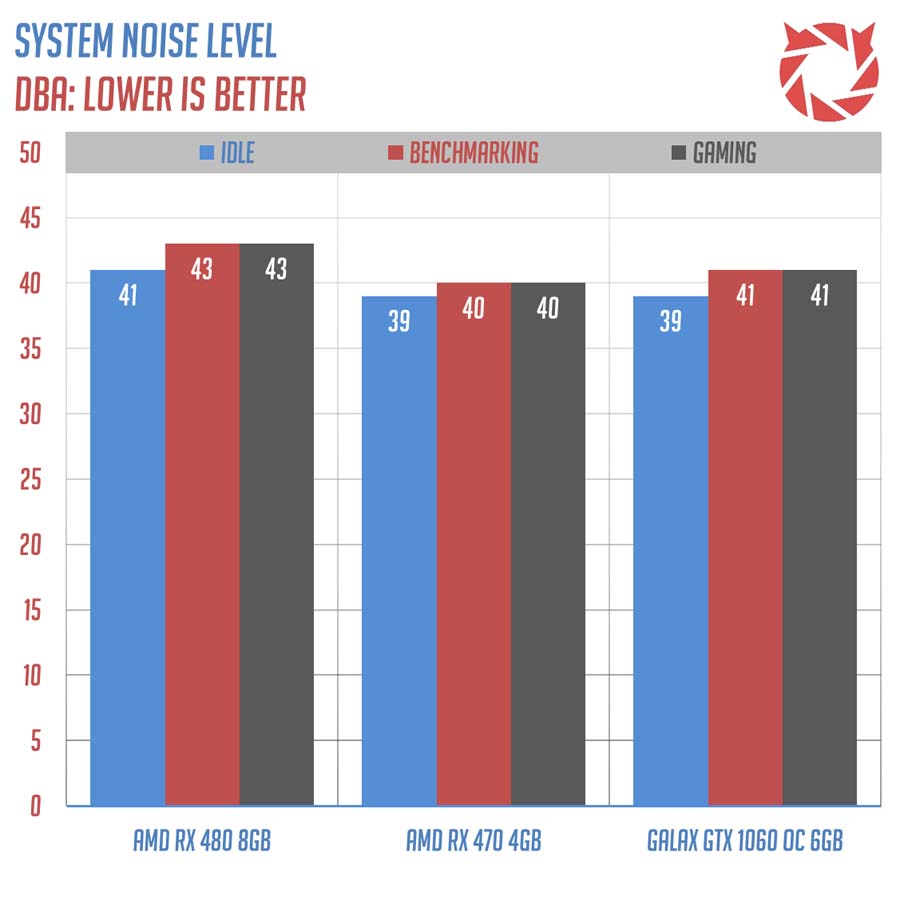 GALAX GTX 1060 OC SYNTHETIC PERFORMANCE:
3DMark 2013 is a suite of benchmarks catered  for the gamers and enthusiasts. It features benchmark presets suitable for wide range of systems. The total system scores from the FireStrike presets is used for comparison.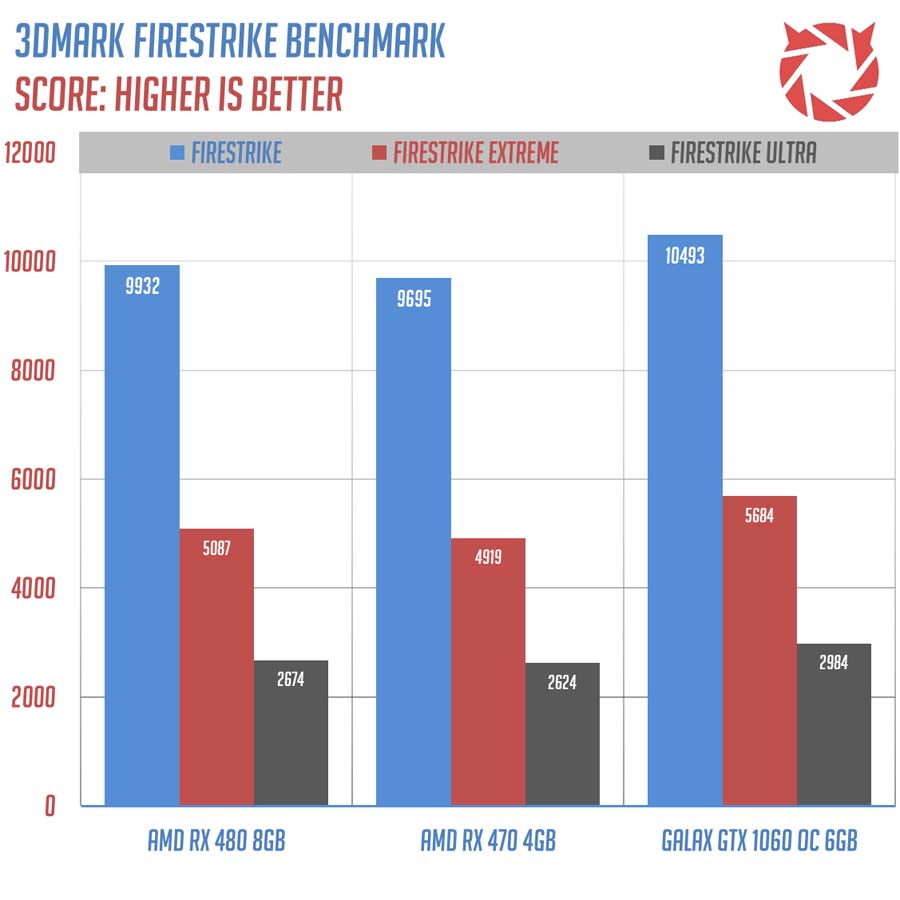 Unigine Heaven is a stress test and a benchmark tool built specifically for the graphics card. We ran a full test to see how the graphics card performs under such loads. The total system score is used for comparison.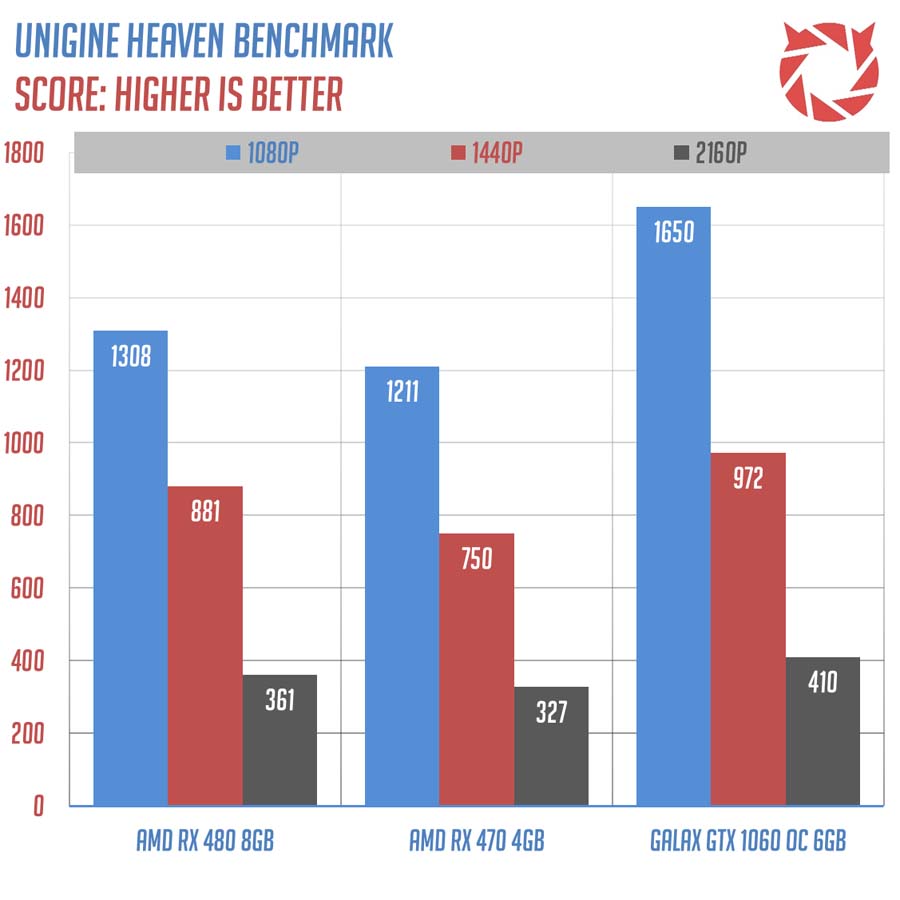 Unigine Valley is a stress test and a benchmark tool built specifically for graphics cards, similar to the Heaven benchmark. We ran a full test to see how the graphics card performs under such loads. The total system score is used for comparison.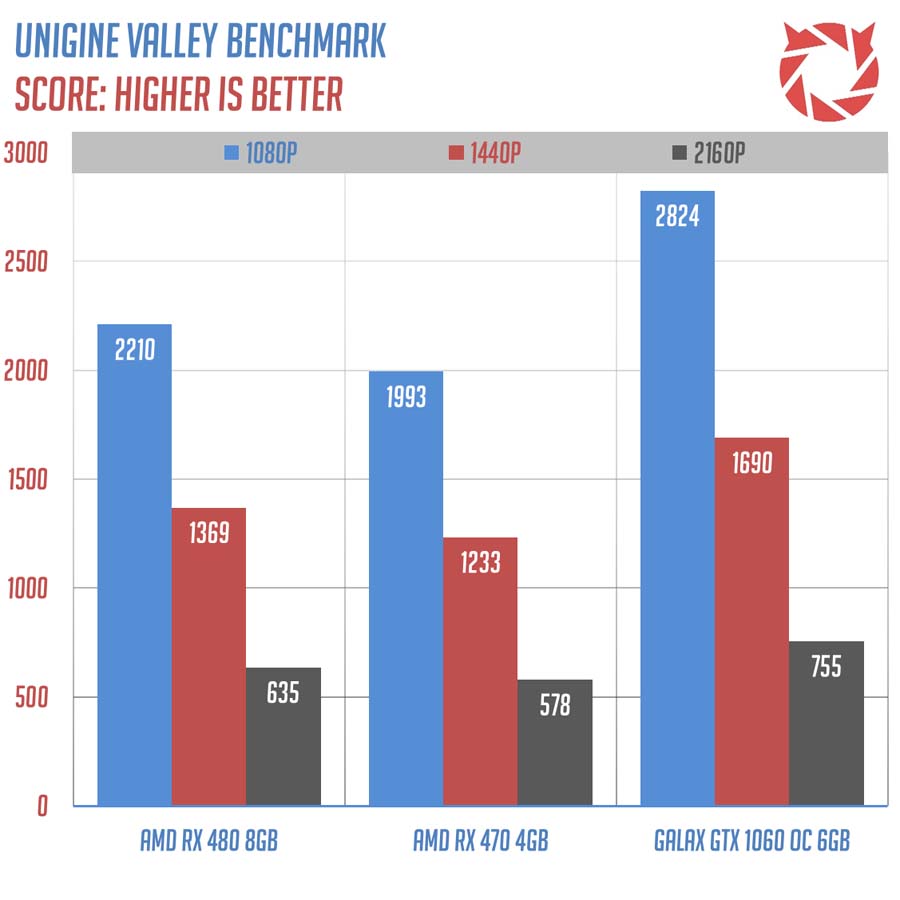 GALAX GTX 1060 OC GAMING PERFORMANCE:
Overwatch is Blizzard Entertainment's critically acclaimed FPS shooter, running on a custom game engine developed by Blizzard utilizing the DirectX 11 API. Benchmarks will be taken from a custom game on a map called Temple of Anubis. The graphic settings is set to ultra with a 100% render scale.
DOTA 2 is Valve's popular MOBA game, running on their own Source Engine 2. Benchmarks are taken from a match replay between Alliance and Natus Vincere. The graphic settings is set to the maximum. The frame rate is uncapped, and v-sync is turned off.
Ashes of The Singularity is an RTS game developed by Stardock and one of the first games to support the DirectX 12 API. Benchmarks will be taken directly from the game's benchmarking tool, with the graphic settings is set to extreme.
Rise of the Tomb Raider is the direct sequel to 2013's Tomb Raider reboot. It is developed by Crystal Dynamics and Eidos Montreal, with support for the DirectX 12 API. Settings are set to Very High, with SMAA, HBAO+, and Pure Hair enabled. Benchmarks were taken from the Syria level.
DIRT: Rally is Codemaster's proper take on the rally racing game genre, with support for the DirectX 11 API. Settings are set to Ultra, with 8x SMAA enabled. Benchmarks were taken from the stages at Hafren, Wales.
WRAPPING IT UP:
The GALAX GTX 1060 OC 6GB has all the bells and whistles of what you would expect from a GTX 1060, minus the SRP which we will take a look later. Now this one, like any other cards with the same GPU inside is definitely faster than the reference RX 480, and more so with the RX 470. There are games where the RX 480 goes head to head with it, but those are limited number of titles and requires you to push the card at 4K UHD.
Build quality and features are nothing spectacular, but they aren't bad either. What you'll get is a card with dual 80mm non 0dB fans with variable speed setting, and a standard conforming 3+1 power phase design on top of a matte black PCB. Speaking of the fans, this card has a rate maximum of 65c at load but our tests showed that it is actually higher at 76c. That's 11c higher than what GALAX claims but make no mistake that GALAX's own tests are in no way similar to what we are using – let alone the ambient temperature and the test system used. Rest assured, 76c isn't that bad of a result.
Now pricing is what the best thing card has to offer. At 12, 499 PHP, the card is one of the most affordable GTX 1060 6GB models thus far at the market just next to the ZOTAC GTX 1060 Mini with a much better thermal solution, and performance. This card, though doesn't carry any exceptional features on board, will set you up with a GTX 980 level of performance, with a change to spare. Truly a value oriented card from GALAX.
GALAX GeForce GTX 1060 OC
PERFORMANCE -

9/10

BUILD QUALITY -

7/10

AESTHETICS -

7/10

VALUE -

9/10
Summary
The GALAX GTX 1060 OC is an affordable mid-range contender featuring an enticing price point. It's not the fastest GTX 1060 out there, but it is definitely worthy of your attention.