BitFenix introduced their first premium power supplies a couple of years back with pre-sleeved cables and high quality components. Now they are ready to introduce to you their newest range of power supplies that boast of extreme quality, with the world's best performance at 80+ Gold certified efficiency and up to 92% efficiency at typical loading. The new BitFenix Whisper power supply line up comes with a wide range of power options starting with 450W all the way up to 850W in 100w increments.
Silent Operation
As the name suggests, Whisper is an extremely silent power supply with an 80+ Gold Certified efficiency. Because of the high efficiency layout and use of high quality components, the Whisper is capable of functioning with a very low noise and heat level whilst providing stable currents at high loads. Thanks to the use of an Intelligent Fan Control Curve and a 135mm FDB fan that starts working at a much lower voltage of 3.5v the fan can operate at 500rpm ± 10%. Because of these unique features together with ultra-low noise levels and high life expectancy of the fan, BitFenix Whisper can operate at noise levels lower than 18dBA while PSU load is lower than 60% at 25°C.
High Efficiency
Whisper is rated at a Power Factor of 0.99, and is extremely efficient with an 80+ Gold efficiency certification. With 87+ (20% to 100% load)/ 90+ (40% to 70% load) high efficiency design, Whisper saves both energy and money for the user while providing extremely stable power output at a very low noise level, generating up to 80% less heat and consuming 30% less power than standard PSU's. BitFenix Whisper also fully supports Intel C6/C7 Sleep States and 100-240V (90V min to 264Vmax) Full range AC Input design for worldwide usage. With LLC, Active PFC & DC-to-DC circuit with an 80+ Gold Certificate, BitFenix Whisper Power Supply saves energy and your environment while providing unmatched power quality for your computer hardware.
Dedicated Quad Rail Design
A dedicated quad rail design together with an advance voltage switching circuit from +12V to minor rail provides the best stability and output quality. Due to the use of a separate DC-to-DC circuit to convert +12V to +5V and +3.3V, the output current from the Whisper is much more stable and smooth. The main quad +12V rails on all BitFenix Whisper models are dedicated as Motherboard + Peripherals, CPU, GPU 1 and GPU 2 (450W and 550W models only come with GPU1). All of these rails have dedicated Over Current Protection (OCP) circuits which protects components from damage due to over current and makes sure any failed component does not damage other components. Whisper can deliver full power on +12V rails due to the use of practically set current load limits on different rails. Unlike on traditional Multi Rail PSUs, Whisper have a higher current capacity on GPU Rails and other rails to support even the most power hungry graphics cards and other components based on the actual demand. So now you don't have to worry about the maximum current each rail can provide. To further ease the use of multi rail design, the user can easily refer to the labeled power distribution table printed directly on the PSU.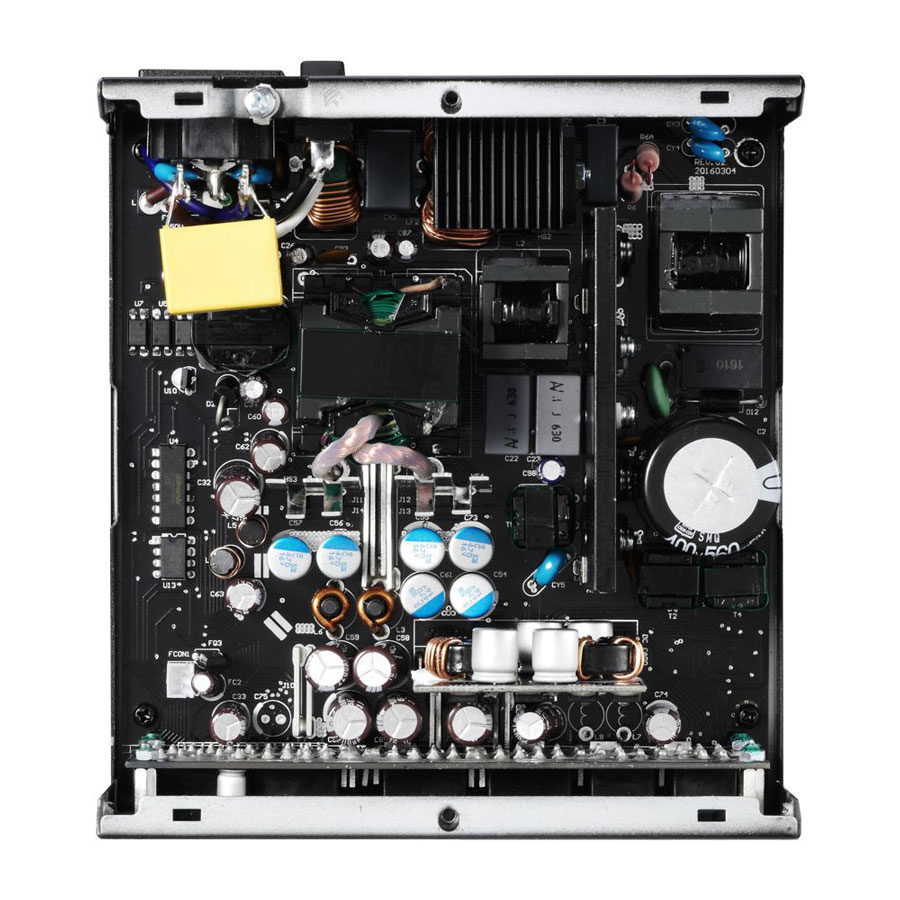 Fully Modular Design
Performance is not the only focus of BitFenix Whisper, as not only are they built to a simplistic yet elegant design, the BitFenix Whisper models are also fully Modular. These cables are 18AWG thick output DC cables and for the CPU & PCI-E 2.0 they are 650mm long to fit in virtually any chassis. The specially designed flat ribbon-style cables and connectors feature electronic monitoring components to stabilize the power delivered to the hardware, both increasing the durability and the overclocking potential of the components. This further reduces the power drop caused by modular connections and makes sure the components get enough power to operate at optimum levels. Combined with the BitFenix Alchemy 2.0 CSR kit, the BitFenix Whisper can be showcased with high quality single sleeved cables in any build.
Stable Power Delivery
BitFenix Whisper power supplies uses 100% Japanese Industrial Capacitors ensuring tight DC voltage regulation within ±2% and extremely long component life. Unlike standard Japanese Capacitors which are rated to work at a maximum temperature of 85°C, the Japanese Industrial Capacitors available in the Whisper series can function at a maximum temperature of 105°C. This means the noise and fluctuation of current on high loads and high temperatures levels is lowered while the lifespan of all components is increased. On top of that, LLC resonant topology brings lower power losses and boosts higher efficiency during AC-DC voltage switching. BitFenix Whisper uses solid Capacitors to reduce up to 35% of ripple & noise to the motherboard that results in solid performance and high overclocking stability. All these extreme features are added together with a cleaner layout and design that reduces the ripple created by components on each other. With availability of dual CPU 4+4pin cables on 750W and 850W, BitFenix Whisper not only supports mainstream systems, but also extreme over-clocking motherboards, dual CPU setups, Industrial servers and workstations.  The power stability and the low ripple noise of the Whisper power supply is one of the best and what over-clockers and gaming enthusiasts dream of.
Industrial Level Protection
Power regulation and protection is critical to increase the durability of the components and safeguard the data. BitFenix Whisper power supplies come with numerous protection mechanisms to protect both the power supply as well as components from poor power delivery.
Over Current Protection (OCP),
Over Voltage Protection (OVP),
Under Voltage Protection (UVP),
Over Power Protection (OPP)
Short Circuit Protection (SCP),
Over Temperature Protection (OTP)
No Load Operation (NLO),
Surge & Inrush Protection (SIP)
Extended Warranty
BitFenix Whisper together with all the above premium features is covered by 7 years of warranty and BitFenix Online Support is available to answer any questions or concerns regarding all BitFenix Products.