BitFenix Aurora, Prodigy Cape, Prodigy Pillow, & Trident Revealed
BitFenix unveils Four new cases with a radical design approach, leaving the good old boxy stuffs we used to see. It is for good though, as consumers are looking for something different, and at COMPUTEX 2016, different and challenging designs are what most people actually look for. Take the BitFenix Prodigy Pillow for example – an ITX case with a sliding motherboard tray. It looks industrial to say at least, and features top mounted graphics. The windowed version will let you see through the graphics card bay for that extra wow factor.
The BitFenix Prodigy Cape is one serious looking case. It features a thick aluminum panel, support for e-ATX motherboards, has glass window side panels for both sides, and features an elegant looking exterior in jet black.
The Prodigy Cape also features a removable SSD tray that enables the users to showcase their 2.5″ storage devices with style – lighting up the SSDs with a built-in LED system.
The BitFenix Trident offers a more conservative look compared to the other cases revealed by BitFenix, but it does feature a windowed panel option just like the Prodigy Cape. This is most probably going to be a midrange product.
The BitFenix Aurora is yet another window panel chassis. It has windows on both sides, and features the same LED enabled SSD tray from the BitFenix Prodigy Cape.
BitFenix introduced two new PSU on their line-up, namely the WHISPER and the Formula Bronze. Along with them are new sets of multi-colored sleeved cables, that we tried to yank and wont even budge. Really nice.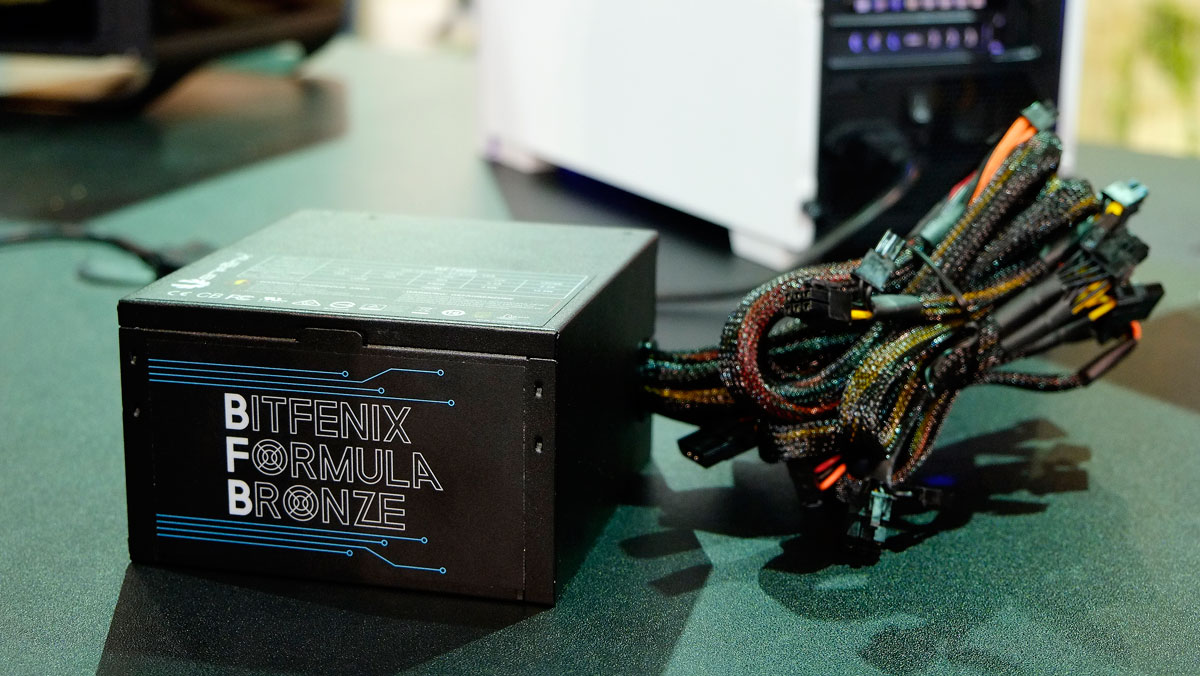 Among the cases, cables and PSUs, BitFenix is also releasing their Noble Chair line up – which is a series of gaming chairs with real and faux leather models. The company is set to release these products anytime soon and expect them to hit the retailers near you. Visit this link for more information. LINK