Kingston's HyperX Cloud PRO is probably one of the most popular gaming headsets at the moment, garnering awards from the media and recommendations from various users. We actually savor its sonic performance, which we deemed fit for our award. It's a good all-rounder but most important is its uncanny game changing aspects.
And now almost a year later, we've got the version 2, in the form of the HyperX Cloud II 7.1 Gaming Headset. This headset is not a replacement for the first generation Cloud, but is a carefully placed product on its own by providing 7.1 surround sound capabilities via an external adapter should you need it. It still could be used as your normal Cloud via its 3.5mm adapter, but with additional perks and of course, a slightly higher MSRP due to the added features.
FEATURES & SPECIFICATIONS:
HyperX® Cloud II features a newly designed USB sound card audio control box that amplifies audio and voice for an optimal Hi-Fi gaming experience, so you can hear what you've been missing. Open up a world of detail other gamers will never know – the rustle of a camper's boot, the scuttle in a distant vent. Its independent audio and microphone volume control lets you adjust not only sound volume but also mic volume and easily toggle Surround Sound 7.1 or the mic sound on and off. This next-generation headset generates virtual 7.1 surround sound with distance and depth to enhance your gaming, movie or music experience. Pinpoint your opponents' location in the game and strike before he sees you coming.
Advanced USB audio control box with built-in DSP sound card
Hi-Fi capable with 53mm drivers for supreme audio quality
Hardware-driven virtual 7.1 surround sound
Comfortable, 100% memory foam on headband and leatherette cushions
Pro-Gaming optimized with closed cup design for passive noise cancellation
Compatible – USB connectivity for PC & Mac. Stereo compatible with PS4, Xbox One1 and mobile
Based on the specifications, Kingston barely touched the headset itself, as there are no changes on its driver size, frequency response, and even the housing design which is still, circumaural. Cable and connectors seems to be the major changes, along with the 7.1 Surround Sound USB adapter.
UNBOXING & BUNDLED ACCESSORIES:
Presentation actually means "presentation" if we're going to talk about the HyperX Cloud II's packaging. It is quite similar to the quality of packaging used on some audiophile level gears, which is a good indication that Kingston means business. Up front, there is an image of the HyperX Cloud II, along with the 7.1 Surround Sound adapter, and some notable features. Do note that the HyperX Cloud II is available in 3 colors – which is mirrored in the packaging.
The back shows more details about the HyperX Cloud II's features in a formal fashion which always indicates Kingston's professionalism even on a gaming oriented product. No bling here, just everything you need to know in an orderly fashion.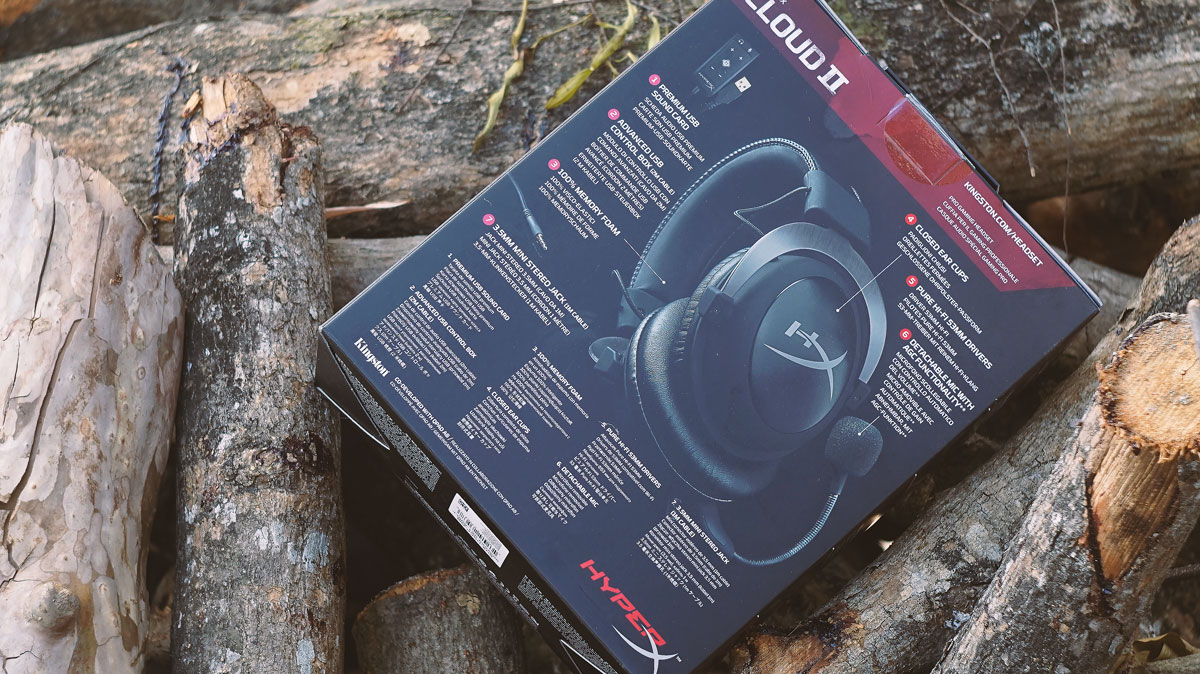 Similar to the HyperX Cloud PRO, the Cloud II's inner packaging is oozing with premium-ness if there is such a word. The headset, along with its accessories, are cradled by a single chunk of foam. Clearly it is the best way to present such a product like this one.
Removing the lower cover with the HyperX insignia reveals the additional carrying bag which leads us to bundled accessories. Basically, you'll receive the airplane audio plug adapter, the said carrying bag, an extra pair of pads in velour, and the detachable mic, plus the 7.1 surround sound USB adapter. I'd love to see an I/O splitter here just in case you do not want to use the USB adapter but still needs the mic input.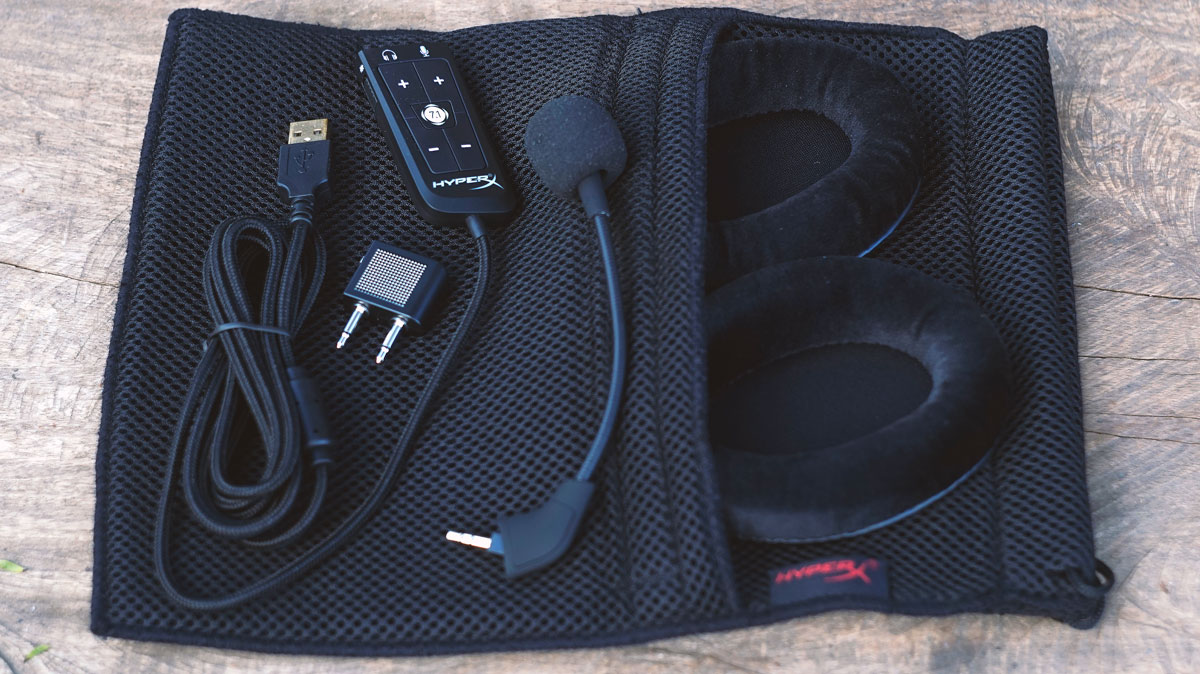 DESIGN & COMFORT:
No major changes has been seen with the latest iteration of the HyperX Cloud when it comes to the main head gear, which means that the build quality we've seen from the version 1 is retained faithfully. It is still a circumaural, closed back headset, and is now available in 3 colors instead of the Two from the latter version. That said, the unit we've got is the Gun Metal Grey version – a reminiscent of the HyperX Genesis Grey Memory Kit if you'll ask me.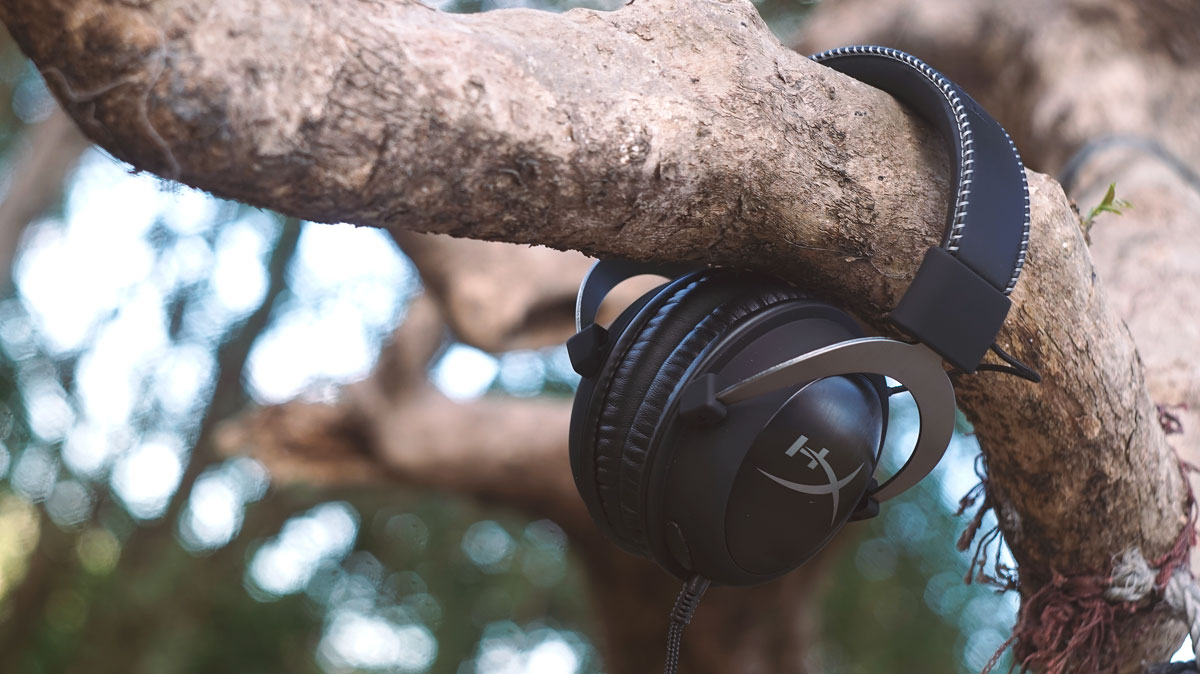 A soft matte like plastic material makes up the main housing of the drivers, and both sides are accentuated by a brushed aluminum cover with the HyperX logo imprints. The fairly large Beyerdynamic inspired stems & sliders-in-one also speaks of great build quality with their thickness. Awe inspiring.
The head band could be adjusted in 8 positions (7 dotted), for easy fit and alignment. It could be swiveled slightly which is plausible for a bit of added comfort, and could be tilted vertically with a good amount of articulation. Do note that the wires for both channels are exposed but it's not a major concern since they are braided for extra protection and will not budge easily even if forced to.
The headband of the HyperX Cloud II is nothing but amazingly well done. Stitching is perfect, and even the HyperX logo receive some love as well. Normally, these kind of things are a great indication of build quality, craftsmanship, and the company's seriousness towards their gears. Do note that the padding on the headband is thin, but it does not pose any issues due to the forgiving overall weight of the gear.
The cups have a great amount of depth and are pretty spacious. They are comfortable, almost memory foam like, but you might want to replace them later on with the included velour ones for ventilation and overall comfort-ability purposes. However, these leatherette ones offers better isolation so it's a give and take situation. Changing cups also creates a small yet noticeable impact on the sonic properties of the headset which we will discuss later.
The mic, just like the older model, is detachable and features an articulating gooseneck for better positioning. Physically, we find no difference between this one and the older one found at the HyperX Cloud PRO, but do note that this one has a bumped up frequency response range at 50–18,000 Hz, as opposed to the 100–12,000 Hz one found at the PRO which is pretty cool if proven true, as we find the PRO's mic input somewhat lacking.
Finally, here's the defining feature of the HyperX Cloud II – The 7.1 Surround Sound USB Adapter. It's small,  easy to use, and has 2 meters of braided USB cable which is perfect should you need the extra length. There are 6 buttons present at the adapter, with the 7.1 surround activation button present at the middle of the volume controls. The other one, which is situated at the side, is actually a switch for the mic mute functionality. There is also a clipper at the back, as well as status LEDs for the 7.1 function and the HyperX logo. The USB 2.0 port appears to be gold plated as well.
At 350 Grams with the mic and 7.1 USB adapter, the HyperX Cloud II is certainly within the bounds of a light gaming headset. Clamping force is average which is good, but with the velour pads installed, it will be slightly tighter due to the pad's thicker nature. I highly suggest the velour pads though, as I find them better overall compared to the faux leather pads. #TeamVelour FTW
By the way, the Kingston HyperX Cloud II is compatible with game consoles including the XBOX One, PlayStation 4, and those gadgets that supports 4-conductor type 3.5mm jacks. Versatile? Yes indeed.
TEST SYSTEM & PROCEDURES:
Audio stuffs such as speakers, headsets, headphones, earphones, IEMs, and pretty much whatever they are as long as they produce audio output, are very subjective to be tested. That is true, in a sense that no pair of ears are the same, and there is a lot happening between you, and the headset for example. That said, your experience will most likely differ from ours.
We start the testing after we burn-in or wear-in the drivers. Usually, 48-72 Hours of continuous burn-in will do for most. This is to ensure that the audio solution is already delivering what an end user would actually experience in the long run. As for the audio setup, we are going to use the on-board solution found on our motherboard. It is a Realtek ALC1150, far from the ideal solution we wish we had but rest assured, there's no equalizing done, so everything is flat. Sampling Rate is maintained at 24-bit, 48000Hz unless the gear does not allow it. Below is the test system's specifications.
| | |
| --- | --- |
| CPU | Intel Core i5 4670K |
| MOTHERBOARD | ASUS Z97-PRO WiFi AC |
| CPU COOLER | Cooler Master Seidon 120XL |
| MEMORY | ADATA XPG V2 @2400MHz 16GB |
| GRAPHICS CARD | ZOTAC GTX 970 4GB |
| INT. STORAGE | Kingston HyperX Fury SSD 240GB |
| PSU | Cooler Master Silent Pro Hybrid 1300W |
| DISPLAY | DELL S2340L 23″ IPS |
| OS | Microsoft Windows 7 Ultimate x64 SP1 (Updated) |
| SOUND CARD | Realtek ALC1150 |
| EXT. STORAGE | 2TB Western Digital My Passport |
SOUND QUALITY: MUSIC PLAYBACK
Like its predecessor, the Kingston HyperX Cloud II needs a good amount of buffer time to let the drivers sink in. Burn-in time is around 100+ hours, so if you happen to buy one and the harsh high-end annoyed you, then don't feel fret – it will mellow down a bit as time goes by. Same goes to the initially muddy bass.
LOW-END: Similar to the HyperX Cloud, the general low-end performance of the HyperX Cloud II features a pronounced upper-bass that usually sticks itself up until the lower midranges. This is now "more" prominent with the 7.1 surround sound USB adapter, as it acts as an amplifier on its own. Good thing is, everything down below is amplified with great extension across the lower ranges. Using the velour pads also helped to add a little more bass due to the added allowance inside the cup.
MID-RANGE: The HyperX Cloud II's mid-range is laid back and controlled, yet the upper mid-range feels somewhat too sibilant for my taste on certain tracks, especially with The Corr's amazing MTV Unplugged performance. Sometimes it's forgiving, sometimes it is not. But then again, the HyperX Cloud's unnatural sibilance on selected tracks is a much more welcome sight over most of their competitor's offerings which is smeared at best.
HIGH-END: Bright, somewhat revealing, but has its caveats. If you favor acoustic solos, and ad-lib performances, then this headset's performance will do great, but on performances where multiple top-end equipment clashes, some fine details will be lost due to the extended brightness. The Extra treble presence is somewhat akin to a "faux detail" provided by the bright top-end signature.
The sonic performance of the HyperX Cloud II is still the same with its predecessor. Nothing has virtually changed except for the added amplification from the USB adapter. And with that said, the adequate amount of imaging and soundstage is still present, albeit the introduction of the extra treble presence.
VIRTUAL 7.1 GAMING & EVERYTHING ELSE:
Virtual Surround Sound isn't exactly my taste, and it's usually a love and hate relationship. Love & hate, because sometimes, they do work, and sometimes, they do not. With the HyperX Cloud II, that is not entirely the case. The 7.1 Surround Sound USB Adapter from Kingston features a Sampling Rate of 16-bit 48000Hz which is plausible enough for a USB dongle. It outputs a clean, uncolored, and interference free amplified sound that is more than double than what a standard, un-amplified ALC 1150 sound chip could offer.
Now back to the 7.1 surround capabilities, Kingston implemented a no-frills one touch button to utilize it right away. There is huge difference using it, both in gaming and watching movies by providing an expanded depth and plausible multi-channel virtualization. It feels more engaging, yet the "virtual" part is still there as depth is certainly attained but at the expense of distance localization accuracy. Or rather, at the expense of what I'm used to hear.
For example, on Battlefield 4 – our main stay audio and video card testing game platform – immersion is definitely great with the 7.1 surround especially with the War Tapes audio option. Explosions sounds distant if they are indeed distant, firefights engaging, and so everything does. It sound great, yet accurately pinpointing the enemy's location is just a tad harder than what I expected if compared to the Stereo output of the Cloud II. This is due to the virtualized surround sound that makes everything so distant, and muffled. Localization is great as far as direction goes, but if you want to pin-point your enemy's distance from you it is something you need to pay attention. It works though.
SOUND QUALITY: MIC INPUT
The microphone saw a huge change when it comes to the frequency range as said earlier, which is on paper, should be better. As far as our testing goes, I cannot discern any huge difference to the older one, but noise cancellation certainly improved. Couple it up with the decency of the microphone, and you'll get a cleaner voice output for your friends to listen with. Certainly helps to keep things audible in dire situations, especially if you have a noisy background and or using a clicky mechanical keyboard.
VALUE & CONCLUSION:
The first HyperX Cloud from Kingston is a well revered product, and matters never changed with the introduction of the HyperX Cloud II. It's still the same great performing gaming headset that boast additional features here and there to better suite the majority. Let us be honest here that not everyone is a PC gamer, and our console friends does need quality gaming headsets too.
Build quality is still the same with its predecessor, which means that the HyperX Cloud II is an astonishingly well built product – and when I mean well built, it's like a tank. If I have to choose between this and my mouse as a secondary zombie apocalypse weapon, I'd choose this in a heart beat.
Comfort is amazing as always, and we're glad that Kingston kept the velour pads as a part of the bundle. On this department, there's hardly anything to complain. Speaking of complains, the sonic quality while fabulous for its price point, just feels too aggressive for my taste – yet again. I felt like Kingston could optimize or improve it but if they do, that would mess up the SQ and might render the can's "unfair gaming advantage" less effective. Still, I can't complain more as it easily surpassed the competition's offerings. Maybe I'm just nitpicking?
The Kingston HyperX Cloud II retails for around 99.95 USD, and is around 4, 295 Pesos here in the Philippines which is just a thousand Peso more than its predecessor. What does it mean? Well, it does mean that for an added extra, you'll gain an amplified USB dongle, a versatile gaming headset, fairly good amount of bundled accessories, a decent mic with noise cancellation, and an immediate 7.1 surround sound capability that just works.
THE VERDICT
PROS:
FANTASTIC BUILD QUALITY
UNFAIR GAMING ADVANTAGE
GOOD BUNDLE OF ACCESSORIES
GREAT COMFORT & ISOLATION
7.1 SURROUND THAT WORKS
PLATFORM VERSATILITY
CONS:
UBER BRIGHT SONIC CHARACTER
FATIGUING AT TIMES
Kingston HyperX Cloud II
PERFORMANCE -

9/10

BUILD QUALITY -

9/10

FEATURES -

8/10

AESTHETICS -

9/10

VALUE -

9/10
Summary
The Kingston HyperX Cloud II retails for around 99.95 USD, and is around 4, 295 Pesos here in the Philippines which is just a thousand Peso more than its predecessor. What does it mean? Well, it does mean that for an added extra, you'll gain an amplified USB dongle, a versatile gaming headset, fairly good amount of bundled accessories, a decent mic with noise cancellation, and an immediate 7.1 surround sound capability that just works.