Gaming is divided into multiple genres. We've got action, adventure, role playing, strategy, and pretty much almost everything you could think of. If you would ask me what is my favorite, then it would be simulation; particularly in the racing department where physical prowess along with a good mental condition is a must. Really, it's all about discipline, fortitude, and precision. I cannot stress that much further, as it is the only genre known to exhaust the body as a whole. – With the proper equipment, of course. 
Talk about proper racing equipment, what we've got here is the Driving Force GT from Logitech. It features 900° of wheel rotation, force feedback, full sized throttle + gas pedals, and tons of other features for the price point. The wheel has been around for quite some time now, and actually made its debut as the official Gran Turismo 5 wheel. That said, while it's specially made for PS3's platformer, we are going to test it on our favorite platform (#PCMasterRace), to see if it's still a good set to play with over the course of its existence. Let's check it out!
FEATURES & SPECIFICATIONS: LINK
24-position real-time adjustment dial – Offers on-the-fly control of
brake bias, traction control system (TCS) and additional features
Force feedback – Realistically simulates oversteering, understeering and traction loss
900-degree wheel rotation* – Replicates the steering dynamics of real cars
Gas and brake pedals – Provides realism and instant response
11-inch rubber over-mould wheel with illuminated horn button
Compatible with most PlayStation 3 and PlayStation 2 titles
Warranty Information: 3-year Limited hardware warranty
System Requirements
Windows® 8, Windows 7, Windows Vista® or Windows XP
20 MB of available hard disk space
CD-ROM drive
Available USB port
Platform Compatibility
PlayStation®3 system
PlayStation®2 system
Games that support Logitech® force feedback racing wheel
Package Contents
Force feedback racing wheel
Accelerator and brake pedals
Power supply
User documentation
UNBOXING & BUNDLED ACCESSORIES:
Logitech had the Driving Force GT tightly packed inside a huge box with a good amount of styling that goes well with their new Logitech Gaming logo. Up front, there is a huge image of the steering wheel itself, along with some branding. Polyphony Digital's Gran Turismo logo is also seen on this side of the box, signifying that this wheel is made specially for the Gran Turismo 5. The wheel is PC compatible, just so you know.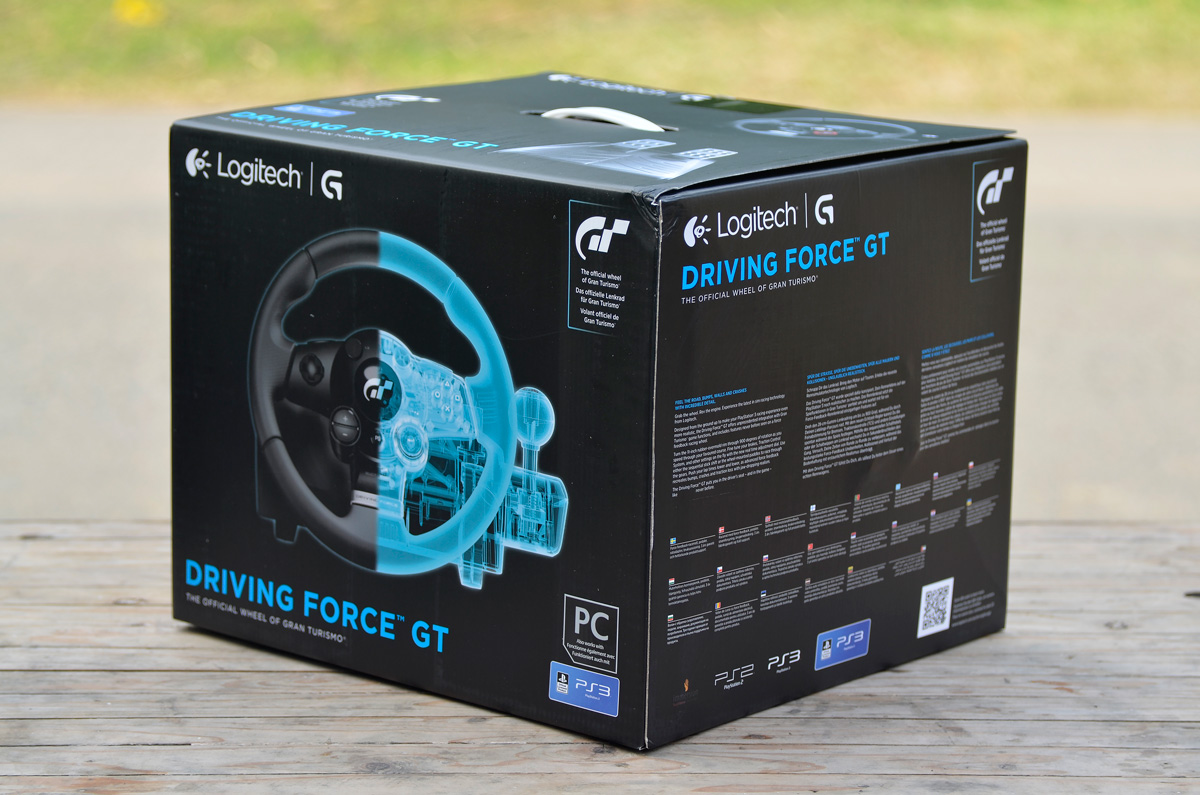 Back of the box is busy with multilingual feature sets neatly laid out, while the top features a carrying handle for easy transportation. What's not to like?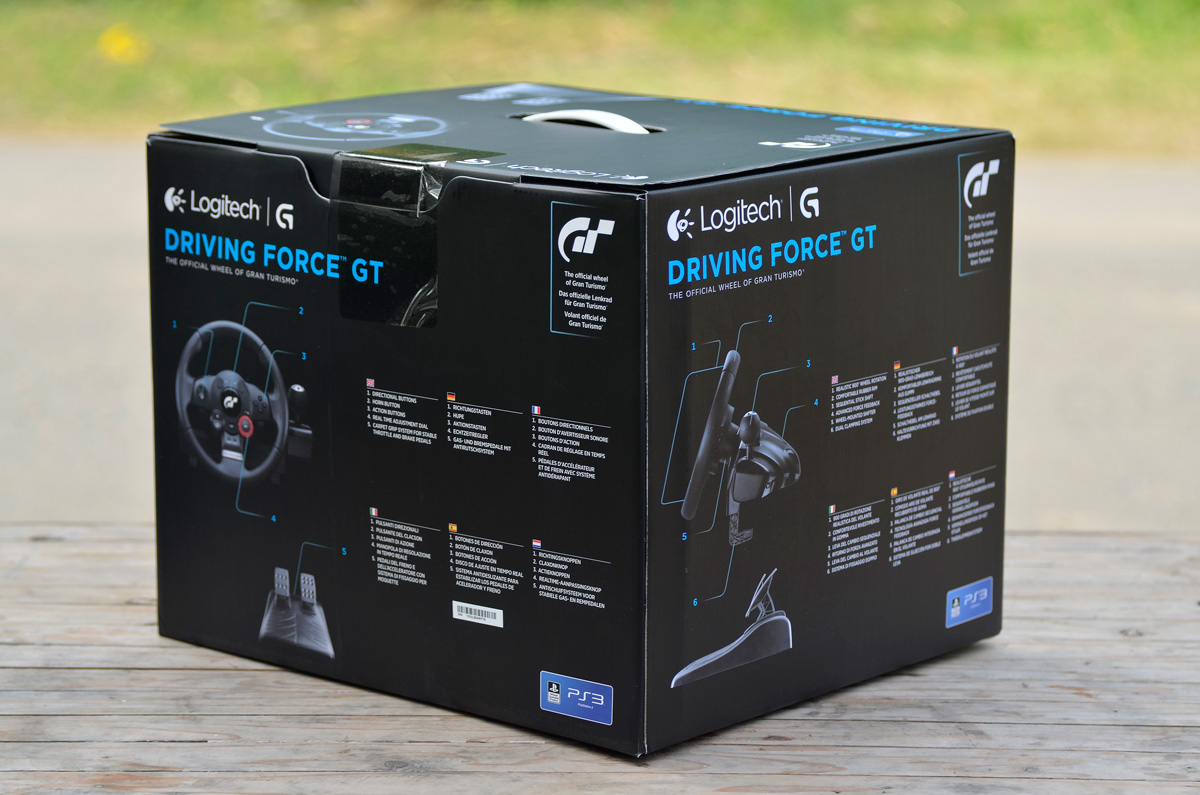 The Driving Force GT came with the usual paper-works, as well as a lenghty universal power adapter to power it up. Clearly, this wheel needs a good amount of juice to power up the force feedback motor.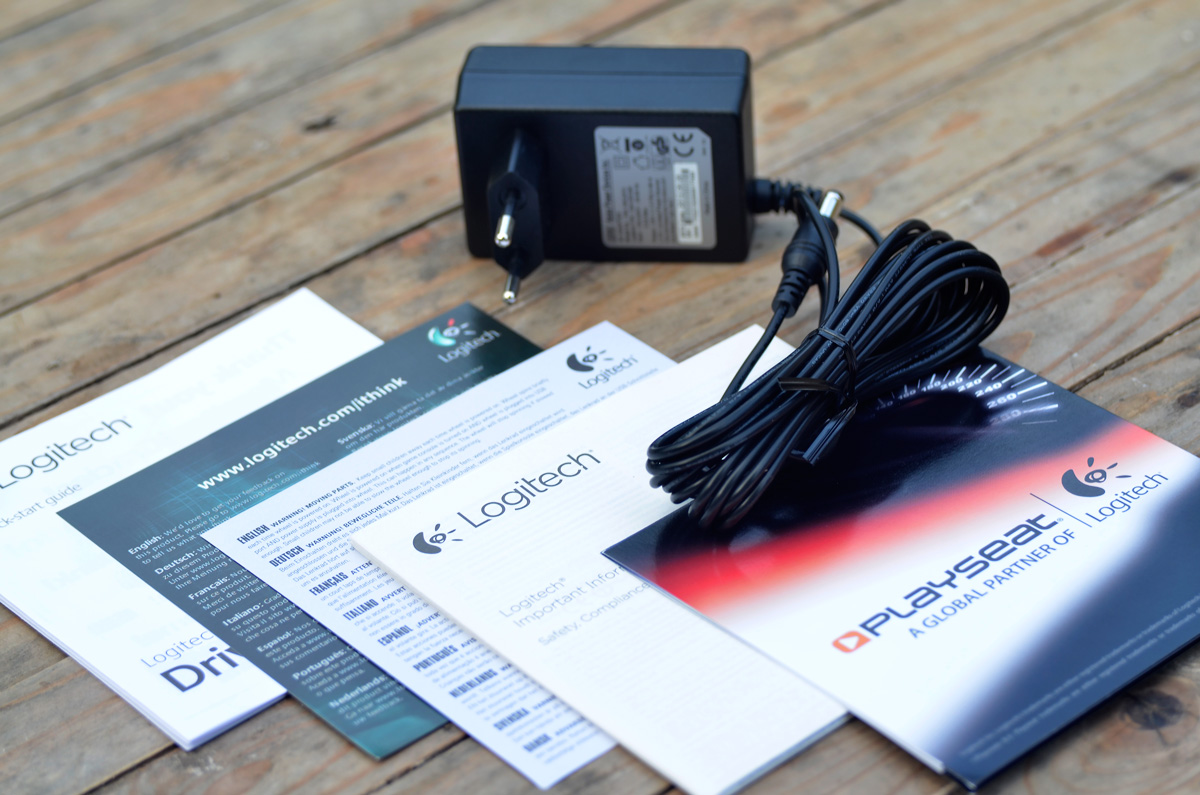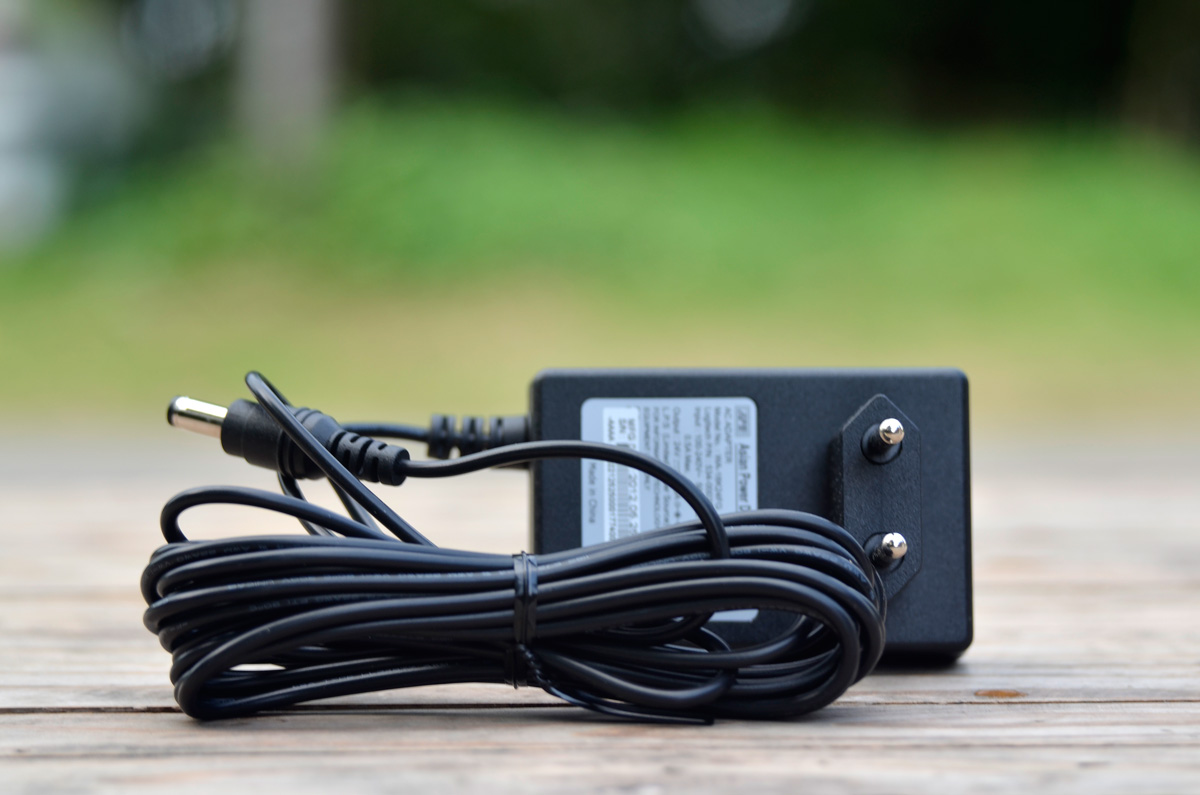 THE DRIVING FORCE GT:
Out of the box, the Driving Force GT looks totally awesome even if it's almost made out of plastic. Yes, even the wheel base, shifting knob, and pedals. They are almost made out of plastic. No worries there though, since the materials used were all good quality ones. Looks great, and it feels great. The wheel is pretty heavy too, at gawd knows what kilograms. I like the build quality of this one.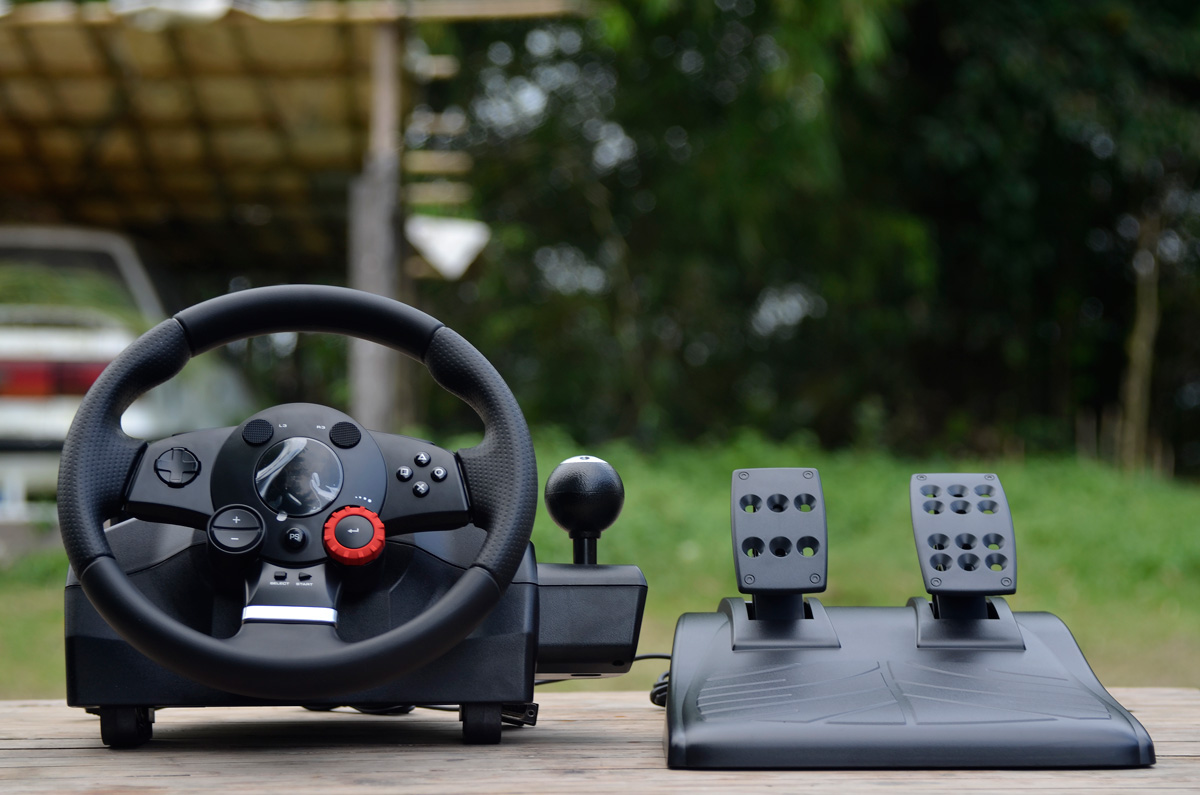 The back of the wheel base, or dashboard-ish part rather, is race car inspired. It is streamlined, and has ventilation holes for the force feedback's motor so that heat wont build up easily inside the torture chamber.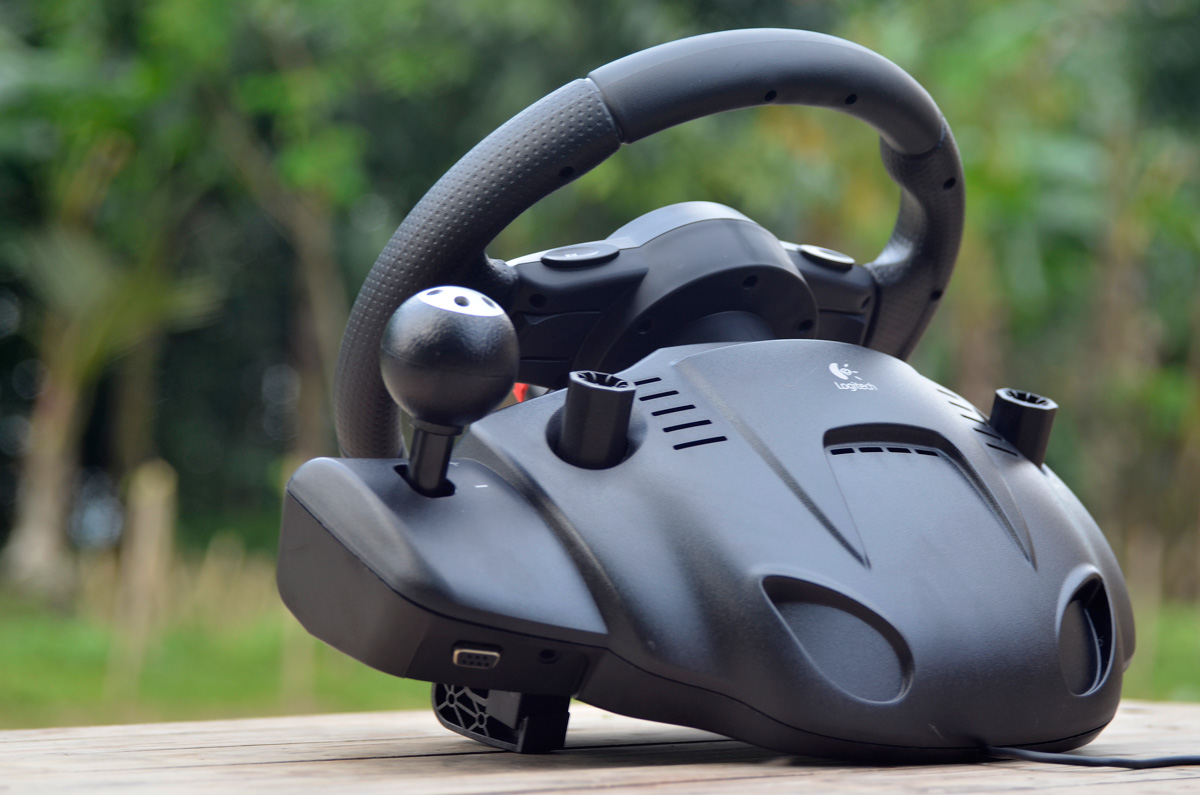 Underneath the base lies the adjustable dual clamps that should keep the wheel nice and tight for long hours of gaming session. You'll probably notice that Logitech didn't even bothered themselves to add some padding here, and to be honest, I'm pretty much clueless myself. Good thing the base is flat, and doesn't appear to feature any abrasive feel to its texture. This side of the wheel base also features the AC adapter port, and the serial port for the pedals. If you want to make sure that this wheel isn't going anywhere, put a mouse mat/pad between the base and the surface. Works like a charm.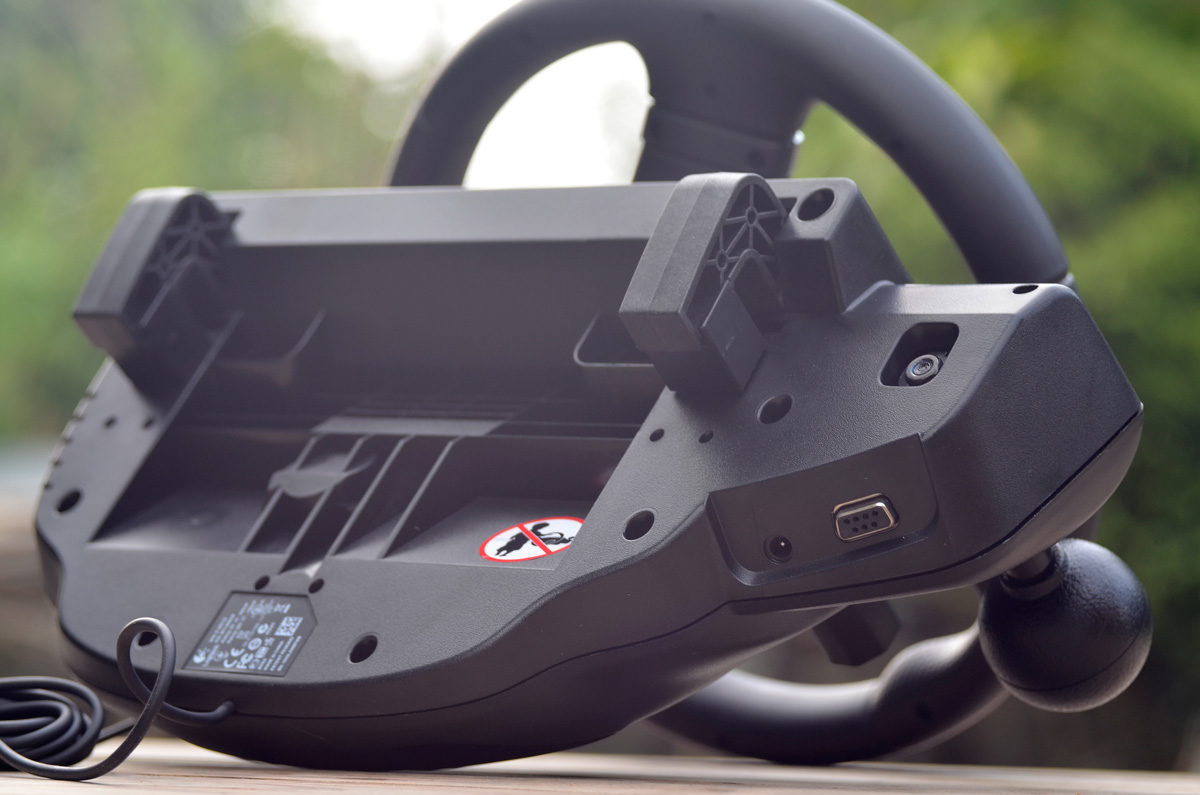 The dashboard features a subtle Logitech logo, along with a pair of adjustment knobs for the clamps. They are made of plastic, but does the job just fine.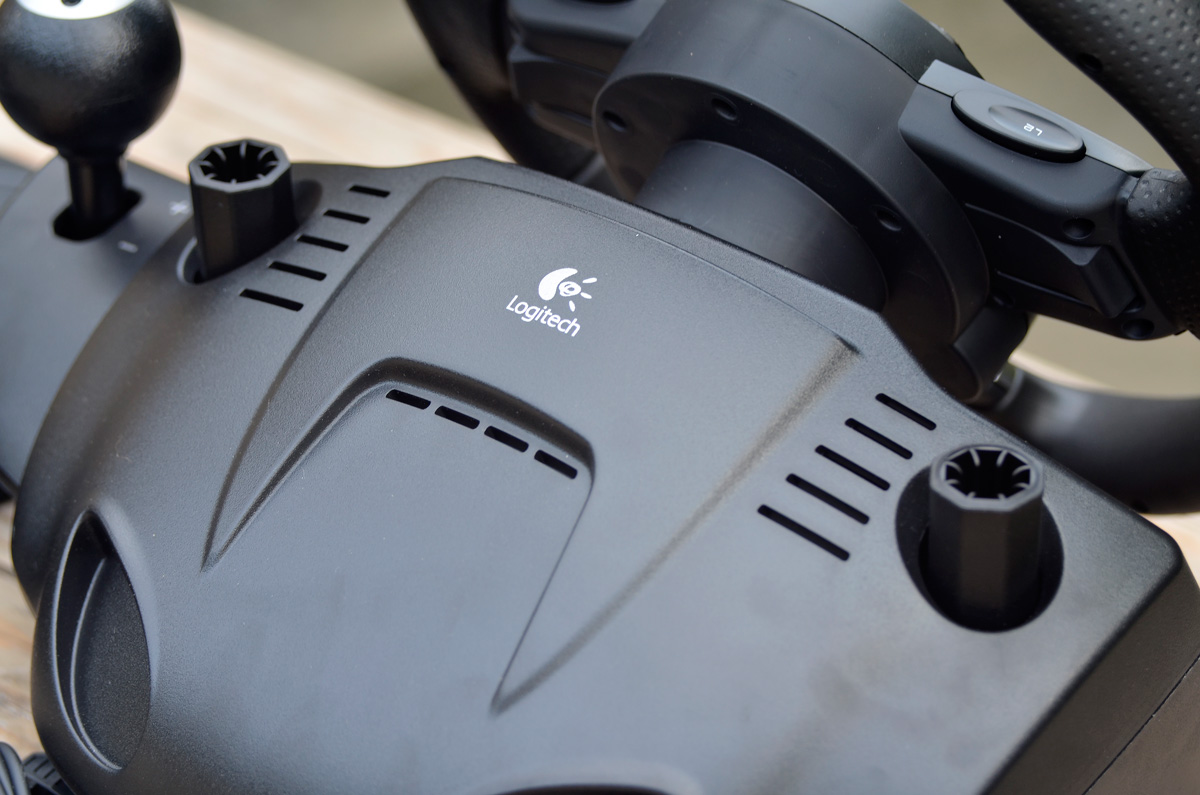 The gear / shifting stick features a fixed forward and backward action (sequential). It doesn't allow much room for play, but nonetheless, it does its job very well. Sadly, while it looks like a proper racing knob, it's just made out of textured plastic with the exclusion of the shaft. It is also fixed in the right most side position. Hardly a complaint for the price.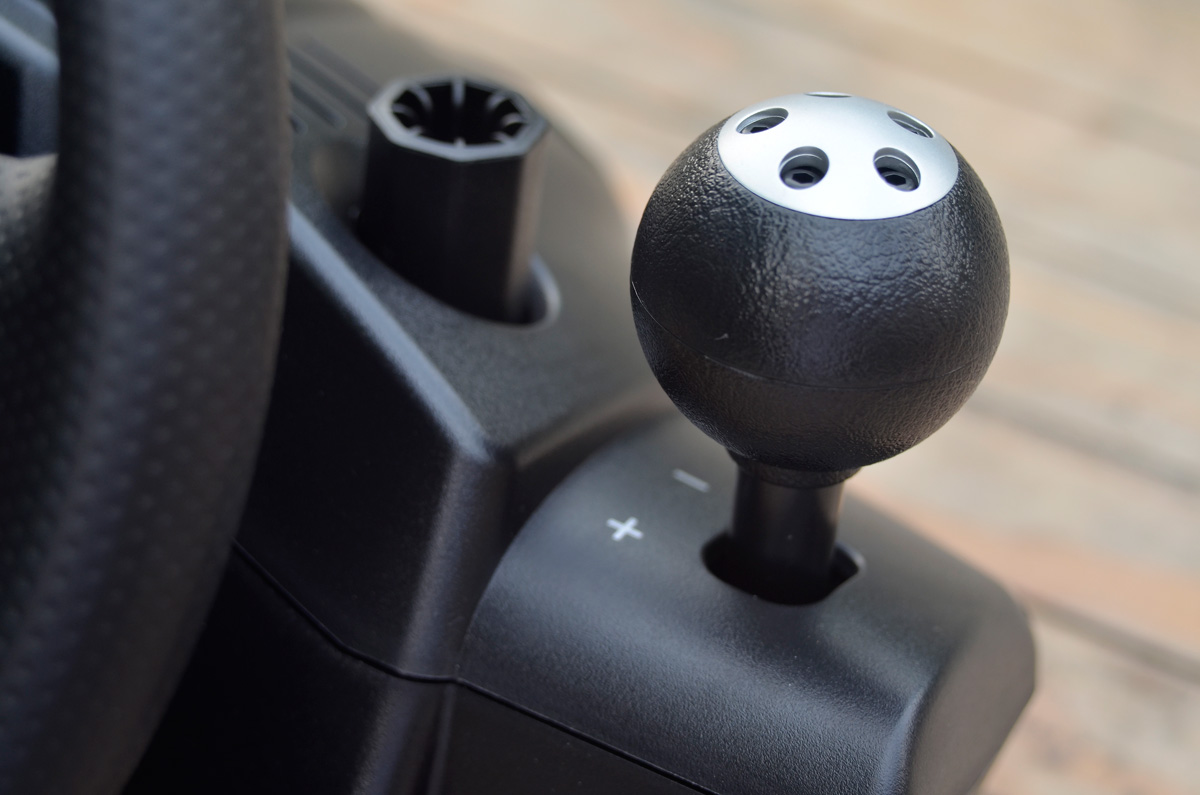 The 11 Incher wheel is made almost entirely out of molded rubber. It is sturdy enough and has a hefty amount of weight & feel to it. The 11 inch wheel also features a 900-degree rotation which is quite cool considering its price. Kinda reminds me of the G25 minus the plastic, to be honest.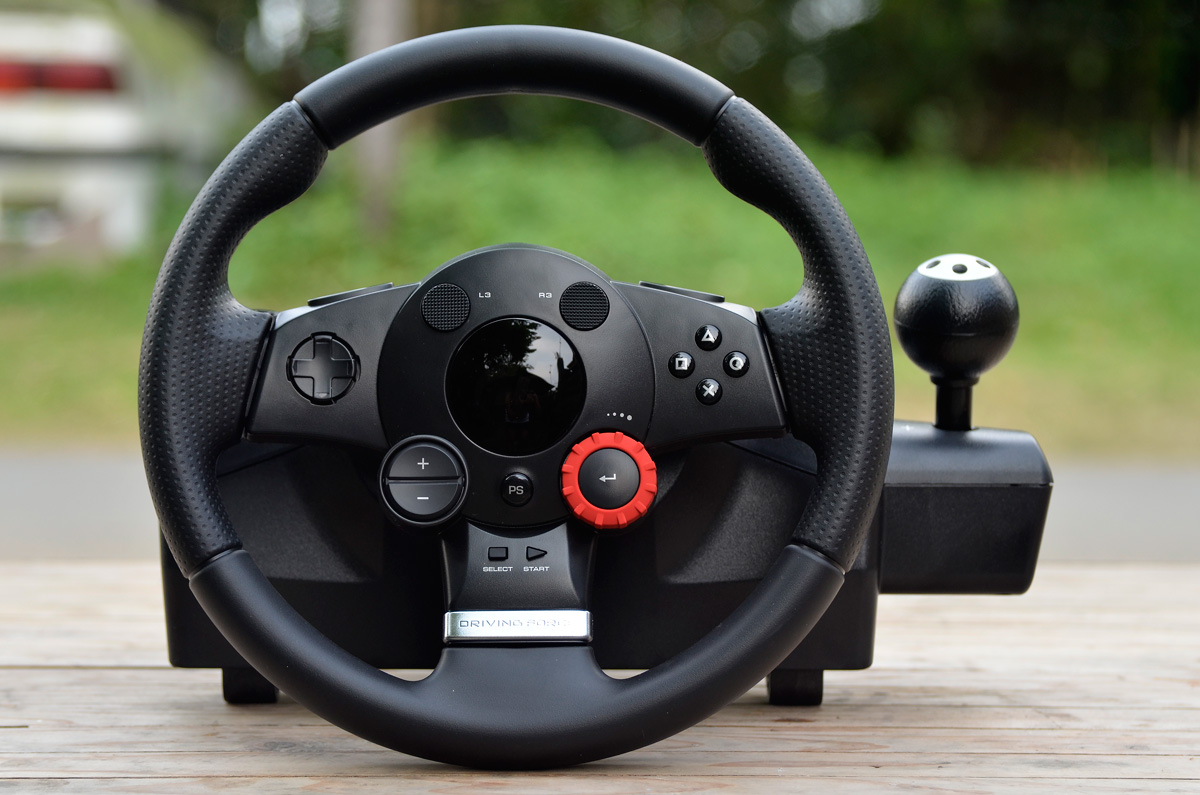 The wheel's grip is textured, and has contours that simulates a proper racing wheel. The grip also feels solid and would probably endure hours and hours of non stop racing.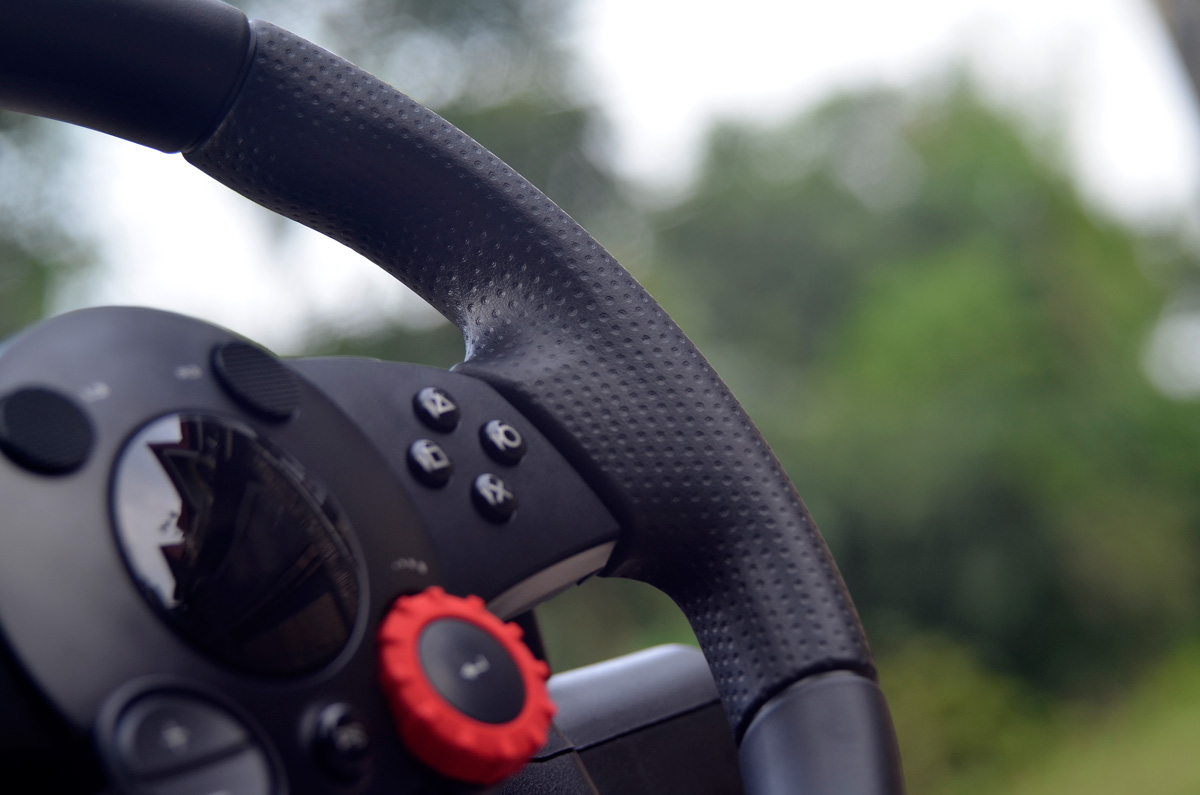 Perhaps the busiest part of the wheel is the button area, where you will be greeted by the Play Station buttons along with its familiar layout, and some extras. Extras includes the horn button with the GT logo that lits up in soft glow White, and Real-time adjustment button just below the horns. I find the Dials impressive to use in-game.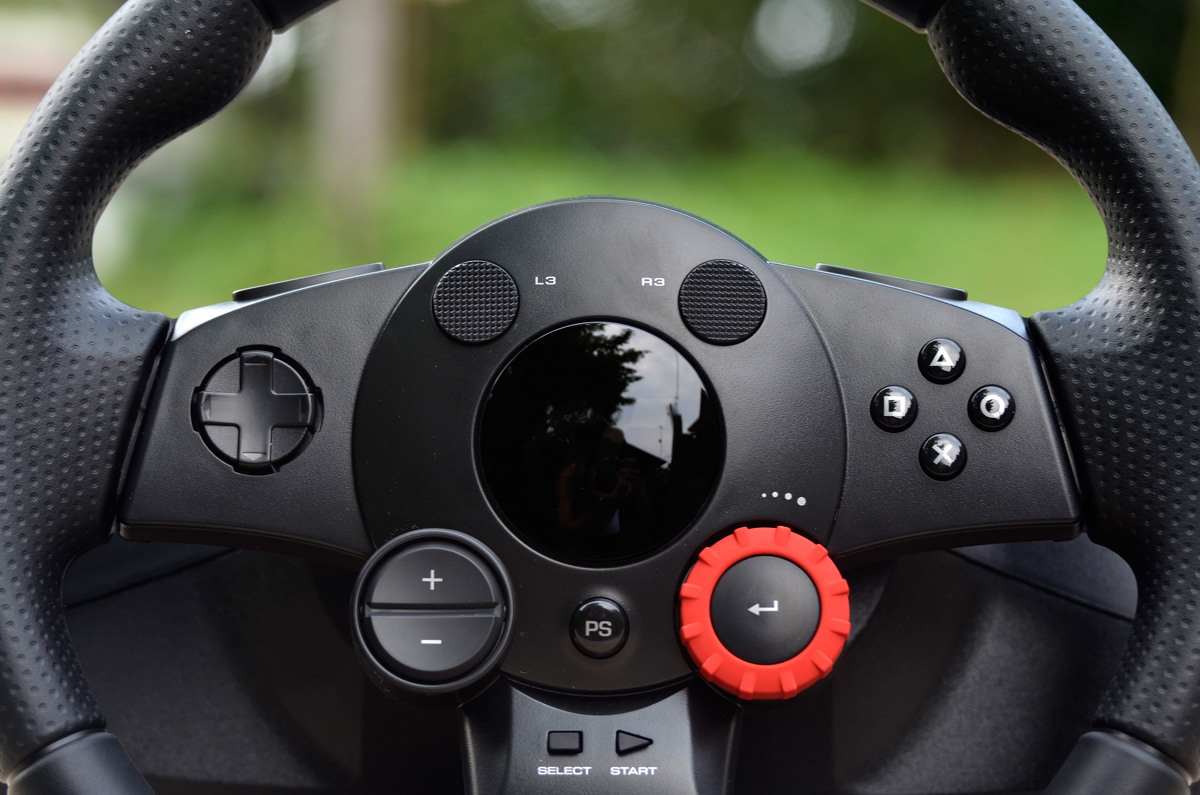 If you prefer paddle gear shifters, Logitech included a pair at the back of the wheel. They do the job just fine but most of you will probably find them lacking in the aesthetic, and immersion department due to their small stature. For the weekend sim warrior, they'll do, but for those who wants to experience the best, you're better off with the DFGT's bigger brother with full fledged shifters.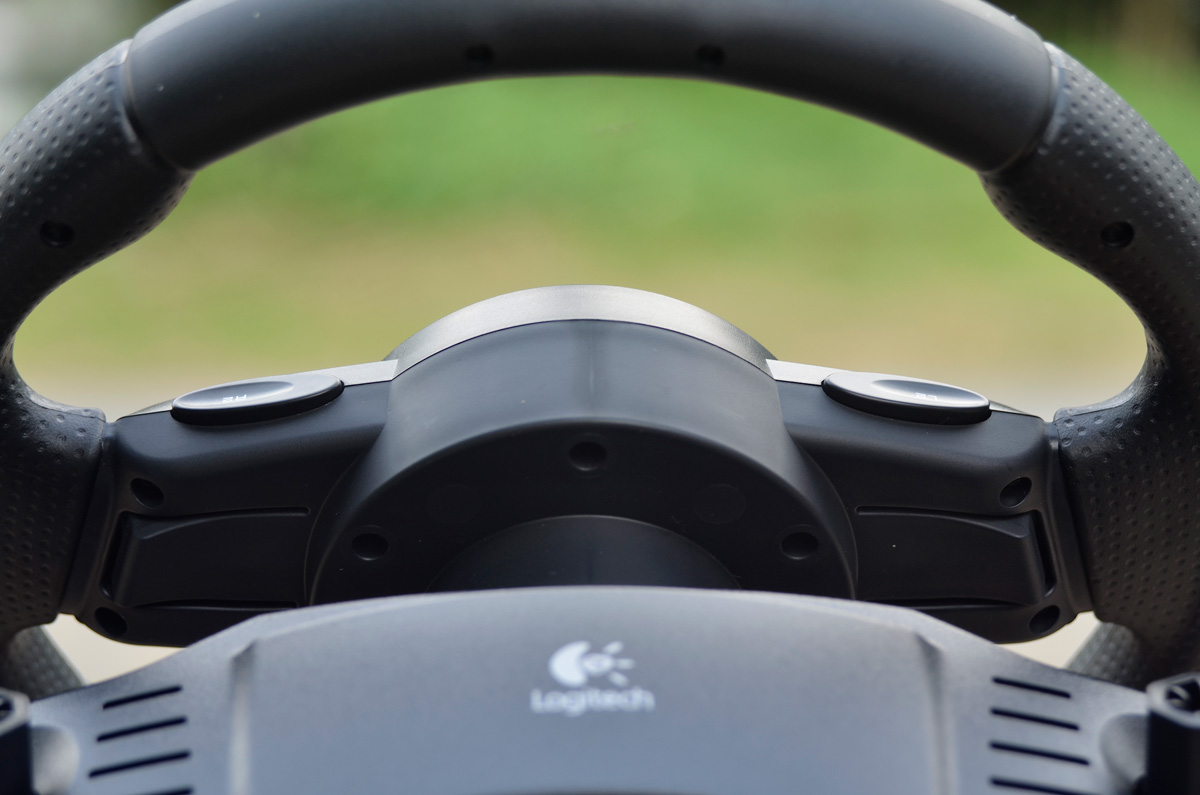 The wheel base's USB cable is lenghty, and wont pose any cable routing issues even if you're using it away from your console, or PC.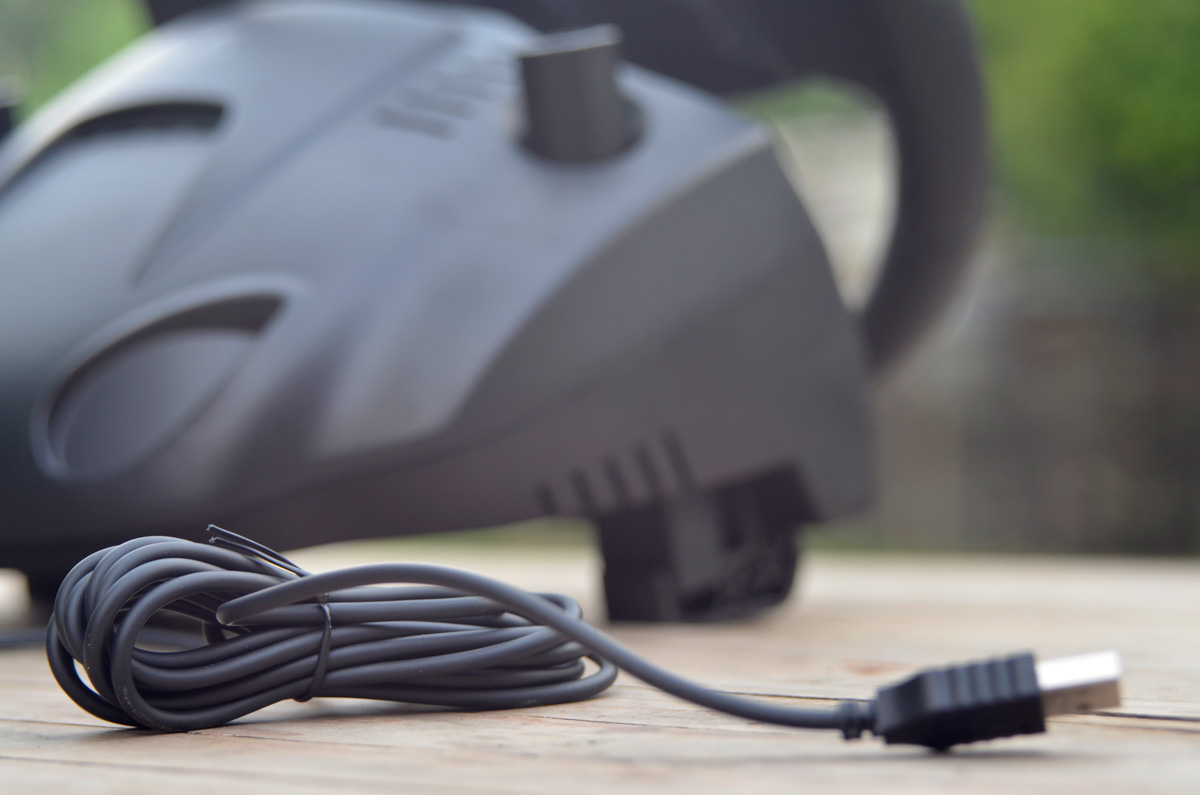 The pedal base of the Logitech Driving Force GT conforms to the floor-mounted standard. It is sturdy and well built, but the pedals themselves feels softer than the usual. Should you need to add some extra stiffness, pop in a stress ball at the back of the pedals. Even a sponge will do.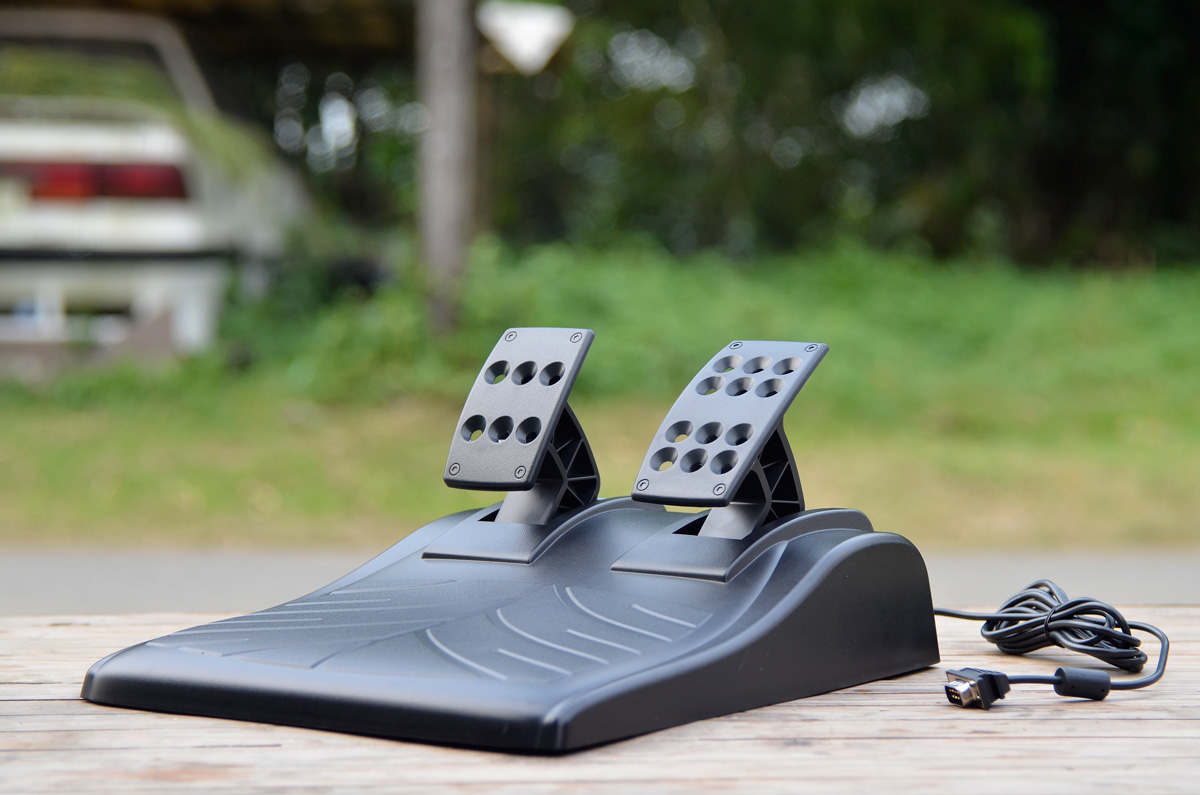 The back of the pedal base features Four rubber feet, a weight, and a carpet traction bar that pops up with a flick of a switch. There are no vertical mounting holes in sight so for those who wants to remap the pedals and use it vertically, ALA standard car pedals, then it's impossible.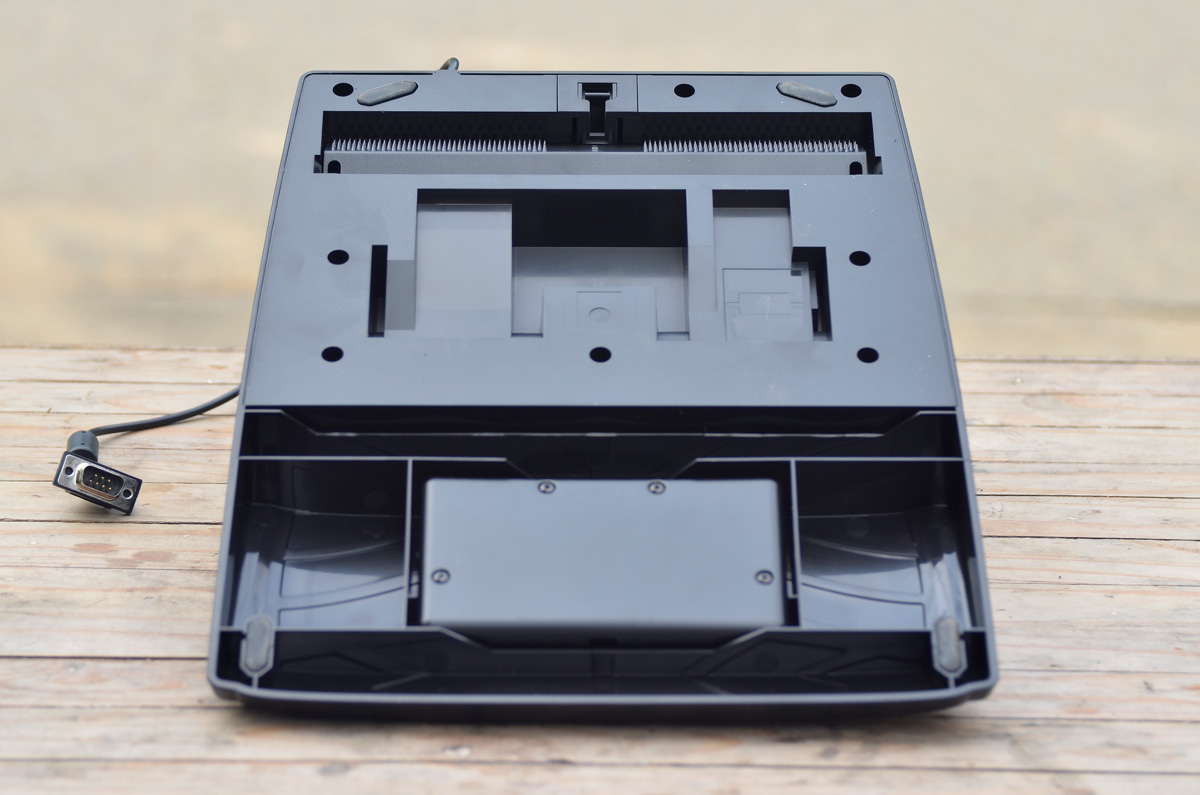 The cable for the pedals are fairly lengthy too, and could be easily routed under the desk.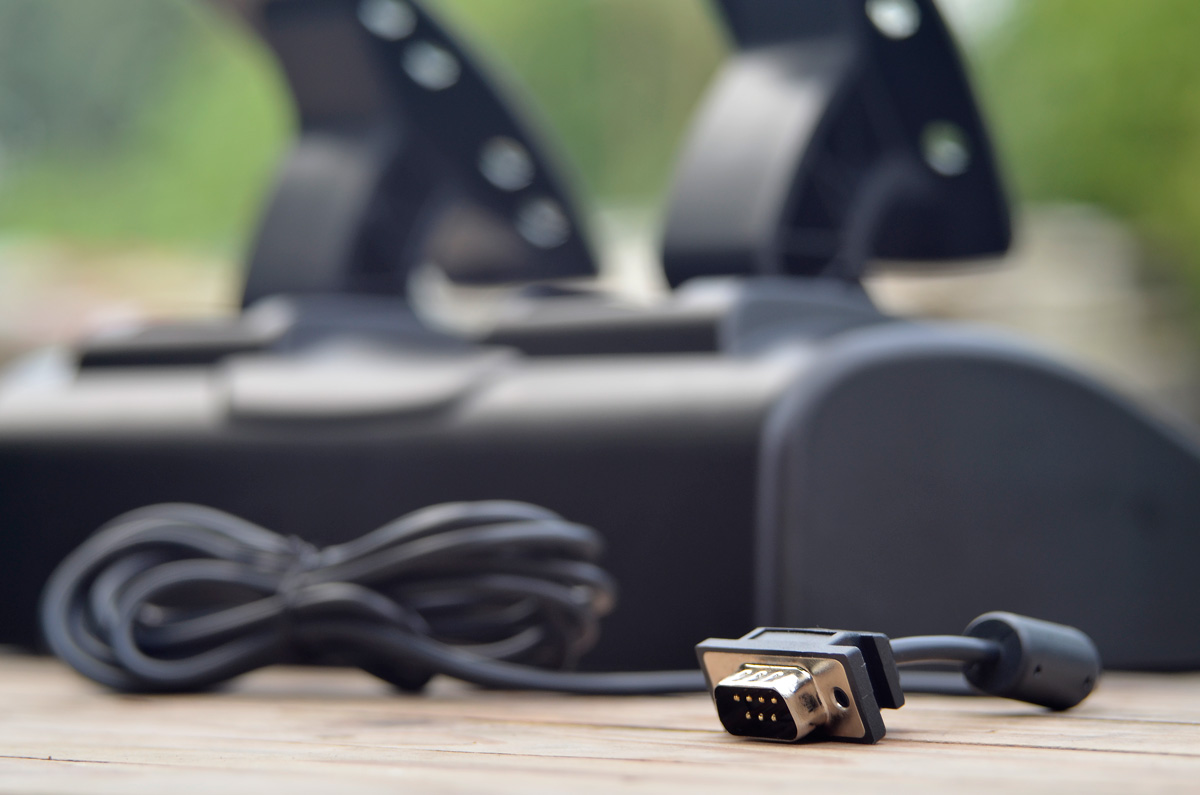 SOFTWARE & INSTALLATION:
Installing the Driving Force GT is no sweat. You just have to find a desk willing to be tortured, and in our case, it's my glass table. There isn't really much to say about the installation, as it is a simple task of plugging everything in, and tightening the wheel's base clamps securely.
Windows will automatically detect the wheel once plugged in, and the wheel will calibrate itself automatically. If you want more mileage, you could install Logitech's Profiler software as it features some good amount of settings to play with.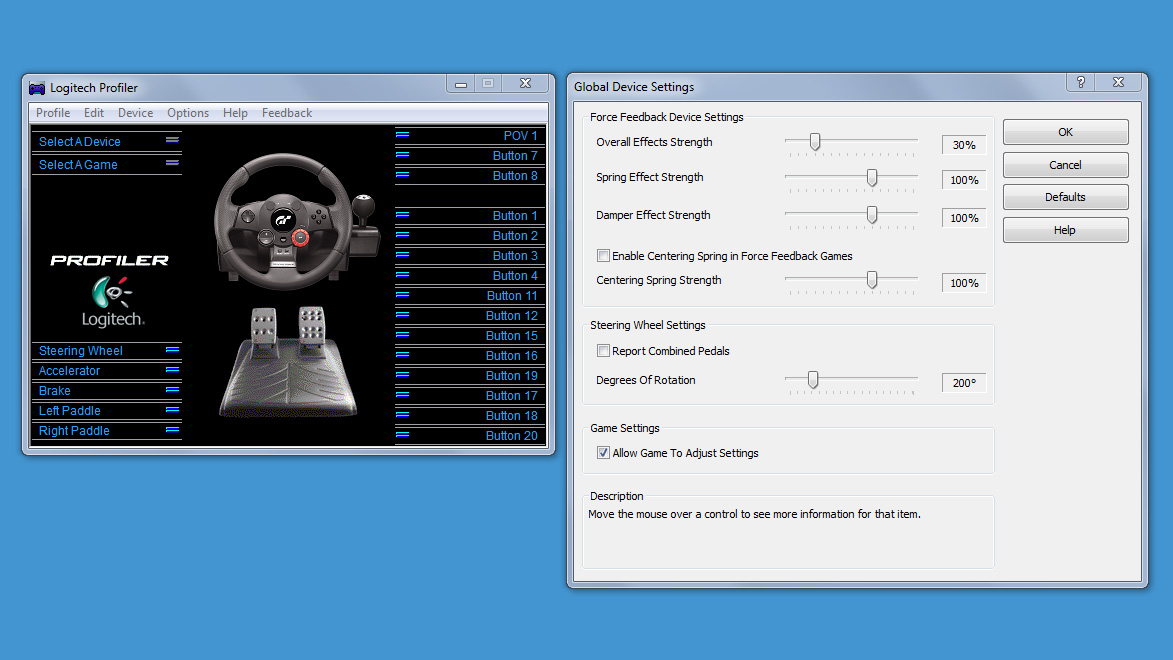 With a lengthy shelf time, I wouldn't be surprised if the Driving Force GT supports myriads of games to date, and boy it sure did. We have tested it with some of the titles I own including DiRT3, Race Driver: GRiD, GRiD 2, GTR Evolution, F1 2012, and Shift 2: Unleashed. For full title support, check out this page.
USER EXPERIENCE & CONCLUSION:
We have been testing the Logitech Driving Force GT for almost a week now, and I am absolutely impressed by its performance, particularly in the force feedback department where it showed its major strong point. The curbs, the apex, every freakin' bumps on the road are well simulated by the force feedback motor, and has been precisely transmitted to the 11 inch wheel. Heck, you can even feel the wheels in-game, be it your car is over-steering, under-steering, or loosing traction; Ultimately translating to a better racing experience, and would absolutely shave some good amount of time. Overall, an impressive force feedback experience with the DFGT.
Talk about the wheel, we experienced no lags, or even any degree of dead zone as we raced gracefully through numerous courses. It is precise, feels natural to the hands and features a good amount of resistance courtesy of the adjustable center spring. Gear/Servo noise were also tolerable, so you'll enjoy racing without being bothered by the wheel's noise as you turn it. We also tested the 900-degree rotation feature, but it proved to be tiring for daily track use. – The feature is there if you need it though.
Buttons were snappy, but you wouldn't really use them much in-game aside from the real-time adjustment buttons and dial. Some games, such as the Shift 2: Unleashed, supports the use of the dials and that said, we enjoyed using them on the fly as it adds a bit of immersion. You need to manually map them though, which is what you would probably do anyway.
Though I am impressed and all, there are still flaws. The pedals on their own, while precise, doesn't possess enough resistance to them, as if I'm using an already wearied set of pedals. The paddle shifters on the otherhand were also too small to enjoy, proving to be a problem if you're racing with semi-auto settings on a tight course. I just wished they opted for something substantial just like what they did to the MOMO, and the G27.
With a price point at around 8, 000 Pesos, it is easy to weigh-in the pros and cons of the Driving Force GT. I mean for the price, its pros out-weighs the cons easily by providing us a great immersive racing experience. Strongly suggesting the fact that you do not really need an expensive wheel set to enjoy gaming. If you're looking for a great performing, value oriented wheel to jump start your Racing SIM career, then look no further than the Logitech Driving Force GT. It has the force to recon with.
PROS:
Strong force feedback motor
Comfy & accurate wheel
Sturdy wheel assembly
Good value for money
3 year warranty
Easy to setup
CONS:
Foot pedals lacks resistance
Small paddle shifters
Logitech Driving Force GT Racing Wheel
PERFORMANCE -

8/10

BUILD QUALITY -

7/10

FEATURES -

8/10

AESTHETICS -

9/10

VALUE -

9/10
Summary
With a price point at around 8, 000 Pesos, it is easy to weigh-in the pros and cons of the Driving Force GT. I mean for the price, its pros out-weighs the cons easily by providing us a great immersive racing experience. Strongly suggesting the fact that you do not really need an expensive wheel set to enjoy gaming.