In for a much needed or rather, overdue review is the Noctua NH-U12A chromax.black. This cooler retails for about $119.25 USD at Amazon.
The chromax.black variant of the NH-U12A is not much different compared to the standard version – except for the obvious. That said, it still pulls out the same numbers across the specifications sheet.
Disclosure: Noctua sent the NH-U12A chromax.black for the purpose of this review. The company did not ask me to say anything particular about it.
Technical Specifications
Cooler
Socket
Intel LGA1700, LGA1200, LGA1150, LGA1151, LGA1155, LGA1156, LGA2011, LGA2066; AMD AM4, AM5
Type
Air Cooler
Material
Cooper (plate), aluminum (cooling fins)
TDP
169 NSPR
Pump
Speed
—
Noise
—
Flow
—
Fan
Speed
450-2000 RPM
Noise
18.8-22.6 dB(A)
Airflow
102.1 m³/h
Pressure
—
Dimensions
Length
125 mm
Width
58 mm
Height
158 mm
Weight
760 g
Packaging and Accessories
Noctua had the NH-U12A chromax.black packed inside an environment friendly packaging.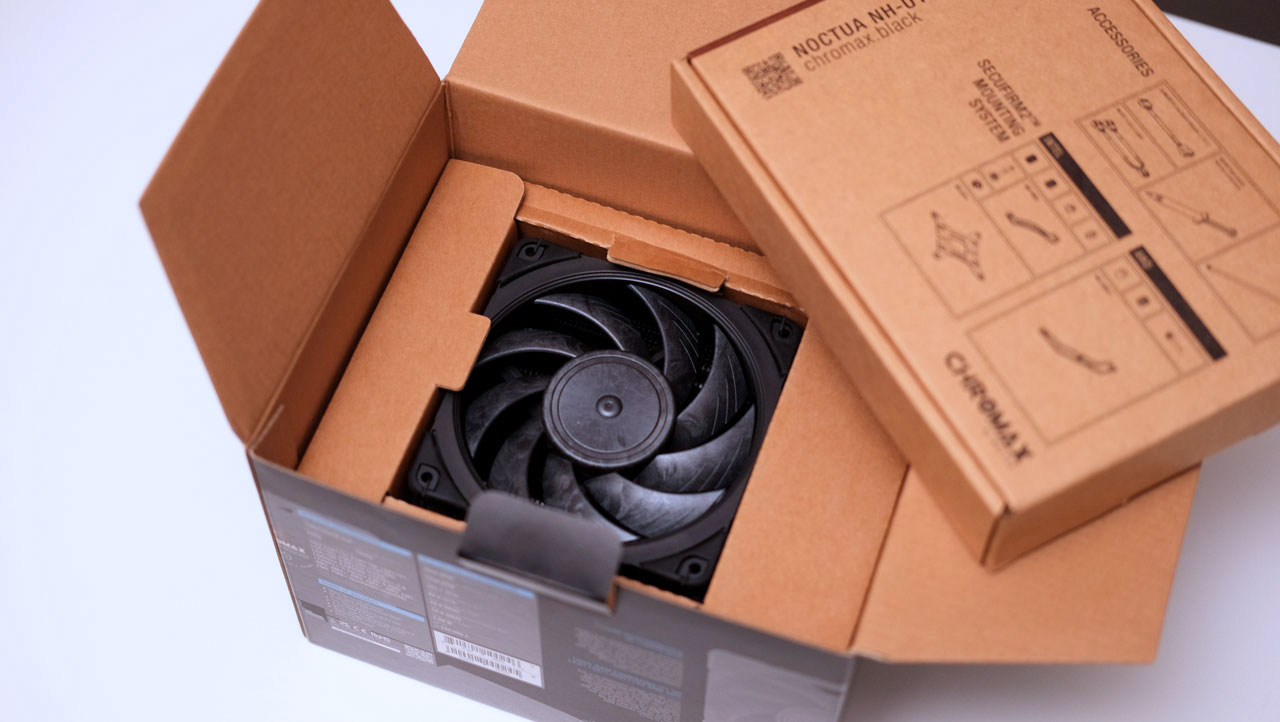 Scope of delivery are as follows:
Black NH-U12A heatsink
2x NF-A12x25 PWM chromax.black premium fan
2x NA-RC14 Low-Noise Adaptor (L.N.A)
NA-YC1 4-pin PWM y-cable
NT-H1 high-grade thermal compound
Black SecuFirm2™ mounting kit
Noctua Metal Case-Badge
Pretty good bundle of parts and accessories we got here which is the norm at Noctua.
Design, Layout and Build Quality:
The NH-U12A chromax.black is not that much different compared to the standard NH-U12A aside from its distinct all black coating. Basically, the chromax line has everything the standard line-up has but focused on aesthetics.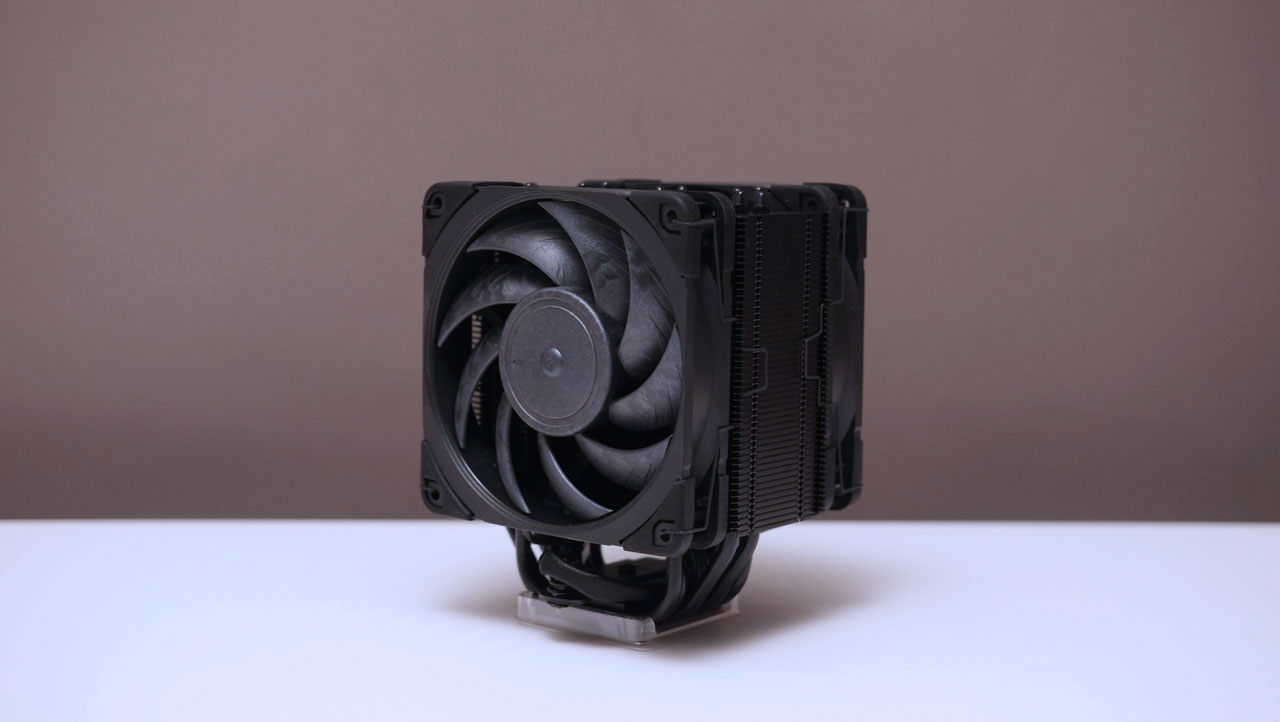 Like the NH-U12A before it, the chromax.black is a tower cooler that you could use with at least one fan. It could actually be used without one if you have a 35W CPU based on my testing. Now what I like about Noctua is the sheer lack of sharp edges to watch out for. The Dark Rock 4 for example is notorious in this regard.
Noctua had the chromax.black configured with two fans, directing blowing and exhausting air from the stack of heatsinks and its seven U-shaped heat-pipes; all dissipating heat from the nickel-plated copper baseplate.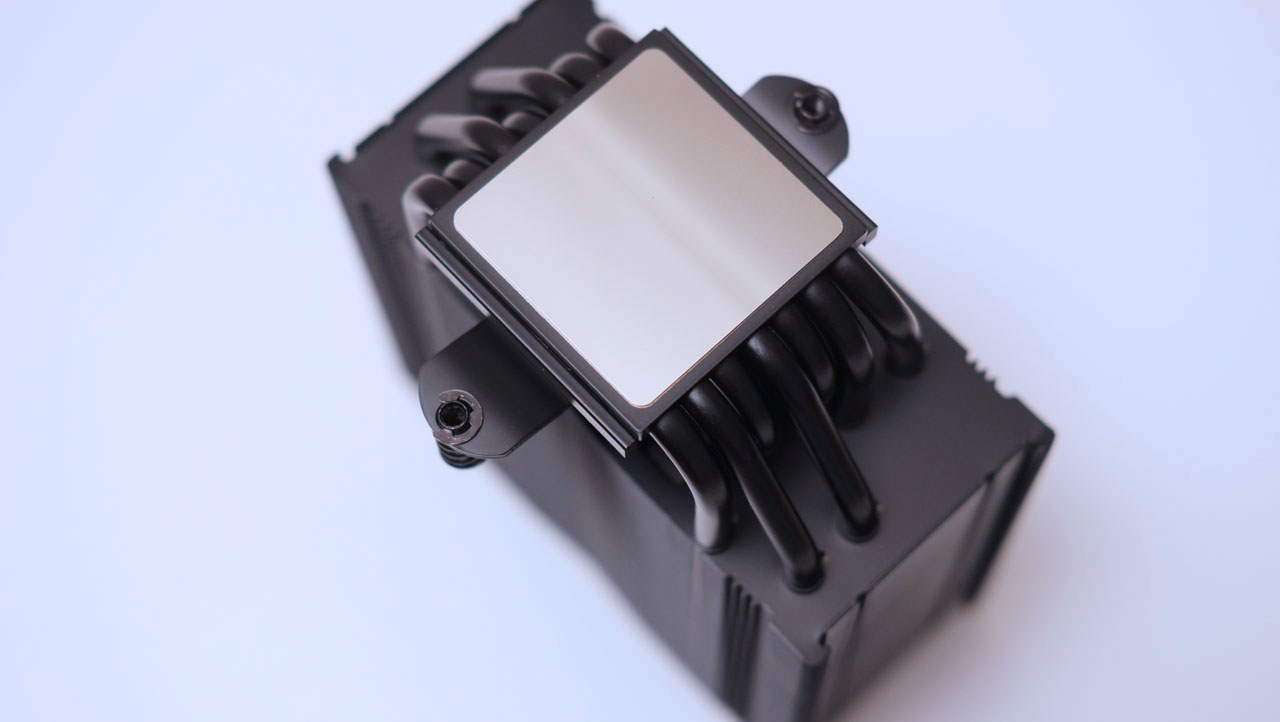 Spinners in question are a pair of NF-A12x25 fans. They also matched the cooler's aesthetics but if I remember correctly, Noctua did a considerable amount of R&D with the pigments used for these fans to maintain their performance.
Over all build quality is excellent – as usual from the Austrian brand.
Installation and Clearance
Installing the Noctua NH-U12A chromax.black is easy enough and it is even easier with the AMD kit with less to work with. You just have to make sure that you've got the necessary spacers, screws and mounting brackets for the cooler.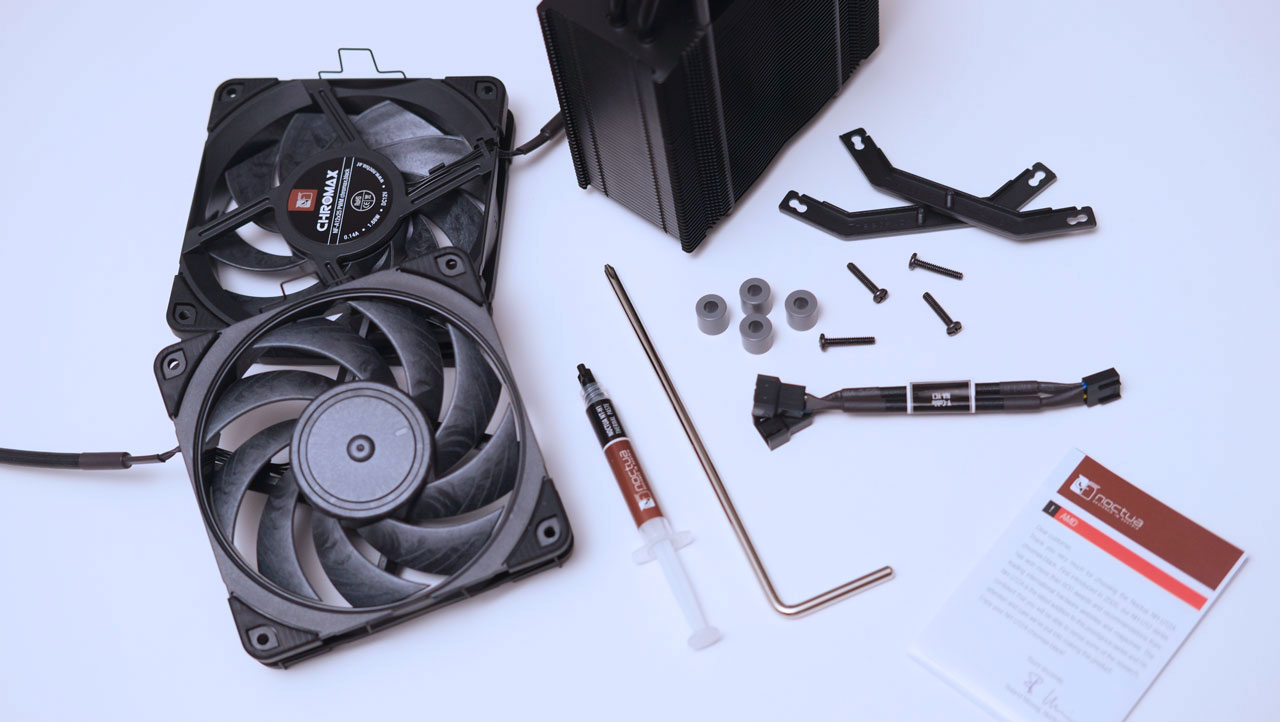 In a few minutes, the NH-U12A is ready to fire up – figuratively speaking.
Compatibility with memory kits is excellent since it is a rather slender tower cooler to begin with. If you happen to own a motherboard with memory slots designed as close as possible to the socket (usually SFF models), then you may adjust the height of the fan via the brackets. Other that that, make sure your case has enough space for the cooler.
Test Setup and Methodology
Our test setup relies on the measurements taken from AIDA64 Extreme. It is important to note that we are testing the review sample after burn-in, with at least 24-hours of uptime. This is done so to negate the FOTB (fresh out the box) state of the DUT (device under test), yielding better benchmarking consistency.
Test System Specifications
CPU
AMD Ryzen 5 3600
Motherboard
BIOSTAR B550M-Silver
Cooler
Noctua NH-U12A chromax.black
Memory
ADATA Premier 2666MHz 16GB
GPU
GALAX RTX 2060 EX White 6GB
Storage
Kingston FURY Renegade 2TB PCIe 4.0
Case
Mechanical Library JXK-K3
PSU
Thermaltake Toughpower GF1 850W
Display
LG UF680T
OS
Microsoft Windows 11 Pro 64-bit
The DUT is tested with the following configuration from our test system:
UEFI configuration: Default
Windows Power Plan: Balanced
Note: This is the first cooler or rather review sample I've tested with Windows 11. That said, I have tried sampling other coolers with the latest OS as well but I did not find any significant differences in cooling performance between the two operating systems. Thus, I have included my previous benchmarks here for your perusal.
Temperature
Temperature is measured in degree Celcius (ºC) at system idle and load. This is done via AIDA64 Extreme and its built-in System Stability Test. Readings are taken directly from the CPU Tdie sensor via HWiNFO.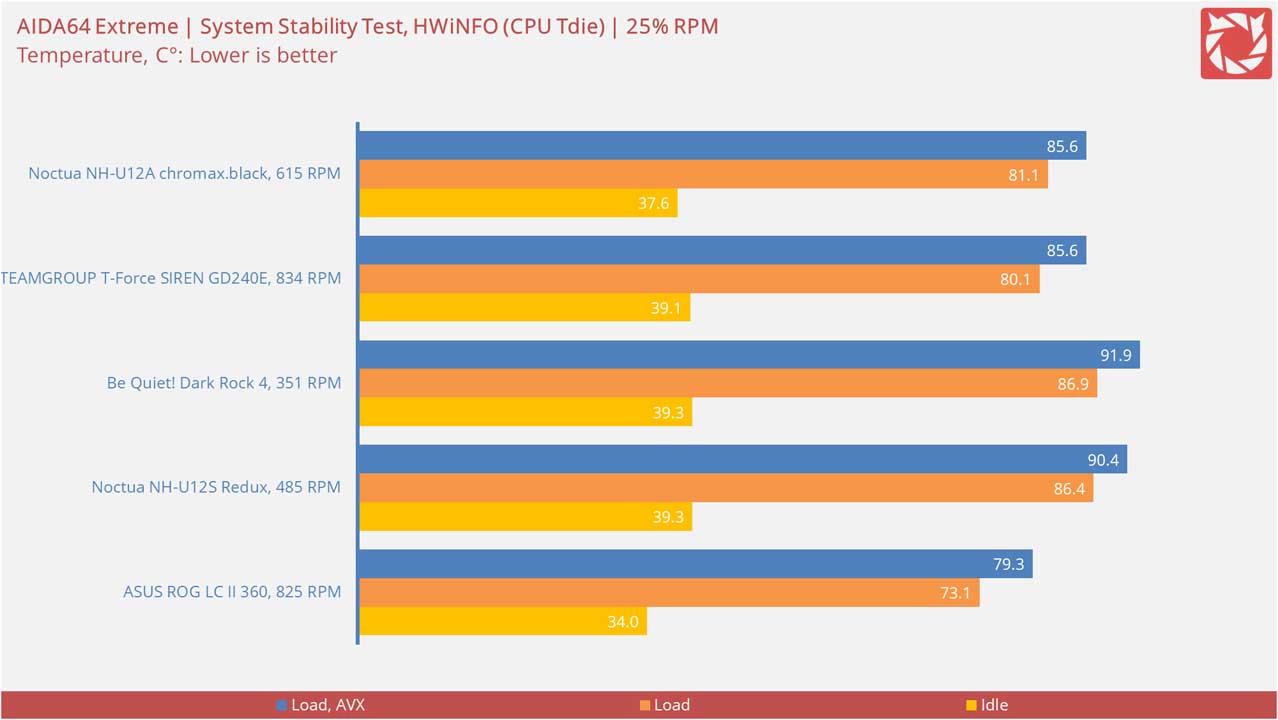 At 25% PWM duty cycle, the NH-U12A chromax.black performed really well. At 615 RPM, it doesn't go as low as the Be Quiet! Dark Rock 4 so there's that as a reason.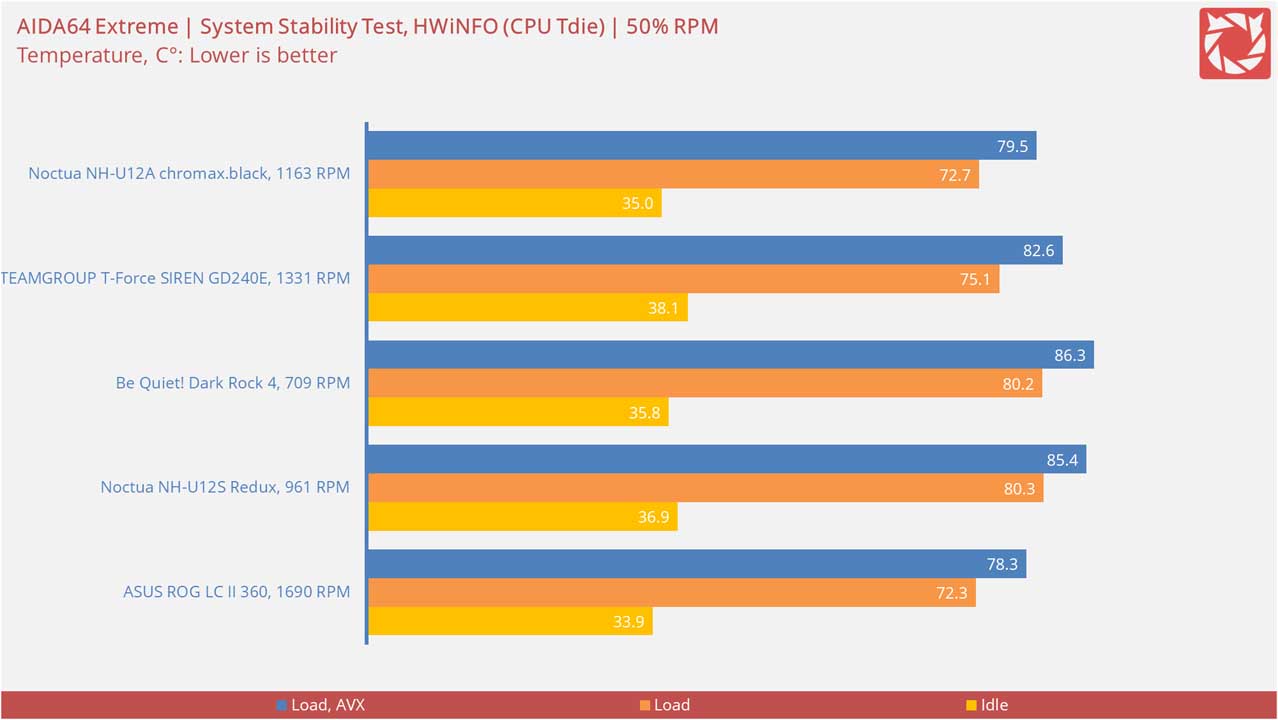 The same thing could be said at 50% PWM duty cycle. This is actually performing better compared to the recent 240 mm cooler tested.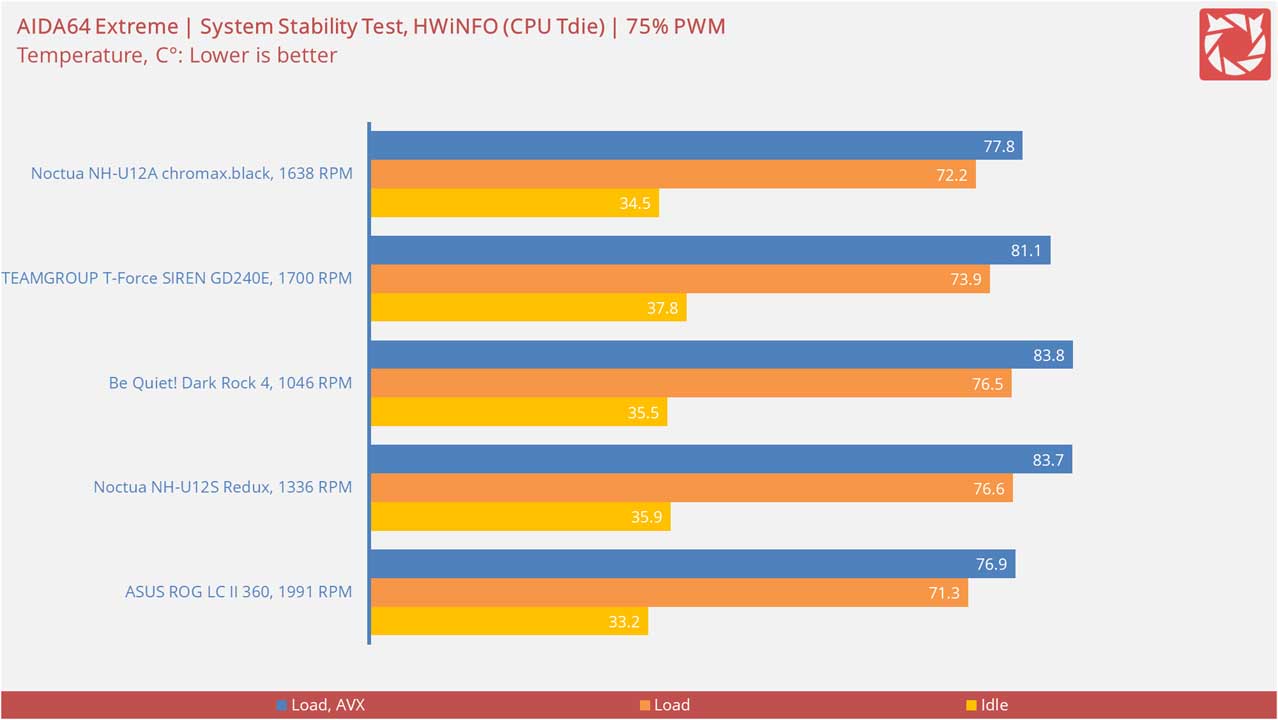 The same trend could be seen at 75% RPM. The dual Noctua NF-A12x25 fans are just too good at their respective jobs – pushing and pulling air to and from the cooler.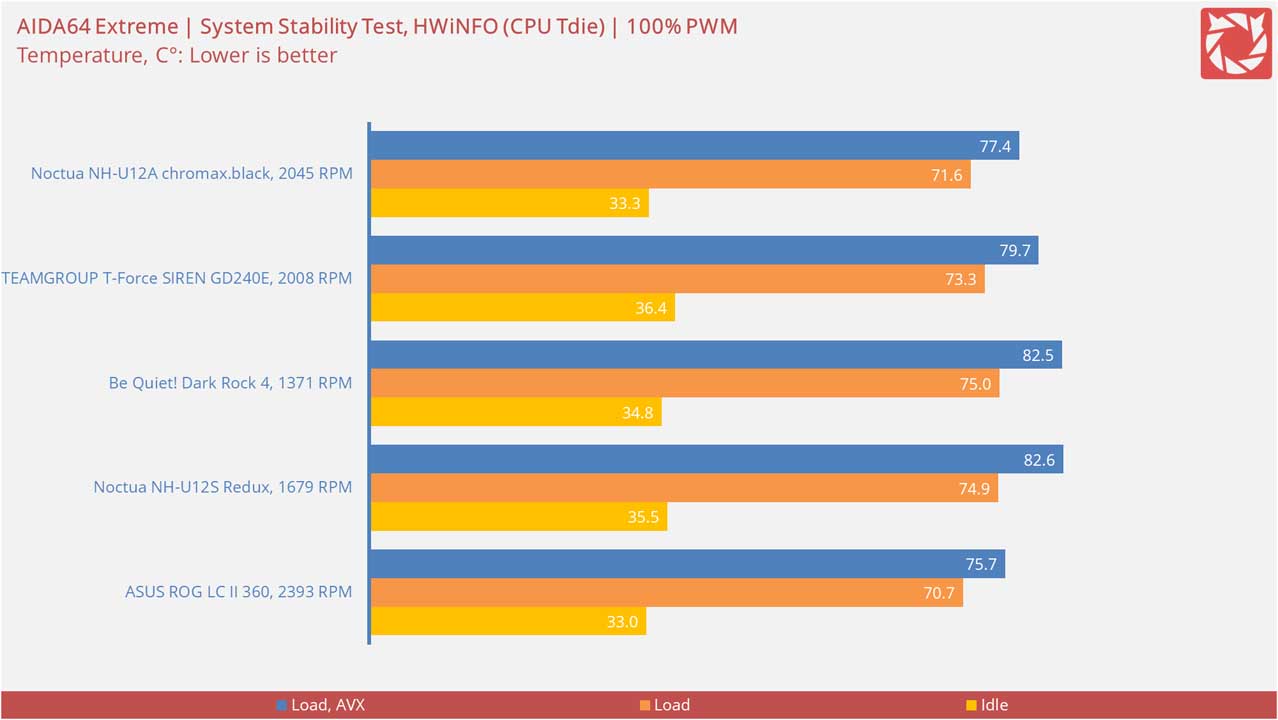 Performance at 100% PWM duty cycle is of course no slouch either. It is the second best cooler tested with this metric in mind – just next to the 360 mm ASUS ROG cooler.
Noise
Sound Pressure Level is measured in Decibels (dBA) at various fan duty cycles. This is done via AIDA64 Extreme and its built-in System Stability Test. Readings are taken directly from a sound level meter.
Noise is spot on excellent. The dual Noctua NF-A12x25 just exceeded my expectations here, featuring class leading performance across the RPM range. This actually prompted me to retest other coolers with Windows 11.
Features
The chromax line has been built from the ground up with performance and aesthetics in mind. Black does not equate that it is always the best choice so Noctua decided to add cooler shrouds to maximize the new line-up's potential.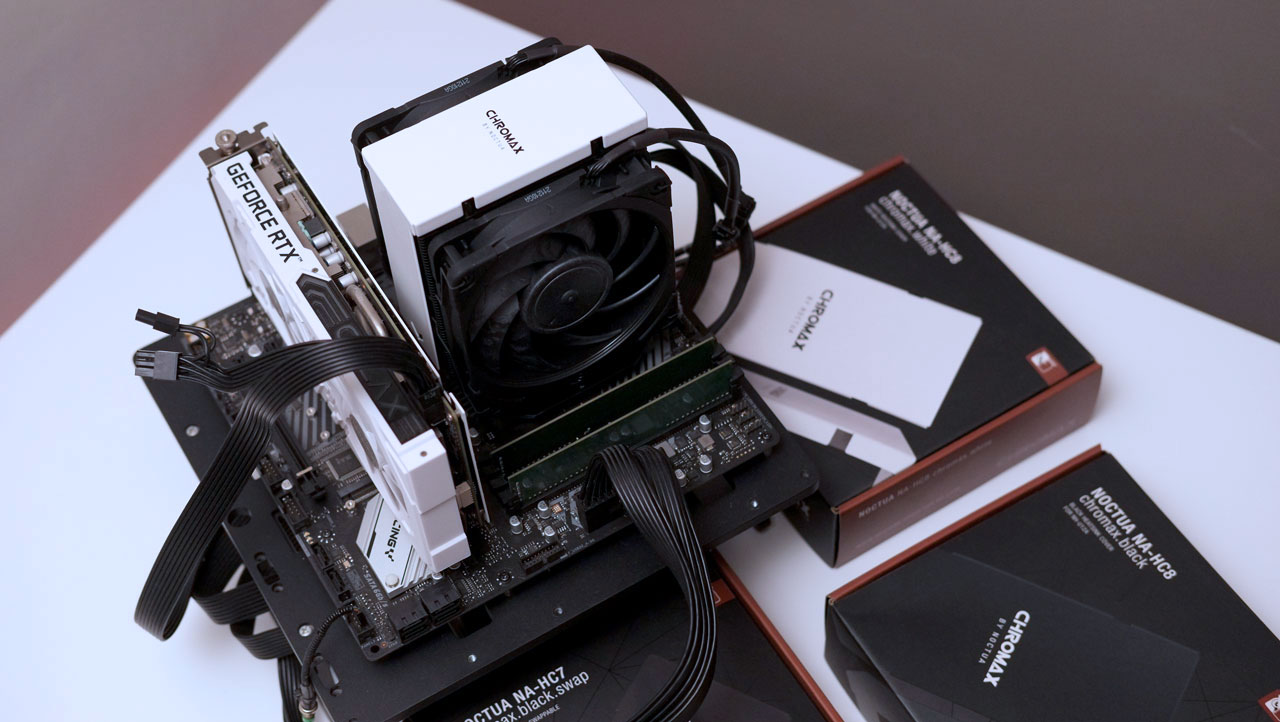 These are easy to install shrouds and comes in many colors (Black, White and Black Swap). You have to buy them separately though.
Final Thoughts
The NH-U12A is already an award winning air cooler from Noctua but the chromax.black took it to the extreme with an additional fan and a more eye friendly aesthetics – I don't mind the old colorway I swear.
As for specifics, what the chromax.black brought to the table is a combination of excellent thermals and noise levels. While I don't mind it running at 100% fan speed when the CPU calls for it, the NF-A12x25 fans are efficient enough to run at their 75% most of the time. For your reference, the NH-U12A chromax.black running at 75% RPM and the Dark Rock 4 at 100% RPM has similar noise levels but the former still pulls ahead with better thermals.
In closing, Noctua spared no change into creating a medium sized dual fan tower cooler. It is quite expensive for its category but it is money well spent I must say.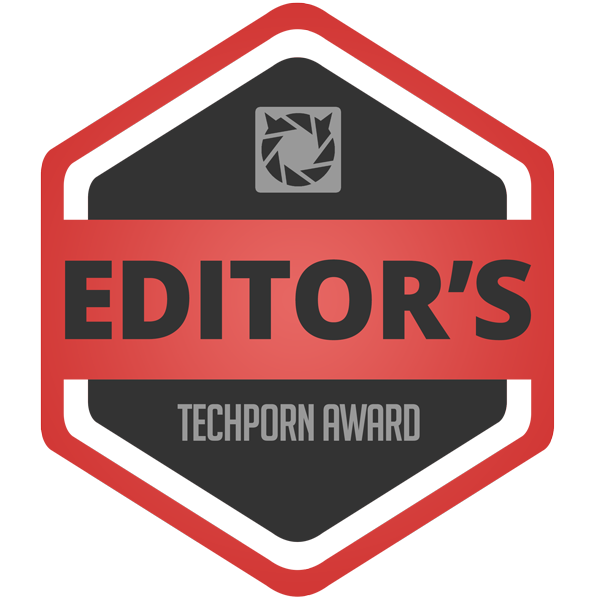 Noctua NH-U12A chromax.black
Summary
With the NH-U12A chromax.black, Noctua continues the company tradition of releasing coolers with a good blend of thermal and sonic performance. Prepare to shell out at least $120 USD though and an extra $20 USD for the decorative plate.