With the vast number of newcomers at the mechanical keyboard and gaming scene, I wont be surprised if you haven't heard of REDRAGON yet. If you do, well great for yah ~ but if you don't, then let me educate you about the brand and their gaming gears especially the REDRAGON Indrah mechanical gaming keyboard.
REDRAGON (RedragonUSA) appears to be a fairly new brand when it comes to gaming gears. But, they are actually, and quietly creating products for other brands since 1996. That's 20 years ago, and this year they've decided to go on their own to provide gaming gears directly to the consumers.
Enter the REDRAGON Indrah – one of the many deity based mechanical keyboards from their vast line-up of gaming gears. This keyboard is no "slap-your-brand and flag-it-as-your-own" gear. It is actually a product built from the ground up to cater the gamer's needs. REDRAGON brands the Indrah as the ultimate gaming keyboard, featuring custom mechanical key switches, programmable buttons, and full N-key rollover. The model we got is the Indrah White, a variant that hasn't made rounds at the net just yet. Well, it does now so let us check out what this 64 USD / 3, 000 Pesos mechanical keyboard has to offer.
FEATURES & SPECIFICATIONS:
| | |
| --- | --- |
| COLOR | RGB Backlight (White) |
| CONNECTIVITY TECHNOLOGY | USB |
| HARDWARE CONENCTIVITY | USB 2.0 |
| DIMENSIONS | 8.54 x 17.62 x 1.55 in |
| WEIGHT | 2.56 lbs |
Custom mechanical switches (Cherry Green equivalent) for ultimate gaming performance.
RGB LED adjustable lighting with 7-colors and 6-lighting modes. Double-shot injection molded keycaps for crystal clear backlighting.
Aluminum and ABS construction, plate-mounted mechanical keys, and gold plated USB connector stand up to hardcore gaming.
Custom mechanical switches designed for longevity, responsiveness, and durability. Mechanical keys with medium resistance, audible click sound, and tactile feedback.
104 standard conflict free keys, full numeric keypad, 6 multimedia keys, 5 programmable macro keys, and splash-proof design.
There isn't much told about the technical specifications of the REDRAGON Indrah, and they even forgot to add the type of switch used. The REDRAGON Indrah is actually available in 3 variants: Two customizable RGB models both in Black and Silver White body, and a Black body with fixed RGB lighting. We are not sure if a White version with fixed RGB lighting will be released anytime soon.
PACKAGING & BUNDLED ACCESSORIES:
Packaging isn't all that different compared to other gaming oriented products we've seen so far with an expected combination of contrasting colors. The fascia of the color box reveals the relevant features of the Indrah, but it still houses the image of the Black RGB variant. We believe REDRAGON will update this once the White version goes on sale.
The back of the packaging reveals the lighting options of the Indrah, together with the macro features and other functions related to gaming. That's all about it this side of the box.
The REDRAGON Indrah comes with a key cap puller, a user manual – because you really need one, and a rather nice palm rest in White.
REDRAGON INDRAH DESIGN & BUILD QUALITY:
Out of the box, the REDRAGON Indrah is definitely not your typical run-of-the-mill mechanical keyboard. It is glowing in white, and shines elegantly out in the sun, courtesy of the keycaps and the brushed aluminum finish. That silver and white combination really killed it – in a positive manner.
The underside of the keyboard is made out of white textured plastic. It's resilient, and has proper footing so the Indrah won't even budge at intense gaming sessions.
Connectivity is provided by a 6 foot non-braided USB cable. It matches the body's color, and is easier to route compared to thicker and braided ones. The cable also comes with a velco strap which is nice.
The keyboard is based on a 100% ANSI layout with an extended body to accommodate the media and macro top row keys. This keyboard is definitely light at 962 grams, and will fall at the 1026 grams mark with the cables considered. Although it is light, the keyboard never flexed and is oozing with build quality plus a style to match.
The keyboard profile is contoured which is similar to other mechanical keyboards we've tested so far. At its lowest, the keyboard features a height of around ~3 cm. The maximum height at the far end is at around ~3.5 cm, and can be adjusted further by a centimeter via the extended rubberized footing. Measurements were taken from bottom to the top of the keys, by the way.
The REDRAGON Indrah uses the Outemu Blue Switches. These are Cherry MX clones, and features a clear housing for greater lighting effect. REDRAGON said that these switches are equivalent to Cherry MX Greens but I shall tell you right now that these are more of Cherry MX Blue equivalents. The material used on the keycap is textured ABS featuring double-shot printing. The main part of the cap is white plastic, with the secondary part up to the stem is a translucent plastic – perfect for illumination. The Indrah appears to feature plate-mounted switches.
THE OUTEMU BLUE SWITCHES:
The Outemu Blue Switches are the equivalent of the German made Cherry MX Blue Switches. That said, they offer the same tactile and clicky feedback with a satisfying overall feel. Now the Outemu Blue is definitely a clone of the Cherry MX Blue with the exception of a clear housing for the LEDs to shine through. This works perfectly with the Double-shot keycaps.
The Cherry MX Blue features 55 grams of actuation force, while the Outemu Blue based on our testing features somewhat around 55~60 grams of actuation force. The Outemu Blues are not that consistent, but the varying forces required to actuate them are not deal breakers.
THE DOUBLE SHOT KEYCAPS:
The Indrah features the normal Cherry MX keycap profile from top to bottom row, with a non-obtrusive font style of the legends with center-top alignment. The keycap material is most likely ABS as hinted by the Double-shot molding. It is also textured, has tolerable runner marks, and feels really nice. PBT caps are still my preference, but the quality on this cap is just amazing, price-wise.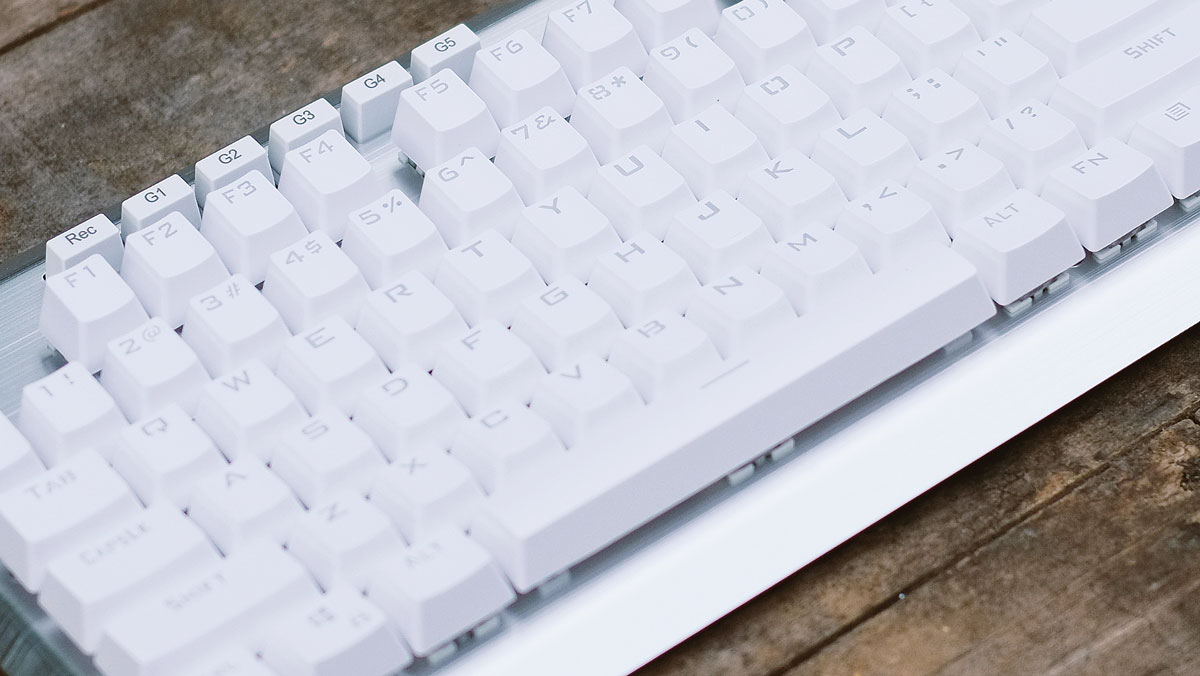 Keycap printing method is Double-shot molding, and boy it looks fabulous AF. For the un-initiated, Double-shot molding is one of the best printing methods you could get this side of the industry. It requires two shots of plastic with the first one as the shell, and the second one for the legends and stem. This way, the legends will never fade away unlike pad printed keys. For a sub 70 USD keyboard complimented by RGB lighting, this feature is clearly a winner.
SOUND PROFILE:
No two or three keyboard sounds the same, even if they feature the same keys. This is due to many factors, including the switch itself, the keycap materials, and the overall construct of the keyboard. Listen to the profile below to get an idea of the REDRAGON Indrah's sound signature.
The Indrah is well… surprisingly clicky AF and I like it. It may be just a little louder than your normal Cherry MX Blue based keyboard but damn it sounds amazingly good for its price.
KEYBOARD ERGONOMICS:
The REDRAGON Indrah is a full sized keyboard which is bested by 80% and 60% keyboard layouts when it comes to overall ergonomics if we're to consider the addition of a mouse. If we're talking about keyboards alone, then you're in for a treat as the Indrah is comfy enough to type on even without the palm rest. There's no need to adjust it since the 3 cm x 3.5 cm height works really well with the contoured key profile.
FEATURE SET TESTED:
PassMark's KeyboardTest and Microsoft's Keyboard Ghosting Demo is used to test the keyboard's Key Roll Over, input lag time, and depress time. You can check how your device faired on the test by clicking the web application below.
The Indrah registered a minimum depress time of 36ms, with virtually zero lag time. The keyboard has no 6KRO or NKRO toggle switch so it's full NKRO out of the box. Nothing to complain here.
Now as for specifics, the Indrah has customizable lighting modes, extra media keys, and macro key support. These features are explained in detail at the multi-lingual manual, but the explanation could be easier or perhaps feature graphical cues. There are mistakes too but that's alright I guess.
The RGB effect will greet you immediately as you turn on the keyboard, and if you want to customize them, there's no software to help you so the manual is your only hope. While it sounds bad, I actually prefer this process since it simplifies how I customize my gear. No software means no extra bloat required too. This also means the keyboard has a true on-board memory to save everything you do. The example of the Indra's RGB feature are detailed below:
The macro on the other hand is just easy to setup. Press REC > Press any of the Five G buttons where you want to save the macro >  Record the macro > Press REC and you are done. You never have to type GG EZ at Overwatch again.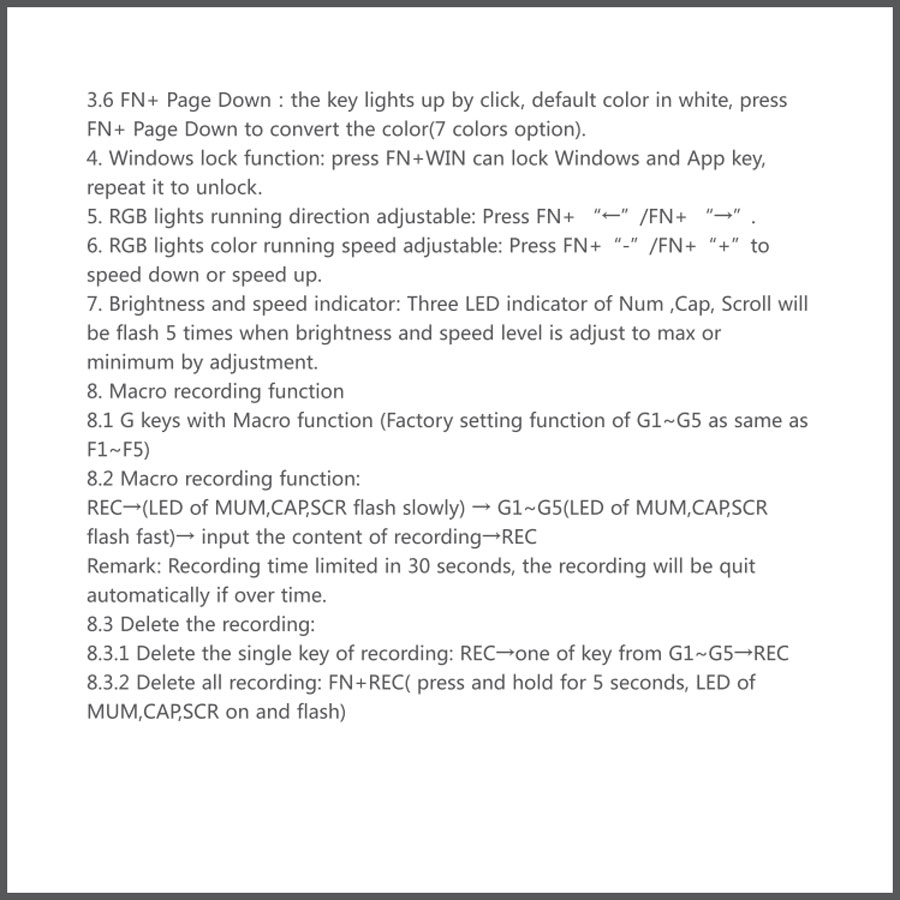 WRAPPING IT UP:
The REDRAGON Indrah blazes through our tests like hot knife through butter. It is one feature rich mechanical keyboard, full of its own tricks at a very enticing price-point of 64 USD or at 3, 000 Pesos. It's not easy to find something like this around the said price bracket, but here we are looking at it with our very own eyes. The Outemu Blue switch, although a clone of the Cherry MX Blue that we all love isn't bad at all. It's actually good and allowed me to re-evaluate my thoughts about clone switches.
If I were to nitpick, the manual could use some work. It's not that bad but improvements shouldn't cost REDRAGON that much. While the Outemu Blues are great, there are inconsistencies so keep that in mind. Cables aren't braided too, and the extra button rows at the top aren't LED lit. I'm kinda lost finding faults here but I cannot find any that is purchase breaking.
The REDRAGON Indrah is a sub 70 USD RGB Mechanical Gaming Keyboard that doesn't look nor function like it's around that price-point. It's a hidden gem this side of 2016, featuring loads of gaming oriented goodies that will keep you busy for years to come.
NO FRILLS PLUG N' PLAY SETUP
WIDE RANGE OF RGB LIGHTING CUSTOMIZATION 
OUTEMU BLUE SWITCHES ARE SCARY GOOD
DOUBLE-SHOT ABS KEYCAPS
ALUMINUM PLATING OOZES WITH QUALITY 
WHITE & SILVER COMBO LOOKS PLEASING
GREAT VALUE FOR MONEY

MANUAL COULD BE BETTER
OUTEMU NOT REALLY CHERRY MX GREEN EQUIVALENTS
REDRAGON Indrah
PERFORMANCE -

8/10

BUILD QUALITY -

8/10

AESTHETICS -

8/10

VALUE -

9/10
Summary
The REDRAGON Indrah is a sub 70 USD RGB Mechanical Gaming Keyboard that doesn't look nor function like it's around that price-point. It's a hidden gem this side of 2016, featuring loads of gaming oriented goodies that will keep you busy for years to come.