Regarded as one of the most reliable closed over-ear headphones for professionals, the DT 770 PRO has become a staple product in the world of studio monitors. A true classic I must say and there's no better way to re-affirm that with a review.

Yours truly is fortunate enough to have one tested, courtesy of Audible Illusions. This one, being the 80Ω  variant, is smacked in the middle of the pack. That said, it is geared towards a more balanced usage as opposed to the 32Ω mobile and the 250Ω top-end models.
Technical Specifications
Headphone
Driver
Dynamic
Type
Closed, Over-ear
Frequency Response
5Hz-35KHz
Impedance
80Ω
Sensitivity
96dB
Connectivity
Wired (3m), 3.5mm, 6.35mm
Weight
270g
Microphone
Type
NA
Polar Pattern
NA
Frequency Response
NA
Sensitivity
NA
Dimensions
Length
NA
Width
NA
Height
NA
Weight
270g
Packaging and Accessories
The Beyerdynamic DT 770 PRO is packed inside a simple yet functional packaging. The headset comes with the following items inside:
Instruction manual
Drawstring bag
6.35mm jack adapter
Design, Layout and Build Quality
The Beyerdynamic DT 770 PRO is definitely no gaming headset, featuring a classic design we've all known for years. Not much has been updated since its debut really. This studio headphone weighs in at around 270 grams which is still decent by today's standards. This is a high-quality closed-back headphone in spite of its plastic cup design. Handcrafted in Germany, fellas.
The same quality build applies for the ear-pads. They are made with soft foam covered in velour material. Thickness is alright with plenty of room for the average ear size. These are removable, washable even. One of the best pads really for comfort and isolation.
The headband is removable in true Beyerdynamic fashion. Padding on the other hand is enough to brace the top part of the cranium. The headband itself is constructed in a way to maximize weight savings, so the weight distribution is good. Nothing to complain here really.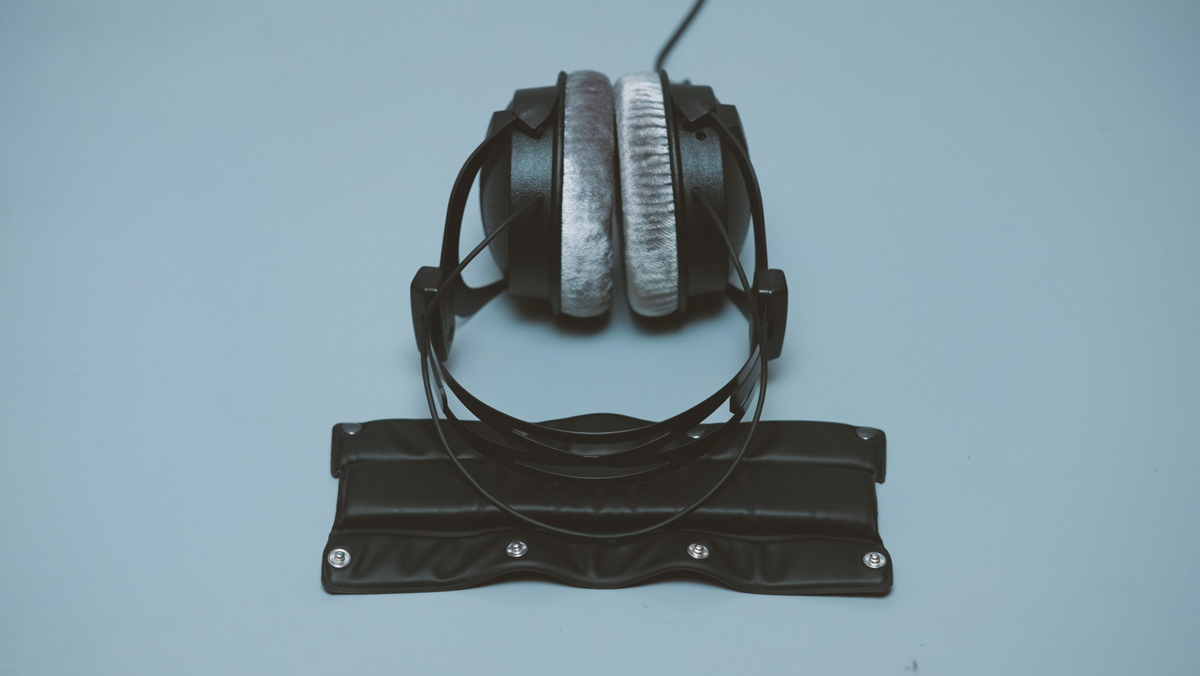 Now since this is a proper studio monitor, it comes with a non-detachable 3 meter long cable. It is kink proof, with an outer diameter of around 3.5mm give or take.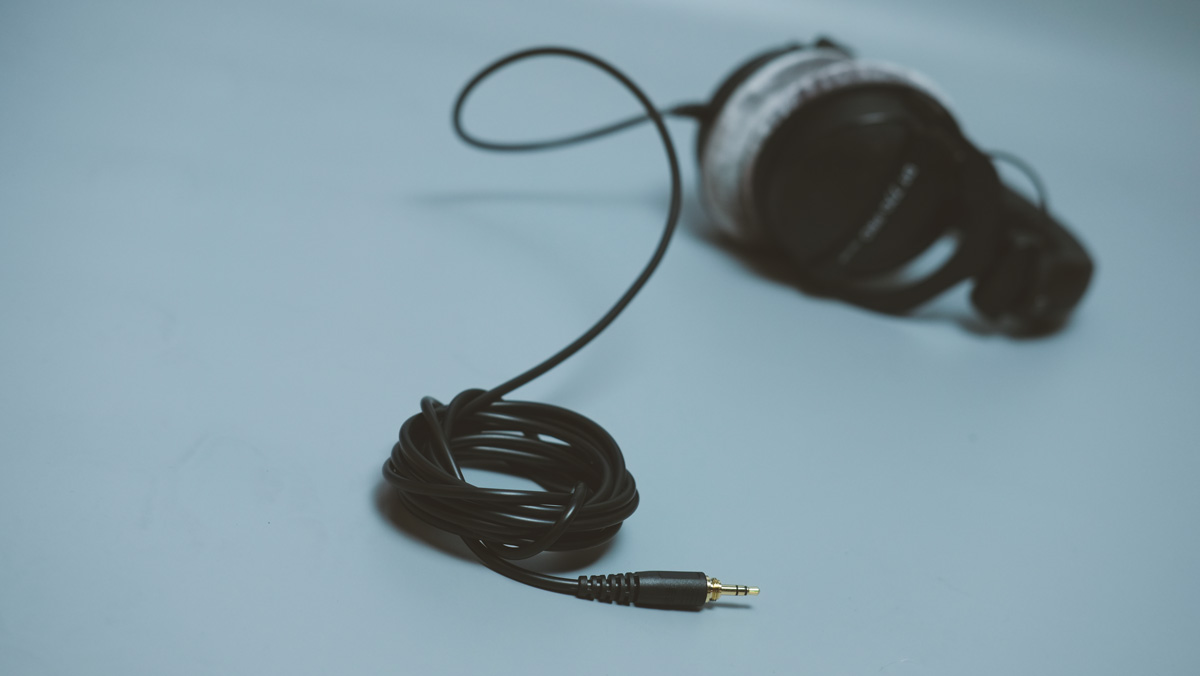 Fit and comfort are exceptional with excellent flex due to the steel band's design. Clamping force is surprisingly plush. Yes, not light nor tight. It is just perfect to keep the headphone in place on my 54cm cranium. It's even super comfy with prescription glasses on. I kinda wish the band is aluminum though.
Test Setup and Methodology
Our test setup relies on a system with a Realtek ALC892 Codec, tuned to output a flat sound signature. Microphone performance on the other hand is also evaluated by the same audio solution sampled on a 34dB environment. The audio solution used to take cross reference sampling is a SONY MDR-7506 studio headphone – an ideal studio monitor for A/B testing. Note that we maintain the Sound Pressure Level at around 85dBA for the duration of the tests. Our main objectives are to put into detail the gaming and general performance of the audio solution. The tracks, movies and games used for the subjective tests are outlined below:
Tracks:
Caribbean Blue – Enya
Hey Nineteen – Steely Dan
Unfinished Sympathy – D2
Axel F – Harold Faltermeyer
Hotel California – Eagles
Games:
Overwatch
Battlefield 4
The Witcher 3
Movies:
Pacific Rim
Mad Max: Fury Road
The vast world of audio solutions are subjective and is usually a heated debacle among avid listeners. Some may favor heavy bass emphasis while others may prefer less bass and a richer mid-range or higher frequency ranges. In short, an audio solution might sound great from someone else's perception while at the same time, it may sound awful to other listeners.
Sound Signature
The Beyerdynamic DT 770 PRO initially appears to be a treble inclined headphone out of the box. Yet upon opening my folder full of bass titles, boy this one truly packs a deep punch. V-shaped is the word we're looking at here when it comes to its general sound signature.
Now the lower frequency ranges of the DT 770 PRO is what I could say deep and powerful with a natural bass decay appropriate for just about anything we have. While it's not really muddy, it could mask the middle range depending on tracks due to its elevated response compared to more linear headphones such as the HE400i. The midrange on the other hand is kinda similar to my HD58X which is relatively flat. The upper band on the other hand is a touch sibilant yet airy.
Imaging and Soundstage
Imaging and stage is excellent with the DT 770 PRO considering its closed-back design. I see why some gamers prefer this one jacked-in over some expensive gaming headsets. Pair this one up with a capable microphone and you've got yourself a competitive gaming capable solution.
Software, Lighting and Special Features
The DT 770 PRO doesn't come with any downloadable software nor lighting which means you are on your own to set and flair things up. That said, it doesn't lack any features necessary for studio monitors. That includes a 6.35mm jack and the almost 10 footer long cable.
In true studio capable fashion – like beat em' up kind of fashion, certain DT 770 PRO parts are replaceable and are ready to be ordered directly from Beyerdynamic's website. That includes the pads and the headband. Easily the parts that requires a lot of care due to their nature and materials.
Final Thoughts
The Beyerdynamic DT 770 PRO in 80Ω is a serious headphone both for professionals and avid music listeners alike. It features a deep and powerful bass, relatively flat mids and an airy yet stringent top-end. More than enough to keep you engaged while you work or even play.
With German engineering backing it up, the DT 770 PRO is one over-engineered bad ass. It is still not indestructible though. For an instance, the exposed cable going to the right channel is a runner up for the least favorite AWG award. More rubber or protection at that area will be appreciated.
Now if you are torn between the DT 770 Pro vs 880 Pro Vs 990 Pro, it's hard to say which one is the best. All three Beyerdynamic products are awesome and are really hard to fault for their respective features.
Priced at a little under $180 USD, the Beyerdynamic DT 770 PRO is a rock solid studio quality headphones. It is fun yet it could be serious enough when it wants to.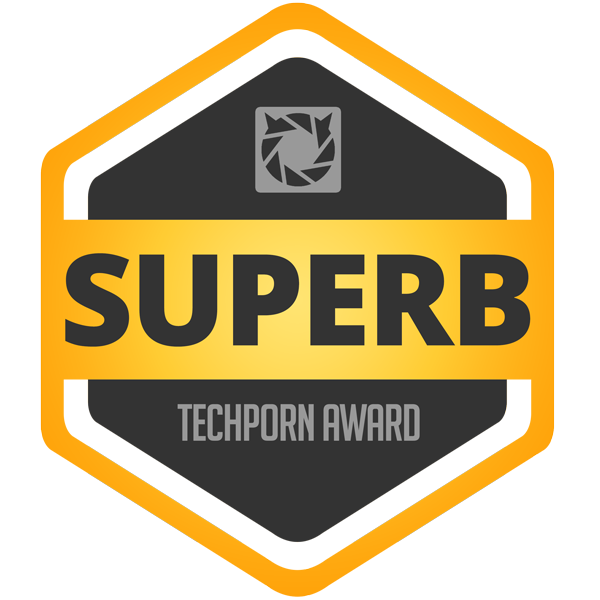 Beyerdynamic DT 770 PRO
Summary
The Beyerdynamic DT 770 PRO in 80Ω is a serious headphone both for professionals and avid music listeners alike. It features a deep and powerful bass, relatively flat mids and a stingent yet also airy treble. More than enough to keep you engaged while you work or even play.
Pros
Excellent imaging and soundstage
Engaging balanced sound signature
Built like a tank
Replaceable parts
Plush fit and comfort
Easy to drive at 80Ω
Cons
Thin channel cables
Non-removable 3 meter cable