EASY PC was never a personal choice when it comes to serious gaming gears until they launched their RAKK series of gears. Back then, cheap ass gears aimed towards the iCafes and kuripot gamers are their specialty.  Fast forward today, they still have those cheap gears but boy oh boy they got a grip of the situation up north, and have started to disrupt the upper range gaming market in decisive blows.
Enter the RAKK Yano. An RGB gaming mouse with an SRP of 1195 Pesos. Not much of an upper range device? Perhaps by the price, but it sure packs a punch under the hood. To start with, the Yano features a Pixart PMW-3360 sensor which is found on most high-end gaming mice. We actually took a look at what it could offer with the Tt eSport Ventus X RGB review. To be blunt, the Pixart 3360 is a sensor that shits upon others when it comes to accuracy and general performance. A perfect fit for competitive gamers.
TECHNICAL SPECIFICATIONS:
| | |
| --- | --- |
| Dimensions (mm) | 12 x 6.5 (Rough estimate) |
| Color | Black |
| Shape | Ambidextrous (Semi) |
| Buttons | 6 |
| Scroll | Non-tilt |
| Macro | Yes (Software) |
| Profiling | Yes |
| Cable length | 1.8m (Braided) |
| Switches | Omron (10 Million clicks) |
| Weight (g) | 85 (Fixed) |
| Software | RAKK Fine Tuner |
| Interface | USB 2.0 (Plated) |
| Lighting | RGB (16.8 Million) |
| Feet | Aluminum footing |
| | |
| --- | --- |
| Sensor | Pixart PMW-3360 |
| Sensor Type | Optical |
| DPI Range | 100 – 12000 |
| IPS | 250 |
| Acceleration (G) | 50 |
| Polling Rate (Hz) | 125 – 1000 |
PACKAGING AND ACCESSORIES:
The RAKK Yano comes in a small packaging. Dinky I must say, since it's no larger than your usual boxed Intel CPU packaging. Nothing major to complain here really except the design. Man, I could do better. XD
The mouse comes with a cover, a Velcro tie and a USB dust cover. Hardly accessories at all but I'd like to see a bundled Teflon footings. More about this later.
DESIGN, LAYOUT AND BUILD QUALITY:
The RAKK Yano is a small to medium sized mouse featuring a semi-ambidextrous design. The plastic material used is not exactly on par with some higher priced products but still, It looks like a premium one. This is due to the seamless design and the matte coated upper shell. Let us not forget that some parts are anodized as well.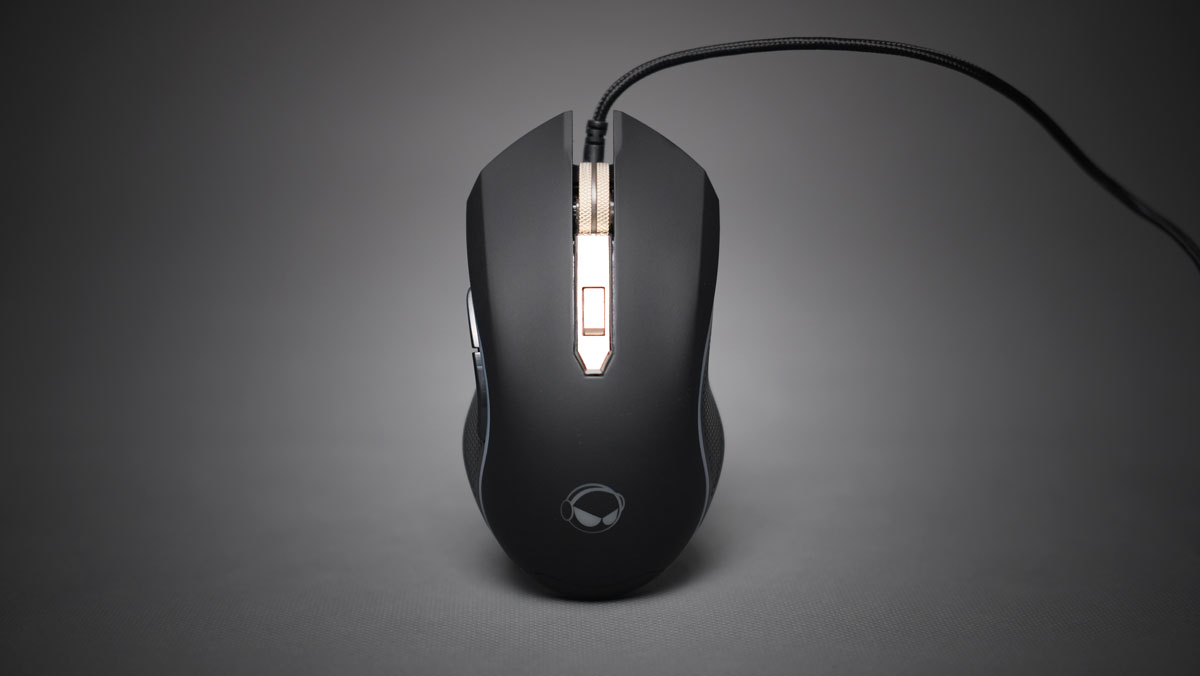 The mouse has a total of 6 buttons and you'd only get the navigation buttons at the left side of the mouse. The side profile of the mouse actually suggest a similarity with the Razer Mamba 2017 Edition which is flattering. While the plastic grips are appreciated, it gets slippery when your fingers gets sweaty.
The top shell construct is one piece of matte coated ABS. Never been a fan of these but it bodes well with the illuminated RAKK logo. Notice that the scroll wheel is anodized which made it really good to use. It is not a tilt scrolling wheel physically though so EASY PC should get that fact straightened up. Sucker weighs in at 85 grams which is nice!
The 6 foot long cable is braided with a ferrite bead to suppress noise. It terminates at what appears to be a gold plated USB 2.0 plug.
The mouse feet are 3 piece mirror finished aluminum footings. They are not really the best material to use generally for a variety of reasons. Number one would be its problem with hard surfaces, since two hard materials will easily wear each other out. Aluminum is also a lot noisier on hard mats compared to teflon and other robust materials.
Overall, the RAKK Yano is a well built gaming mouse with clicky buttons, a good scroll wheel and a safe semi-ambidextrous design. Lighting's flawless too. Now we check out the RAKK Fine Tuner software.
BUNDLED SOFTWARE:
The RAKK Yano requires the Fine Tuner software to utilize the gaming mouse to its fullest. It is a sub 2MB download which is attainable via EASY PC's facebook page. The Button menu is where you could set button assignments and profiling (present at every menu), while the Sensitivity menu is where you could fine tune the DPI/CPI levels. I like the fact that we could disable some levels. Makes it easier to cycle through my requirements.
The LED menu is where you could set the lighting parameters of the mouse. Lighting modes, its speed and lighting directions are its features. Parameter is where you could set the sensitivity of the mouse, scroll speed and double click speed. These are the same settings found on Window's Mouse Settings. Perhaps the most important parameter here is the Polling rate adjustment which is 500Hz by default.
Macro recording is just easy with the RAKK Fine Tuner, enabling you to input your own macro list and have them assigned to the buttons via the Button menu. You can even import and export macro lists.
The RAKK Fine Tuner is one simple interface. It lacks LOD settings and profile presets; however, its merits out-weighs the littlest of cons.
TEST SETUP AND METHODOLOGY:
Testing a gaming mouse is not that difficult, but it is mostly subjective; similar to testing head gears in a sense. That said, no mouse is perfect and the verdict usually depends on personal preferences. With that in mind, we are overhauling our testing methodology by following key pointers that should matter the most; that includes the sensor performance, the size, grip and comfort. To keep our test methodology simple and free of extra variables, please note the following softwares and configurations used below.
| | |
| --- | --- |
| GAMES | Overwatch, Battlefield 4, DOTA 2 |
| MOUSE POINTER SPEED | 6/11 (EPP turned off) |
| REGISTRY HOTFIX | MarkC Windows Mouse Acceleration Fix (If required) |
| DPI/CPI LEVELS | 800/1600/3200  (If possible) |
| POLLING RATE | 1000 Hz (If possible) |
| SURFACE | SteelSeries QcK Mini |
| SOFTWARES | MouseTester V1.5 (dobragab) + Key Response Time |
DPI ACCURACY:
The accuracy of DPI levels are tested with the CPI measurement tool built within the MouseTester V1.5. We rigged the mouse on a camera slider to check the sensor's accuracy at 800, 1600 and 3200 DPI.
Good DPI level accuracy report we got here from the RAKK Yano RGB. Nothing to scream at.
TRACKING PERFORMANCE:
Mouse tracking performance is evaluated with the MouseTester V1.5 with a DPI level of 800 DPI. Our aim is to check out the sensor's performance; and to look for reporting inconsistencies. That includes inconsistencies from sensor ripple or jitter.
Tracking performance is generally good at the tested DPI level, although we've had better report output from the Ventus X; a mouse with the same PIXART PMW-3360 sensor. I think I know why, but rest assured these are marginal performance differences that shouldn't affect your skills.
POLLING RATE CONSISTENCY:
The Polling Rate of the device is evaluated with the MouseTester V1.5 at the 800 DPI level. This is to check the consistency of the device's update rate at 1000Hz.
I've said before that the Ventus X has an inconsistent polling rate without the software in place, but this one takes the icing when it comes to inconsistencies. While it doesn't actually dip below 400Hz, the Yano plays at 900-800Hz at full speed. The erratic report rate happens when we change directions swiftly so it could be blamed for the tracking performance. Note that some mouse behaves differently at varying report rates; taking the components, software and driver into account. Again, these results might look bad from the charts but rest assured these are marginal performance issues.
PREDICTION, LOD, RATTLE AND ACCELERATION:
Angle snapping, lift off distance, sensor rattle and acceleration are also evaluated. The angle snapping is checked with MS Paint, while lift off distance levels are checked with ~1.2mm optical discs. Acceleration on the other hand is tested with Overwatch at 800 DPI. Sensor rattle is then checked with an electrical tape.
| | |
| --- | --- |
| ANGLE SNAPPING | Zero angle snapping |
| LIFT OFF DISTANCE | Less than 1mm |
| SENSOR RATTLE | No complaints here |
| ACCELERATION | No complaints here |
Lift off distance is locked at < 1mm, which is good enough since it's locked in the first place. There are no angle snapping, sensor rattle and acceleration so the RAKK Yano is good to go as far as these tests goes.
SIZE, GRIP AND COMFORT:
Your grip style and hand size will heavily influence what mouse you should buy. So it's better to know both first hand. For an instance, my hands measures at 7 inches x 3.5 inches (length x width). This puts my hands on the small to medium size category. My style is finger-tip grip, so I would generally look for a mouse with a small to medium foot print.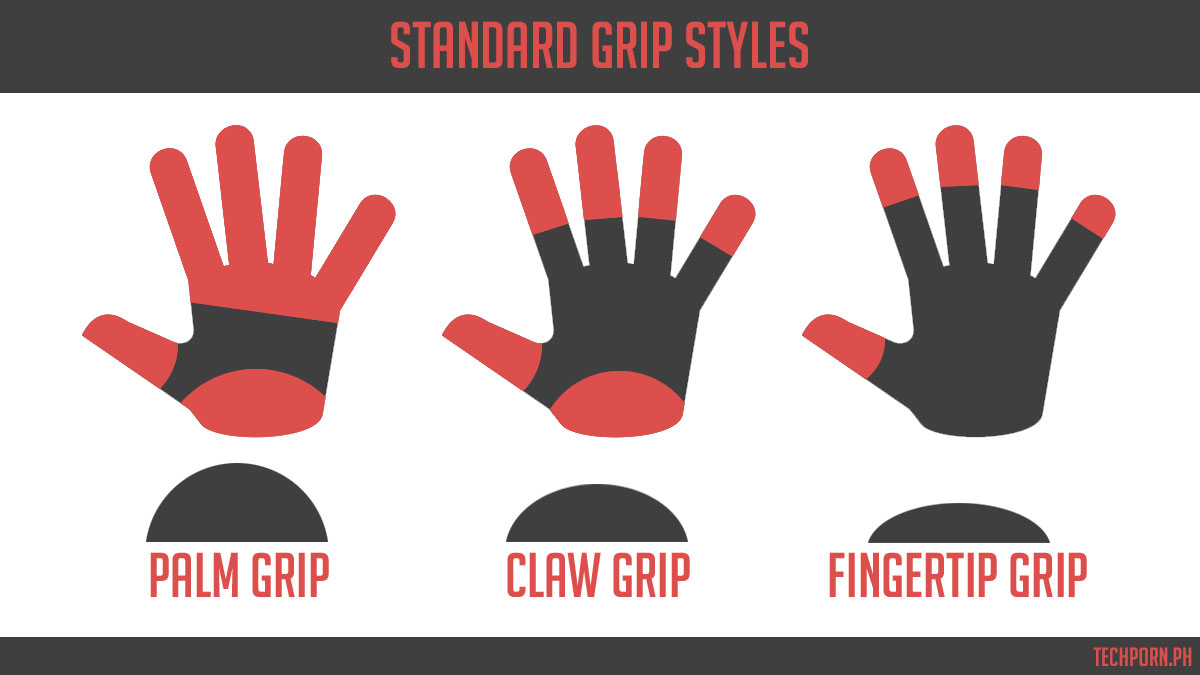 2:1 is considered the best length:width ratio you need to look out for when buying a mouse. Basically, if you want a generally comfortable mouse with a good grip, you'd want something near those measurements.
The EASY PC RAKK Yano features a 2:1 ratio, with a length at roughly 4 inches and a grip area at around 2 inches base-to-base. Shape is damn perfect for my hand size especially with that 1.5 inch palm rest and a weight of just around 85 grams. This is a versatile mouse that could be used for finger-tip, claw and palm grip.
Gliding performance is excellent with our cloth pad. Still, I'd like to see this with Teflon skates.
WRAPPING IT UP:
Simple is what the word Yano means on my parent's native tongue. It is not entirely the case with this mouse though; featuring the venerable Pixart PMW-3360 sensor and a seamless RGB lighting. That's on top of the sturdy design and excellent ergonomics for a price of 1195 Pesos. Unbelievable.
Sensor performance is typically around the Pixart PMW-3360's status, but polling rate performance could be better. Again, these issues are marginal; but witnessing the same sensor on a different mouse with a better performance is not easily dismiss-able. There are also minor design flaws that I'd love to be tackled – perhaps for the newer version. I take it that going aluminum on the skates could reflect a better build quality, but EASY PC sacrificed general gliding performance with that approach.
RGB is not in your face, but its seamless integration enhances the mouse's quality by a magnitude. We could've easily mistaken this mouse for a 2500 Pesos device from the looks alone.
Over all, the EASY PC RAKK Yano RGB is one excellent gaming mouse. Value alone this is a must have device. If we're taking its competitive grade qualities into account, this is something you surely have to get both for the performance and the price. #2EZ4EZPC.
GOOD TRACKING PERFORMANCE
GOOD BUILD QUALITY
EXCELLENT DESIGN AND COMFORT
85 GRAM WEIGHT 
RGB LIGHTING THAT DOESN'T SUCK
EXCELLENT VALUE FOR MONEY 

BUNDLE COULD BE BETTER
POLLING PERFORMANCE
MINOR DESIGN FLAWS
EASY PC RAKK Yano RGB Gaming Mouse
PERFORMANCE -

8/10

BUILD QUALITY -

7/10

FEATURES -

7/10

AESTHETICS -

8/10

VALUE -

10/10
Summary
Over all, the EASY PC RAKK Yano RGB is one excellent gaming mouse. Value alone this is a must have and if we're taking its competitive grade qualities into account, this is something you surely do not want to miss. #2EZ4EZPC.