On this review, we are taking a look at the ECS A320AM4-M3. A micro-ATX AM4 motherboard built around the A320 chipset. This is ECS' reinvigorated budget offering featuring the Durathon 2 technology. It's essentially a combination of hardware and tests to ensure maximum stability and performance.

The ECS A320AM4-M3 also features a 3+2 power phase design and is claimed to have been tested with perfect compatibility with the majority of AM4 coolers. Learn more from the official product page and get it at Amazon.
TECHNICAL SPECIFICATIONS:
ECS A320AM4-M3
CPU Support
AMD AM4 socket for AMD Ryzen processors and 7th Gen A-series / Athlon Processors
Chipset
AMD A320 Chipset
Form Factor
mATX
Power Phase
3+2
Memory
Frequency
2667MHz (Max)
Slots
2x DIMM (Non-ECC)
Capacity
32GB
Channel
Dual
Connectivity
Slots
1x PCI Express X16 Gen 3.0 slot
1x PCI Express X 1 Gen 2.0 slot
Onboard Graphics
Supports AMD Dual Graphics
Multi-GPU
N/A
Storage
AMD A320 Express Chipset

4 X Serial ATAIII 6Gb/s
1 X M.2 slot for SSD

For 2242/2260/2280 PCI-E SSD

USB
Support by A320 Express Chipset

6 X USB3.0 port(s) up to 5Gb/s

Back Panel 4 port(s)
Onboard 2 port(s)

6 X USB2.0 port(s) Up to 480 Mb/s

Back Panel 2 port(s)
Onboard 4 port(s)

Audio
Realtek ALC662

6-channel High Definition audio CODEC
Meets performance requirements for Microsoft WLP 3.08
Supports 16/20/24-bit PCM format for 5.1 channel audio solution

Network
RTL 8111H Gigabit Fast Ethernet Controller
Miscellaneous
Fan Connectors
1 X 4-pin CPU_FAN connector with smart fan

1 X 4-pin SYS_FAN connector with smart fan

1 X 4-pin SYS_FAN connector with smart fan

ECS Intelligent EZ Utility : eBLU, eDLU, eSF
Supports AMD Dual Graphics Technology
ECS Durathon Technology
100% Solid capacitor design
AMD RYZEN PROCESSORS:
On the performance side, the Zen microarchitecture represents a leap in core execution capability versus AMD's previous desktop designs. Notably, the Zen architecture features a 1.75X larger instruction scheduler window and 1.5X greater issue width and resources; this change allows Zen to schedule and send more work into the execution units. Further, a new micro-op cache allows Zen to bypass L2 and L3 cache when utilizing frequently-accessed micro operations.
A high-performance engine requires fuel, and the Zen architecture's throughput characteristics deliver in this regard. Chief amongst the changes are major revisions to cache hierarchy with dedicated 64KB L1 instruction and data caches, 512KB dedicated L2 cache per core, and 8MB of L3 cache shared across four cores.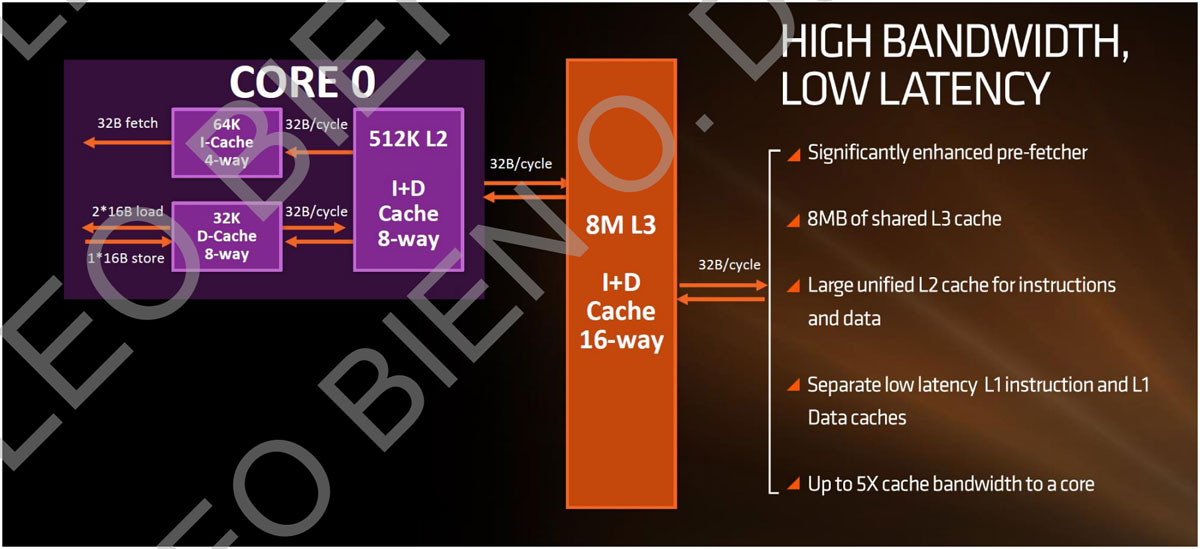 Beyond adopting the more power efficient 14nm FinFET process, the Zen architecture specifically utilizes the density-optimized version of the Global Foundries 14nm FinFET process. This permits for smaller die sizes and lower operating voltages across the complete power/performance curve.
Scalability in the Zen architecture starts with the CPU Complex (CCX), a natively 4C8T module. Each CCX has 64K L1 I-cache, 64K L1 D-cache, 512KB dedicated L2 cache per core, and 8MB L3 cache shared across cores. Each core within the CCX may optionally feature SMT for additional multi-threaded capabilities. More than one CCX can be present in a Zen-based product.
AMD A320 CHIPSET:
AMD's AM4 Platform currently consists of 5 chipsets. That's the X370, A/B350, A320, X300 and the A300 chipset in chronological order.
X370
B350
A320
X300
A300
USB 2.0
6
6
6
 N/A
N/A
USB 3.1 G1
6
2
2
 N/A
N/A
USB 3.1 G2
2
2
1
 N/A
N/A
SATA
4
2
2
N/A
N/A
SATA Express
(2x SATA III or 2x PCIe 3.0)
2
2
2
N/A
N/A
PCI-e 2.x
8
6
4
 N/A
N/A
SATA RAID
0, 1, 10
0, 1, 10
0, 1, 10
0, 1
0, 1
Multi-GPU
Yes
No
No
Yes
No
Overclocking
Yes
Yes
No
Yes
No
The A320 sits flush next to the B350, dubbed by AMD as an essential computing chipset. It supports memory overclocking, has plenty of IO options but doesn't support multi-GPU technology.
PACKAGING AND ACCESSORIES:
The ECS A320AM4-M3 being a part of the Durathon 2 series of products, comes in a new color box design. We've seen this at COMPUTEX 2017 and ECS did not disappoint to freshen up.
The board comes with a few bundled accessories which is not surprising for a budget oriented motherboard.
DESIGN, LAYOUT AND CONNECTIVITY:
The ECS A320AM4-M3 wont win any awards when it comes to aesthetics, featuring a brown PCB. Coating it with matte black should make it a little more pleasing but this is a budget oriented motherboard after all.
Layout wise, we are looking at a motherboard with a safe one. The majority of main headers and power connectors are located at accessible areas, together with the fan headers. There are no VRM heatsinks so it's better to get a down draft CPU cooler extra protection. The stock AMD cooler will do.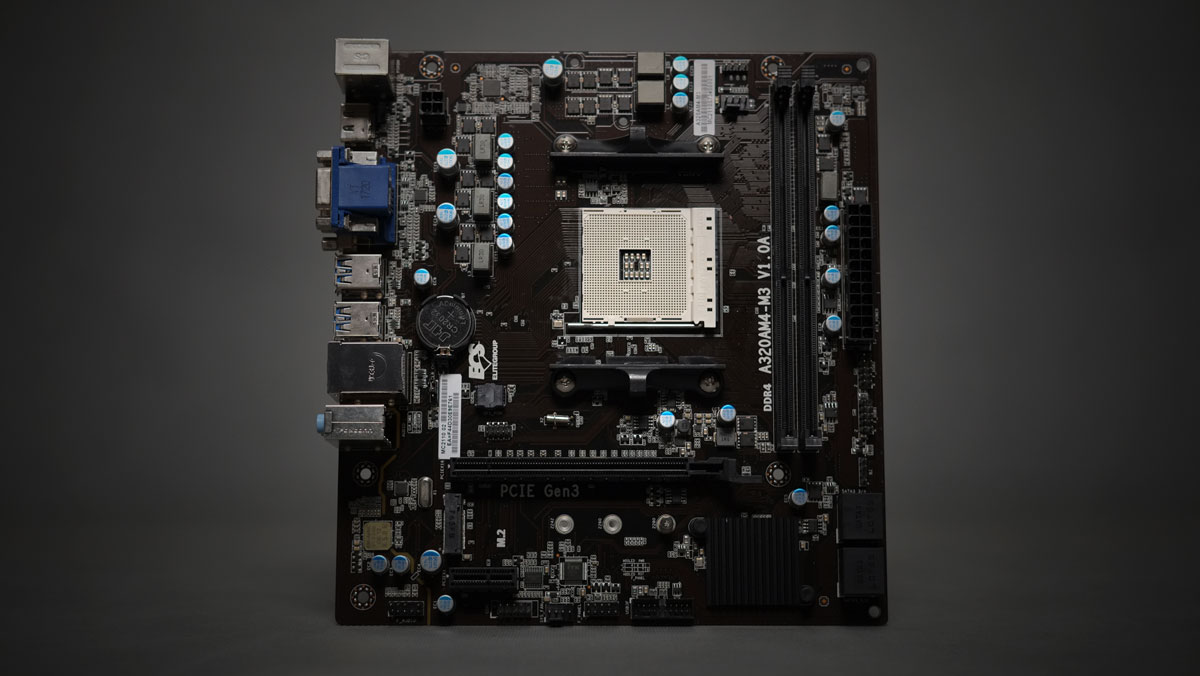 The back of the board shows us the PCI-E slot's electrical properties. From top to bottom, we have a x16, x4, and x1 including the M.2 into the equation.
The audio components are separated from the rest, so we're expecting good levels here as far as noise is concerned. As for the usual headers, we have plenty at the bottom together with the 3rd fan header.
Storage options this side of the board are provided by 4 native SATA ports and dual USB 2.0 headers. All of these, together with USB 3.0 header are powered by the A320 chipset.
Back panel options are excellent for the price. USB 3.0 ports are plenty and we've got a PS/2 port for legacy devices as well. Display options are excellent too. As for the audio, you'll get 3 jacks – which is more than enough for most.
INTERFACE:
The ECS A320AM4-M3 features an 80's vibe UEFI. There are 2 modes; the default and the Advanced. The former is the one you see below, while the Advanced is more tuned with the legacy BIOS interface.
Mouse navigation is not its strong point featuring a low sensitivity. Keyboard navigation on the other hand is alright.
If you're looking for CPU overclocking options, this one doesn't have any as with any A320 chipset motherboards. However, you can overclock your DIMMs. Just enable Memory Clock Control, set the Clock Speed and everything else in auto.
SOFTWARE:
ECS had the board bundled with few applications. They are mostly drivers with the exception of eBLU, eDLU and eSF.
TEST SETUP AND METHODOLOGY:
The system performance shall be evaluated by various benchmarking tools and applications. We are testing this system with the high-performance settings enabled at the OS, with the default UEFI configuration. Background processes such as anti-viruses and third-party applications are disabled as well. Outlined below are the applications and benchmark tools for reference:
TEST SYSTEM SPECIFICATIONS
PROCESSOR
AMD Ryzen 5 1600X
MOTHERBOARD
ECS A320AM4-M3
CPU COOLER
Cryorig C1 Top Flow
MEMORY KIT
Crucial Ballistix Tactical DDR4 @ 2666MHz 2x4GB
GRAPHICS CARD
ASUS GTX 1060 STRIX OC 6GB
INTERNAL STORAGE 
Crucial BX200 480GB
POWER SUPPLY
CORSAIR RM850X 850W
DISPLAY
27″ DELL U2715H + LG 43UF680T 4K UHD TV
OPERATING SYSTEM
Microsoft Windows 10 Pro
CPU AND MEMORY PERFORMANCE:
Super PI – 32M Calculations
wPrime – 32M and 1024M Calculations
AIDA64 Extreme Edition – Memory Benchmark
PRODUCTIVITY PERFORMANCE:
GIMP – 7 MB worth of image processing
HandBrake – 150 MB MP4 to H.264 video encoding
WinRAR – Internal benchmark tool
MISCELLANEOUS:
AS SSD – Storage performance
RightMark Audio Analyzer – Audio performance
AIDA64 Extreme Edition – Power consumption
NetIO-GUI – Network Performance
POWER CONSUMPTION:
The AIDA64 System Stability Test uses a 64-bit multi-threaded stress testing module to drive the system to its limits. Power readings are recorded with a watt-meter.
Power consumption is top notch which is expected for a budget oriented mATX motherboard.
CPU AND MEMORY PERFORMANCE:
Super PI is a single-threaded program that calculates pi to a specified number of digits after the decimal point. It is a widely used benchmark within the industry.
WPrime is a multi-threaded program that calculates a set number of square roots. It verifies the results by squaring them, then compares it with the original numbers.
The AIDA64 Memory Benchmark measure the data transfer bandwidth and latency of the system memory. We are measuring the latency on this benchmark.
Good performance output from the board here. Performance difference from the other chipsets are not that huge.
PRODUCTIVITY PERFORMANCE:
GIMP or GNU Image Manipulation Program, is a free and open-source image editing tool. A 7 MB worth of images is be processed and converted to gauge the system performance.
HandBrake is a free video encoding tool that supports a wide variety of media codecs. A 150MB worth MP4 video is converted using the H.264 codec to gauge the system performance.
WinRAR is a file archive utility that can create, view and unpack numerous archive file formats. The software's built in benchmark tool is utilized to gauge the system performance.
The productivity performance results of the motherboard is synonymous with our synthetics. Nothing is out of place.
STORAGE PERFORMANCE:
AS SSD is a storage benchmarking software widely used throughout the industry. On this test, we are using its scoring system to evaluate our Crucial BX200 SSD's performance using the system's native SATA controller.
SATA III performance is great but the Intel chipsets still holds the best interface record for our SSD.
AUDIO PERFORMANCE:
The RightMark Audio Analyzer (RMAA) is a tool designed to test the quality of audio devices. We used a sampling rate of 24-bit at 48000Hz for the loopback test. We are essentially testing the quality of the line-in and line-out of the audio solution.
The noise level performance is generally very good at -89.8dBA. Frequency response is almost flat with a small roll-off at 20Hz.
NETWORK PERFORMANCE:
The NetIO-GUI is a good application to test any network's performance. The LAN round trip time is our concern here, checking out latency anomalies if there are any. The client and server are connected on the network via Cat5 cables using a 100Mbps router.
RTT performance is nothing to worry about with <1ms of latency on any packet sizes tested.
WRAPPING IT UP:
The ECS A320AM4-M3 is a true value oriented motherboard that packs quite a punch. While CPU overclocking is no where to be found, it excels at providing a comparable performance with the B350 and X370 chipsets. *This is a limitation of the A320 chipset but nonetheless, memory OC is supported.
Build quality and layout wise, the motherboard is more than capable of housing the usual USB devices we've got and there are plenty of headers for expansion. The addition of an M.2 slot for the 3100 Pesos pricepoint is also ideal for those who are looking for a simple AM4 motherboard that supports the PCI-E x4 interface.
The ECS A320AM4-M3 is an excellent value oriented motherboard. Simply nice for the price.
GENERAL PERFORMANCE
GOOD DESIGN AND LAYOUT
AUDIO PERFORMANCE
M.2 SLOT INCLUDED
VALUE FOR MONEY
ECS A320AM4-M3 AM4 Motherboard
PERFORMANCE -

8/10

BUILD QUALITY -

8/10

FEATURES -

8/10

AESTHETICS -

7/10

VALUE -

9/10
Summary
The ECS A320AM4-M3 is an excellent value oriented motherboard. Simply nice for the price of 3100 Pesos.