We all know that Western Digital manufactures storage devices for quite sometime now, catering storage solutions for almost everyone living on this damn planet. Just last year, they have shocked the world – the networking and storage world – with the announcement of a new line of products: routers. Yes, routers! Western Digital entered the networking side of this industry aiming to enrich the world with storage and networking solution built into one, and My Net is the name of the game.
Now what we actually have here amigos, is the Western Digital My Net N900 Central. One of Western Digital's top of the line hybrid routers that features Dual Band support, and an internal storage with a capacity of a whooping 1TB, along with the FasTrak traffic shaping feature. Clearly, Western Digital is aiming its guns right at the storage and networking crowd, but do they have the right ammunition? Lets find out!
FEATURES/SPECIFICATIONS:
Technology: IEEE 802.11 n/g/b/a
Bands: Simultaneous 2.4GHz and 5GHz
Wireless speeds: Dual-Band N 450 + 450
Interface: Gigabit Ethernet
RoHS Compliant: Yes
Capacity: 1 TB
Ethernet Port: 5 x 10/100/1000 Ethernet (4 LAN, 1 WAN)
USB Port: 1 x USB 2.0
Height: 32 mm
Depth: 244 mm
Width: 170 mm
Weight: .61 kg
Operating: 5° C to 40° C
Non-operating: -20° C to 65° C
PACKAGING/CONTENTS:
The My Net N900 Central came in a distinct, flared up packaging. Up front, we've got a nice image of the router itself, the router's notable features, and some minimal but nicely laid out branding. The back on the other hand is busier with graphical features, and a product comparison table.
Open up the box, and you'll be greeted by the well protected My Net N900 Central in no time, along with some bundled accessories.  These accessories includes a Setup DVD, Quick Installation Guide, a Warranty Pamphlet, Multi-socket Power Adapter, and an Ethernet Cable.
CLOSER LOOK:
The Western Digital My Net N900 Central is undoubtedly a good looking router. With fine lines, sexy curves, and a gawd awfully shining piece of Piano Black exterior delight, you bet yer bottom dollar that it's a premium product indeed. Thus, I handle it with utmost care.
You might already notice that the My Net N900 Central is among those routers who features a built in antennae. Western Digital dubbed this feature as the Range-amplifying technology. It aims to reduce interference, and broadens the wireless signal at the same time. Providing superior coverage for larger, and multi-floored homes. We have to test this feature later.
Looking at the side profile of this sweet slim thing, I can't help myself but to wonder how pleasing it is to my eyes to see. Looking a bit closer at the top, we can see that the N900 Central has a fine matte and gloss mix of texture. It's also slopped down, and is a convenient secondary tray to place your not so heavy belongings. A USB powered External HDD perhaps?
The adapter port along with the power button is conveniently placed at the back of the router, along with a Kensington Lock, and a USB 2.0 Port at the other side of the back.
The back of the N900 Central also houses the Ethernet Ports. Five of them to be exact, with 4 LAN, and 1 WAN Port. All of them are Gigabit Ethernet compliant. Good!
While the underside of your ordinary router would probably look so dumb, and bland, the My Net N900 Central is an exception. On this side, we can see that there is a small ventilation hole with what appears to be a fan hole, and indeed it is. You might think that this is a crazy, and a loud idea, but it actually works well by exhausting the hot air inside. Keeping the overall temperature of the router cool, along with the HDD inside. It's also dead silent.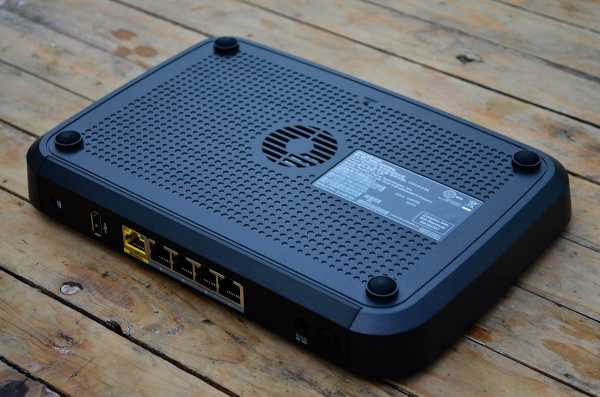 We are itching to disassemble the router to see what's inside, but we decided not to. If you're wondering what HDD is inside, the N900 Central features the WD Scorpio 1TB 2.5″ HDD. Pretty good internal storage I must say.
SOFTWARE/INSTALLATION:
Installing the My Net N900 Central is a breeze. You don't even need to use the Setup DVD, since everything you need to get started is already at the router's setup page. However, if you want to utilize all of the router's features including the wireless backup capability, and network diagnostics, you still have to use the Setup DVD, or open up the installation files from the router's on-board storage. Things couldn't be simpler than that.
The My Net N900 Central's Web UI is loaded with features, yet it is still easy to use. Upon setting it up correctly, the dashboard will greet you in no time, providing ease of access to most of the router's features. The Web UI also host advanced settings such as the wireless guest access, storage configuration, remote access, and the FasTrack Plus QoS settings which prioritize, and analyzes network traffic for video, audio, voice/video calls, and data traffic in real-time. I find the Dual-Band wireless guest access feature a pretty useful tool in-case you do not want your guests/visitors to come, and poking around your home network. Neat stuff.
TEST SYSTEM/PROCEDURES:
To test the synthetic networking(bandwidth) performance of the router, we opted to use the already popular, online based speedtest.net, and pingtest.net benchmarking websites from Ookla. Results were taken around the same time of the day, with the same servers, and without any other software interfering, aside from the browser itself.
Wireless throughput, and wireless range test results will be measured by the already proven LAN Speed Test software. We will send 10 Packets of 100MB test files from our MSI U230 netbook to the test system, and measure the read & write performance of the network. We will do this 3 times with tests ranging from 10, 20, and 30 feet. If the router/networking device has a built-in storage device, we will test it too with the same software.
| | |
| --- | --- |
| CPU | Intel Core i5 3570K |
| MOTHERBOARD | GIGABYTE Z77X-UD5H-WB |
| CPU COOLER | Corsair H100i |
| MEMORY | AVEXIR Core Series @2133MHz 16GB |
| GRAPHICS CARD | PowerColor PCS+ HD7950 3GB |
| INT. STORAGE | Kingston SSDNow V+200 128GB |
| PSU | Cooler Master Silent PRO Gold 800W |
| DISPLAY | LG FLATRON E2290 22″ LED |
| OS | Microsoft Windows 7 Ultimate x64 SP1 (Updated) |
| SOUND CARD | CREATIVE Sound Blaster RECON3D |
| EXT. STORAGE | 2TB Western Digital My Passport |
PERFORMANCE:
Right off the bat, the WD My Net N900 Central showed some pretty nice results on both the speedtest.net, and pingtest.net bandwidth/internet connection speed benchmarking sites. Pretty neat, and consistent results across the benchies. I'm loving that latency performance too.
Since we only have a single wireless device capable of receiving 2.4GHz  radio signal, we can only test the N900 Central's performance with its 2.4Ghz Band mode. Nonetheless, the graph shows that it has a surprising wireless performance: Achieving a steady read wireless throughput across varying ranges, with the exception of write performance at 30 feet. Great wireless performance, I must say.
With a whooping 1TB of storage inside, we can't help ourselves but to test the performance of the N900 Central's on-board storage device. With a maximum of 158Mbps read, and 94Mbps write performance, the storage solution inside is ample enough to provide a smooth data transfer, and video streaming for LAN connected device.
We also tested the N900 Central's wireless streaming performance with our netbook, playing a 1080P sample video from its internal HDD, and it works like a charm. No hiccups. Just seamless streaming.
POWER CONSUMPTION:
With an HDD inside, there is no mistaking that the My Net N900 Central is a power hungrier router than the TP-LINK router we've got. Bear in mind that the N900 Central's power consumption is still within the econo-zone, for such kind of device. Nothing to worry about here.
VALUE/CONCLUSION:
So how does the WD My Net N900 Central fared on our tests? Well starting off with its performance, we saw good, if not great consistent throughput results across the benchmarks even with varying ranges. Streaming from its internal HDD feels like it wasn't at the network at all, be it wired or wireless. Just seamless video streaming even with our 2.4GHz band setup.
With a fool proof UI, this smexy router is a god-sent for plug and play aficionados. The router will virtually explain things to you as you click, and navigate. Adding to that, the guys at Western Digital didn't even skimped on providing a backup functionality for the N900 Central. A feature that we were really fond of. Looks alone, the N900 Central is a perfect addition to your desktop, or even as one of the centerpieces of your multimedia setup. Indeed, the Western Digital My Net N900 Central proved itself to be worthy of its given name. – I just wished that we could replace the internal drive for future expansion, though.
Value wise, the My Net N900 Central is coming in hot at 8, 400 Pesos for the 1TB variant, and 10, 200 Pesos for the 2TB variant, respectively. That said, there's no mistaking that the N900 Central joins the premium league of routers. It's a hefty price to pay, but considering the mass internal storage, plus loads of features at your disposal, it's a price that I would gladly pay. Western Digital surely entered the networking scene proud and strong with the My Net N900 Central family of routers. A recommended product for those who wants to enjoy multimedia goodness without the extra hassle to pay.
WD My Net N900 Central
PERFORMANCE -

7/10

BUILD QUALITY -

8/10

FEATURES -

9/10

AESTHETICS -

8/10

VALUE -

8/10
Summary
Value wise, the My Net N900 Central is coming in hot at 8, 400 Pesos for the 1TB variant, and 10, 200 Pesos for the 2TB variant, respectively. That said, there's no mistaking that the N900 Central joins the premium league of routers.