The LIVA Z2  is a straight up addition to the growing number of fanless Mini PCs from ECS. Compared to its older siblings, the LIVA Z2 offers a dual-storage design, allowing you to upgrade whenever required.

Being a palm size mini PC, the LIVA Z2 still offers a wide range of IO ports. That includes two display ports, two USB 2.0 ports, and four USB 3.0 ports for a total of 6 USB ports front and back. This is a sub $200 mini PC with connectivity in mind.
Technical Specifications
Processor
CPU
Intel Celeron N4100
Chipset
Intel Goldmont Plus
Memory
SDRAM
DDR4
Slot
2x DIMM
Channel
Dual Channel
Frequency
2400MHz
Capacity
8GB, 4GB installed
Graphics
GPU
UHD Graphics 600
Output
HDMI 2.0, HDMI 1.4
Expansion
PCI Express
NA
Storage
SATA
SATA, eMMC
M.2
NA
Network
Wired
Gigabit LAN
Wireless
Intel WiFi 802.11ac & Bluetooth 4.2
Audio
Codec
NA, 3.5mm Combo Jack
USB
USB 2.0
2x USB 2.0
USB 3.0
4x USB 3.0
USB 3.1
NA
Dimensions
Length
132mm
Width
118mm
Height
56.4mm
Weight
NA
Packaging and Accessories
The ECS LIVA Z2 comes packed inside a slim packaging. The model we got comes with the following items inside the box:
Power adapter
VESA Bracket
6x VESA Mount Screws
2x HDD Screws(Optional)
Quick Guide & Driver DVD
Design, Layout and Build Quality
The ECS LIVA Z2 Fanless Mini PC is a true palm size PC. That is, if you're holding it with both hands. The LIVA Z2 is a simple unit by design, making it a good complementary system on any living room setup.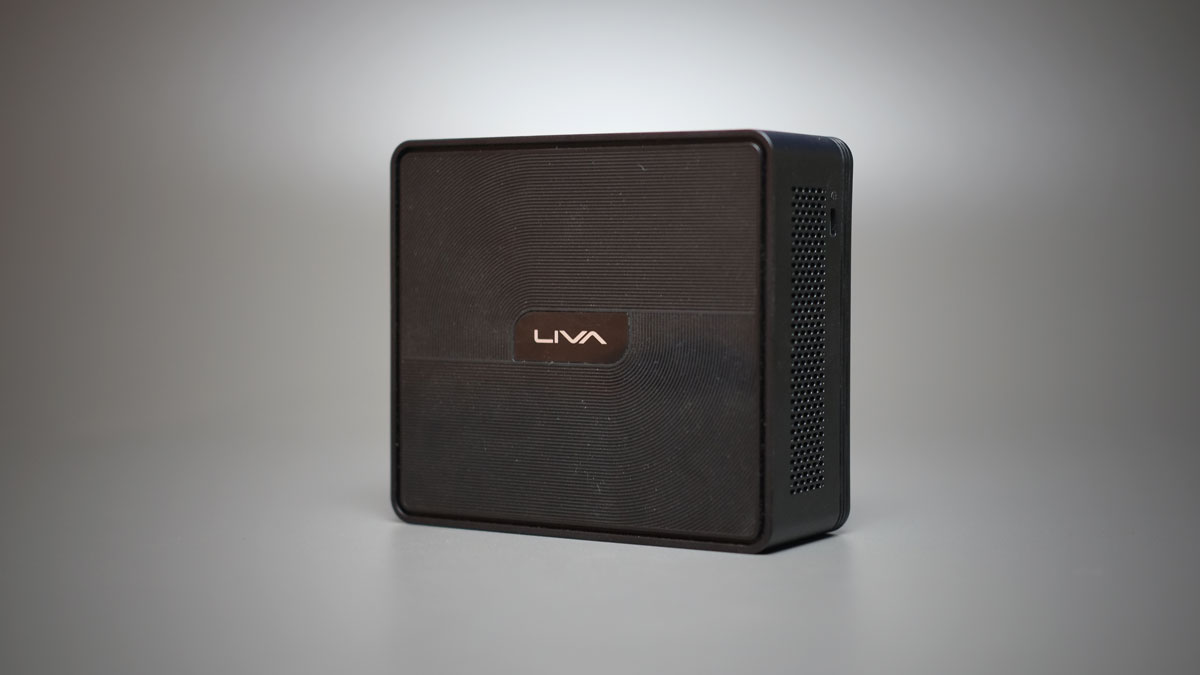 In contrast, the back is a a bit more industrial by design. We have venting ports here, a few technical information and the mounting for the VESA mount itself.
The front panel connectivity consists of three USB 3.0 Type-A ports as well as a single USB 3.0 Type-C port. We also have a combo jack here and the mic as well.
The back panel on the other hand features the power port, the VGA port, HDMI, a Gigabute LAN port and the two USB 2.0 ports. Wireless antennas for both the Bluetooth and WiFi are internal.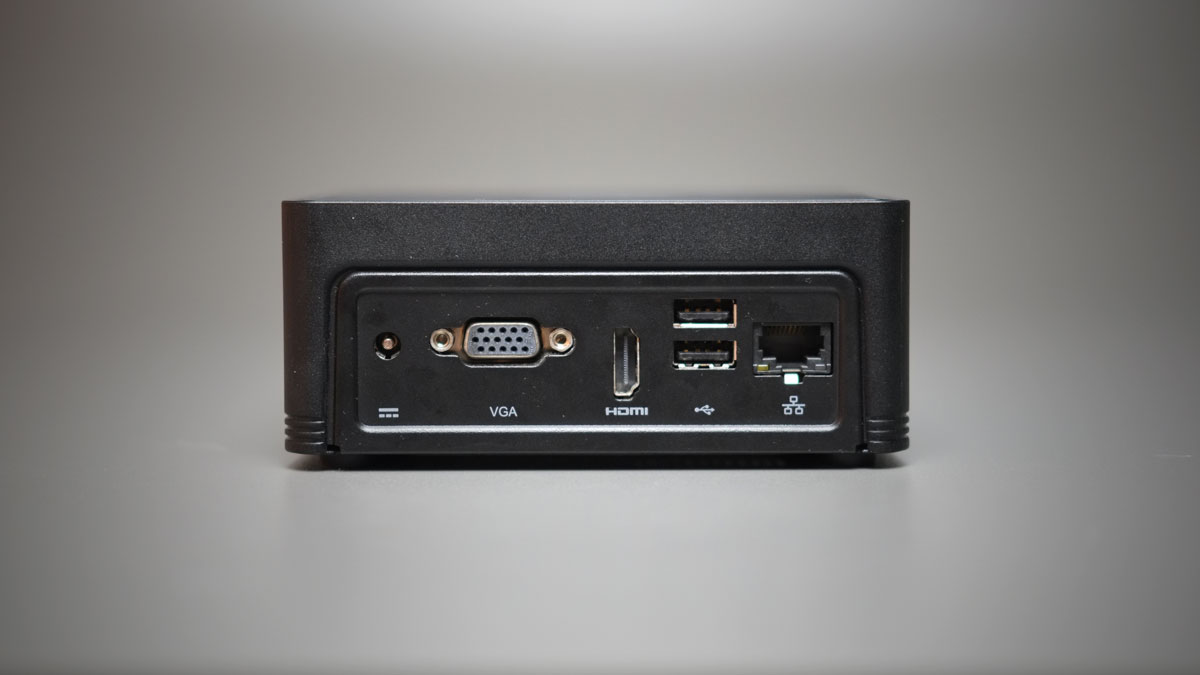 Inside, you'll find a 2.5 inch bay for an HDD or an SSD. The RAM is also upgradable up to 8GB  but you're limited to DDR4-2400 SO-DIMM kits.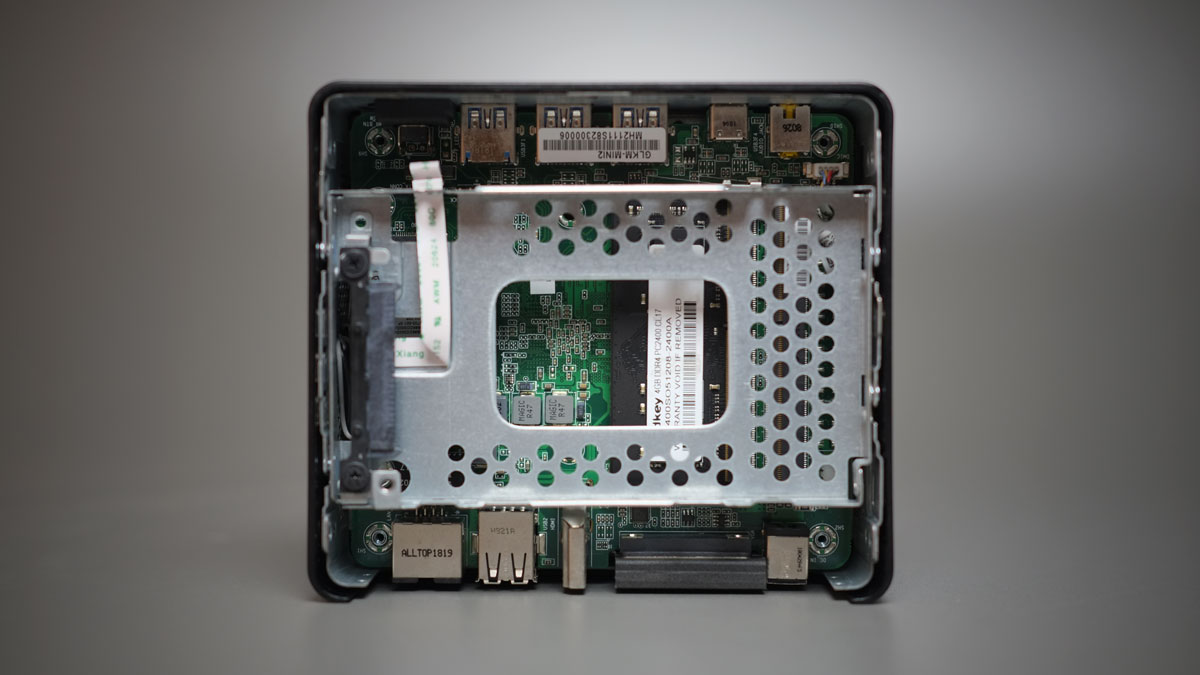 Firmware Interface
The ECS LIVA Z2's BIOS is as simple as it looks. No reason the flair up things here really.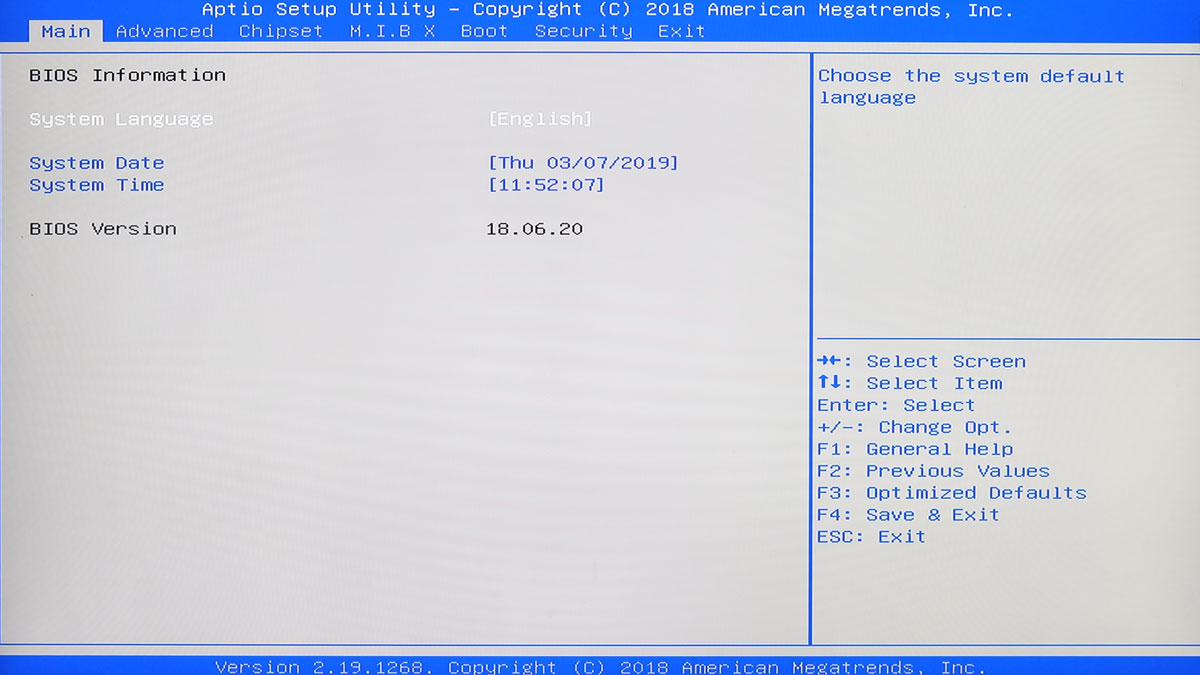 There are 7 main menus to choose from with the Advanced menu bearing most of the tweakable settings.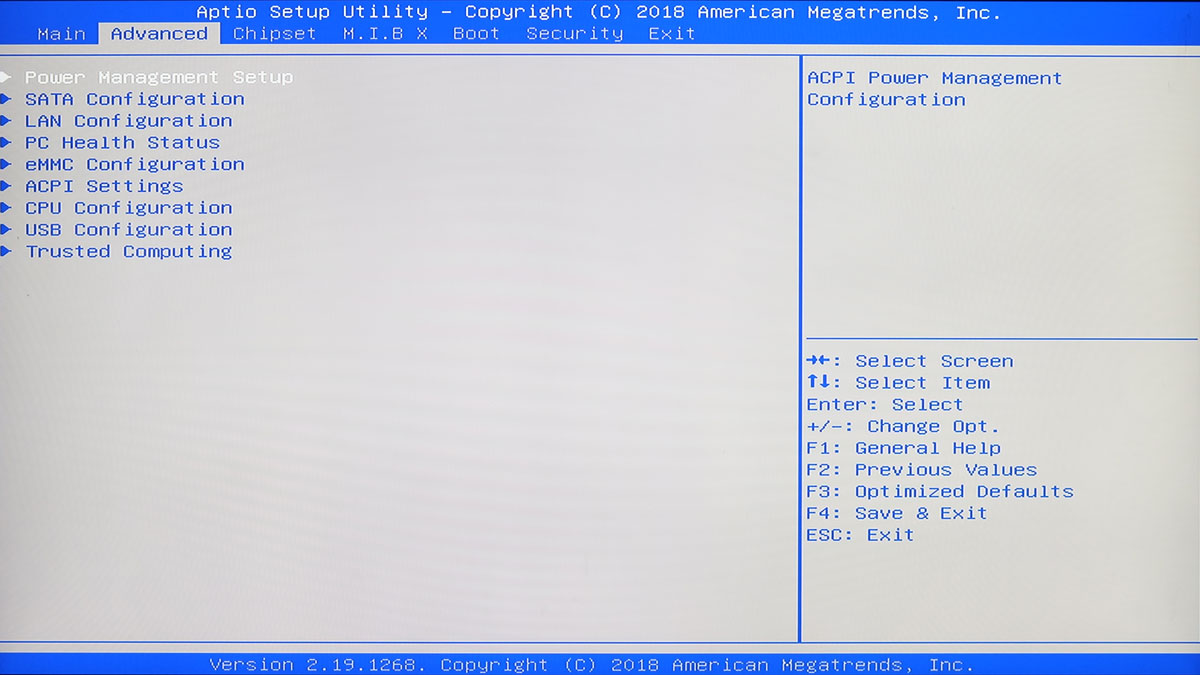 Test Setup and Methodology
The system performance shall be evaluated by various benchmarking tools and applications. We are testing this system with the high-performance settings enabled at the OS, with the default UEFI configuration. Background processes such as anti-viruses and third-party applications are disabled as well. Outlined below are the applications and benchmark tools for reference:
Test System Specifications
CPU
Intel Core-i5 6600K
Motherboard
ASUS Z170-A
Cooler
Noctua NH-L9i
Memory
ADATA Premier DDR4
GPU
ASUS ROG Strix GTX 1060 OC
Storage
Crucial BX200 480GB
Case
Thermaltake Core P3
PSU
CORSAIR RM850X
Display
DELL U2715H
OS
Microsoft Windows 10 Pro
TEMPERATURE, POWER AND NOISE:
AIDA64 Extreme Edition – Temperature, Power, Noise
SYNTHETIC PERFORMANCE:
Super PI – 32M Calculation
wPrime – 1024M Calculation
AIDA64 Extreme Edition – Memory Benchmark
PRODUCTIVITY PERFORMANCE:
GIMP – 7 MB worth of image processing
HandBrake – 150 MB MP4 to H.264 video encoding
WinRAR – Compression speed
MISCELLANEOUS:
AS SSD – Storage performance
RightMark Audio Analyzer – Audio performance
NetIO-GUI – Network Performance
Temperature, Power and Noise
System power consumption is evaluated during idle and a 15-minute load via the AIDA64 System Stability Test. Power readings are recorded with a watt-meter.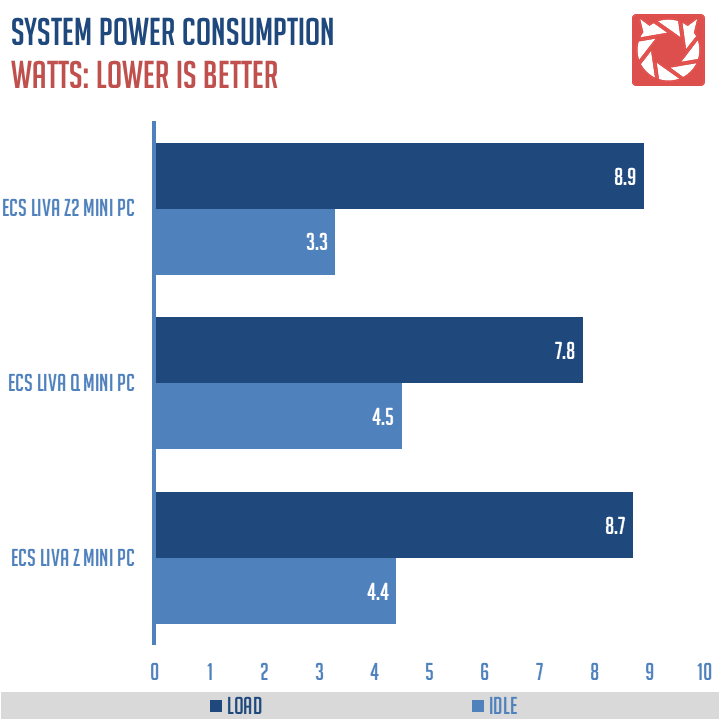 The AIDA64 System Stability Test is also used to evaluate the system thermals. Readings are taken with AIDA64 and is cross-referenced with HWiNFO.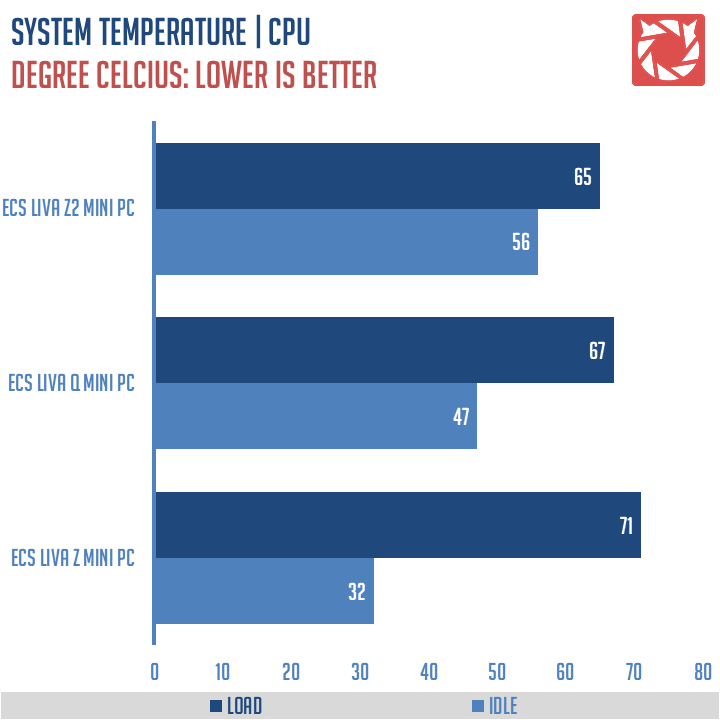 System noise level is also evaluated during idle and a 15-minute load via AIDA64's Stress Test. The noise measurement is taken by a sound level meter.
The ECS LIVA Z2 is an energy efficient mini PC with a matching heat output and noise levels. This is a fanless mini PC after all.
Synthetic Performance
Super PI is a single-threaded program that calculates pi to a specified number of digits after the decimal point. It is a widely used benchmark within the industry.
WPrime is a multi-threaded program that calculates a set number of square roots. It verifies the results by squaring them, then compares it with the original numbers.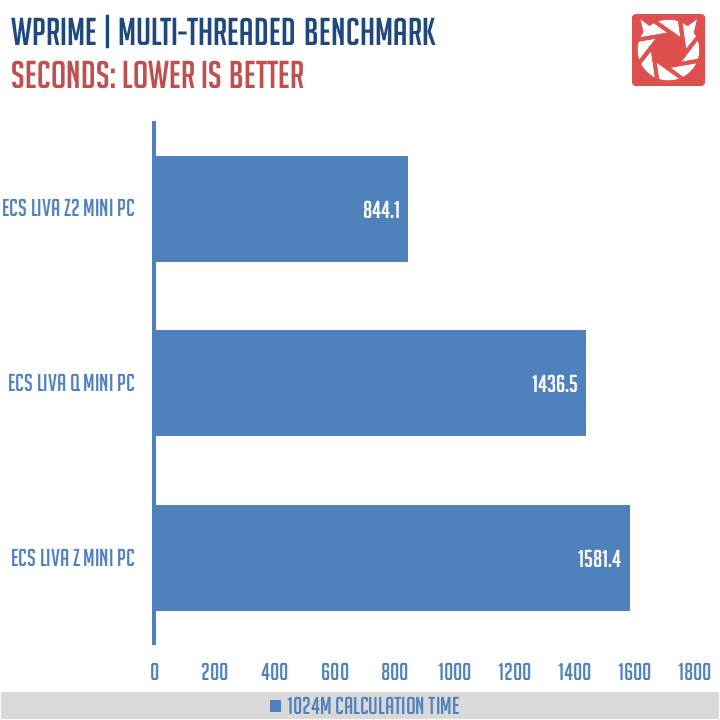 The AIDA64 Memory Benchmark measure the data transfer bandwidth and latency of the system memory. We are measuring the latency on this benchmark.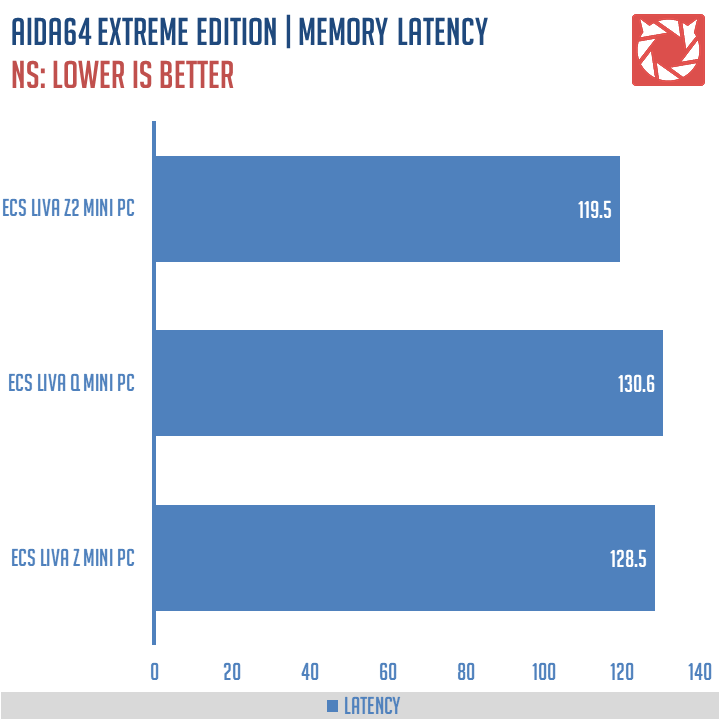 The ECS LIVA Z2 scored ahead of the two other LIVA units we tested on the synthetics with of course the exception of the single-threaded SuperPI benchmark.
Productivity Performance
GIMP or GNU Image Manipulation Program, is a free and open-source image editing tool. A 7 MB worth of images is be processed and converted to gauge the system performance.
HandBrake is a free video encoding tool that supports a wide variety of media codecs. A 150MB worth MP4 video is converted using the H.264 codec to gauge the system performance.
WinRAR is a file archive utility that can create, view and unpack numerous archive file formats. The software's built in benchmark tool is utilized to gauge the system performance.
Real world performance is good enough for what it is. The best in class yet with the Celeron N4100 inside.
Storage Performance
AS SSD is a storage benchmarking software widely used throughout the industry. On this test, we are using its scoring system to evaluate our Crucial BX200 SSD's performance using the system's native SATA controller.
The result for the SATA performance is a-ok. Nothing concerning nor extravagant to see here.
Audio Performance
The RightMark Audio Analyzer (RMAA) is a tool designed to test the quality of audio devices. We used a sampling rate of 24-bit at 48000Hz for the loopback test. We are essentially testing the quality of the line-in and line-out of the audio solution.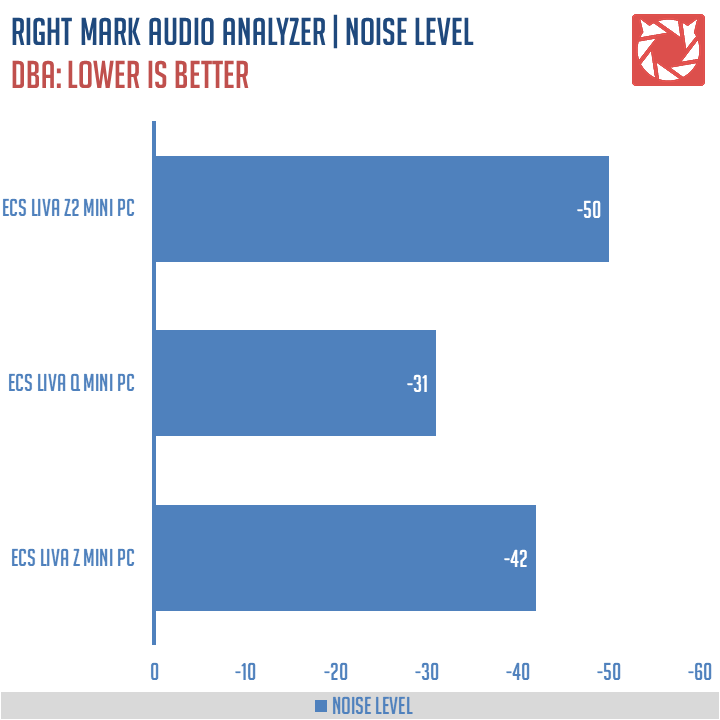 The ECS LIVA Z2 scored -50.2 dBA of noise level at RMAA. It's not the best, but we're not complaining either.
Network Performance
The NetIO-GUI is a good application to test any network's performance. The LAN round trip time is our concern here, checking out latency anomalies if there are any. The client and server are connected on the network via Cat5 cables using a 100Mbps router.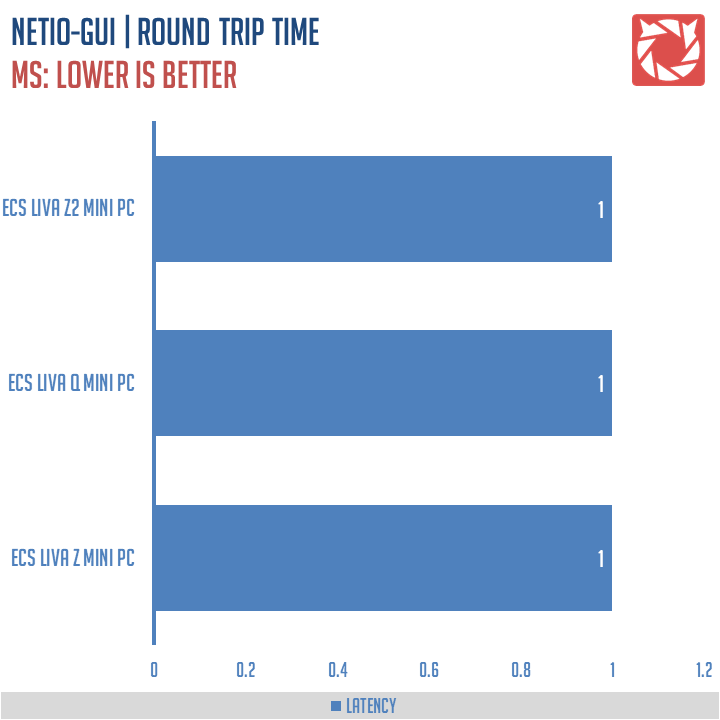 The ECS LIVA Z2 featured a wired network performance at 1ms of latency on any packet sizes tested.
Software, Lighting and Special Features
No software bundles nor lighting features here folks. This is just a plain mini PC featuring a fanless design and upgradable storage. It also features GPIO support which basically adds PLC + human-machine interface, remote control, virtualized IO applications, and support for ADC via the internal GPIO header. Learn more about it on the official product link.
Final Thoughts
The ECS LIVA Z2 is a much appreciated addition to the growing LIVA models ever since they have been announced. It is a bit faster than the previous models and it doesn't skip a beat where it matters. This is just as capable with extra storage options and IO in tow.
Build quality and connectivity wise, the ECS LIVA Z2 is great to say at least. We have plenty of USB ports plus wired and wireless connectivity. Display options could be a little better though with a DisplayPort. Regardless, this is still a good option over the previous LIVA models.
The ECS LIVA Z2 retails for about $200 USD or around 10000 Pesos. A bit pricey for what it offers to be honest but if you are looking for a mini PC with storage upgrade capabilities in mind, then you've found what you are looking for.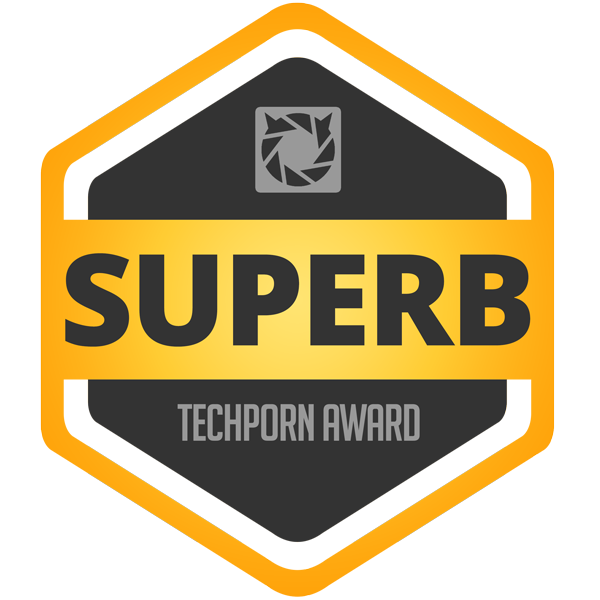 ECS LIVA Z2 Fanless Mini PC Review
Performance -

8/10

Build Quality -

8/10

Features -

9/10

Design -

8/10

Value -

7/10
Summary
The ECS LIVA Z2 retails for about $200 USD or around 10000 Pesos. A bit pricey for what it offers to be honest but if you are looking for a mini PC with storage upgrade capabilities in mind, then you've found what you are looking for.
Pros
Good general performance
Efficient fanless design
Dual storage design
Connectivity options
VESA support
Build quality
Cons
Display options
Price point