The HyperX Alloy Elite RGB as the name suggests, is the company's flagship gaming keyboard. On this review, we are taking a good look at how it became the elite of the elites at HyperX's Alloy line-up.

The HyperX Alloy Elite RGB features a 104 key design layout, housing dedicated gaming, lighting and media keys. Switches used on our model are the Cherry MX RGB Red switches. Lighting is of course emphasized, with 6 predefined effects and a light-bar to set itself apart from the crowd of RGB gaming mechanical keyboards.
TECHNICAL SPECIFICATIONS:
The HyperX Alloy Elite RGB is again, a full sized keyboard with a 104-key layout. Design is frameless, with a weight of around 1467 grams.
| | |
| --- | --- |
| Size | Full size, extended |
| Layout | 104-ANSI |
| Design | Frameless |
| Macro | Yes |
| Profile | Yes |
| Software | Yes |
| Weight | 1467 grams |
| Interface | USB |
| Memory | Yes |
| Polling Rate | 1000Hz |
| Lighting | RGB |
| Wrist Rest | Yes |
| Passthrough | Yes |
| Cable Management | N/A |
| Multimedia Keys | 5 |
| Cable Length | 1.5 Meters |
Switches are again, Cherry MX RGB Reds. Other options are the RGB Browns and RGB Blues.
| | |
| --- | --- |
| Switch | Cherry MX RGB Red, Brown, Blue |
| Actuation Point | 2mm |
| Travel Distance | 4mm |
| Actuation Force | 45g |
| Lifespan | 50 Million Clicks |
PACKAGING AND ACCESORIES:
HyperX goes classic with the packaging of the Alloy Elite RGB. It's not fancy, yet the packaging allows us to take a peek at what the gaming keyboard has to offer.
Accessories are minimal, but rather thoughtful. We have a set of extra keycaps here, a puller and a full size wrist rest for the extra ergonomics.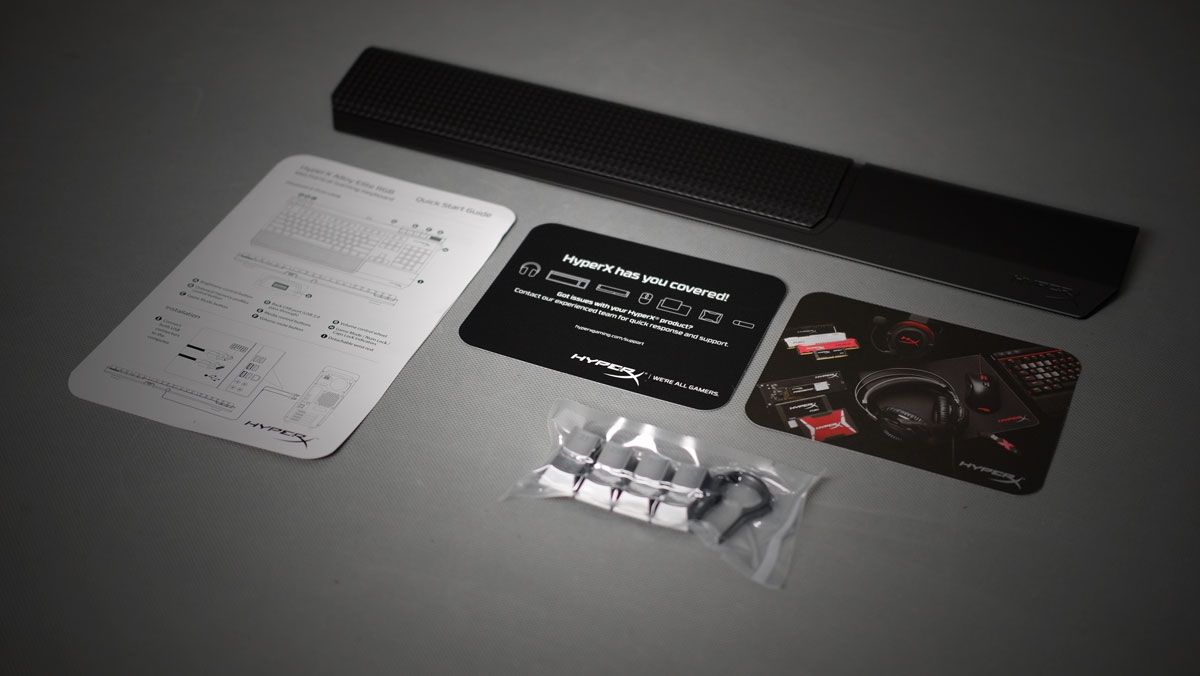 DESIGN, LAYOUT AND BUILD QUALITY:
The HyperX Alloy Elite RGB is a beautiful keyboard on its own, featuring a not so gamer oriented frameless design that better fits the HyperX gaming arsenal. Again, the keyboard sports a 104-key layout with an extended shell to accommodate the extra keys and the integrated light bar.  The extra keys are easy to access and has common features found on recent gaming keyboards.
Compared to its metal top side, the under belly of the keyboard is made out of plastic. It has however, a good amount of padding to keep the already heavy keyboard into place.
Key profile is contoured from top to bottom with emphasis for comfort. At its lowest, the keyboard features a height of around ~3cm. The maximum height on the other hand sits at around ~3.5cm. An additional of 1.5cm is gained with the extender in place.
Connectivity is provided by two USB ports. One of which is a pass-through for the integrated USB port located at the back.
The pass-through is conveniently placed near the right hand side of the keyboard. This is perfect for gaming mouse and even wireless devices. It's a weak charging port though due to the limitations of the interface.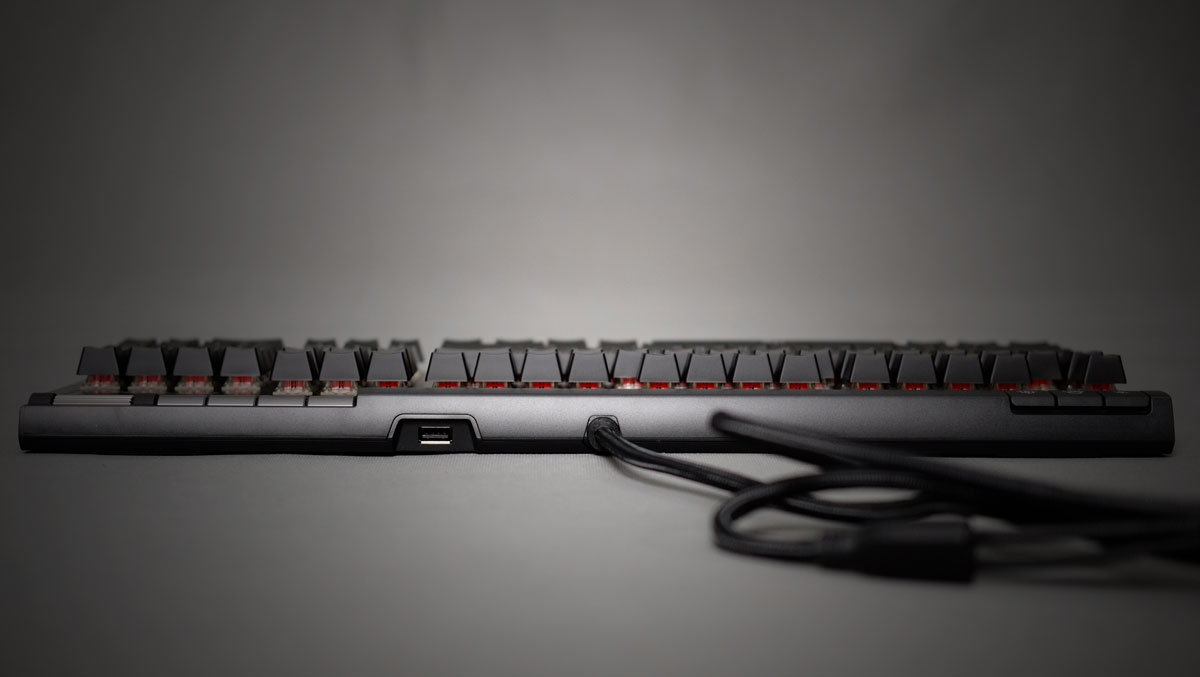 TEST SETUP AND METHODOLOGY:
Testing a keyboard is not that difficult, but it is mostly subjective; similar to testing head gears in a sense. That said, no keyboard is perfect and the verdict usually depends on personal preferences. With that in mind we are overhauling our testing methodology by following key pointers that should matter the most; that includes the switch performance, the keycap materials and comfort. To keep our test methodology simple and free of extra variables, please note the following softwares and configurations used below.
| | |
| --- | --- |
| GAMES | Overwatch, Battlefield 4, DOTA 2 |
| POLLING RATE | 1000 Hz (If possible) |
| SOFTWARES | EK Switch Hitter |
MECHANICAL SWITCHES:
The mechanical switches makes up the reason why mechanical keyboards are called "mechanical keyboards" in the first place. There are tons of switches out there but Cherry MX switches are the most popular of them all; setting a standard for the rest. They have clicky, linear and bumpy switches; all with their own mixture of actuation forces and actuation points.
The HyperX Alloy Elite RGB features the Cherry MX RGB Red switches. It has an actuation force of around 45cN, with a linear feedback and a minimum travel distance to actuation at 2 mm according to the specifications. It felt exactly like your normal Cherry MX Red which is perfectly fine for gamers who are looking for a quieter option.
I've had this keyboard for a month. Typing on it is a breeze and it renewed my affection for the Cherry switches after getting used to the Logitech Romer-G keyboards.
KEYCAP PRINTING AND MATERIAL:
Keycap materials are important too in selecting a mechanical keyboard. The most common ones are ABS and PVC, since they are cheaper and are compatible with most printing methods. They do however shine faster than others and quality is generally not the best. PBT doesn't shine as fast compared to these keycaps and are highly regarded for their quality and sand-like texture. POM on the other hand is also a good replacement over ABS but they are rarely found on most keyboards.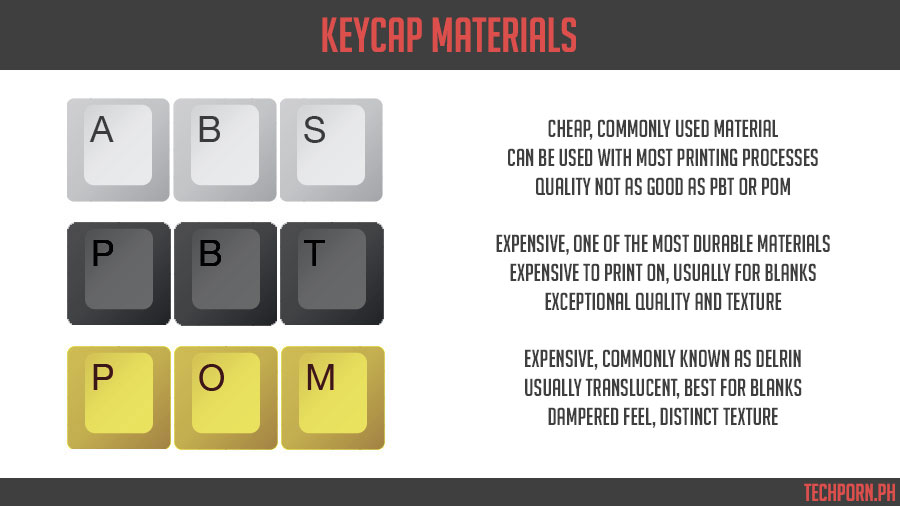 The material used on the Alloy Elite RGB's keycaps is ABS. It is well built, rather thick and with a quality print to boot. Caps are technically translucent ABS, coated in matte black. DIY folks who love to play with the default keycaps will like this approach.
NKRO AND GHOSTING:
EliteKeyboard's Switch Hitter is an excellent freeware that anyone could utilize to test any keyboard's key registration, key rollover and ghosting. It supports a wide variety of layouts, and could log your usage for extra statistics; such as the actuation time it took for your keys to register and depress.  You can download the Switch Hitter here to check it out yourself.
No worries here ladies and gents. The HyperX Alloy Elite RGB is a functioning mechanical keyboard with anti-ghosting feature and a full N-key rollover.
SIZE AND COMFORT:
Keyboards are generally categorized in 3 standard sizes and or layouts: Full size, TenKeyLess and Compact.  They are also called the 100%, 80% and 60% layouts respectively. These standard layouts have drastic effect on the ergonomics of the keyboard especially while gaming. Generally, the 60% layout allows for better stress free arm movements; while full layouts requires you to spread your arms wider.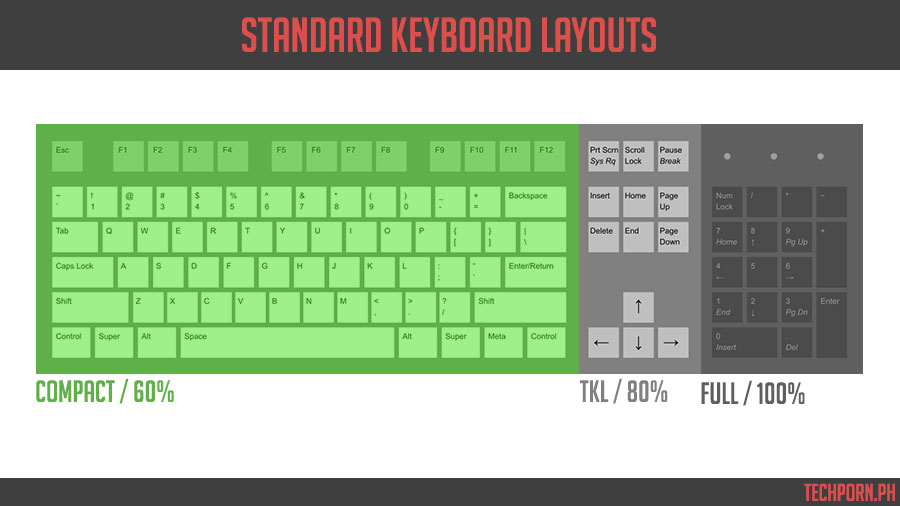 Being a full sized keyboard with standard profile and a detachable rest, the HyperX Alloy Elite RGB is as comfy as it looks. Though to be fair, I'd like to see a simpler looking wrist rest. The textured design is just not my preference.
MISCELLANEOUS:
The HyperX NGenuity is the first unifying software made by HyperX for their gaming products. With the NGenuity, gamers may set button bindings, program and store macros, assign colors to individual keys on the keyboard, or set up colors zones. The software also comes with a library of presets, so you can quickly choose one to install.
The NGenuity has 3 main menus, all of which requires you to access the profile before customizing anything. Each menu also got their own sub menus for a cleaner UI.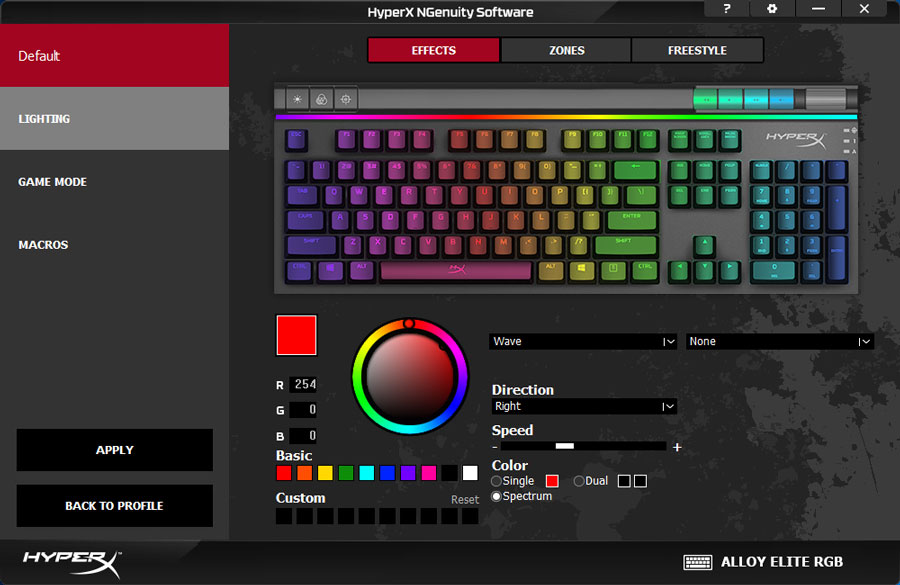 Game mode is where you could toggle what keys the game button should disable when it is pressed. By default, the windows key is already disabled.
Macros on the other hand requires you create the bindings first-hand before applying them – a more organized approached into key bindings. Overall, I like the NGenuity – especially its ability to link applications and import profiles. You may even upload icons for each profiles you create for a more personalized touch.
WRAPPING IT UP:
The HyperX Alloy Elite RGB Mechanical Gaming Keyboard is the company's flagship no joke. It is the top-end stuff that HyperX got right now and there's no reason it shouldn't be. The top notch looks, ergonomics and the Cherry MX RGB switches are just excellent combinations.
Customization wise, there's a lot of headroom for you to customize the HyperX Alloy Elite RGB. The software played a huge part into this, even though it looks and functions with utmost simplicity. Sure, the HyperX NGenuity lacks the options of the heavy weights in the industry but it just works. The extra media and gaming keys are spot on too. That's with the volume knob as the icing on the cake.
The HyperX Alloy Elite RGB is no perfect though, which points us out to the complaints we've had during our testing period. First off, I never bother using the extra keycaps. The thought of adding such is not bad, but quality speaking they are about the same with the ones already in place. Next up is the wrist rest which is halfway textured. Just imagining the dirt that could build up on that section made me worry. Good thing it doesn't hurt the ergo.
Value wise, the HyperX Alloy Elite RGB sits at $169.99, with a corresponding local price of around 9000 Pesos. That's a lot of money to pay for, but it is justified.
LIGHTING OPTIONS AND EFFECTS
EASY TO USE SOFTWARE
CHERRY MX RGB SWITCHES
EXCELLENT ERGONOMICS

TEXTURED WRIST REST
PRICE POINT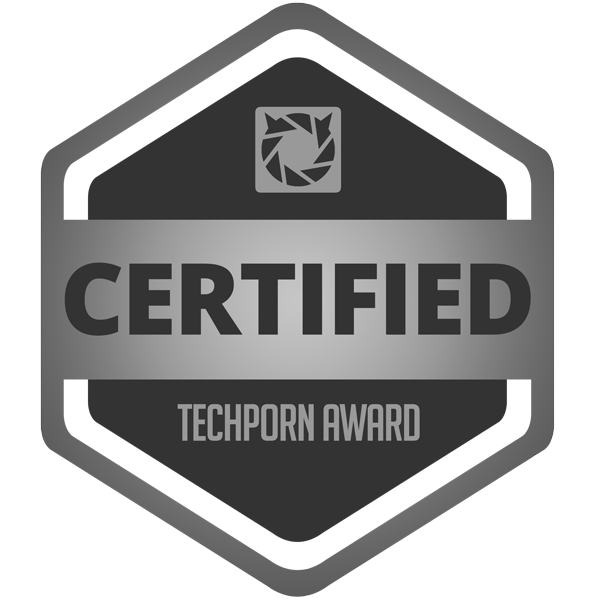 HyperX Alloy Elite RGB Mechanical Gaming Keyboard
PERFORMANCE -

8/10

BUILD QUALITY -

7/10

FEATURES -

8/10

AESTHETICS -

8/10

VALUE -

7/10
Summary
The HyperX Alloy Elite RGB Mechanical Gaming Keyboard is the company's flagship no joke. It is the top-end stuff that HyperX got right now and there's no reason it shouldn't be.