Today, we are taking a look at one of MSI's X299 motherboard, the Gaming Pro Carbon AC. This is MSI's top end offering for the gamers packed with tons of features on top of the venerable X299 platform. That includes notables such as the swap-able face plates, AC1200 Wi-Fi, personalized lighting effects support and the MSI GAME BOOST featurette.
The GAME BOOST is basically a one stop overclocking feature, allowing you to boost your system's performance with an onboard knob. It has 8 levels of overclocking profiles and is the direct descendant of the OC Genie button. While the board is not exactly accessible to everyone due to the price, it is an entry for those wanting to get a taste of HEDT platforms with a meaty dash of gaming written all over it.  Learn more from the official product page.
TECHNICAL SPECIFICATIONS:
MSI X299 Gaming Pro Carbon AC

CPU Support
Supports Intel Core X-Series Processor Family for LGA2066 Socket
Chipset
Intel X299 Chipset
Form Factor
ATX
Power Phase
8+4

Memory

Frequency
DDR4 4133+ (Quad), DDR4 4500+ (Dual)
Slots
8x DDR4 (Non-ECC)
Capacity
128 GB (Quad), 64 (Dual)
Channel
Quad, Dual

Connectivity

Slots
4 x PCIe 3.0 x16 slots

Support x16/ x4/ x16/ x8 mode with the 44-lane CPU.
Support x16/ x4/ x8/ x0,x8/ x4/ x8/ x8 modes with the 28-lane CPU.
Support x8/ x0/ x8/ x0, x8/ x4/ x4/ x0 modes with the 16-lane CPU.

2 x PCIe 3.0 x1 slots

Onboard Graphics
N/A
Multi-GPU
Supports 3-Way AMD CrossFire Technology

Supports 3-Way NVIDIA SLI Technology

Storage
8 x SATA 6Gb/s ports

2 x M.2 slots (Key M)

Supports up to PCIe 3.0 x4 and SATA 6Gb/s
M2_1 slot supports 2242/ 2260 /2280 storage devices
M2_2 slot supports 2242/ 2260 /2280/ 22110 storage devices

1 x U.2 port

Supports PCIe 3.0 x4 NVMe storage

Supports RAID 0, RAID 1, RAID 5 and RAID 10 for SATA storage devices

Supports RAID 0 and RAID 1 for M.2 storage devices

USB
ASMedia ASM3142 Chipset

1x USB 3.1 Gen2 (SuperSpeed USB 10Gbps) Type-A port
2x USB 3.1 Gen2 (Super Speed USB 10Gbps) Type-C ports

ASMedia ASM1074 Hub

3x USB 3.1 Gen1 (SuperSpeed USB) Type-A ports

Intel X299 Chipset

5x USB 3.1 Gen1 (SuperSpeed USB) ports
7x USB 2.0 (High-speed USB) ports

Audio
Realtek ALC1220 Codec

7.1-Channel High Definition Audio
Supports S/PDIF output

Network
Intel I219-V Gigabit LAN controller

Intel Dual Band Wireless-AC 8265 module

Miscellaneous

Fan Connectors
1 x 4-pin CPU fan connector

1 x 4-pin Water Pump connector

4 x 4-pin system fan connectors

MYSTIC LIGHT: 16.8 million colors / 17 effects controlled in one click with MYSTIC LIGHT APP or mobile devices.
3D Printing Support: exchangeable cover and 3D X-MOUNTING screws.
TURBO SOCKET with GAME BOOST, DIGITALL POWER Design
TWIN TURBO M.2 with M.2 Shield and Intel Optane Memory Ready, Turbo U.2, LIGHTNING USB 3.1 GEN2
VR READY and VR BOOST
AUDIO BOOST 4 with NAHIMIC 2+: Reward your ears with studio grade sound quality for the most immersive gaming experience
DDR4 BOOST with STEEL ARMOR:
GAMING LAN and Wireless
STEEL ARMOR PCI-E slots.
Supports 3-Way NVIDIA SLI & AMD Crossfire
GAME BOOST, GAMING HOTKEY, X-BOOST, XSPLIT GAMECASTER, APP MANAGER
PACKAGING AND ACCESSORIES:
MSI had the X299 Gaming Pro Carbon AC stashed inside a standard 2 part packaging. It's no larger than your usual ATX motherboard but it is damn heavy with all the goodies inside. We'd appreciate a small handle especially for the price. MSI could also make the AC on the model name a little more contrasting. You wouldn't really notice it's the AC unless you're looking for it.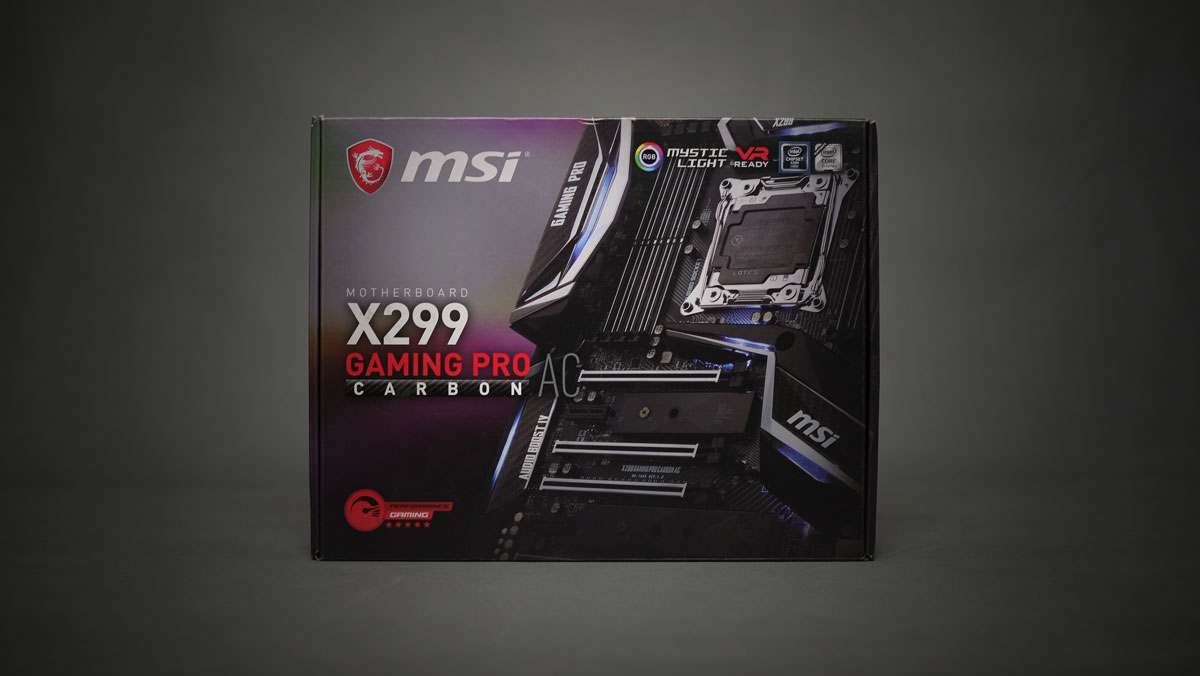 Our X299 Gaming Pro Carbon AC obviously is the model with WLAN and Bluetooth. That said, ours comes with magnetized antennas for both the 2.4GHz and 5GHz bands. It also comes with a padded backplate, a pair of LED header extension cables and screws for the 3D printed accessories.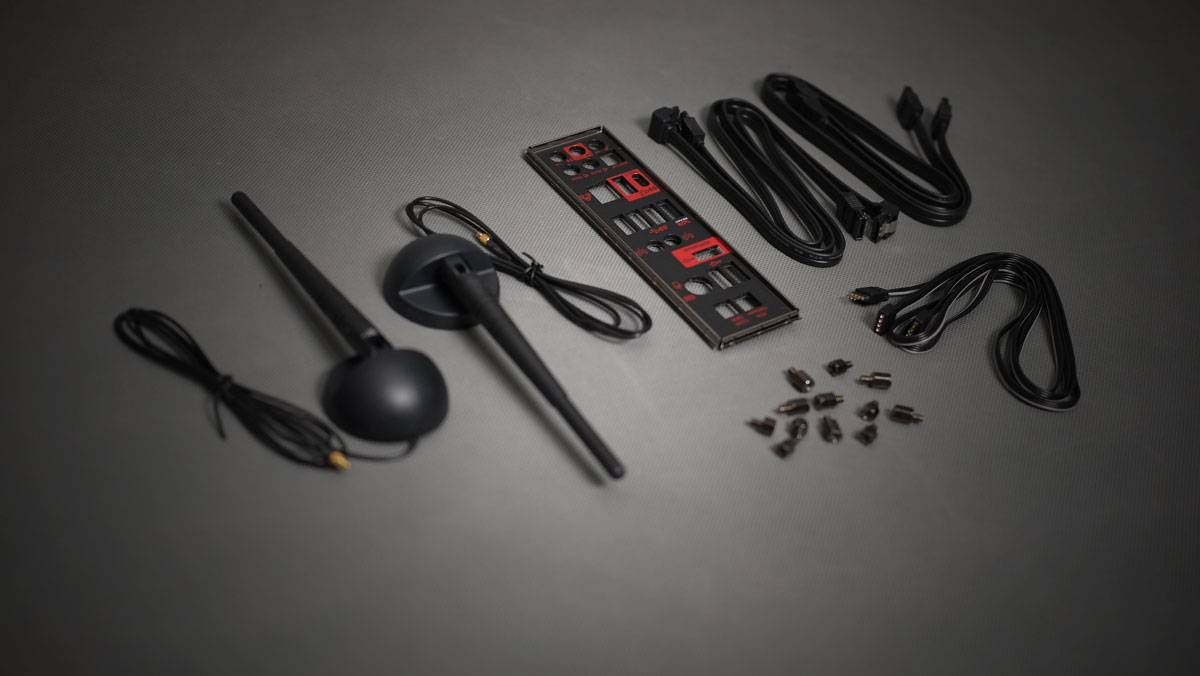 Lotsa paper works here in combination with the case badge, software disc and the cable labels.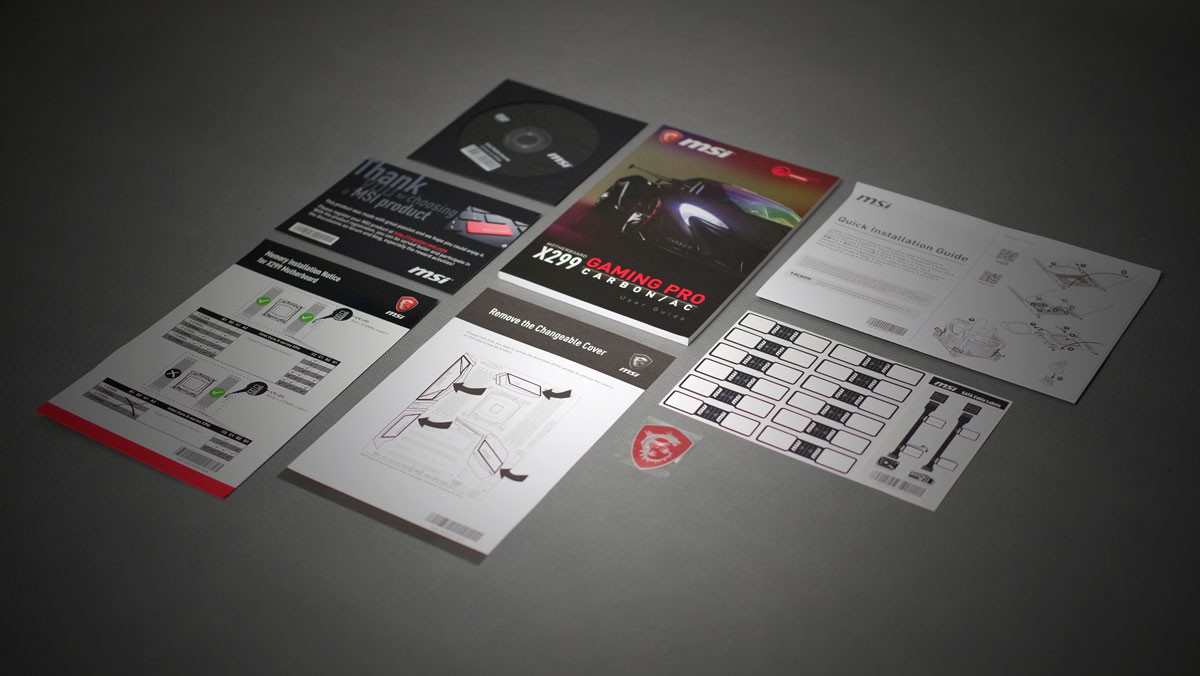 There are pairs of removable covers ready to be used if you're not a fan of the carbon styling. The Silver one is an appropriate choice for a more neutral looking build.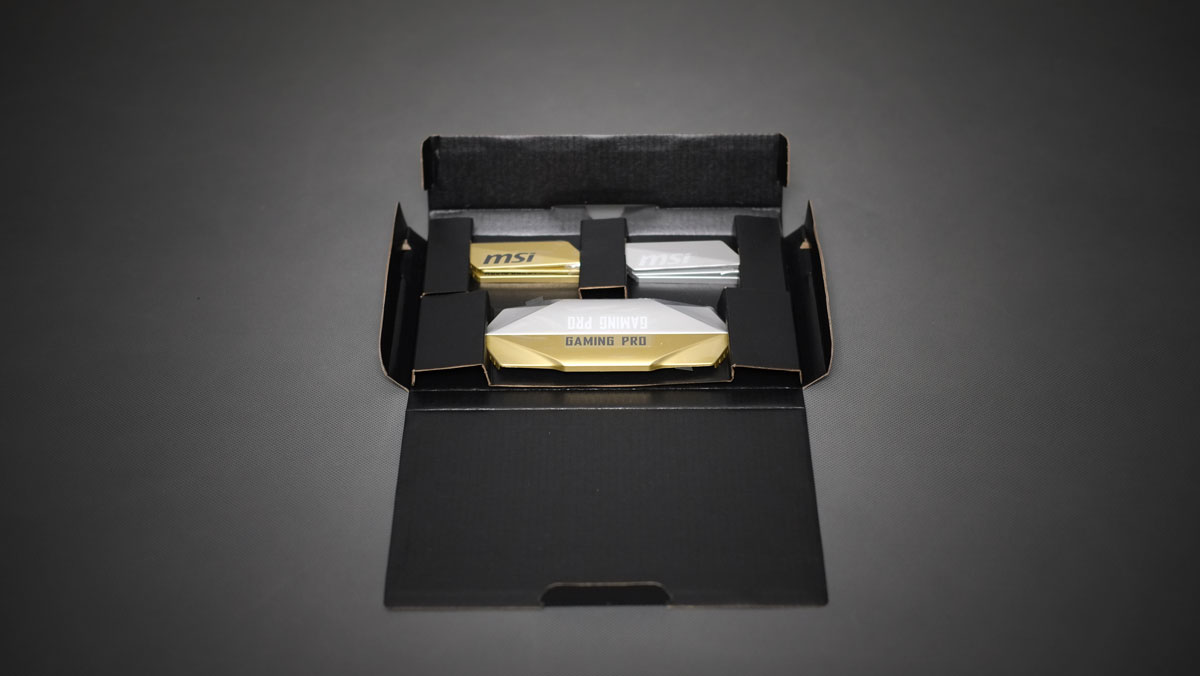 While the paper works could be lightened up, it's overall a nice set of bundles from MSI.
DESIGN, LAYOUT AND CONNECTIVITY:
The MSI X299 Gaming Pro Carbon AC is a gaming oriented motherboard by design and by features. It takes major design cues from race cars with carbon fiber plated heatsinks.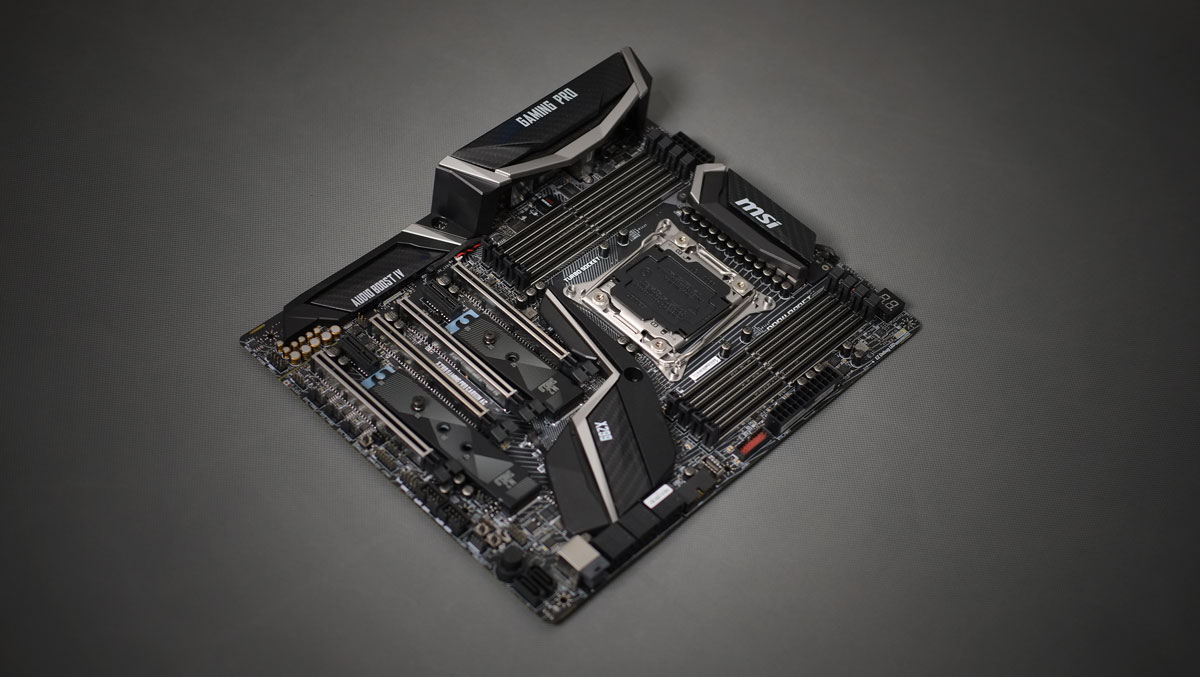 The layout is rather good with well placed 8+4-pin CPU power headers and 24-pin power header. The fan headers for the CPU, Pump and Auxiliary are also well placed at the top. The other 3 fan headers are located below. Note that the CMOS battery is stashed away just below the IO cover.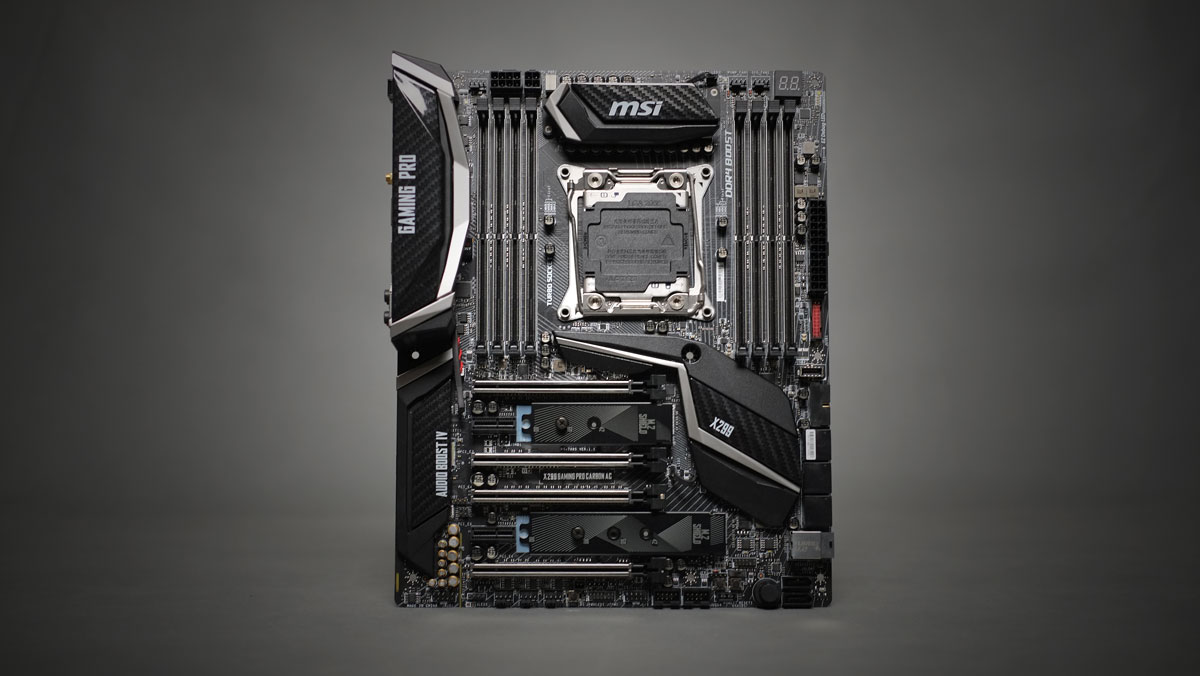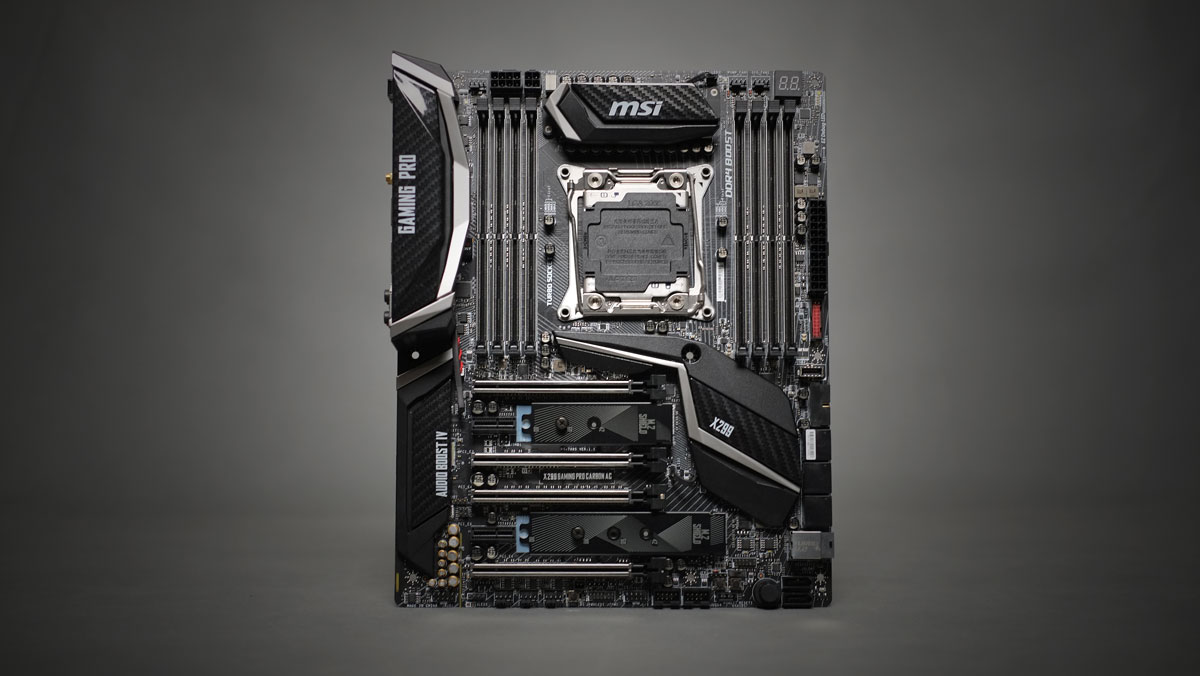 The back of the board is rather busy looking, mainly due to some components that cannot be placed at the front. While this side houses a number of ICs and screws, they are well placed and wont cause any clearance issues.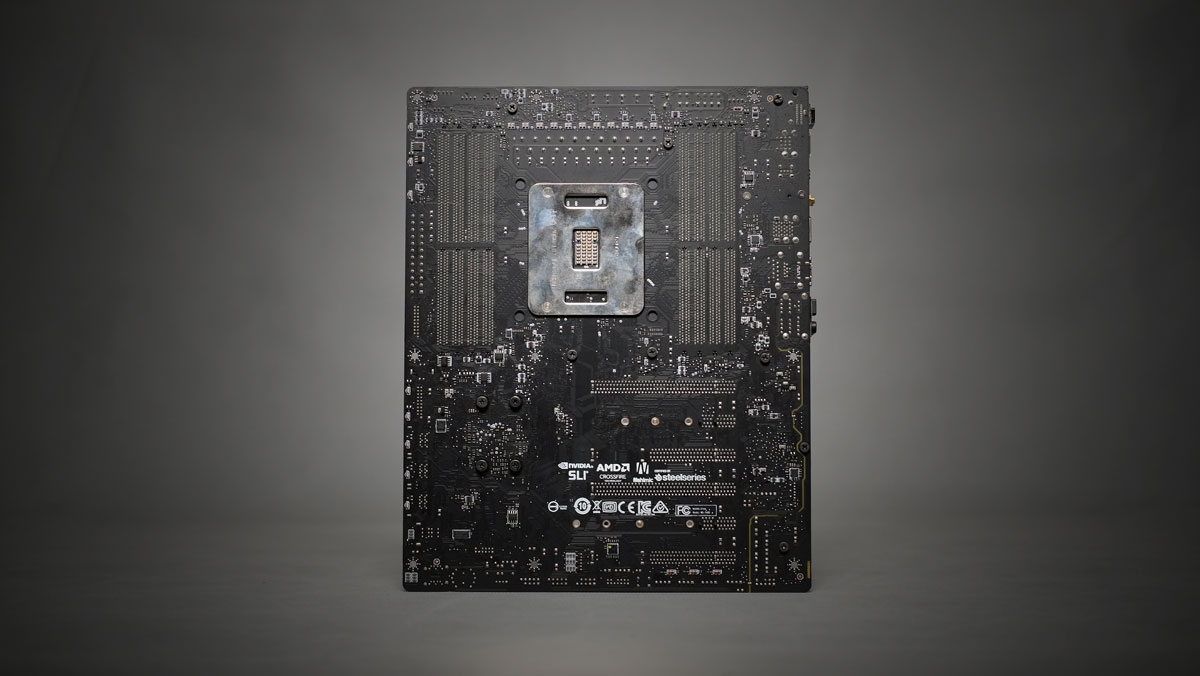 Board power is provided by an 8+4 digital VRM design. There's 8 for the CPU, and an actual 2+2 for each set of memory slots. The VRM heatsink tends to get hot to touch but it's acceptable.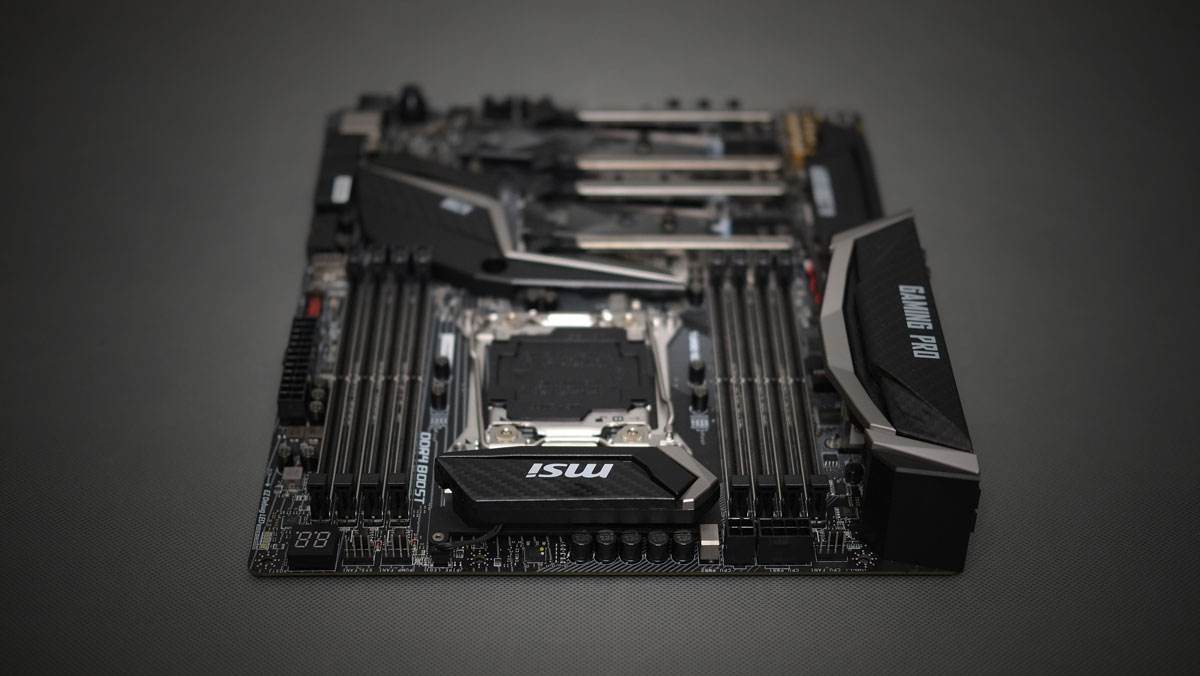 Storage options this side of the board are 8 native SATAIII ports, dual USB 3.0 headers and an internal USB 3.1 Gen2 header. A U.2 port for NVME devices is also located here.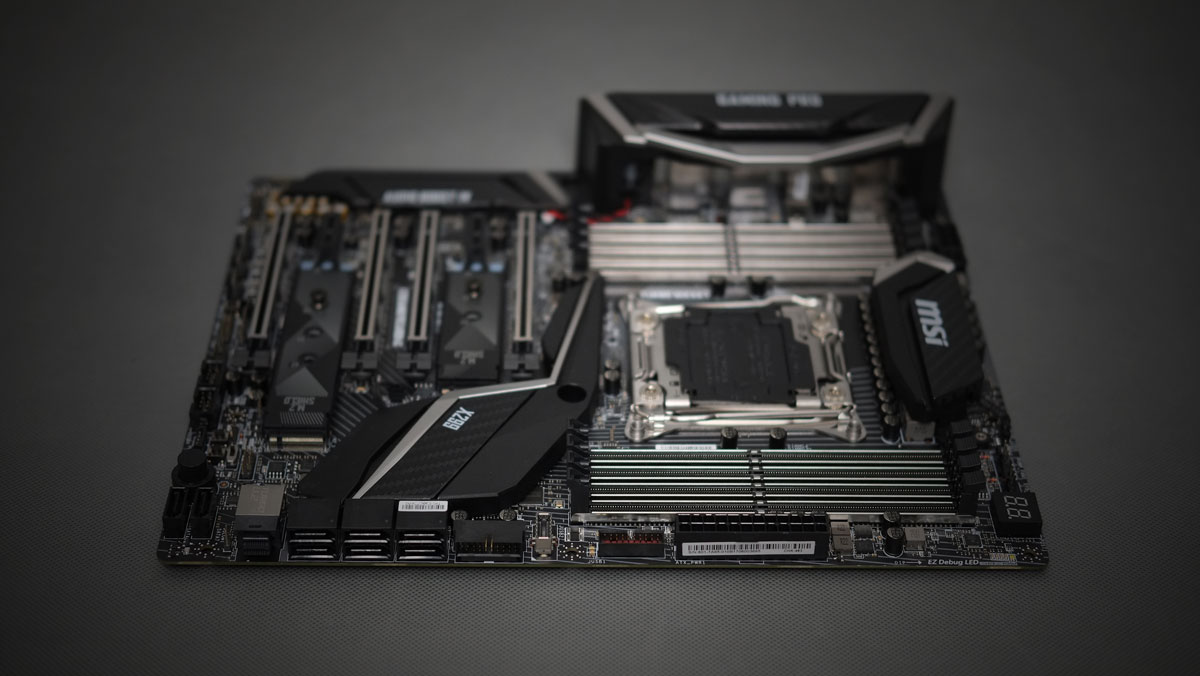 The bottom area of the board houses the usual internal headers, along with the front panel and LED headers. This area also houses the GAME BOOST knob. This X299 motherboard features two M.2 slots capable of RAID 1 and 0. They are NVMe compliant too. There are 2x PCI-E 3.0 x16 slots and 2x PCI-E 3.0 x8 slots. Multi-GPU support is a maximum of 3 for both AMD and Nvidia.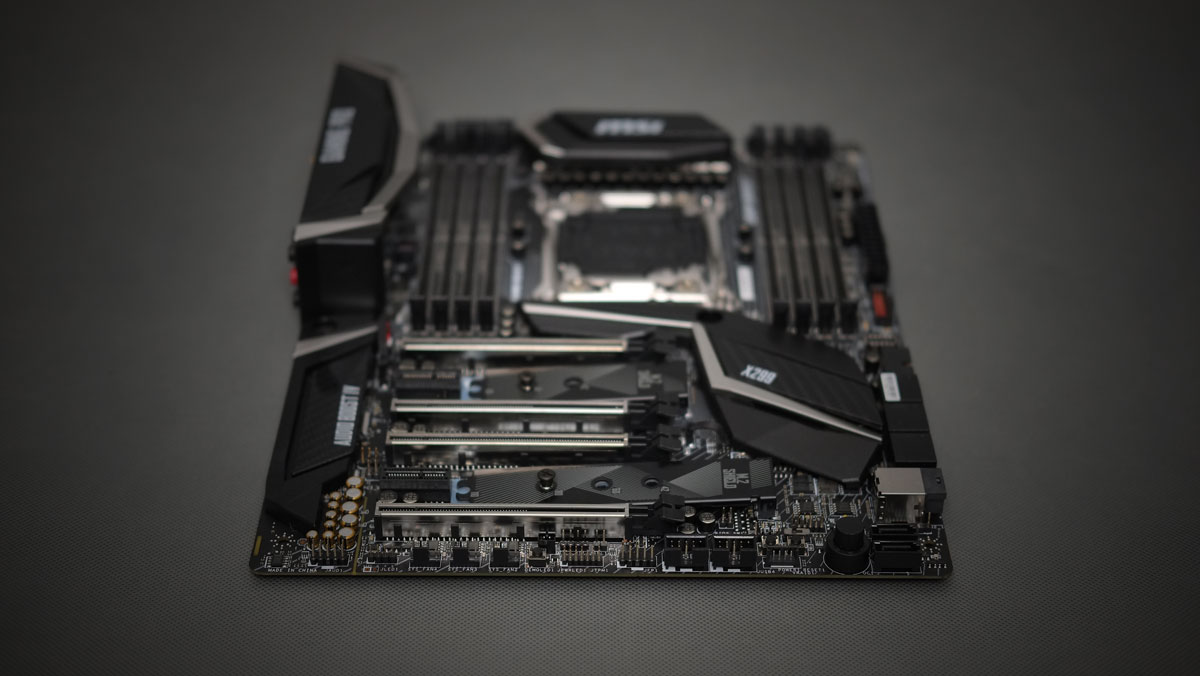 Finally we get to see the backpanel IO. We have 9 USB ports here (4x USB 3.0 + 3x USB 2.0 + 2x USB 3.1). Connectivity is provided by two NICs (Wired Gigabit + AC1200 WLAN). We also have a PS/2  combo port here together with the Realtek audio with a much appreciated optical out. There are also a Clear CMOS and a BIOS flashback button here just in case you messed up the board's settings.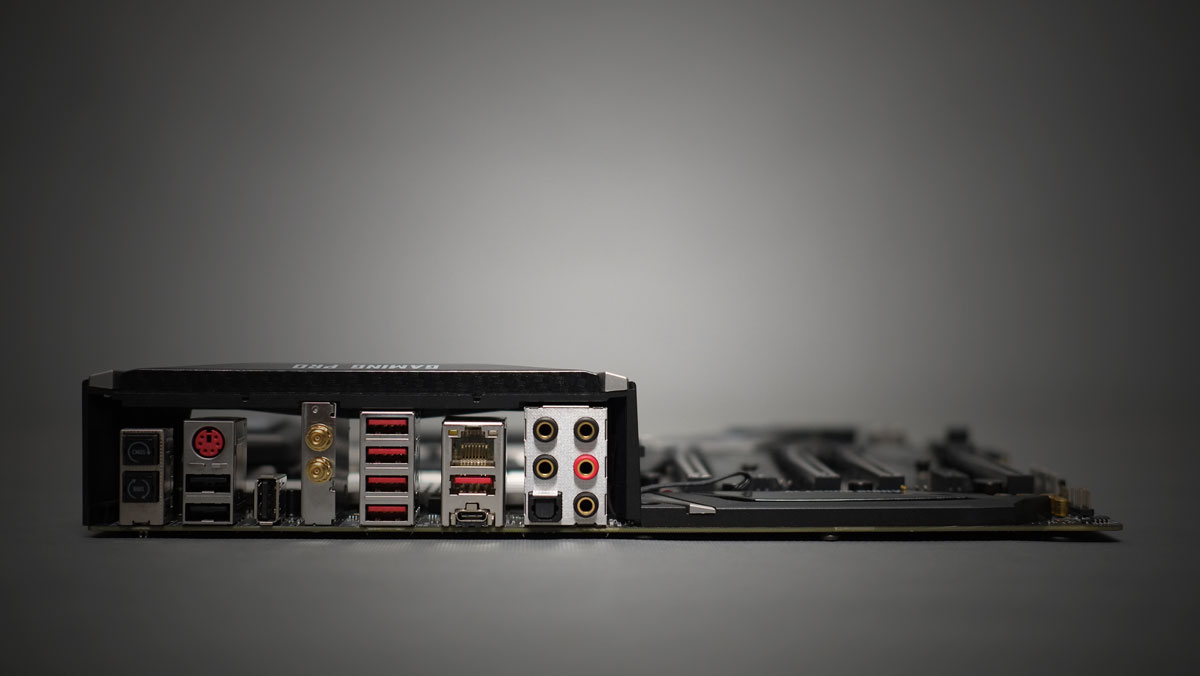 INTERFACE:
The X299 Gaming Pro Carbon AC features the Click BIOS 5 UEFI resembling that of the B350 Gaming Pro Carbon with chipset based differences. The Click BIOS 5 retains the sleek UI look of the former Click BIOS, yet it has an updated design suited for today's needs.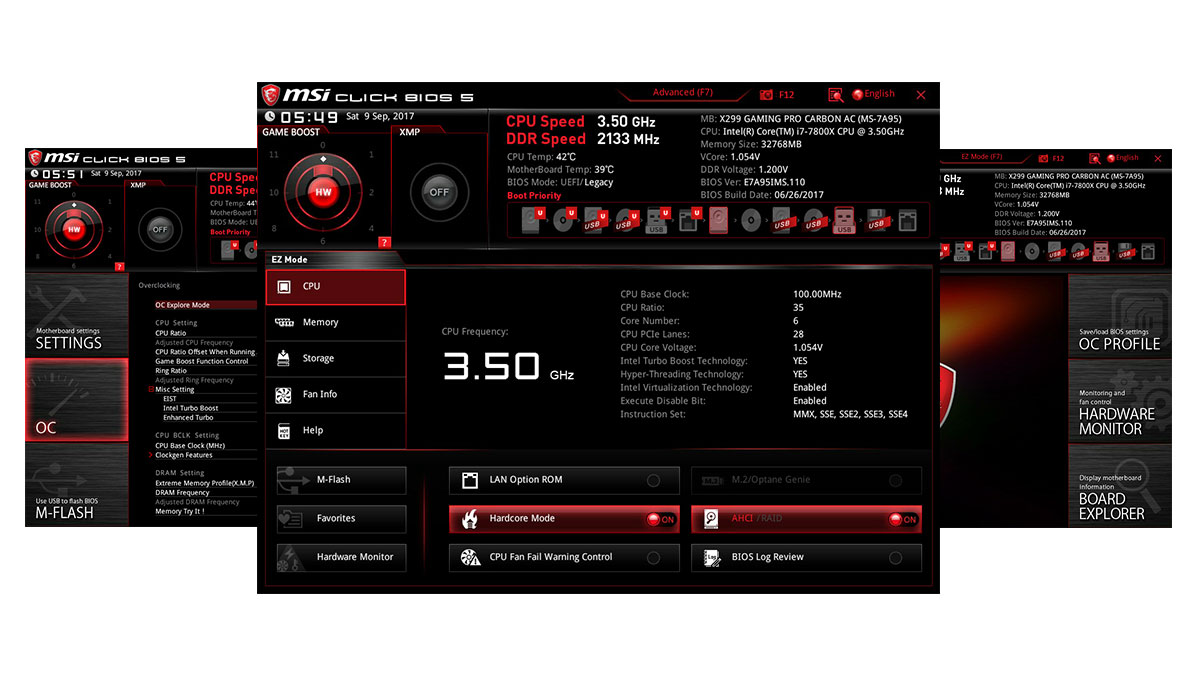 There are 2 main menus. The EZ Mode and advanced mode. Both modes could toggle the GAME BOOST function within the BIOS so if you want to take control of the feature within the UEFI, you can disable the physical knob.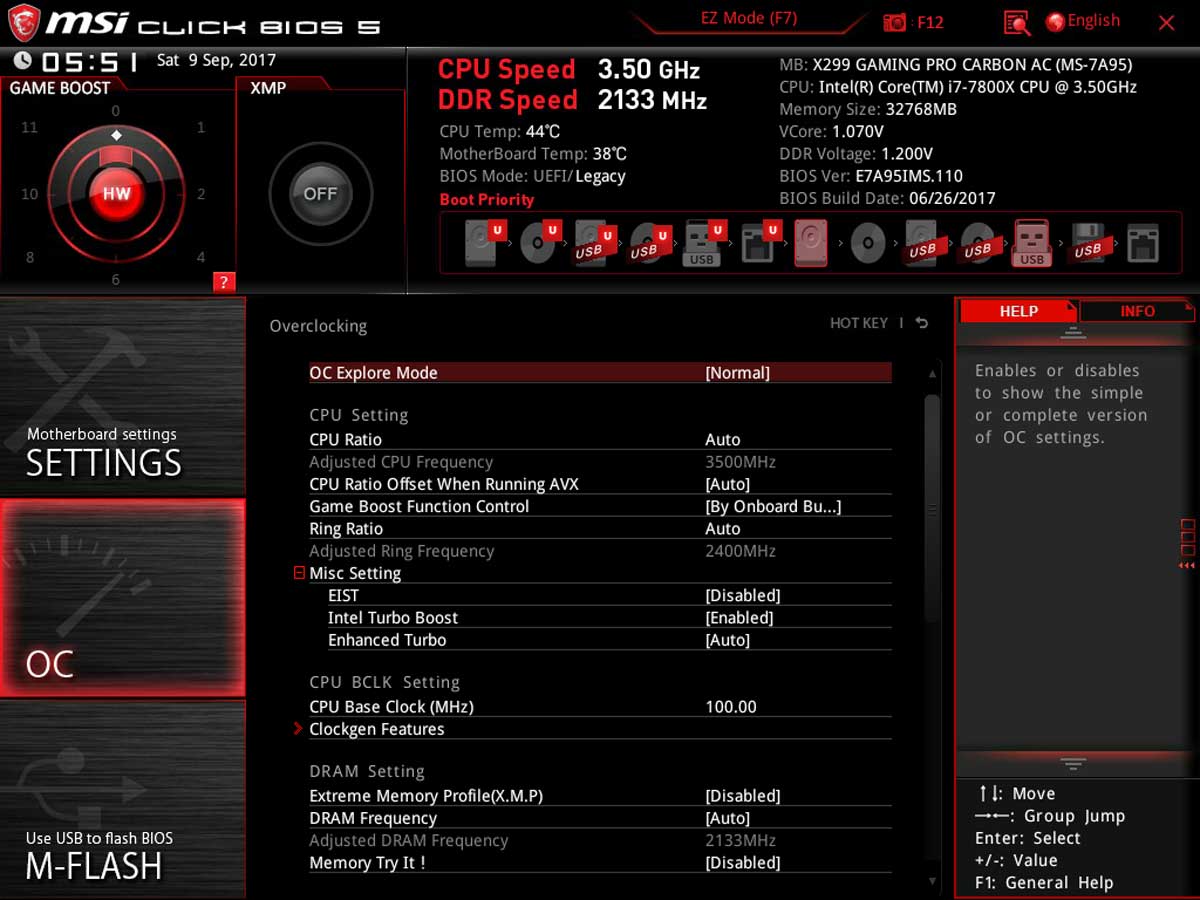 The UEFI of the motherboard is snappy and hiccup free; with everything you need to get started tweaking. You can pretty much do anything on this board as far as overclocking options are concerned.
SOFTWARE:
MSI had the board bundled with tons of applications that should help you optimize your system's performance. That includes the following software tools:
MSI Smart Tool
X Boost
Command Center
CPU-Z MSI GAMING
Live Update 6
RAMDisk
Gaming Lan Manager
MSI Gaming APP
Super Charger
XSplit Gamecaster
Nahimic 2
TriDef VR
TriDef SmartCam
SteelSeriesEngine 3
While I find some of these softwares as bloats, the Command Center, Live Update 6, RAMDisk and the Gaming LAN Manager are keepers. The free XSplit subscription is also much appreciated.
TEST SETUP AND METHODOLOGY:
The performance of the system shall be evaluated by various benchmarking tools and applications. We are testing this system with the high-performance settings enabled at the OS, with the default UEFI configuration. Background processes such as anti-virus and third-party applications are disabled as well. Outlined below are the applications and benchmark tools for reference:
TEST SYSTEM SPECIFICATIONS
PROCESSOR
Intel Core i7-7800X
MOTHERBOARD
MSI X299 Gaming Pro Carbon AC
CPU COOLER
FSP Windale 6
MEMORY KIT
Crucial Ballistix Tactical DDR4 @ 2666MHz 4x4GB
GRAPHICS CARD
ASUS GTX 1060 STRIX OC 6GB
INTERNAL STORAGE 
Crucial BX200 480GB
POWER SUPPLY
CORSAIR RM850X 850W
DISPLAY
27″ DELL U2715H + LG 43UF680T 4K UHD TV
OPERATING SYSTEM
Microsoft Windows 10 Pro
CPU AND MEMORY PERFORMANCE:
Super PI – 32M Calculations
wPrime – 32M and 1024M Calculations
AIDA64 Extreme Edition – Memory Benchmark
PRODUCTIVITY PERFORMANCE:
GIMP – 7 MB worth of image processing
HandBrake – 150 MB MP4 to H.264 video encoding
WinRAR – Internal benchmark tool
MISCELLANEOUS:
AS SSD – Storage performance
RightMark Audio Analyzer – Audio performance
AIDA64 Extreme Edition – Power consumption
NetIO-GUI – Network Performance
POWER CONSUMPTION:
The AIDA64 System Stability Test uses a 64-bit multi-threaded stress testing module to drive the system to its limits. Power readings are recorded with a watt-meter.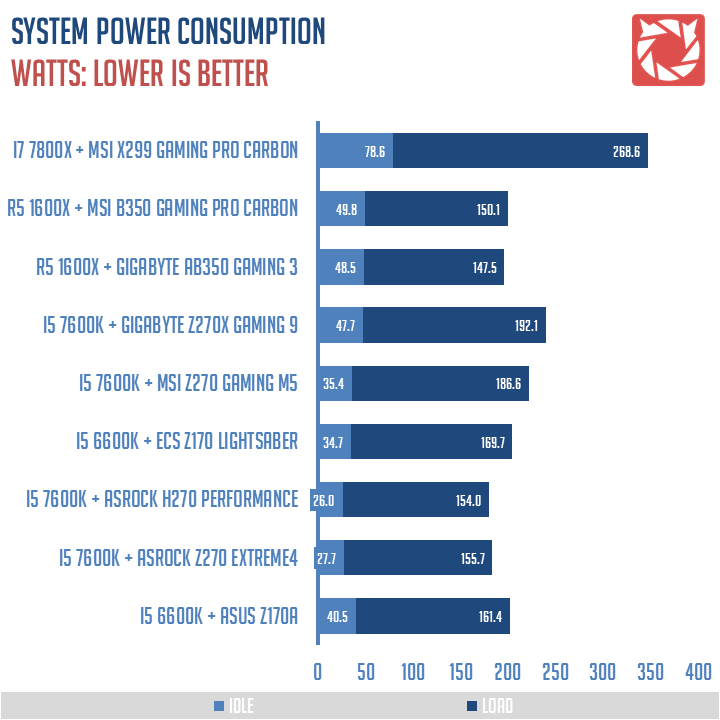 This is the first time I've threaded into the HEDT territory, so I can't say much about the system's power consumption; except that it's really high compared to mainstream solutions.
CPU AND MEMORY PERFORMANCE:
Super PI is a single-threaded program that calculates pi to a specified number of digits after the decimal point. It is a widely used benchmark within the industry.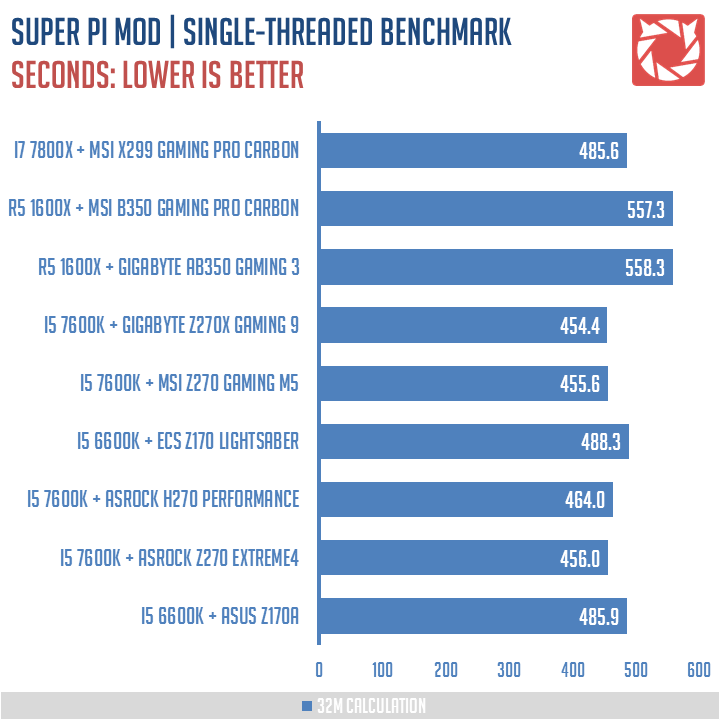 WPrime is a multi-threaded program that calculates a set number of square roots. It verifies the results by squaring them, then compares it with the original numbers.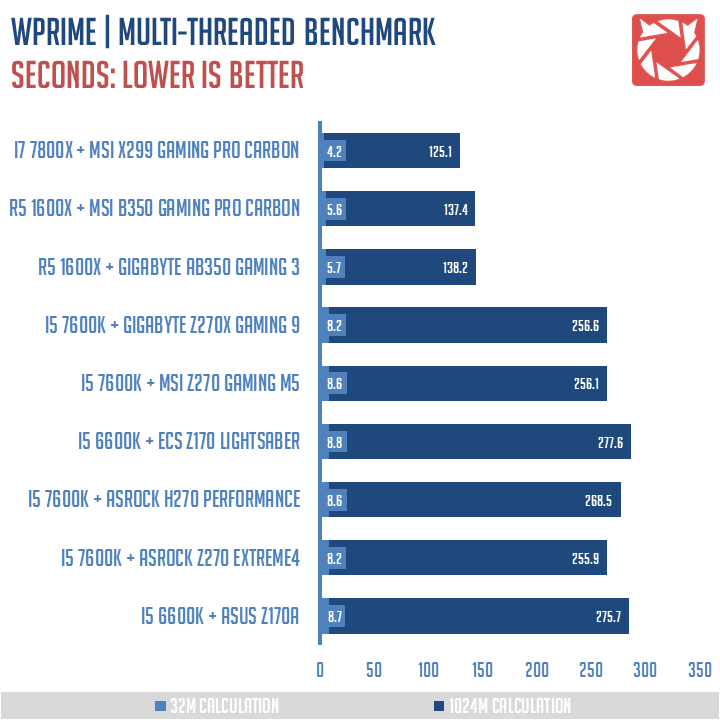 The AIDA64 Memory Benchmark measure the data transfer bandwidth and latency of the system memory. We are measuring the latency on this benchmark.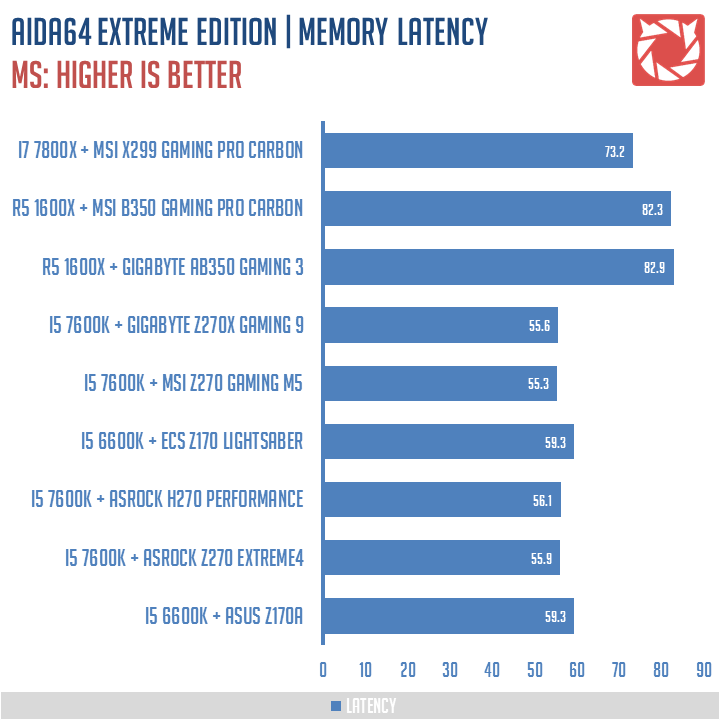 Generally good benchmark results from the MSI X299 Gaming Pro Carbon AC. We've had better single core performance with the Core i5-7600K though compared to the Core i7-7800X. This thing shines the most with multi-threaded benchmarks though which is just expected for such a CPU.
PRODUCTIVITY PERFORMANCE:
GIMP or GNU Image Manipulation Program, is a free and open-source image editing tool. A 7 MB worth of images is be processed and converted to gauge the system performance.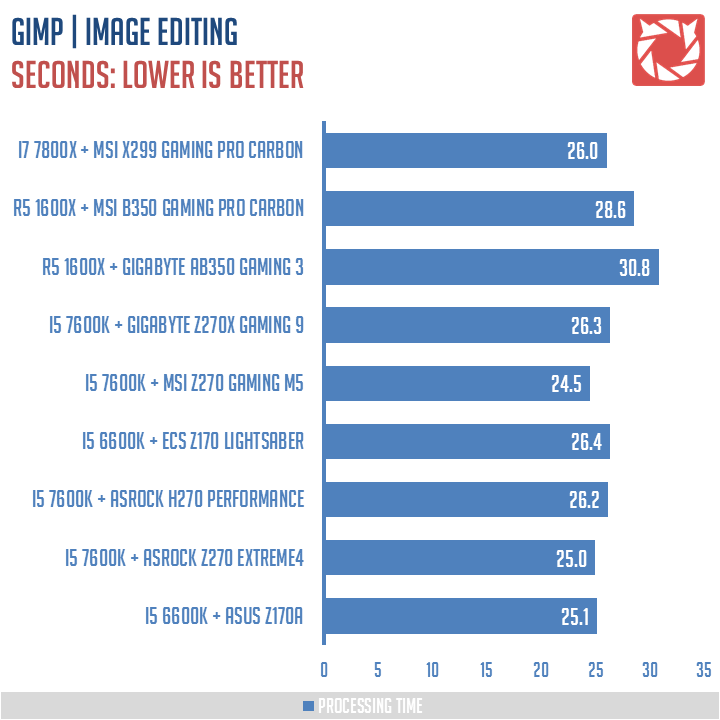 HandBrake is a free video encoding tool that supports a wide variety of media codecs. A 150MB worth MP4 video is converted using the H.264 codec to gauge the system performance.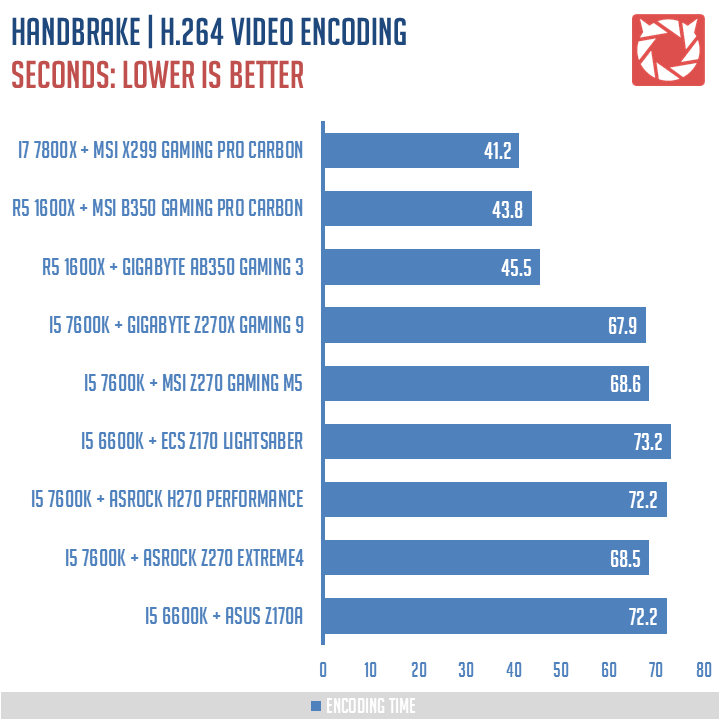 WinRAR is a file archive utility that can create, view and unpack numerous archive file formats. The software's built in benchmark tool is utilized to gauge the system performance.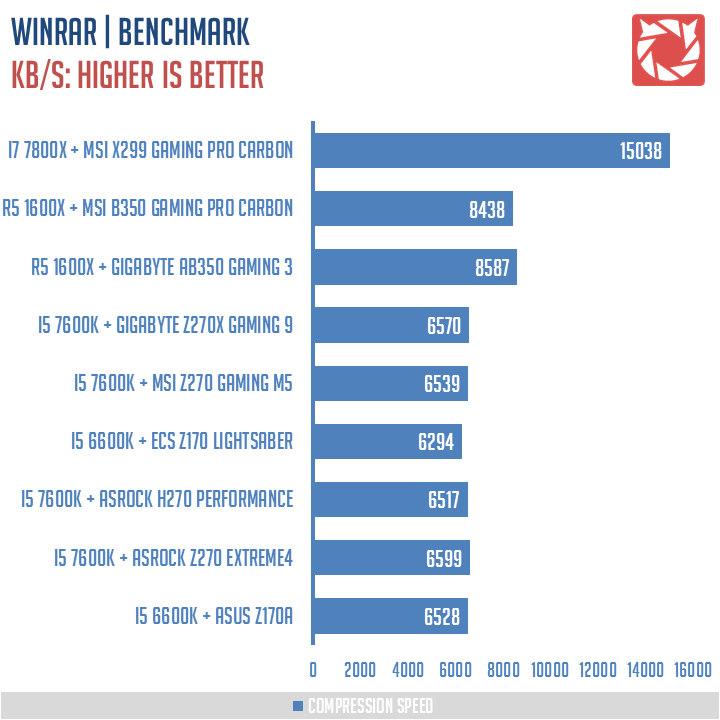 Generally great performance overall from our real world benchmarks especially with the H.264 encoding.
STORAGE PERFORMANCE:
AS SSD is a storage benchmarking software widely used throughout the industry. On this test, we are using its scoring system to evaluate our Crucial BX200 SSD's performance using the system's native SATA controller.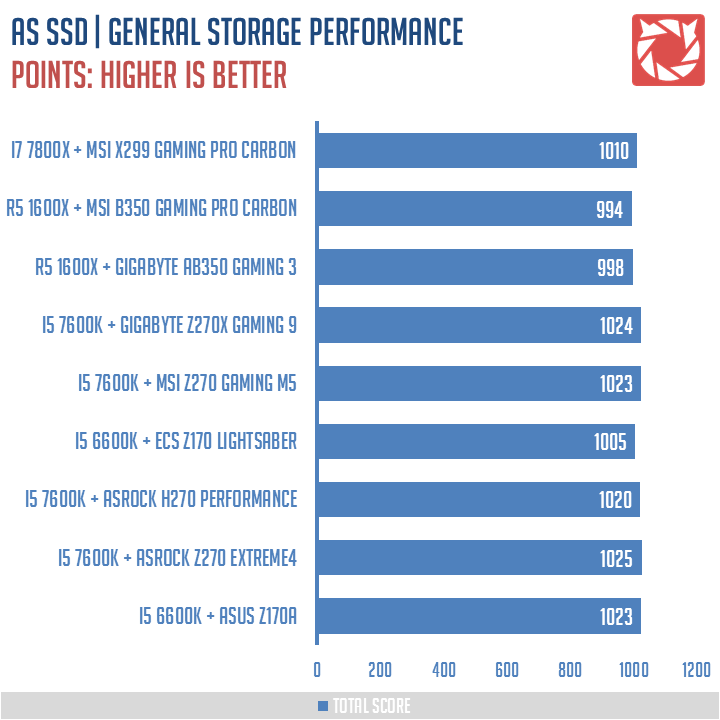 Nothing is out of place on our SATA storage tests.
AUDIO PERFORMANCE:
The RightMark Audio Analyzer (RMAA) is a tool designed to test the quality of audio devices. We used a sampling rate of 24-bit at 48000Hz for the loopback test. We are essentially testing the quality of the line-in and line-out of the audio solution.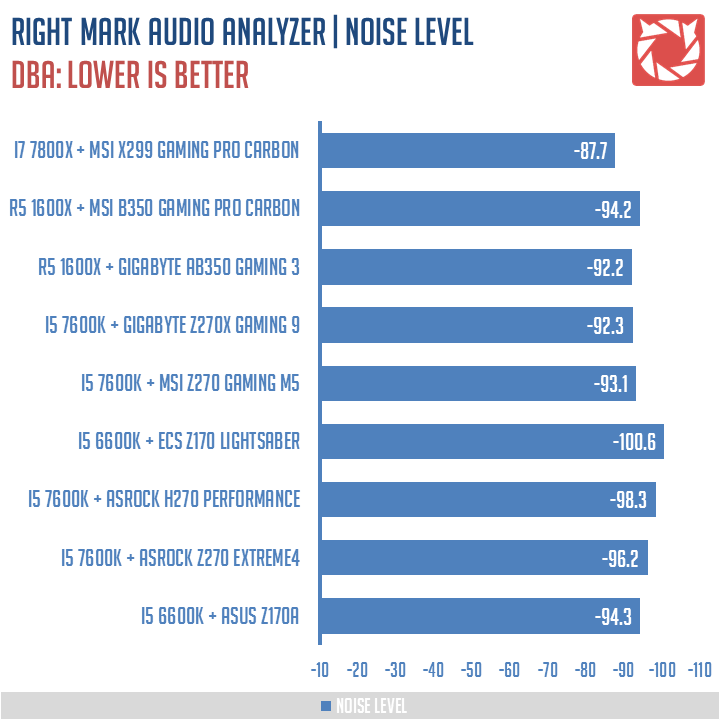 Noise level is decent with an -87.7dBA figure on our RMMA loopback test.
NETWORK PERFORMANCE:
The NetIO-GUI is a good application to test any network's performance. The LAN round trip time is our concern here, checking out latency anomalies if there are any. The client and server are connected on the network via Cat5 cables using a 100Mbps router.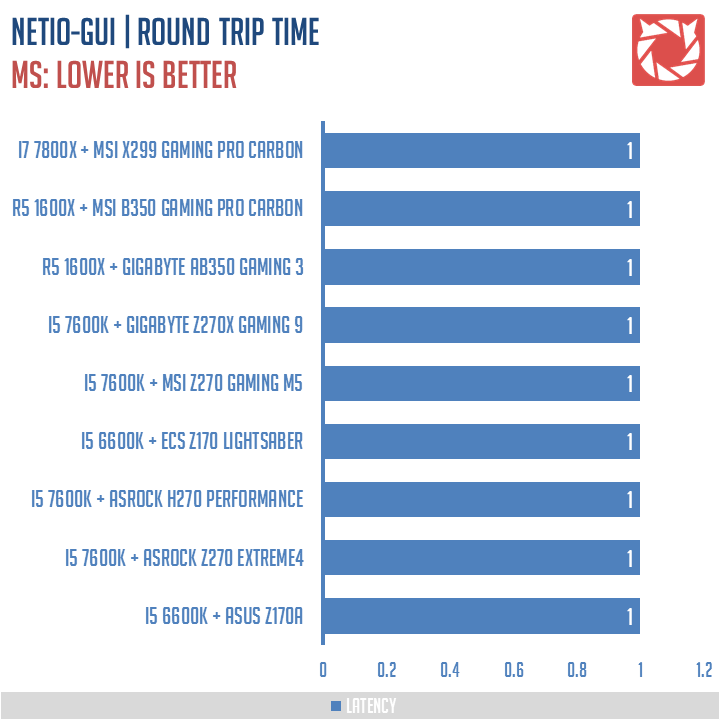 RTT performance seems okay, with an actual <1ms of latency on any packet sizes tested.
WRAPPING IT UP:
Out of all the X299 motherboards from MSI, the Gaming Pro Carbon AC features the best stuffs for both gamers and enthusiasts. Enabling itself to become a bridge-point for those who requires gaming oriented features without sacrificing the power user's requirements.
Build quality and layout wise, the MSI X299 Gaming Pro Carbon AC is one properly built ATX motherboard. The board just screams with reinforcements which is funny enough since most of steel in place are truly overkill. Not that I'm complaining though.
Features are built around gamers and power users. We appreciated the inclusion of AC Wi-Fi so you could bond both wired and wireless connections. The face plates are nice additions too, enabling us to fully personalize the board together with the MYSTIC lighting options. Still, I'd love to see another LAN port or another array of USB 3.1 ports at the backpanel area.
At 20870 Pesos ($339 at Amazon), the MSI X299 Gaming Pro Carbon is anything but expensive from the eyes of many. This is an HEDT platform motherboard though so the price is actually justified including the extra features.
SEXY DESIGN
GOOD LAYOUT
CUSTOMIZATION OPTIONS
GENERAL PERFORMANCE
LOADED WITH FEATURES
WIFI + BT COMBO
DEBUGGING OPTIONS

PRICE
BACKPANEL IO OPTIONS
MSI X299 Gaming Pro Carbon AC LGA 2066 Motherboard
PERFORMANCE -

8/10

BUILD QUALITY -

8/10

FEATURES -

9/10

AESTHETICS -

9/10

VALUE -

7/10
Summary
At 20870 Pesos ($339 at Amazon), the MSI X299 Gaming Pro Carbon is anything but expensive from the eyes of many. This is an HEDT platform motherboard though so the price is actually justified including the extra features.