What can be used in 2020 to provide reliable Internet protection? We are talking not only about browsers and plugins but also messengers and emails. After all, our Internet security, in general, depends on what we use.
Therefore, the choice of reliable and secure Internet tools should be approached responsibly. We've prepared a list of the best private tools that you need to use in the future to fully protect yourself from possible threats! Best privacy tools: Use the best options!
Utopia
Utopia is a decentralized ecosystem that provides reliable protection for every client that uses the system's functionality: uMessenger, uMail, uWallet, Idyll Browser, Mining Bot. All actions are performed anonymously. When registering, Utopia does not request personal data, but rather generates a private key that is the user's nickname and opens access to the data.
Besides, all user data is stored on individual servers that only clients have access to. A private key provides it, so the risk of information leakage is minimized. The ecosystem has a user-friendly interface and has two design colors: white and black.
Utopia is available for use from anywhere in the world and supports any operating system. Also, a mobile version of the ecosystem will be released soon. To get started, you need a stable Internet connection or access to Wi-Fi.
Ghostery
It is a completely free plugin for the Windows 7-10 operating system. The main purpose of the plugin is to protect against viruses. Also, it increases the privacy of your surfing on the Internet. It recognizes and blocks various code that monitors the user's actions and collects information about them.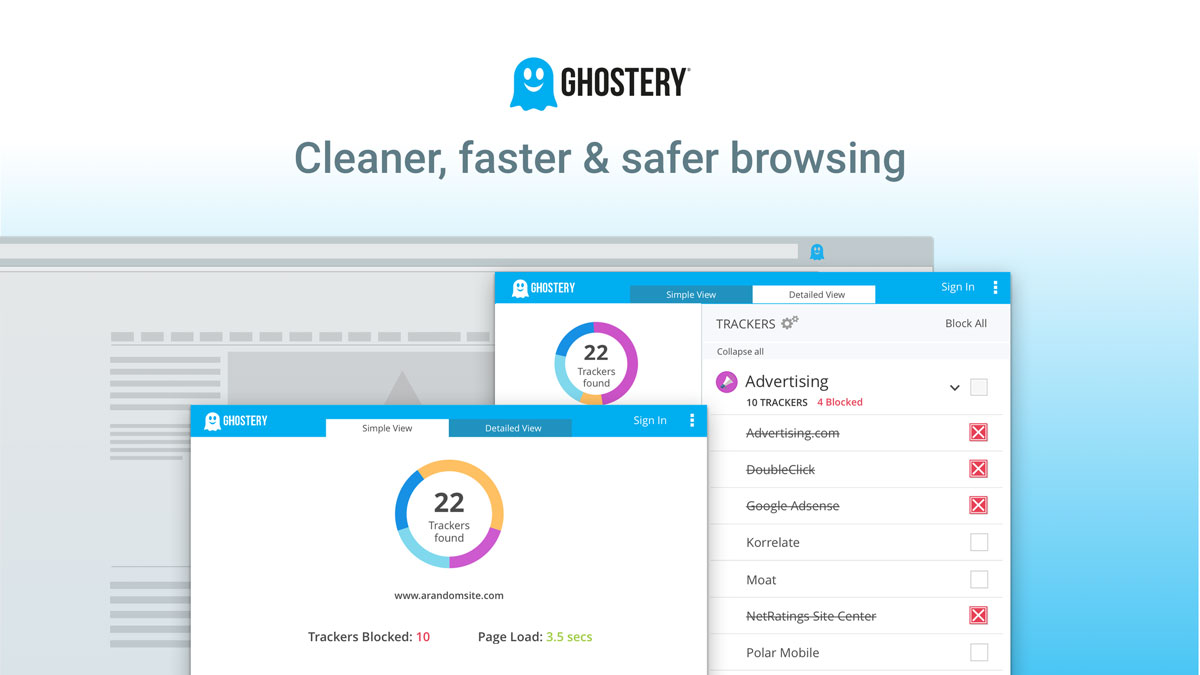 The plugin will be useful for those who are concerned about their anonymity and do not want to transfer their data to third parties, which in particular improves security. This plugin should be used in addition to those that protect the user from other threats.
Avast Online Security
If you like Avast antivirus and you have a free version installed, we also recommend using this plugin. It runs on Windows XP-10 operating systems and supports major browsers (Chrome, Firefox, Opera, Edge).
The plugin protects against phishing sites and spying on the user, and also shows the security rating of sites in the search (Google, Bing). Also, the plugin has a SafeZone function that allows you to create a secure environment for financial transactions. But it only works if you have Avast antivirus installed.
Globus VPN Browser
Globus VPN Browser is a browser with protection from scanning and intercepting web traffic. It has an increased level of privacy in the network. Globus VPN Browser necessarily encrypts and compresses all transmitted data, allows you to bypass all kinds of restrictions from providers, and also replaces the user's real IP address.
It provides high anonymity in the network, due to the extension of Woogamble VPN Country. Besides, it has a built-in cookie blocking function and incognito mode. All settings can be configured automatically or manually, thanks to the two available modes.
ArtisBrowser
ArtisBrowser provides the most secure copy protection environment, protecting all media and information that can be displayed on a web page. If you want a simple solution for safe web browsing, you can try ArtisBrowser. It focuses on comfort and ease of use, and also includes several useful tools, including basic ones such as an ad blocker, automatic history clearing, and others.
The main advantages of the browser include the built-in blocking of cookies and website widgets, the ability to connect a proxy, as well as automatic and manual settings mode.
Chadder
It is a secure messenger designed to protect your data. It has versions for iOS, Android, and even Windows Phone. Outgoing messages in Chadder are encrypted and sent to the recipient via the Tense Private Systems server. The encryption system blocks the message before it is sent, and then opens it only once when it reaches its destination. Each user has the key to decrypt messages.
The Ghosting function automatically destroys messages after a certain time, completely removing access to them. No messages are saved without your permission.