On this review, we are taking a look at the AMD Ryzen 7 1800X CPU. A multi-threaded monster featuring 8-cores and 16-threads operating at 3.6 GHz base clock. The R7 1800X is at the top of AMD's X86 food chain at the moment, and is compared head-to-head with the Intel Core i7-6900K. A CPU that is twice as expensive compared to the 1800X.
The Zen X86 micro-architecture focuses on performance, throughput, efficiency and scalability. It's an all new design, built from the ground up serving as AMD's foundation for the future CPU line-up.
| | | | | | | | |
| --- | --- | --- | --- | --- | --- | --- | --- |
| Product Line | Model | Cores | Threads | Base Clock (GHz) | Boost Clock (GHz) | Included Cooler | TDP(Watts) |
| Ryzen 7 | 1800X | 8 | 16 | 3.6 | 4.0 | N/A | 95 |
| Ryzen 7 | 1700X | 8 | 16 | 3.4 | 3.8 | N/A | 95 |
| Ryzen 7 | 1700 | 8 | 16 | 3.0 | 3.7 | Wraith Spire | 65 |
| Ryzen 5 | 1600X | 6 | 12 | 3.5 | 4.0 | Wraith Spire | 95 |
| Ryzen 5 | 1500X | 4 | 8 | 3.5 | 3.7 | Wraith Spire | 65 |
THE ZEN X86 MICRO-ARCHITECTURE:
On the performance side, the Zen microarchitecture represents a leap in core execution capability versus AMD's previous desktop designs. Notably, the Zen architecture features a 1.75X larger instruction scheduler window and 1.5X greater issue width and resources ; this change allows Zen to schedule and send more work into the execution units. Further, a new micro-op cache allows Zen to bypass L2 and L3 cache when utilizing frequently-accessed micro operations.
A high-performance engine requires fuel, and the Zen architecture's throughput characteristics deliver in this regard. Chief amongst the changes are major revisions to cache hierarchy with dedicated 64KB L1 instruction and data caches, 512KB dedicated L2 cache per core, and 8MB of L3 cache shared across four cores.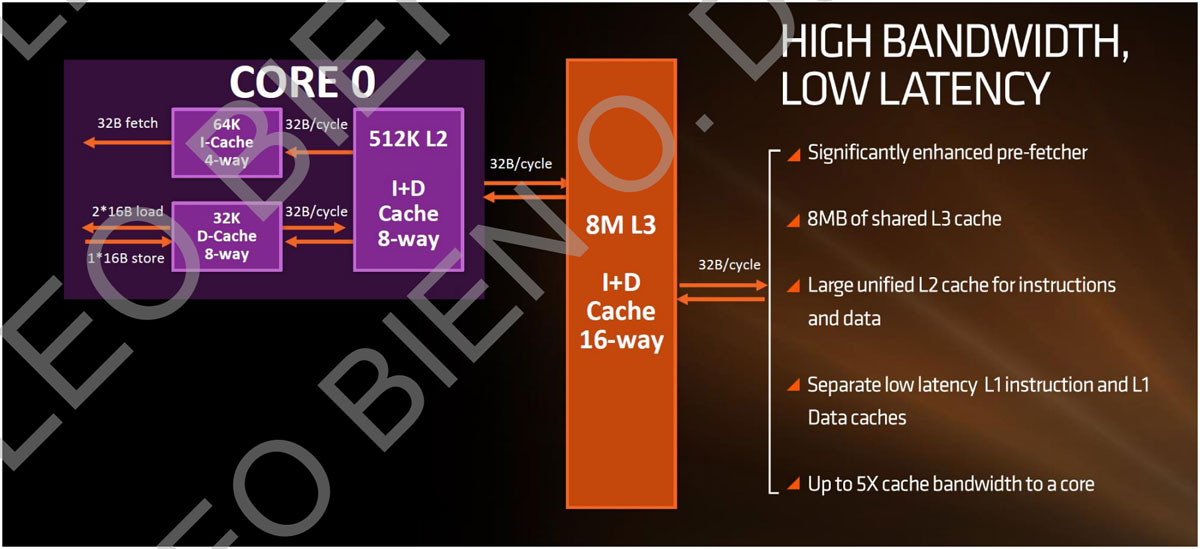 Beyond adopting the more power efficient 14nm FinFET process, the Zen architecture specifically utilizes the density-optimized version of the Global Foundries 14nm FinFET process. This permits for smaller die sizes and lower operating voltages across the complete power/performance curve.
Scalability in the Zen architecture starts with the CPU Complex (CCX), a natively 4C8T module. Each CCX has 64K L1 I-cache, 64K L1 D-cache, 512KB dedicated L2 cache per core, and 8MB L3 cache shared across cores. Each core within the CCX may optionally feature SMT for additional multi-threaded capabilities. More than one CCX can be present in a Zen-based product.
BEFORE WE BEGIN THE TESTS:
Since we do not have access to Intel's HEDT platform, we decided to compare the Ryzen 7 1800X with the Intel Core i5-6600K and Core i5-7600K processors. These are mainstream CPUs and will serve as a baseline for the benchmarks.
 We are also testing the Ryzen 7 1800X with the SMT feature disabled to evaluate the processor's performance without the extra logical cores.
TEST SETUP AND METHODOLOGY:
The performance of the system shall be evaluated by various benchmarking tools and applications. With the CPU, memory and gaming performance being the focus of the tests. We are testing this system with the high-performance settings enabled at the OS, with the default UEFI configuration. Background processes such as anti-virus and third-party applications are disabled as well. Outlined below are the applications and benchmark tools for reference:
TEST SYSTEM SPECIFICATIONS
PROCESSOR
Intel Core i5-6600K
Intel Core i5-7600K
AMD Ryzen R7 1800X
MOTHERBOARD
ASUS Z170-A
MSI Z270 Gaming M5
ASUS ROG Crosshair VI Hero
CPU COOLER
Cryorig C1 Top Flow
Cryorig C1 Top Flow
Noctua NH-U12S
MEMORY KIT
Crucial Ballistix Tactical @ 2666MHz 4x4GB Kit
GRAPHICS CARD
ASUS GTX 1060 STRIX OC 6GB
INTERNAL STORAGE
Crucial MX200 250GB
POWER SUPPLY
CORSAIR RM850X 850W
DISPLAY
27″ DELL U2715H + LG 43UF680T 4K UHD TV
OPERATING SYSTEM
Microsoft Windows 10 Pro
CPU AND MEMORY PERFORMANCE:
Super PI – 32M Calculations
wPrime – 32M and 1024M Calculations
AIDA64 Extreme Edition – Memory Benchmark
PRODUCTIVITY PERFORMANCE:
GIMP – 7 MB worth of image processing
HandBrake – 150 MB MP4 to H.264 video encoding
WinRAR – Internal benchmark tool
GAMING PERFORMANCE:
Overwatch – Ultra Settings | V-SYNC off
Battlefield 4 – Ultra Settings | V-SYNC off
Starcraft 2 – Extreme Settings | V-SYNC off
DOTA 2 – Maximum Settings | V-SYNC off
DIRT: Rally – Ultra Settings | V-SYNC off
Project CARS – Maximum Settings | V-SYNC off
The Elder Scrolls V: Skyrim – Ultra Settings | V-SYNC off
The Witcher 3: Wild Hunt – Ultra Settings | HairWorks off | V-SYNC off
TEMPERATURE AND POWER CONSUMPTION:
The AIDA64 System Stability Test uses a 64-bit multi-threaded stress testing module to drive the system to its absolute limits. Power readings are recorded with a watt-meter.
The AIDA64 System Stability Test is also used to evaluate the system thermals. Readings are taken with the latest AIDA64 updated addressing the Ryzen thermal offset.
System power consumption is rather nice and is a fresh breath of air compared to older AMD CPUs. We have a 24.1W difference with SMT on/off, and overall power consumption is just around the Core i5's park. Temperature on the other hand is also good if not great. SMT disabled gave the best thermal readings, while at its full 8C/16T configuration it only added 3C. Ambient temperature while testing is 27C by the way.
CPU AND MEMORY PERFORMANCE:
Super PI is a single-threaded program that calculates pi to a specified number of digits after the decimal point. It is a widely used benchmark and stress test within the industry.
WPrime is a multi-threaded program that calculates a set number of square roots for estimating functions. It verifies the results by squaring them, then compares it with the original numbers.
The AIDA64 Memory Benchmark measure the maximum achievable data transfer bandwidth of the memory. That includes the Read, Write, Copy and Latency performance.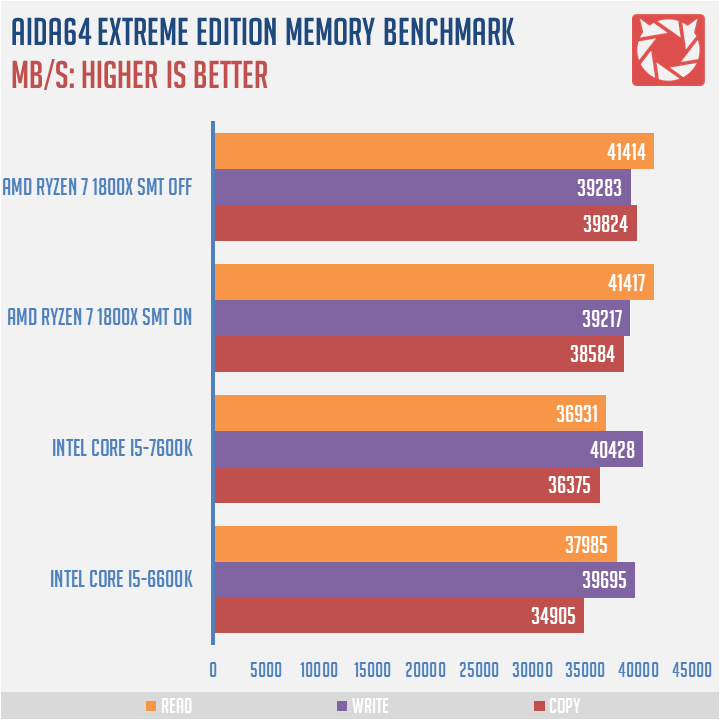 Theoretical performance with synthetic benchmarks showed that the AMD Ryzen 7 1800X is truly a multi-threaded monster, yet it succumbs to a lower single threaded performance. The Core i5 models we got easily beats it at Super Pi, but when all cores are fired at WPrime, it demolishes everything on its path.
PRODUCTIVITY PERFORMANCE:
GIMP or GNU Image Manipulation Program, is a free and open-source image editing tool. A 7 MB worth of images is be processed and converted to gauge the system performance.
HandBrake is a free video encoding tool that supports a wide variety of media codecs. A 150MB worth MP4 video is converted using the H.264 codec to gauge the system performance.
WinRAR is a file archive utility that can create, view and unpack numerous archive file formats. The software's built in benchmark tool is utilized to gauge the system performance.
On our real world tests, GIMP is well – leaning on the blue team with a better image processing performance. Video encoding however, the Ryzen 7 1800X cuts half of the work. If you're looking to build an encoding machine, then this is a good processor to start.
GAMING PERFORMANCE:
Overwatch is Blizzard Entertainment's critically acclaimed First Person Shooter. The game runs on a custom engine utilizing the DirectX 11 API.
Battlefield 4 is Electronic Art's popular First Person Shooter, running on the Frostbite 3 game engine developed by DICE. It utilizes the DirectX 11 and the Mantle API.
Starcraft 2 is Blizzard Entertainment's critically acclaimed RTS game. The game runs on the HAVOC engine utilizing the DirectX 9 API.
DOTA 2 is VALVE's popular F2P MOBA game. The game runs on the Source engine with multi-API support.
DIRT: Rally is CODEMASTER's take on the rally racing game genre. It utilizes the EGO game engine with support for the DirectX 11 API.
Project CARS is Slightly Mad Studios' latest simulation racing game, running on the Madness game engine utilizing DirectX 11 support.
The Elder Scrolls V: Skyrim is Bethesda's critically acclaimed Action Adventure RPG. Skyrim utilizes the Creation Engine with DirectX 10 support.
The Witcher 3: Wild Hunt is CDProjekt RED's award-winning Action Adventure RPG. The Witcher 3 utilizes the REDengine 3 with DirectX 11 support.
Gaming performance is where the top-end Ryzen CPU starts to lose ground. Overall results are not bad, but Starcraft 2 and DOTA2 performances are the worse I've seen in years. Seems like older API based titles hates the Ryzen too based on our results, while DX11 titles kept the gap a little closer between AMD and Intel.
SMT disabled is a hit or miss. Turning it off appears to improve the average and minimum frame rate on certain games, while it could also improve the minimum FPS alone. Again, a hit or miss depending on titles. I wanna be optimistic about Ryzen's gaming performance, so let us see what the future – especially the latest APIs and WIP titles will bring to the table. It's just to early to gauge its raw gaming capabilities.
WRAPPING IT UP:
The AMD Ryzen 7 1800X is a beastly 8-core 16-thread CPU. Sure, gaming performance could be better but gaming while doing something else to keep the other cores busy is another thing. I could see this being a streamer's favorite – allowing the extra cores to process their streaming requirements while at the same time, enabling your system to provide a mainstream gaming performance.
Thermals and power figures are surprisingly good. This goes to show that going for a 14nm FINFET process payed off.
Encoding, and multi-threaded optimized applications benefits from the Ryzen 7 1800X the most and while we can't say much about its nemesis, its price point is rather solid to shake the Intel HEDT juggernauts. The blue team's prices are already going down and it's a good indication that competition is finally coming back after years and years of AMD's hibernation.
Overall I am impressed with the Ryzen 7 1800X, yet we are still indecisive if could really bring a gaming performance worthy of the upper mainstream crowd's attention in the months to come. It is definitely not for everyone, but it deserves a merit on its own – carrying AMD back to the race track like how it was before.
AMD RYZEN 7 1800X
PERFORMANCE -

8/10

FEATURES -

8/10

VALUE -

7/10
Summary
The AMD Ryzen 7 1800X is a beastly 8-core 16-thread CPU. An impressive flagship product that excels at productivity and multi-threaded optimized tasks. It is not for everyone though.