Music is a constant factor in our daily lives. Let's admit it. We see a lot of people travelling wearing their own headsets/earphones. We even see people carrying their portable speakers, listening to their favourite songs while walking and doesn't give a damn on whatever people around them might think… especially those who might not like the genre they are listening to. But that's not where I am going. My point is, people loves music. WE LOVE MUSIC. We express ourselves to the music we are listening. We love sharing our music to those who are important to us and we are what we listen to.  But of course, we don't want to share our music with the stock speakers of our devices, right? We also don't want to share our music with low quality speakers.
There are a lot of speakers in the market that offers great quality but not so portable and not so affordable. And when you found an affordable and a portable speaker, it lacks a little when it comes to sound quality. That's why, Luxa2 started offering speakers that is affordable, portable and definitely doesn't lack in sound quality. One of their products caught my attention and it's their newly released GroovyT Magic Boom Box Speaker. This speaker got me with its "nothing required" feature and man, I'll spend my whole life regretting if I never got the chance to get my hands on this one!
Unboxing
The GroovyT came with a matte black packaging with blue sparkling stars on the background. The size of the box was just about right for the dimension of the speaker. The right side of the box showcases a graphical instruction on how to use the "magic" of the speaker. *winks*
Just like your typical packaging, the backside of the package provides the features of the GroovyT.
Upon opening, the GroovyT comes with two cables. One auxiliary cable, that will connect the speaker to the device and a USB cable that will serve as the charger of the speaker. Luxa2 don't want to lack in giving information to their consumers that's why they have not failed to provide a simple quick start guide that is included in the box.
Physical Build and Specification
The speaker comes in a rectangular prism form with the logo of Luxa2 located at the bottom right of the top side. A white line at the left part of the top side is located that serves as indicator where the speaker of your smartphone should be.
The front side sports a mesh style that improves the sound quality of the speaker. A small blue LED light flashes in the middle part that indicates that the speaker is on. The back side, however, styled with a fake mesh finish with the auxiliary port, USB port and the power switch located on the right side. A red LED is seen that indicates that the speaker is charging when it is connected to your PC. Oh! It also comes in rubber feet that prevents it from moving out of its place due to vibrations produced by the sound.
Product Name
GroovyT Magic Boom Box
P/N
AD-SPK-PCGTBK-00 (Black)
AD-SPK-PCGTRE-00 (Red)
Bluetooth
None
Wireless range
None
Capacity
800mAh / 3.7V Li-Polymer
Input
5V0.5A mini USB
Audio output
3W
Frequency response
20Hz~20KHz
Impedance
4Ohm
Playing time
Up to 5.5 hours of regular playing time
Charging time
3 hours (0-100%)
LED indicator
LEDx2
Front: Turn on➜Blue
Back: Charging➜Red
Material
Mask : Plastic
Cabinet : Plastic
Others
Driver size:Φ1.5"
Weight
155g
Sound Quality, Experience and Value:
I've been using the speaker for quite some time. Whether using it for my iPhone's music or my PC's games. I did not encounter any difference particularly in the sound quality whatever the mode I used it for. However, every time I used it wirelessly, my phone keeps on moving out of place due to the vibration makes from the high frequency of the sound. Another thing is, the speaker's volume is dependent on the device. I think, it will be better if the device has its own volume control. It will be less hassle for the user at least. About the battery juice, Luxa2 promised that this beast can last up to 5.5 hours playtime. I'm afraid, I have to say no to that because this speaker amazed me again with its long lasting battery life! I used this while playing games and listening to dubstep from 1pm in the afternoon through 7pm something in the evening. STRAIGHT! It just amazed me that it lasted longer than promised.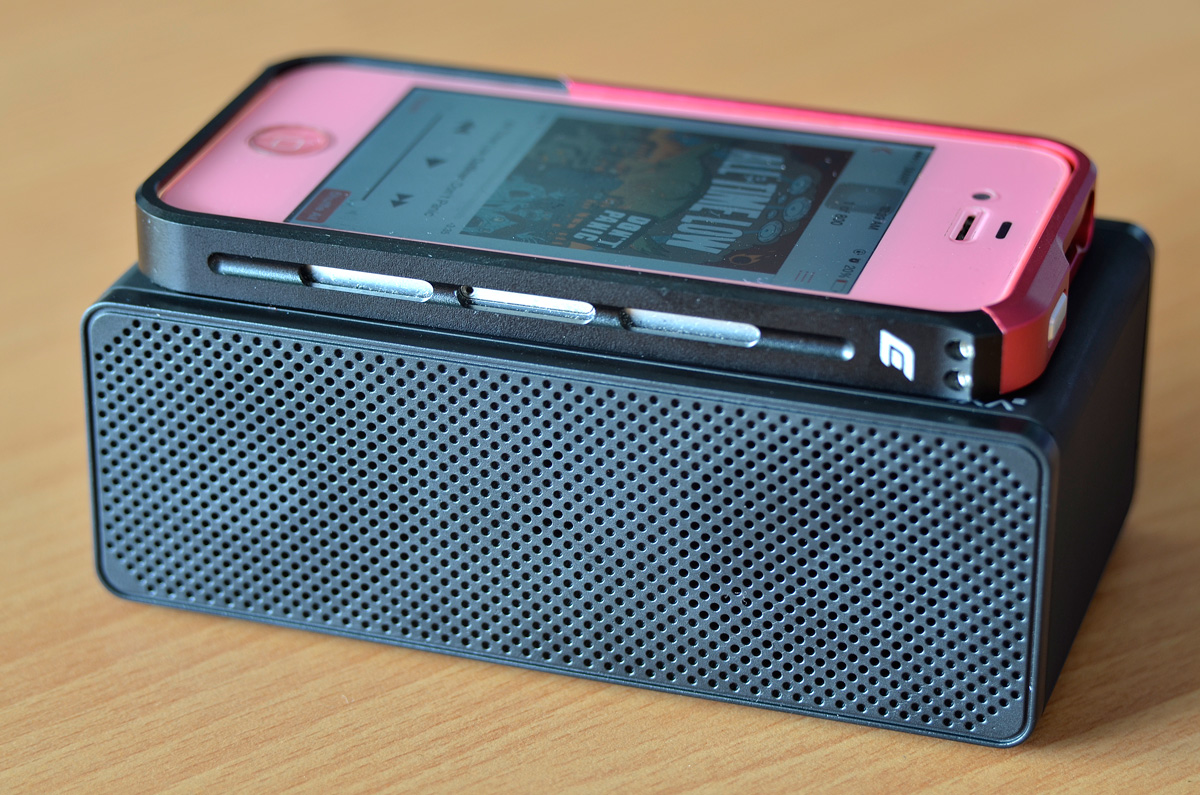 To discuss further for the sound quality, I'd say every aspect of every speaker that everyone needs is found on this one. The bass, the treble, EVERY-SINGLE-THING.
LOWS: Using GroovyT to listen to dubstep is just so eargasmic. I used the speaker to listen to Skrillex' "Cinema" and "Levels." The response of the speaker to the bass was not just good but great! Compared to other speakers in the market, I can say that this one really gave me what I am looking for when it comes to the bass. The distribution of the sound is perfect regardless of the volume.
MIDS and HIGHS: With the speaker, I can hear the vocals of the songs that I have listened to very clearly. Using GroovyT to listen to my favourite songs like "Pink Five" and "Ingat Ka" by Silent Sanctuary is just one of the best things. After listening to a few songs by The Corrs like "Runaway" and a few classics, I can say that the high tones are delivered cleanly by the GroovyT. I don't have any problem with this speaker when it comes to mids and highs.
With such great performance, simple yet awesome look, it is just right to think that GroovyT will cost a lot. But I think consumers will be surprised if they knew the price of this baby. Apparently, GroovyT will only cost you $14.99 or P674.55! Good guy Thermaltake Luxa2 made such an amazing product that comes in an unbelievable oh so low price. But in the mean time, Luxa2 GroovyT is not yet available here in the Philippines. All we can do now is wait and hope that it will hit the Philippines soil as early as possible.
THE VERDICT
PROS:
AMAZING BATTERY LIFE

GREAT SOUND QUALITY

SIMPLE YET ELEGANT LOOKS

EASY TO USE
CONS:
DEPENDENT VOLUME CONTROL

DEVICES KEEPS ON GETTING OUT OF PLACE
Luxa2 GroovyT
PERFORMANCE -

7/10

BUILD QUALITY -

7/10

FEATURES -

8/10

AESTHETICS -

8/10

VALUE -

9/10
Summary
With such great performance, simple yet awesome look, it is just right to think that GroovyT will cost a lot. But I think consumers will be surprised if they knew the price of this baby. Apparently, GroovyT will only cost you $14.99 or P674.55!