CES 2023 is behind us, and we're officially well into 2023! We've had some incredible hardware releases to accompany launches from Nvidia, AMD, and Intel. On the other hand, thanks to the deluge of new products in the past few months, you might be left dazed trying to keep track of the best parts to buy – especially if you have specific design choices in mind.
So, to make your life easier, we've created a build guide with all the parts you'll need to get your first PC build in 2023 up and running, even if you're on a budget!
Picking the Right Processor
Before we move on to the builds, what CPU should we consider for these builds?
Intel's 12th and 13th Gen non-K CPUs offer an excellent experience even when shopping under the $300 mark. They seem to offer great value, so would make the most sense for budget-conscious builds. In the parts below, we've gone with powerful (up to) 14-core processors that can run circles around even the most demanding tasks and modern games to deliver an impeccable computing experience while only sipping power.
The All-Black Build: Quiet, Understated Design, Amazing Performance
If you appreciate the blend of understated looks and fantastic performance, the all-black, no-nonsense PC would be an excellent fit for you.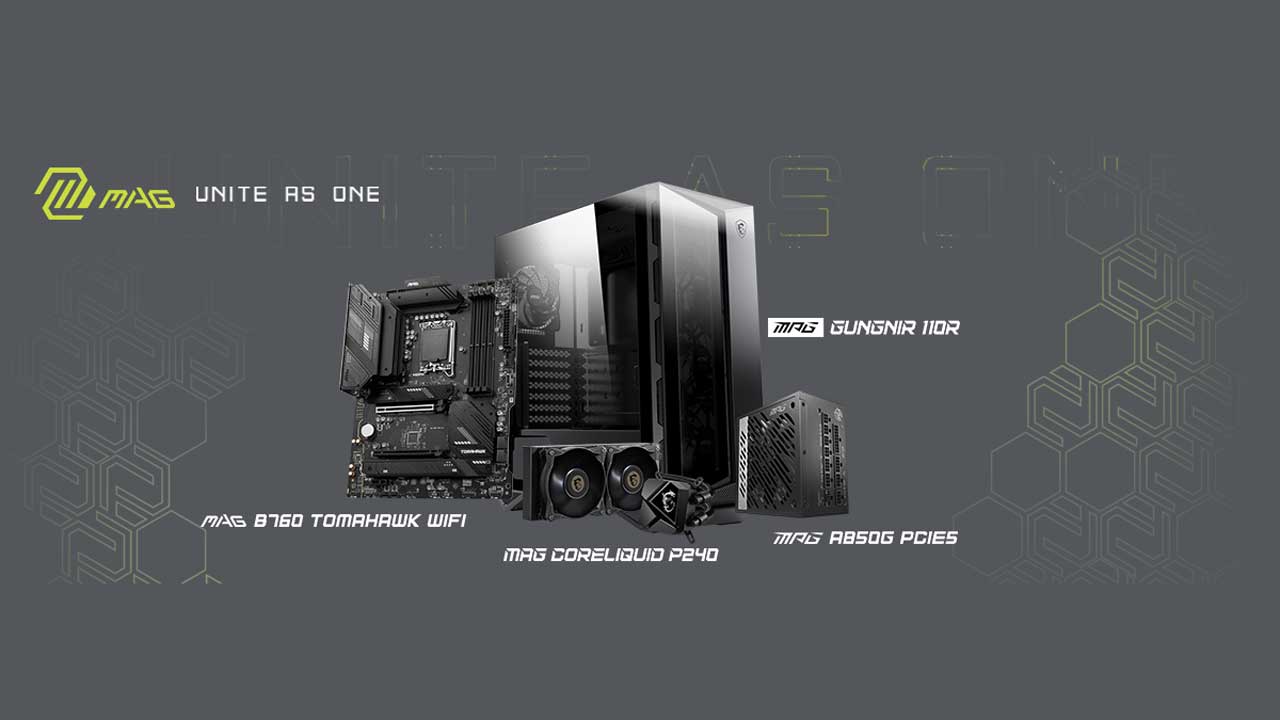 Let's pick a few parts that look great and perform well enough for gaming or even more intensive creative workloads.
CPU: Intel Core i5 13500 (US $232)
Intel's 13th Generation Core i5 parts offer an incredible balance between performance and value. The Core i5 13500 CPU is a 14-core (6 P-cores, and 8 E-cores), 20-thread processor that runs at a base clock of 1.8GHz (E-cores) and boosts all the way up to 4.80GHz! It's an ideal choice for both core-heavy and single-core workloads, including rendering and gaming.
Motherboard: MAG B760 TOMAHAWK WIFI
MSI's Tomahawk lineup has become synonymous with unmatched value for money, and the B760 Tomahawk ATX motherboard is no exception! Its understated all-black design makes it the perfect platform for an all-black PC build. The MAG B760 Tomahawk can easily handle the impressive Core i5 13500 without breaking a sweat to get you all the performance you need – whether it's for gaming or work.
It boasts an Enhanced Power Design with 12+1+1 Duet Rail Power System and 75A DrMOS to extract the best from even the most powerful 13th Gen Intel CPUs on the market if you spring for an upgrade down the line. The motherboard also uses a 6-layer server-grade PCB with 2oz copper traces for added stability.
The larger ATX form factor allows 3 M.2 slots to grant you plenty of high-speed storage expansion, in addition to a whopping 16 USB ports on the rear and front I/O to meet even the most demanding peripheral needs.
CPU Cooler: MAG CORELIQUID P240 AIO Liquid Cooler
The MAG CORELIQUID P240 AIO is the ideal choice for an all-black rig thanks to its piano black water block. Not only does this cooler match the build aesthetic we're aiming for here, but it also performs well – ensuring that it wicks away heat from your CPU without excessive noise.
Not only does the MAG CORELIQUID P240 support the LGA1700 socket for 12th and 13th Gen Intel CPUs, but it also features extensive socket support across both Intel and AMD sockets (as of 2022). The AIO tubing is evaporation-proof thanks to the three layers of netted plastic tubing and reinforced mesh exterior.
The 240mm radiator of the MAG CORELIQUID P240 is more than capable of siphoning heat off the Core i5 13500 without needing the fans to ramp up too much – ensuring near-silence in ideal conditions.
Elegant RGB Build: Tasteful Lighting to Match Your Personality
While some gamers and professionals prefer understated looks, some like a bit of color. The Elegant RGB Build combines parts that help you showcase your personality with gorgeous lighting. So, let's get to our hardware, shall we?
CPU: Intel Core i5 13500 (US $232)
Since we're still shopping in the same price range as the all-black build, the Intel Core i5 13500 14-core CPU continues to be our pick here. Its 6 P-Cores (12 threads) and 8  E-cores offer an outstanding balance between incredible single-thread performance for gaming and fantastic multi-core performance for professional workloads.
Motherboard: MAG B760M MORTAR WIFI
The MAG B760M MORTAR WIFI is an M-ATX motherboard that will fit right into our Elegant RGB Build. Its silver-white and black aesthetic make it stand out from the crowd while blending into several lighting combinations without sticking out like a sore thumb.
Speaking of lighting combinations, for an RGB build, you need a reliable way to control your system lighting and effects. That's precisely why you'll find 3 RGB headers (2x ARGB headers and 1x RGB) on the board – allowing you to add and tweak tasteful RGB the way you want.
The B760M MORTAR WIFI also features a robust 12+1+1 Duet Rail Power System with 75A DrMOS, dual 8-pin connectors, and a 6-layer server-grade PCB with 2oz copper traces for remarkable stability and performance. An Extended Heatsink with 7W/mK thermal pads facilitates excellent heat dissipation from power delivery components – enabling swap-in upgrades to more powerful CPUs in the future.
Although the MAG B760M MORTAR WIFI is a more compact motherboard than its ATX counterparts, it still features 2 high-speed M.2 slots (up to PCIe Gen 4.0 speeds) and 8 USB ports on the rear I/O. It also manages to cram in 2.5 Gigabit LAN and Wi-Fi 6E, so you're ready for next-gen networking speeds.
CPU Cooler: MAG CORELIQUID C240 AIO Liquid Cooler
While we opted for an understated piano black waterblock in the all-black build, the Elegant RGB Build demands more flair. That's precisely why we picked the MAG CORELIQUID C240 AIO Liquid Cooler with its large surface ARGB lighting and ARGB fans!
Since we're still using the Intel Core i5 13500, the 240mm radiator will get the most performance out of your CPU without too much noise.
Like its more subtle sibling above, the CORELIQUID C240 also boasts extensive out-of-the-box socket support for a range of both Intel and AMD processors. It, too, uses three layers of tubing and a reinforced mesh exterior to minimize evaporation from the loop.
The Right to Overclock Build: Discover BCLK Overclocking
If you're on a tighter budget but still want to extract every ounce of performance from your hardware – this is the build for you. Without further ado, let's see what parts we have!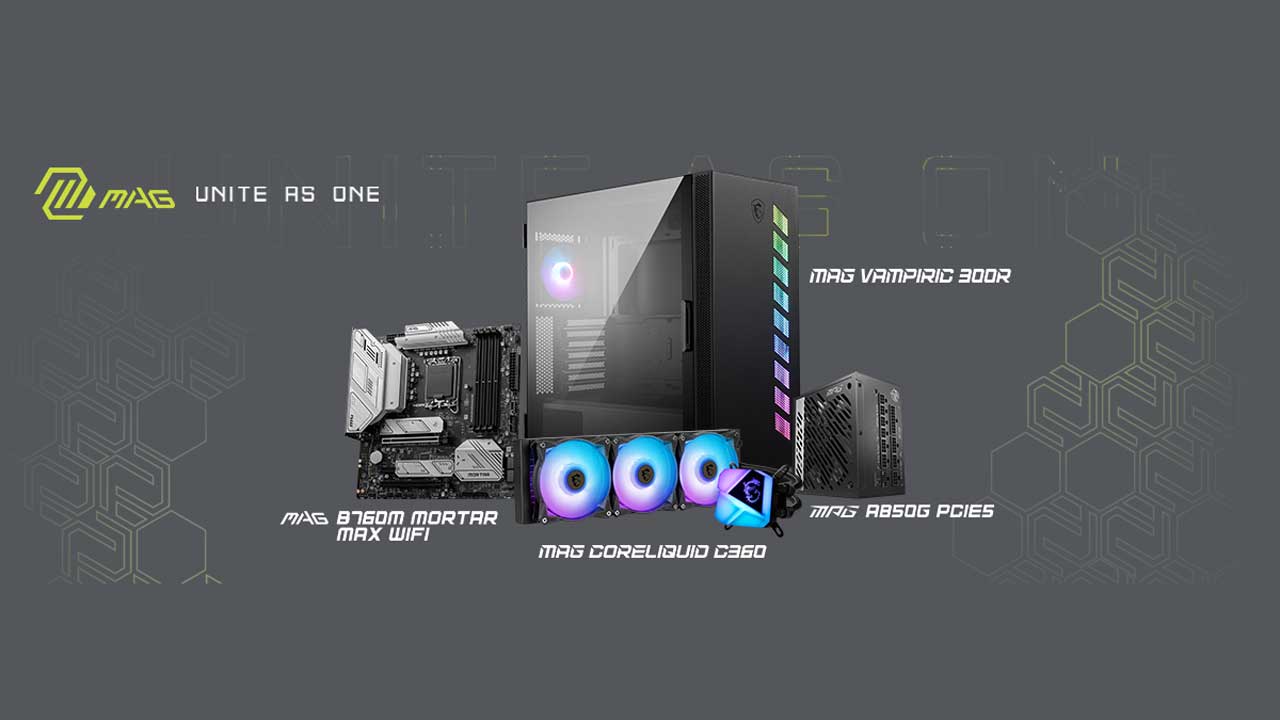 CPU: Intel Core i5 12400 or 12400F (US $175/180)
The Intel Core i5 12400 and 12400F are 6-core, 12-thread CPUs that offer incredible performance at an affordable price point. Unlike their pricier counterparts, these SKUs don't feature any efficiency cores and have a base and boost clock of 2.50GHz and 4.40GHz, respectively. Pick the Core i5 12400F if you have no need for an integrated GPU and want to save some money. Other than that, both the Core i5 12400 and 12400F are identical.
These CPUs have a locked CPU clock multiplier, which basically means that Intel locks these CPUs out of being overclocked. However, our B760 motherboard pick might have a few tricks up its sleeve!
Motherboard: MAG B760M MORTAR MAX WIFI
One of the highlights of the MAG B760M MORTAR MAX WIFI is the OC Engine. Its clock generator allows BCLK overclocking on locked Intel CPUs and the locked B760 chipset, so you can get the most out of your processor even when you're shopping primarily for value!
Besides the OC Engine, you'll find that the MAG B760M MORTAR MAX WIFI is identical to the B760M MORTAR WIFI we covered above. It also features the same 6-layer server-grade PCB with 2oz thick copper traces, 12+1+1 Duet Rail Power System, and 75A DrMOS.
Not only does this robust power delivery and thermal design ensure a great computing experience right now, but it also ensures that you can upgrade to more powerful processors in Intel's 13th Gen lineup without changing your motherboard!
CPU Cooler: MAG CORELIQUID C360 AIO Liquid Cooler
Since we're trying to extract the most out of your hardware, it's essential to have sufficient cooling. The MAG CORELIQUID C360 AIO Liquid Cooler boasts a 360mm radiator that can tame even the most demanding CPUs with ease.
It features the same large-surface ARGB waterblock as the CORELIQUID C240 we covered above – making it ideal for those who want to add some personality to their build with gorgeous lighting and effects. The 360mm radiator also comes equipped with 3 ARGB fans that you can personalize to your liking.
You'll Need a Few Other Parts
We aren't done yet, though! If you haven't noticed, we're still missing a few key components of a PC – a graphics card, a case, and a power supply unit (PSU). Let's find out what they are:
Graphics Card: MSI GeForce RTX 4070 Ti
The Nvidia RTX 4070 Ti GPU delivers incredible graphics performance in games with features like DLSS 3.0 and next-gen Ray Tracing cores. MSI's RTX 4070 Ti lineup has a host of options to pick from – ranging from relatively simple thermal designs to high-performance silent ones.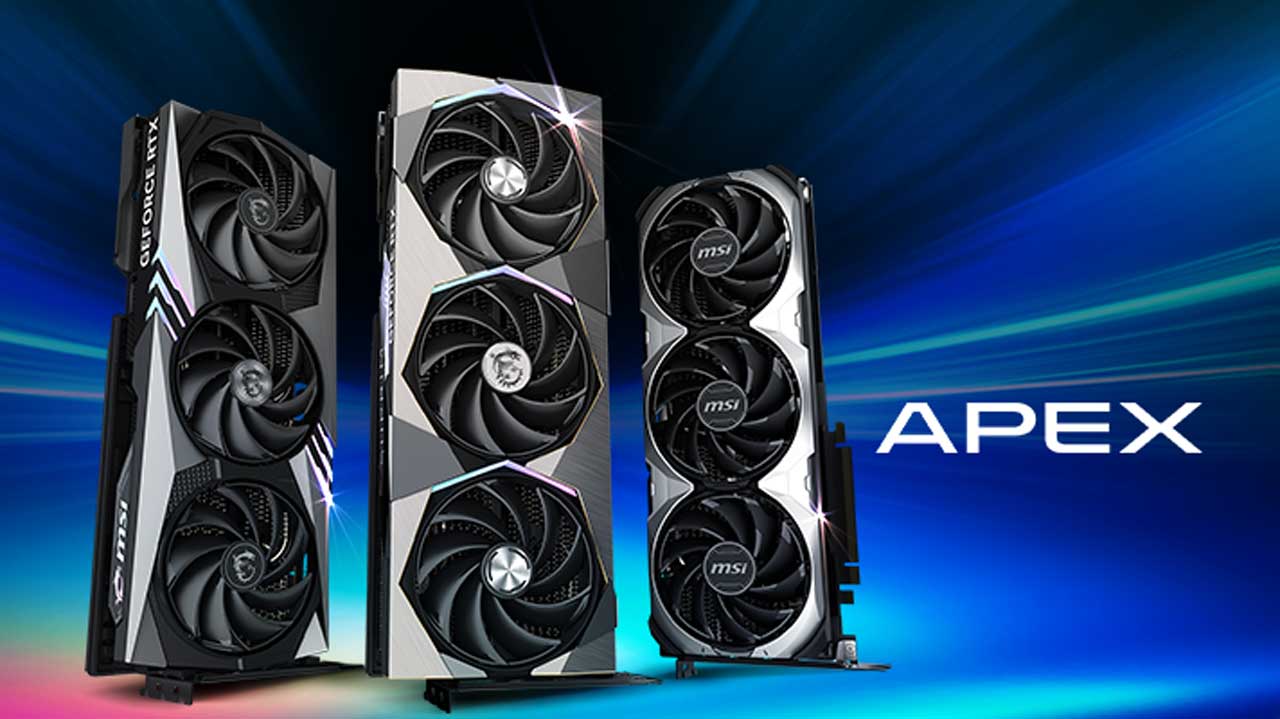 If you want access to brand-new tech like DLSS 3.0 and blazing-fast ray tracing performance, the GeForce RTX 4070 Ti offers a somewhat reasonable entry point to next-gen graphics.
PSU: MPG A850G PCIE5 80-PLUS GOLD Power Supply
Compromising on power delivery might seem tempting, but it's a bad idea to cut corners here. When running relatively pricey components, it only makes sense to pick a quality PSU to power them. MSI's MPG A850G PCIE5 80-PLUS GOLD power supply is designed with top-notch quality in mind. In fact, it only uses Japanese 105°C capacitors for an incredibly long life, even under tremendous load. Of course, it's not just talk; we back it with a robust 10-year warranty for your peace of mind!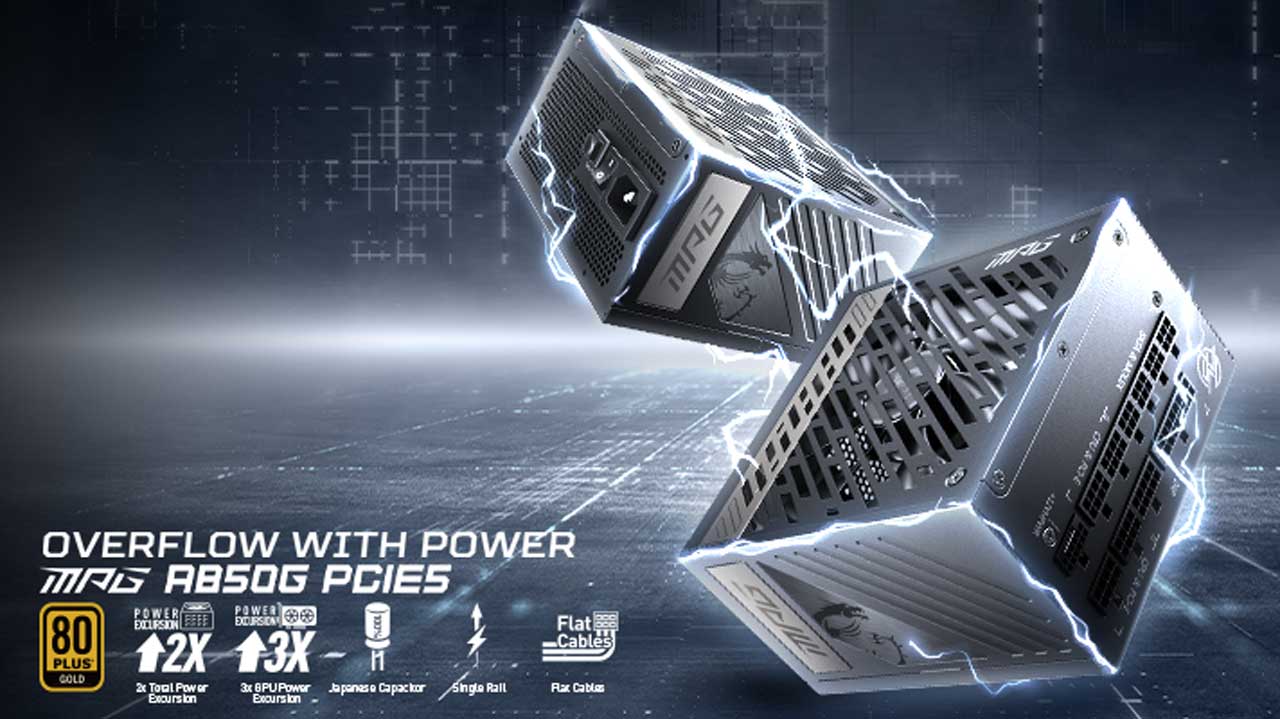 The MPG A850G PCIE5 power supply comes ready to handle next-gen hardware with a native 12VHPWR connector for Nvidia's RTX 40-series graphics cards (and any future products that use this connector). It is also ATX 3.0 compliant to ensure it can meet standards like effectively handling up to a 2x total system power spike (momentary surges of power or transient loads) and 3x GPU power spikes for unmatched stability.
Thanks to a combination of ATX 3.0 compliance and quality components, the MPG A850G PCIE5 PSU is set to meet or exceed the demands of upcoming PC hardware products for the foreseeable future.
PC Case (Option 1): MPG GUNGNIR 110R
Picking the right case for your PC can be an ordeal because it's such a subjective decision. You might not like the looks of one, while another doesn't offer enough airflow. We'll recommend a couple of options that you might consider for this build to ensure that it matches all the other hardware we picked above.
First, is the MPG GUNGNIR 110R ATX mid-tower case. If you're on the lookout for a case that doesn't compromise on looks while still delivering excellent thermal performance and is compatible with all your picked parts, look no further than the MPG GUNGNIR 110R!
It features a gorgeous tempered glass side panel to show off the beauty of your build. You'll also find more than enough space to accommodate multiple AIO radiators: 360mm (front) or 240mm (top) for maximum flexibility.
MSI also offers the MPG GUNGNIR 110R in a white variant if you want to go with an all-white build instead. If you want to go in this direction, I'd recommend switching two parts: the CPU cooler and Power supply. The MAG CORELIQUID 240R V2 WHITE AIO Liquid CPU Cooler and the MPG A750GF WHITE Power Supply would be perfect for an all-white build.
PC Case (Option 2): MAG VAMPIRIC 300R
If you prefer a more straightforward design for your PC, you could also consider the MAG VAMPIRIC 300R PC Case. It's a gorgeous mid-tower case with a tempered glass side panel that allows you to showcase your handiwork to all.
Even at its relatively compact size, the MAG VAMPIRIC 300R doesn't cut corners when it comes to thermals. You'll be able to mount up to 360mm radiators on the top or in the front for excellent temperatures even when you're running the heaviest of workloads. The MAG VAMPIRIC 300R also boasts the space needed for the largest GPUs available in early 2023 and includes a sturdy GPU support bracket to protect your precious hardware!
The top of the case features incredible front-panel connectivity options with audio, high-speed USB type-C, and USB type-A. We've also included a light loop button, in addition to the usual power and reset buttons, so you can control the lighting in your build with just the press of a button.
More information about the components in this guide: