We praised the AMD Ryzen 5 2400G back then on our review. Amazing us with its performance as an 8-core APU under $200 USD – truly an excellent chip for its worth. Now what we have here is the AMD Ryzen 3 2200G APU. A 4 core, 4 thread CPU with the Radeon RX Vega 8 graphics inside.  
The AMD Ryzen 3 2200G is slated to feature a $99 USD SRP. This puts the Ryzen 3 2200G just below the Intel Core i3-8100 when it comes to pricing. But, it is technically ahead when it comes to integrated graphics performance. We do not have an actual Core i3-8100 here but we got the data from the Ryzen 5 2400G to compare with the Ryzen 3 2200G. That said, let us check out what the APU got in store for us.
| | | | | | | | |
| --- | --- | --- | --- | --- | --- | --- | --- |
| Product Lin2 | Model | Cores | Threads | Base Clock (GHz) | Boost Clock (GHz) | iGPU | TDP(Watts) |
| Ryzen 7 | 1800X | 8 | 16 | 3.6 | 4.0 | – | 95 |
| Ryzen 7 | 1700X | 8 | 16 | 3.4 | 3.8 | – | 95 |
| Ryzen 5 | 1600X | 6 | 12 | 3.6 | 4.0 | – | 95 |
| Ryzen 5 | 1500X | 4 | 8 | 3.5 | 3.7 | – | 65 |
| Ryzen 5 | 2400G | 4 | 8 | 3.6 | 3.9 | Radeon RX  Vega 11 | 65 |
| Ryzen 3 | 2200G | 4 | 4 | 3.5 | 3.7 | Radeon RX  Vega 8 | 65 |
| Ryzen 3 | 1300X | 4 | 4 | 3.5 | 3.7 | – | 65 |
| Ryzen 3 | 1200X | 4 | 4 | 3.1 | 3.4 | – | 65 |
ZEN X86 MICRO-ARCHITECTURE:
The Zen microarchitecture represents a leap in core execution capability versus AMD's previous desktop designs. Notably, the Zen architecture features a 1.75X larger instruction scheduler window and 1.5X greater issue width and resources; this change allows Zen to schedule and send more work into the execution units. Further, a new micro-op cache allows Zen to bypass L2 and L3 cache when utilizing frequently-accessed micro operations.
The Zen architecture's characteristics requires major revisions to cache hierarchy with dedicated 64KB L1 instruction and data caches, 512KB dedicated L2 cache per core, and 8MB of L3 cache shared across four cores.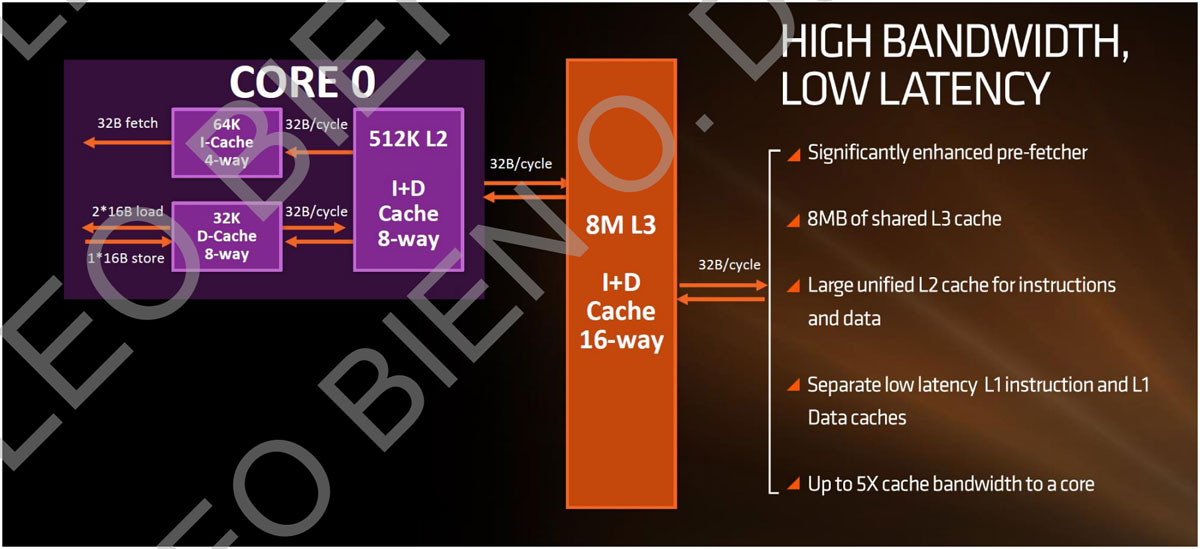 Beyond adopting the more power efficient 14nm FinFET process, the Zen architecture specifically utilizes the density-optimized version of the Global Foundries 14nm FinFET process. This permits for smaller die sizes and lower operating voltages across the complete power/performance curve.
Scalability in the Zen architecture starts with the CPU Complex (CCX), a natively 4C8T module. Each CCX has 64K L1 I-cache, 64K L1 D-cache, 512KB dedicated L2 cache per core, and 8MB L3 cache shared across cores. Each core within the CCX may optionally feature SMT for additional multi-threaded capabilities. More than one CCX can be present in a Zen-based product.
VEGA GRAPHICS ARCHITECTURE:
VEGA is the most sweeping change to AMD's core graphics technology. It is intended to meet the needs of both professional graphics and gaming applications.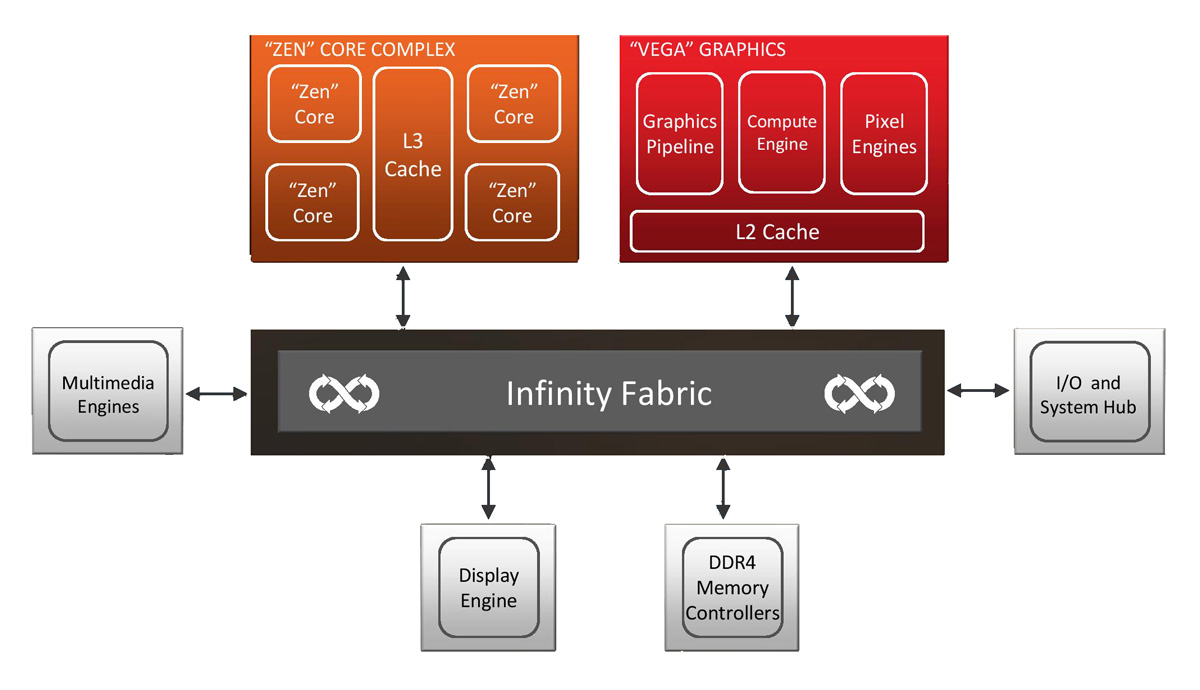 The geometry engines in VEGA has been tuned for higher polygon throughput while avoiding unnecessary processing. It efficiently process polygons that make up the game, helping boost FPS.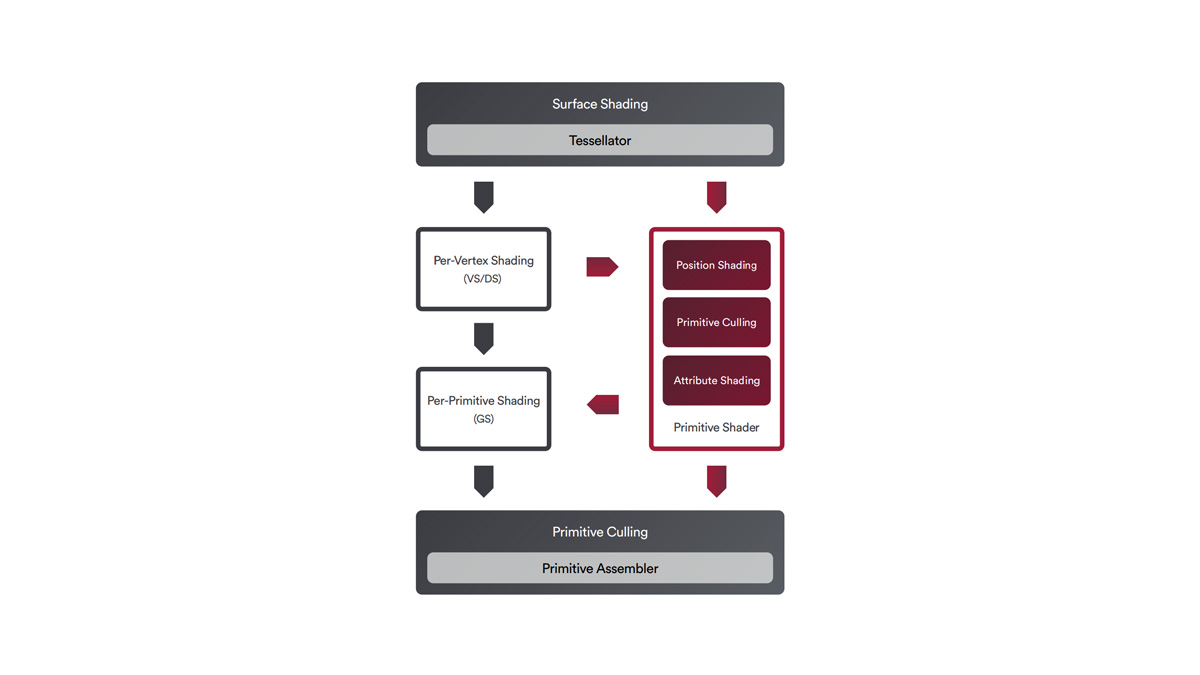 VEGA's new primitive shader support allows parts of the geometry processing to be combined and replaced with a new highly efficient shader type. These flexible shaders can be launched quickly, enabling four times the peak primitive cull-rate per clock cycle.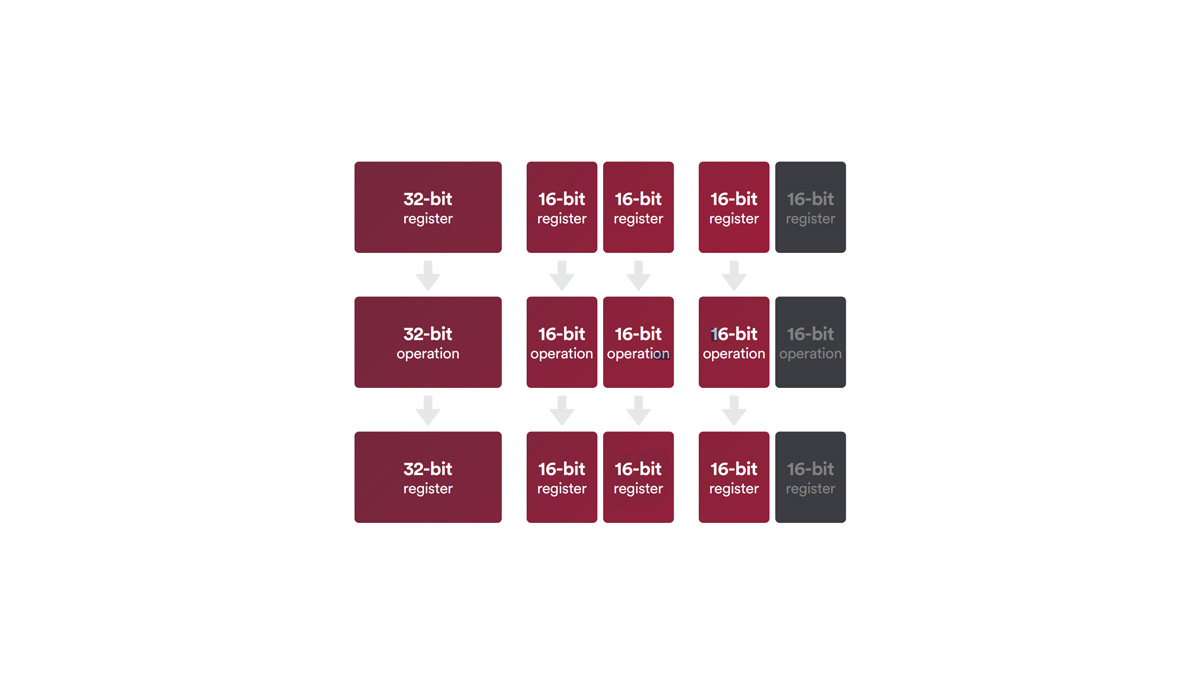 The programmable compute units at the heart of VEGA GPUs have been designed to address this changing landscape with the addition of a feature called Rapid Packed Math. Support for 16-bit packed math doubles peak floating-point and integer rates relative to 32-bit operations. It also halves the register space as well as the data movement required to process a given number of operations.
AMD A350 CHIPSET:
AMD's AM4 Platform currently consists of 3 known chipsets. That's the X370, A/B350 and A320 chipset in chronological order. What we have here is the MSI B350I PRO AC ITX motherboard, featuring the AMD B350 Chipset.
X370
B350
A320
USB 2.0
6
6
6
USB 3.1 G1
6
2
2
USB 3.1 G2
2
2
1
SATA
4
2
2
SATA Express
(2x SATA III or 2x PCIe 3.0)
2
2
2
PCI-e 2.x
8
6
4
SATA RAID
0, 1, 10
0, 1, 10
0, 1, 10
Multi-GPU
Yes
No
No
Overclocking
Yes
Yes
No
The B350 sits flush next to the enthusiast level X370, dubbed by AMD as a flexible performance geared chipset. It supports overclocking, has plenty of IO options and supports multi-GPU if enabled by AMD's board partner.
TEST SETUP AND METHODOLOGY:
The performance of the system shall be evaluated by various benchmarking tools and applications. With the CPU, memory and gaming performance being the focus of the tests. We are testing this system with the high-performance settings enabled at the OS, with the default UEFI configuration. Background processes such as anti-virus and third-party applications are disabled as well. Outlined below are the applications and benchmark tools for reference:
TEST SYSTEM SPECIFICATIONS
PROCESSOR
Intel Core i5-6600K
AMD Ryzen 3 2200G
MOTHERBOARD
ASUS Z170-A
MSI B350I PRO AC
CPU COOLER
Cryorig C1 Top Flow (Removed the top VRM heatsink to support the MSI B350I PRO AC)
MEMORY KIT
Crucial Ballistix Tactical @ 2666MHz 2x4GB Kit
GRAPHICS CARD
ASUS GTX 1060 STRIX OC 6GB + AMD Radeon RX VEGA 8
INTERNAL STORAGE
Crucial BX200 480GB
POWER SUPPLY
CORSAIR RM850X 850W
DISPLAY
27″ DELL U2715H
OPERATING SYSTEM
Microsoft Windows 10 Pro
CPU AND MEMORY PERFORMANCE:
Super PI – 32M Calculations
wPrime – 32M and 1024M Calculations
AIDA64 Extreme Edition – Memory Benchmark
PRODUCTIVITY PERFORMANCE:
GIMP – 7 MB worth of image processing
HandBrake – 150 MB MP4 to H.264 video encoding
WinRAR – Internal benchmark tool
GAMING PERFORMANCE:
Battlefield 4 – Ultra Settings | V-SYNC off
DIRT: Rally – Ultra Settings | V-SYNC off
The Witcher 3: Wild Hunt – Ultra Settings | HairWorks off | V-SYNC off
AMD Ryzen 5 2400G TEMPERATURE AND POWER:
System power consumption is evaluated during idle and a 15-minute load via the AIDA64 System Stability Test. Power readings are recorded with a watt-meter.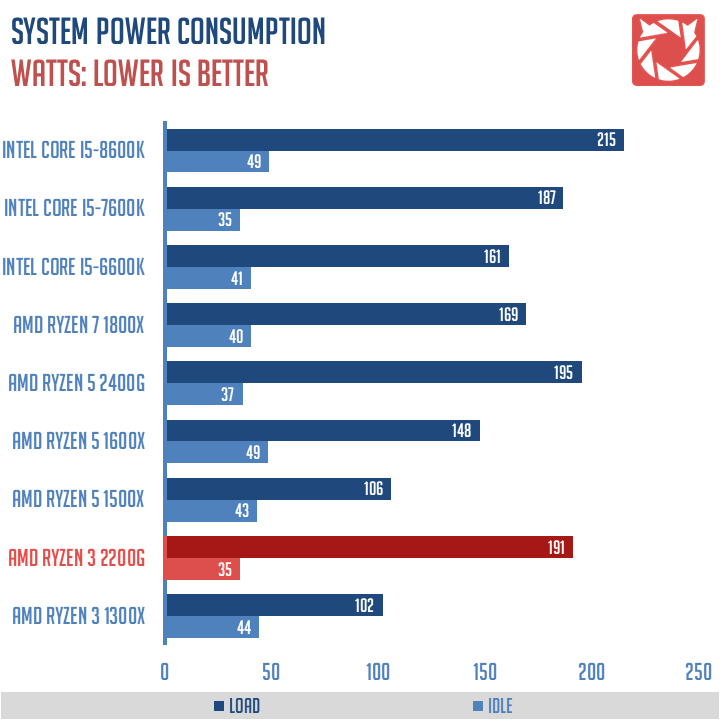 The AIDA64 System Stability Test is also used to evaluate the system thermals. Readings are taken with AIDA64 and is cross-referenced with HWiNFO.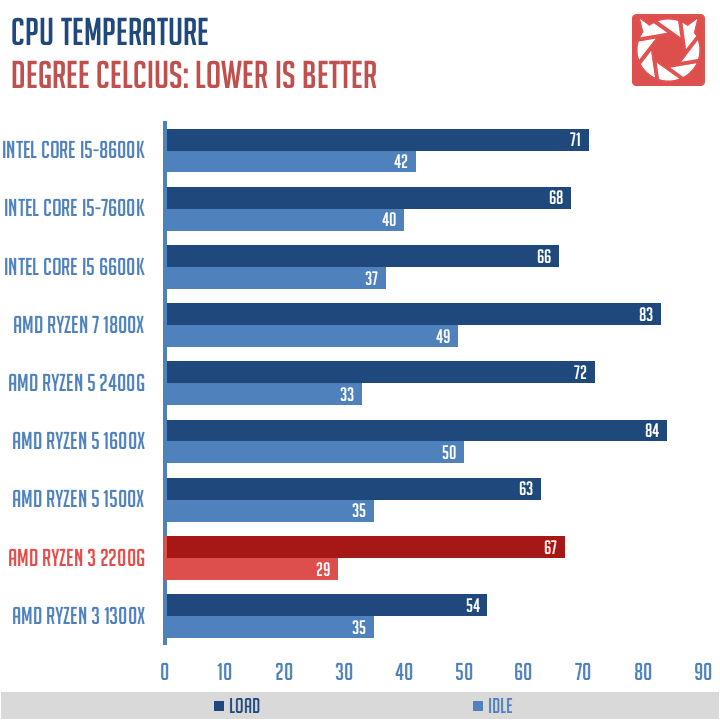 Power figure is comparable to the Ryzen 5 2400G, while temperatures are a few digits lower. The highest power figure we got with the APU alone is at 98.9W.
AMD Ryzen 5 2400G CPU AND MEMORY PERFORMANCE:
Super PI is a single-threaded program that calculates pi to a specified number of digits after the decimal point. It is a widely used benchmark and stress test within the industry.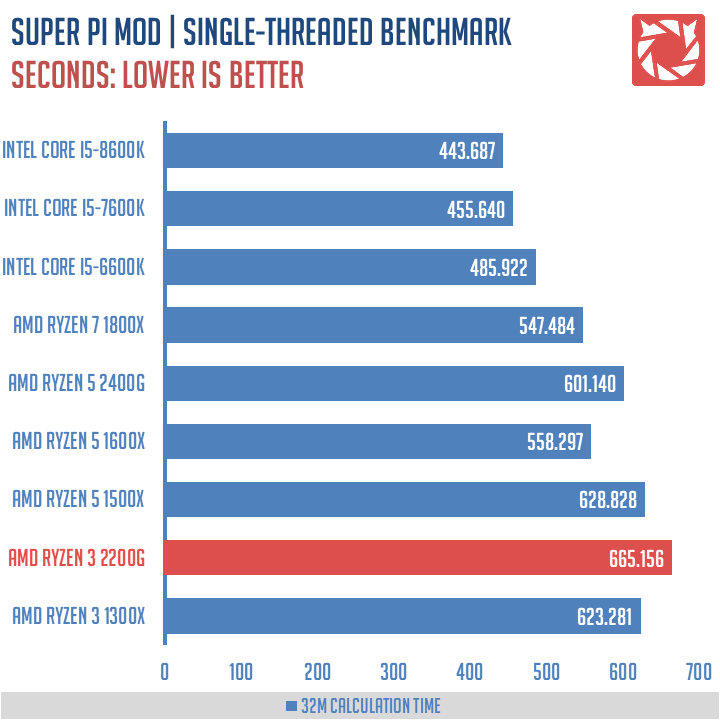 WPrime is a multi-threaded program that calculates a set number of square roots for estimating functions. It verifies the results by squaring them, then compares it with the original numbers.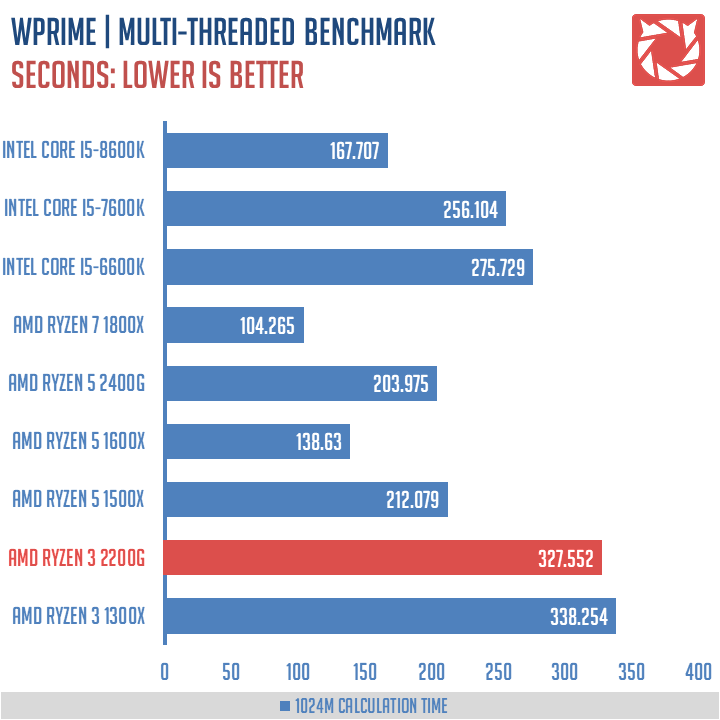 The AIDA64 Memory Benchmark measure the data transfer bandwidth and latency of the system memory. On this benchmark, we are measuring the memory kit's latency.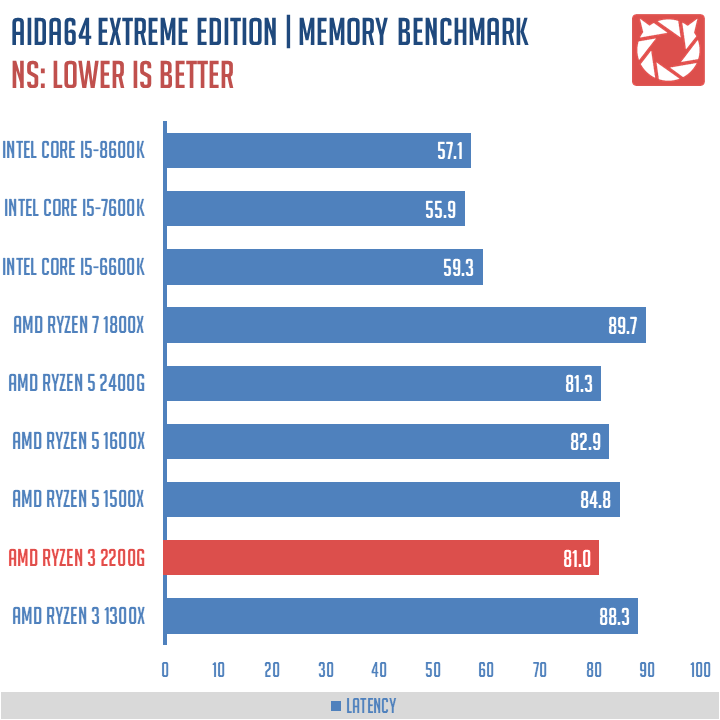 The Ryzen 3 2200G outputted an interesting performance. It is faster than the Ryzen 3 1300X on our multi-threaded benchmark but the same cannot be said on the single-threaded benchmark. Memory latency is the fastest we've recorded so far though.
AMD Ryzen 5 2400G PRODUCTIVITY PERFORMANCE:
GIMP or GNU Image Manipulation Program, is a free and open-source image editing tool. A 7 MB worth of images is be processed and converted to gauge the system performance.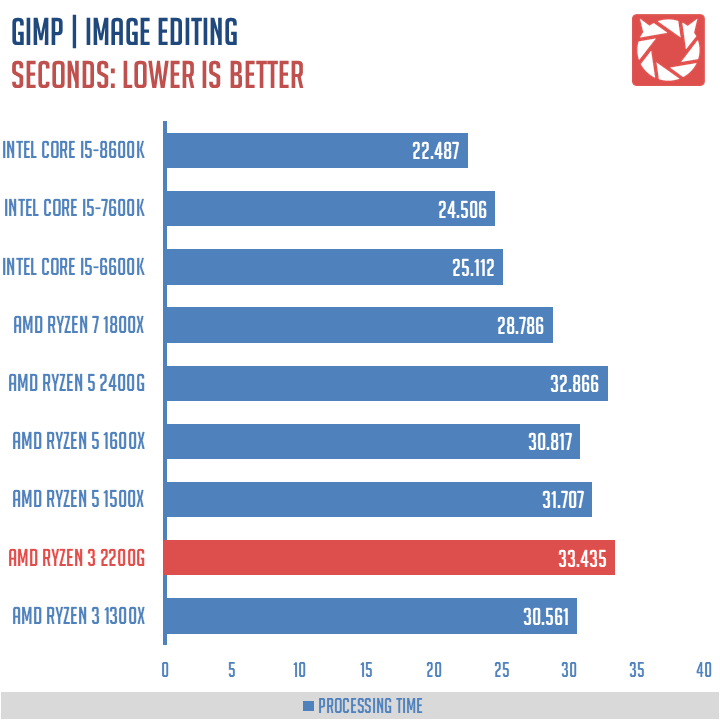 HandBrake is a free video encoding tool that supports a wide variety of media codecs. A 150MB worth MP4 video is converted using the H.264 codec to gauge the system performance.
WinRAR is a file archive utility that can create, view and unpack numerous archive file formats. The software's built in benchmark tool is utilized to gauge the system performance.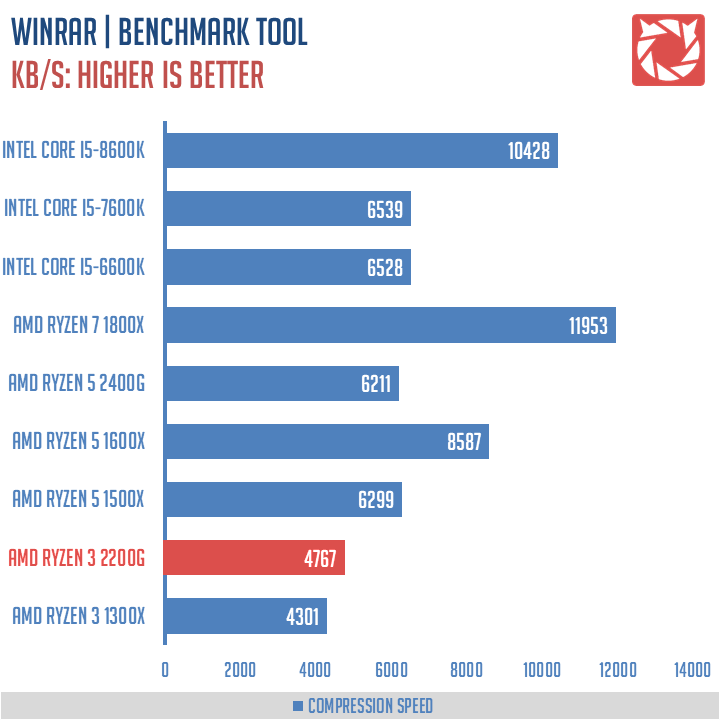 We could see the implications of having a slower single core performance on GIMP, while the benefits of having better multi-threaded performance is evident with HandBrake and WinRAR.
AMD Ryzen 3 2200G GAMING PERFORMANCE:
Battlefield 4 is Electronic Art's popular First Person Shooter, running on the Frostbite 3 game engine developed by DICE. It utilizes the DirectX 11 and the Mantle API.
DIRT: Rally is CODEMASTER's take on the rally racing game genre. It utilizes the EGO game engine with support for the DirectX 11 API.
The Witcher 3: Wild Hunt is CDProjekt RED's award-winning Action Adventure RPG. The Witcher 3 utilizes the REDengine 3 with DirectX 11 support.
Nothing exciting to see here folks. Carry on.
AMD Ryzen 3 2200G vs Ryzen 5 2400G / VEGA 8 vs Vega 11:
The onboard graphic gaming performance is tested with 6 popular DirectX titles at 1080P with different settings.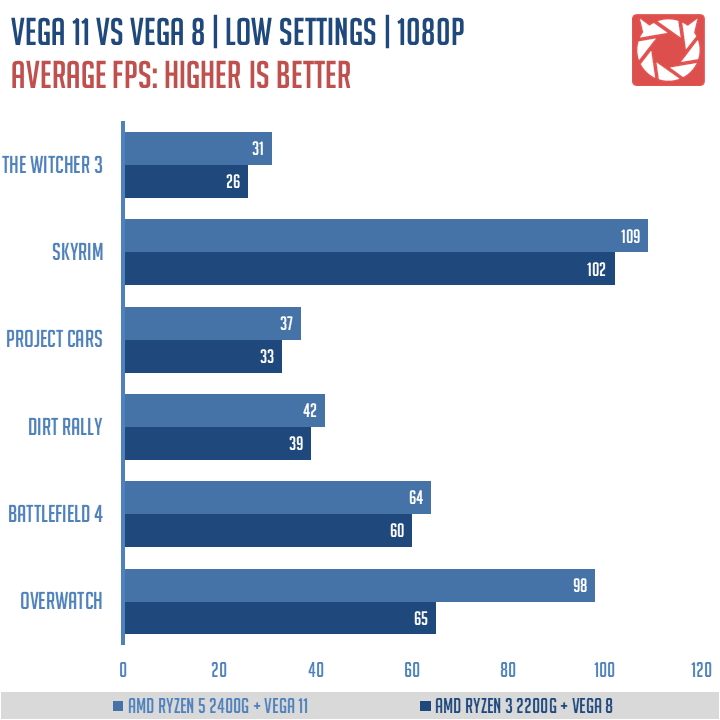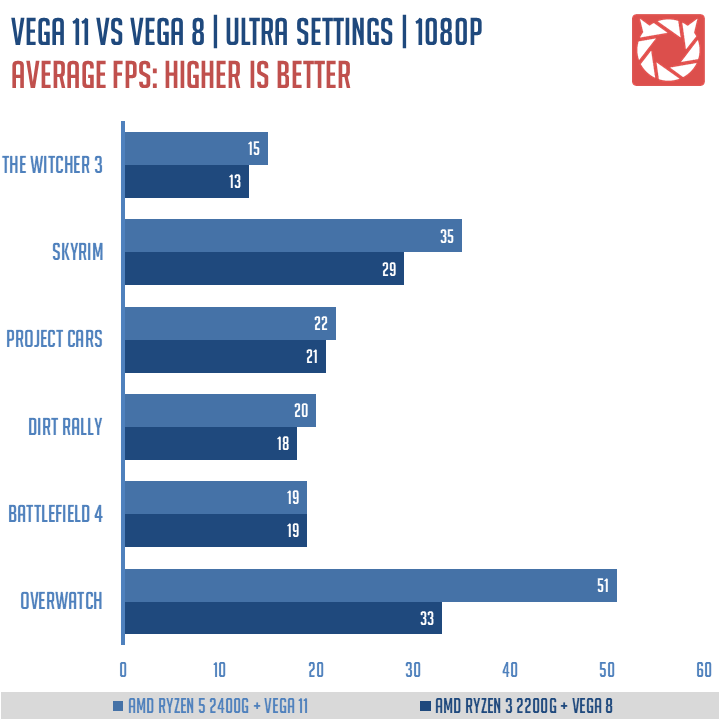 The RX VEGA 8 onboard the Ryzen 3 2200G featured an acceptable performance vs the Ryzen 5 2400G at low settings. At medium, the gap got a little closer though the Vega 11 is still a clear winner here. Overwatch at Low and Ultra settings gave the most surprising results with a huge gap. Overall good results for the current budget APU champ.
OVERCLOCKING THE AMD Ryzen 5 2400G WITH THE RYZEN MASTER:
Overclocking the Ryzen 3 2200G requires at least an AMD B350 motherboard. We are obliged to use the Ryzen Master but regardless, we also tested out overclocking via the UEFI / BIOS. Note that the screenshot of the Ryzen Master is taken from the 2400G review. Options are basically the same for both with the exception of the SMT settings.
Overclocking with the Ryzen Master is just as easy as sliding a few settings and ramping up a few voltage settings if required. We fired up the 3DMark FireStrike at default settings to get baseline figures.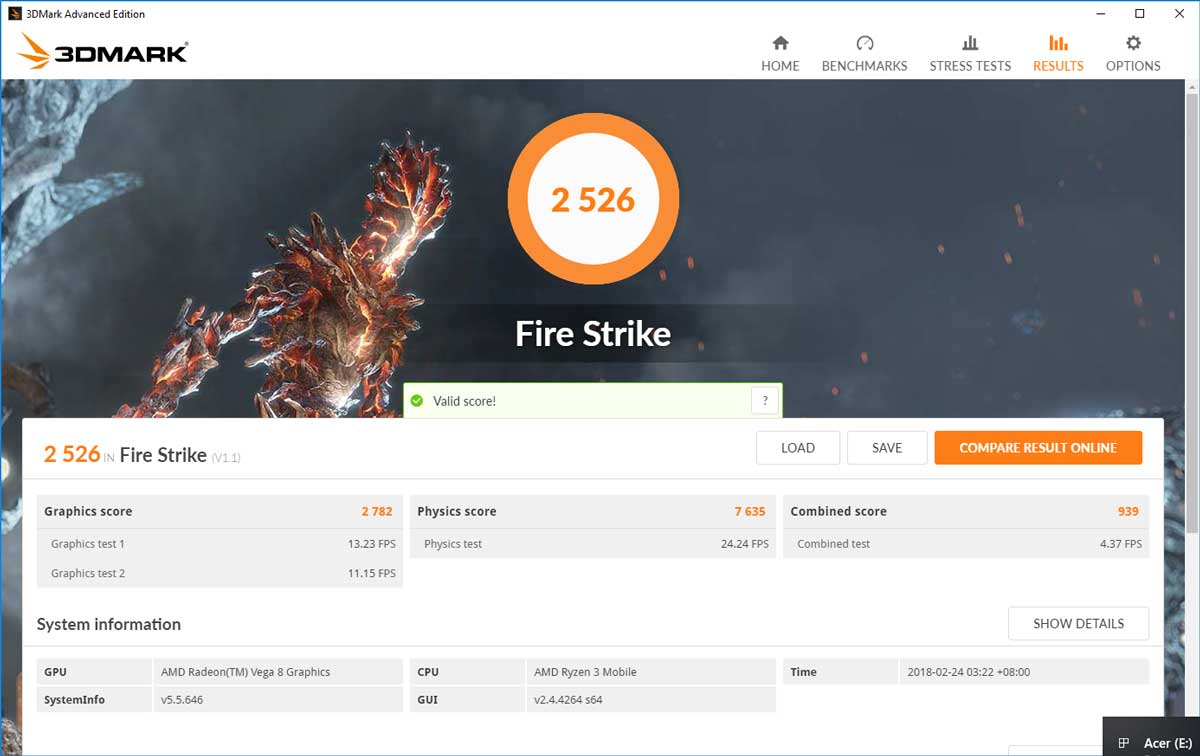 We do not have the luxury to play with the CPU core clock but we just have to test the GPU core clock at 1500MHz with a voltage of 1.2v. The increase we got from overclocking the GPU alone is almost 15%. Excellent figure we got there from the Ryzen 3 2200G.
WRAPPING IT UP:
Looking at the benchmarks, the Ryzen 3 2200G is generally faster than the Ryzen 3 1300X on and multi-threaded applications. While the same cannot be said on single-threaded applications. This APU is not a direct replacement for the 1300X, but more of a replacement for the Ryzen 3 1200. That said, the general performance is certainly nothing to complain about.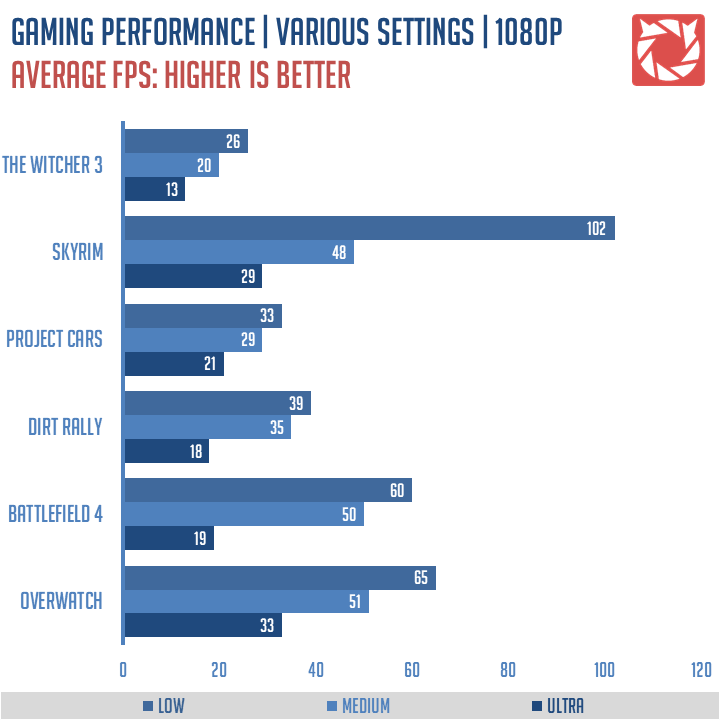 Gaming performance wise, we are looking at similar figures with other Ryzen systems. With the Ryzen VEGA 8 however, we are looking at a capable integrated graphics that could easily push 30 FPS and more with the right settings. The VEGA 8 could also match the VEGA 11 with a simple GPU clock speed increase. We do not expect consistent performance gains on games but it should amount to a noticeable increase.
Thermals are pretty good while we can't actually say the same thing about the power requirements. Other than those mentioned and the single-threading performance, it's hard to fault the chip. That's specially true if we're talking about a $99 APU with a capable graphics performance on top of a solid architecture. The Ryzen 3 2200G is just shaping up as one of the best budget APUs released this side of 2018.
EXCELLENT MULTI-THREADING PERFORMANCE
CAPABLE INTEGRATED GRAPHICS INSIDE
FRIENDLY OVERCLOCKING FEATURES 
EXCELLENT VALUE FOR MONEY
GOOD THERMALS

SINGLE-THREADED PERFORMANCE
POWER CONSUMPTION
AMD Ryzen 3 2200G AM4 APU
GENERAL PERFORMANCE -

9/10

POWER EFFICIENCY -

7/10

THERMALS -

8/10

VALUE -

9/10
Summary
It's hard to fault the AMD Ryzen 3 2200G APU. That's specially true if we're talking about a $99 APU with a capable graphics performance on top of a solid architecture. The Ryzen 3 2200G is just shaping up as one of the best budget APUs released this side of 2018.