The Z270 platform isn't exactly what we could say value oriented on a general term. After all, it is Intel's top of the line chipset for the mainstream platform. Intel is free to charge a chunk for it, since it is the only overclocking capable 200 series chipset. ITX variants are even more expensive. This in turn had us checking out alternatives but one company begs to disagree and that is ECS with their Z270H4-I ITX motherboard.
The Z270H4-I is ECS' take on the performance oriented ITX platform, with full support for the latest 7th generation Intel CPUs. Overclocking is of course possible thanks to the Z270 chipset. The board also sports a dual band WiFi + BT adapter and RAID support via the 4 SATA connectors. The baord also comes with dual LAN and excellent number of IO ports. A good board from the get go. Learn more from the official product page.
TECHNICAL SPECIFICATIONS:
ECS Z270H4-I ITX

CPU Support

Supports 7th gen Intel® Core™ family/ Pentium / Celeron series processors for LGA 1151 socket
Supports 6th gen Intel® Core™ family/ Pentium / Celeron series processors for LGA 1151 socket

Chipset
Intel Z270 Express Chipset
Form Factor
ITX
Power Phase
6+1 ECS Digital Power Design

Memory

Frequency
DDR4 1866/ 2133/ 2400/ 2667(OC)/ 2933(OC)/ 3200(OC)+ MHz
Slots
2x DDR4 (Non-ECC)
Capacity
32 GB
Channel
Dual

Connectivity

Slots
1 x PCIe 3.0 x16 slot
Onboard Graphics

Supports DirectX 12
Supports HDMI 1.4a & Premium Audio

Multi-GPU
N/A
Storage
Support by Z270 Express Chipset

4 X Serial ATAIII 6Gb/s
RAID0, RAID1,RAID5, RAID 10 configuration

USB
Support by Z270 Express Chipset

7 X USB3.0 port(s) up to 5Gb/s

Back Panel 5 port(s)
Onboard 2 port(s)

3 X USB2.0 port(s) Up to 480 Mb/s

Back Panel 2 port(s)
Onboard 1 port(s)

Audio

8-Channel HD audio CODEC
Realtek ALC1150 High Definition audio CODEC

Network

Realtek DRAGON LAN Chip 8118AS
Other chip: INTEL I-219V

Miscellaneous

Fan Connectors

1 X 4-pin CPU_FAN connector with smart fan
1 X 4-pin SYS_FAN connector with smart fan

AMI BIOS with 128 MB SPI Flash ROM
Supports M.I.B X Utility
F7 hot key for boot up devices option
Over-Clocking
Triple Display
Support ECS EZ BIOS
Support GUI UEFI BIOS
Multi-Language BIOS
Support CPU over-clocking function: Adjustable CPU Clock Multiplier
INTEL KABY LAKE PROCESSORS:
The Intel Kaby Lake Family of processors is the 9th generation of Intel's Core Series CPUs. The Kaby Lake Family is practically identical to the Sky Lake architecture wise with small underlying differences. It is still based on the 14nm node, has the same Instructions Per Clock, and is just basically a repacked Sky Lake to support the Intel Optane technology.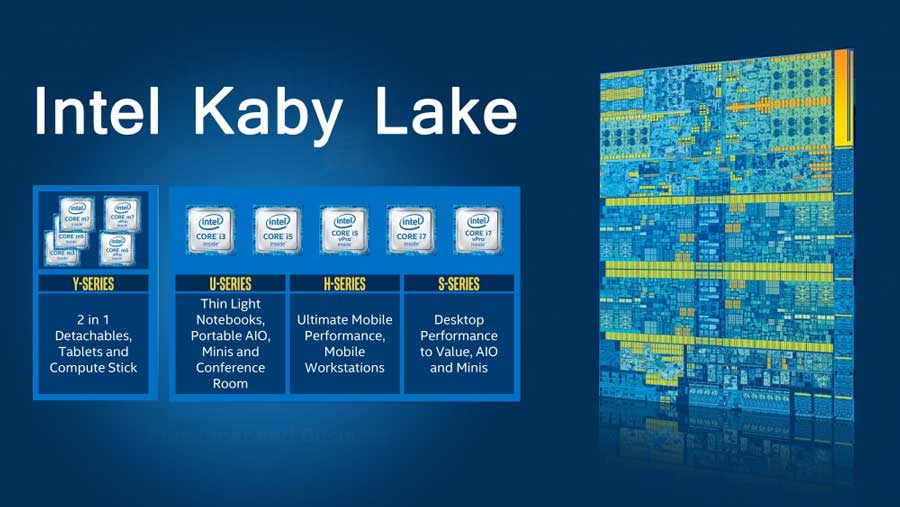 Now the differences, while not astounding are just proper for Intel to refresh their annual product line-up. Intel is able to put a 12% maximum performance gain via an improved design process, which basically means that they are able to push higher frequency envelope without amping up the TDP. The Intel Core i5 7600K for example, features a 91W TDP with a 3.8GHz Base Clock and a 4.2GHz Turbo Clock. That is 300 MHz higher over the 95W TDP  Core i5 6600K for both the base and turbo.
Another thing worth noting is the updated Intel Speed Shift technology. It allows the Kaby lake CPUs to jump at Turbo Clocks faster than older generations. That, together with a new video decode unit, the Intel HD 630 IGP, is why Intel is marketing the Kaby Lake as a 14nm+ micro-architecture.
INTEL 200 SERIES PLATFORM:
The Intel 200 Series Platform, specifically both the Intel Z270 and H270 chipsets are all about connectivity. The platform features an upgraded Intel Rapid Storage Technology (IRST), native support for the Intel Optane Technology, and additional downstream HSIO lanes compared to the last generation. Those down stream lanes could be configured by the board partner to either support additional storage, audio, or even networking options.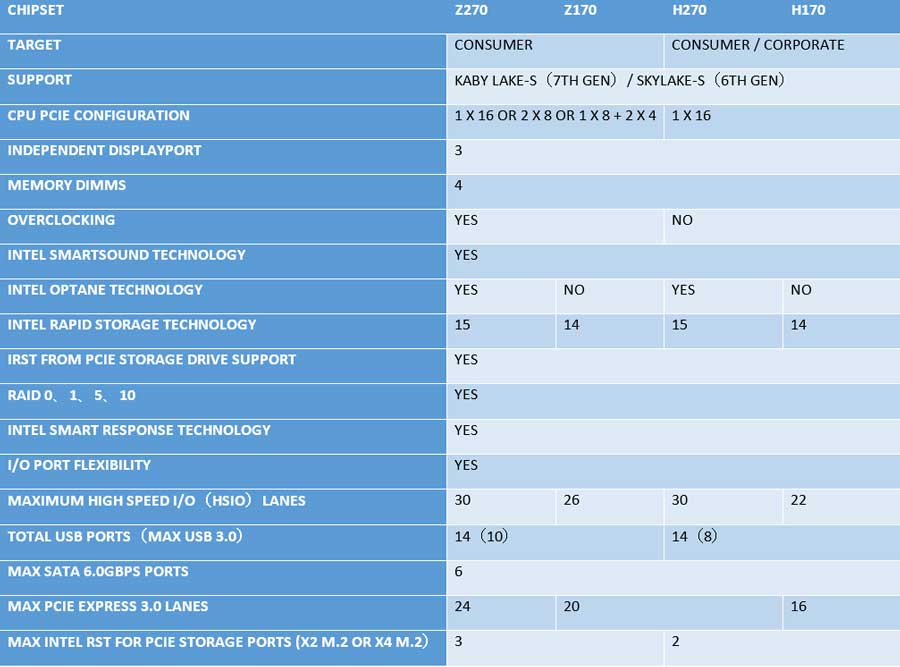 The platform is the official chipset for the Kaby Lake CPUs, but it will still support the Sky Lake CPUs. That said, system builders who are still utilizing Windows 7 and the 6th Generation Intel CPUs wanting to go with the latest platform are not required to upgrade to the latest OS Microsoft has to offer.
PACKAGING AND ACCESSORIES:
Simple and effective is what ECS' packaging is all about. It's not too busy,  but it is interesting enough. Professional work here by ECS.
Our Z270H4-I is the model with the WLAN and Bluetooth. That said, ours comes with an Intel card disassembled. It is an M.2 slot WIFI card with support for the 802.11ac standard. It comes with antennas for both bands.
You'd get dual SATA cables in black and a labelled back panel IO. The cables are not angled to better suite SFF requirements. A good call here from ECS.
Yep, that's two user  guides. One is the in-depth version and the other is more of a quick installation guide. You'd also get a software disc.
DESIGN, LAYOUT AND CONNECTIVITY:
The ECS Z270H4-I is a professional looking board and I like it. It has no gaming aura or any sort of crap associated with gaming nowadays and that's a good thing. Sporting an all black design, this ITX board should blend well with most of your components.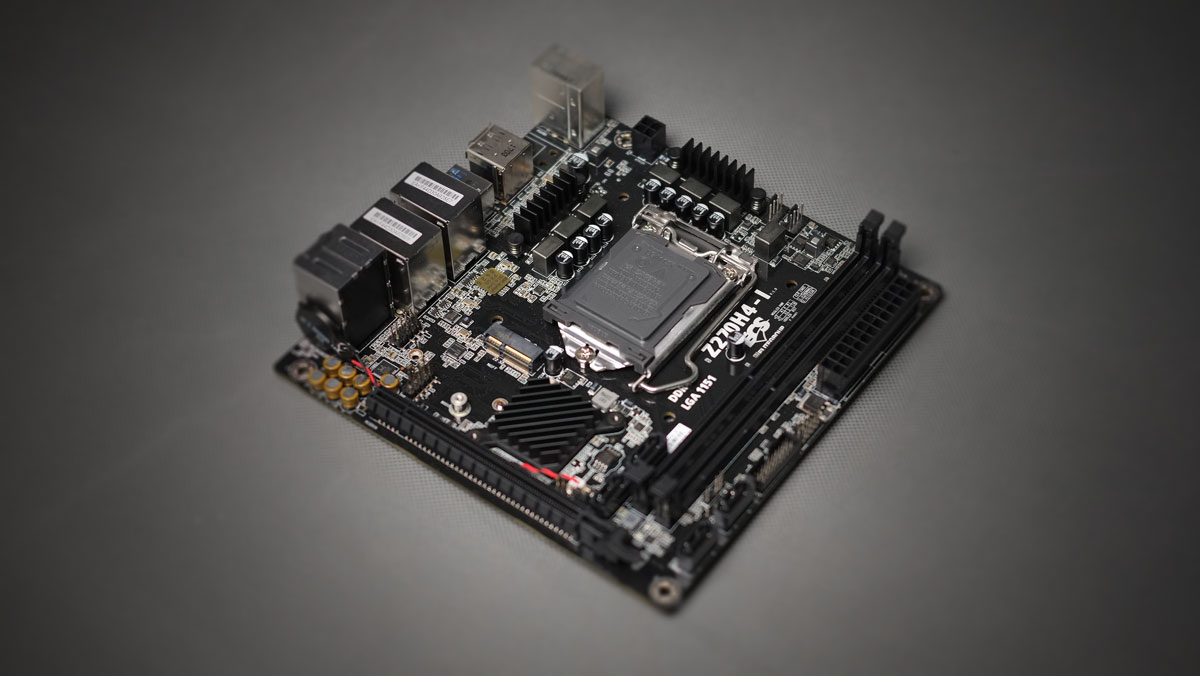 Layout is rather nice with a well placed 4-pin CPU power header and 24-pin power header. The two CPU fan headers are well placed  too near the memory's power phase.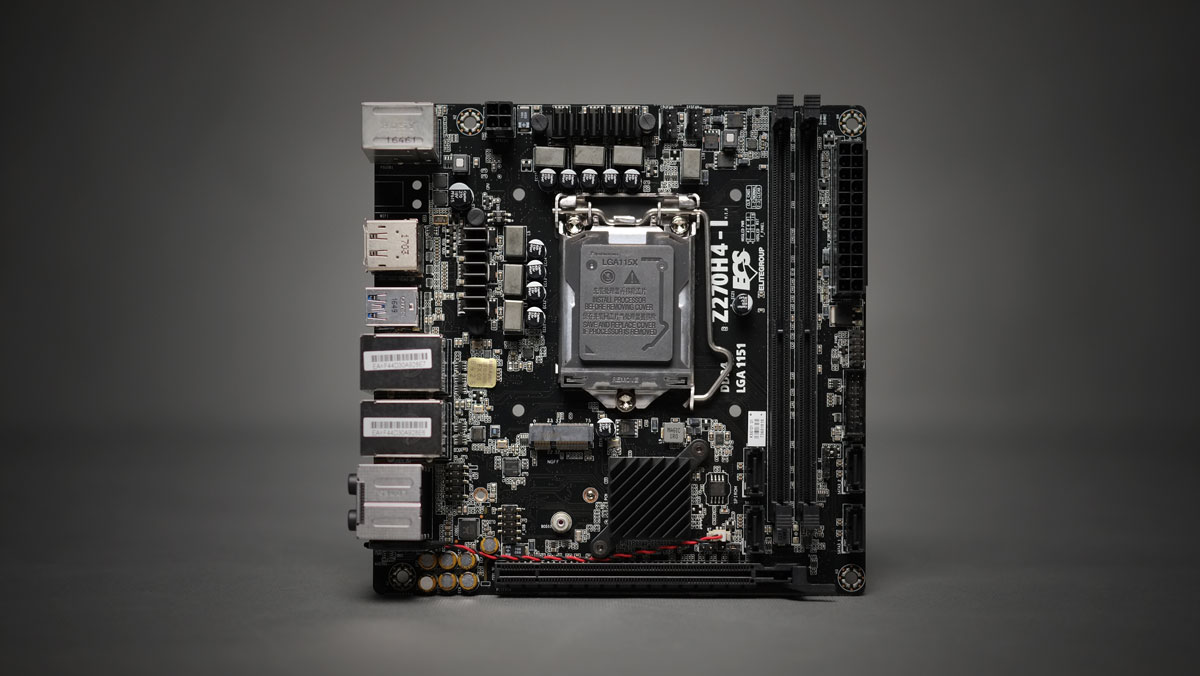 The back of the board features the M.2 slot for storage devices. This supports 2242 and 2280 SSDs. This slot also supports the Intel Optane technology but does not fully support other PCI-E SSDs according to my tests. We cannot boot via PCI-E SSDs here but you can use them from the OS.
Board power is provided by a 6+1 digital VRM design with the MOSFETs adequately cooled by aluminum heatsinks.
Storage options this side of the board are four native SATA ports and a USB 3.0 header. The front panel header is also situated on this area.
The bottom area of the board features the audio header, a USB 2.0 header and the M.2 slot for the WiFi and Bluetooth card.
Finally we get to see the backpanel IO. We have 8 USB ports here (6x USB3.0 + 2x USB 2.0). LAN is provided by two NICs (Realtek + Intel) but it does not support teaming. We also have a PS/2  combo port here and the ports for the Realtek audio with a much appreciated optical port.
MOTHERBOARD INTERFACE:
ECS' UEFI for the Z270H4-I is pretty much the same with the ECS Z170 motherboard we've tested a while back. You can still choose between 4 performance presets here so if manually playing with the board is not your thing, then this should do it for you.
The MIB X is where the fun is at. This is where you could OC both your CPU and Memory as well as to adjust voltages according to your requirements. Load Line Calibration and other features I expected to see here are not present thought, yet again.
The UEFI of the motherboard is snappy and hiccup free; although I'd love to see a more professional looking EZ menu.
BUNDLED SOFTWARE:
ECS had the board bundled with applications that should help you optimize your system. That includes the following:
Realtek Dragon Bandwidth Controller Software
ECS Intelligent EZ Utility : eBLU, eDLU, eSF
There isn't much to see here really and I'm not complaining.
TEST SETUP AND METHODOLOGY:
The performance of the system shall be evaluated by various benchmarking tools and applications. We are testing this system with the high-performance settings enabled at the OS, with the default UEFI configuration. Background processes such as anti-virus and third-party applications are disabled as well. Outlined below are the applications and benchmark tools for reference:
TEST SYSTEM SPECIFICATIONS
PROCESSOR
Intel Core i5-7600K
MOTHERBOARD
ECS Z270H4-I ITX
CPU COOLER
Cryorig C1 Top Flow
MEMORY KIT
Crucial Ballistix Tactical @ 2666MHz 4x4GB Kit
GRAPHICS CARD
ASUS GTX 1060 STRIX OC 6GB
INTERNAL STORAGE 
Crucial BX200 480GB
POWER SUPPLY
CORSAIR RM850X 850W
DISPLAY
27″ DELL U2715H + LG 43UF680T 4K UHD TV
OPERATING SYSTEM
Microsoft Windows 10 Pro
CPU AND MEMORY PERFORMANCE:
Super PI – 32M Calculations
wPrime – 32M and 1024M Calculations
AIDA64 Extreme Edition – Memory Benchmark
PRODUCTIVITY PERFORMANCE:
GIMP – 7 MB worth of image processing
HandBrake – 150 MB MP4 to H.264 video encoding
WinRAR – Internal benchmark tool
MISCELLANEOUS:
Crystal Disk Mark – Storage performance
RightMark Audio Analyzer – Audio performance
AIDA64 Extreme Edition – Temperature, Power and Noise
POWER CONSUMPTION:
The AIDA64 System Stability Test uses a 64-bit multi-threaded stress testing module to drive the system to its limits. Power readings are recorded with a watt-meter.
Power consumption is excellent for a Z270 motherboard. This is an ITX motherboard after all.
CPU AND MEMORY PERFORMANCE:
Super PI is a single-threaded program that calculates pi to a specified number of digits after the decimal point. It is a widely used benchmark within the industry.
WPrime is a multi-threaded program that calculates a set number of square roots. It verifies the results by squaring them, then compares it with the original numbers.
The AIDA64 Memory Benchmark measure the data transfer bandwidth and latency of the system memory. On this benchmark, we are measuring the latency.
Generally good benchmark results from the ECS Z270H4-I. It is the slowest board though on our SuperPI benchmark compared to boards with the Core i5-7600K inside.
PRODUCTIVITY PERFORMANCE:
GIMP or GNU Image Manipulation Program, is a free and open-source image editing tool. A 7 MB worth of images is be processed and converted to gauge the system performance.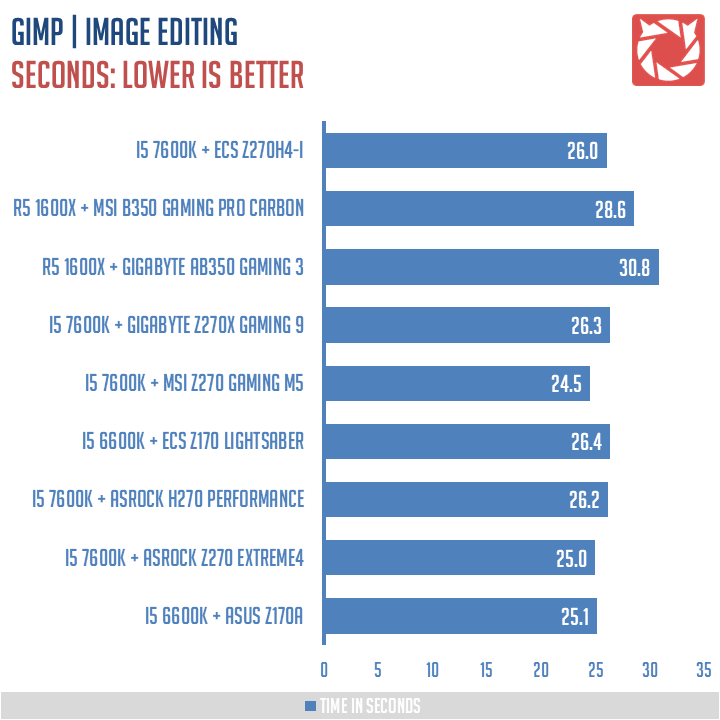 HandBrake is a free video encoding tool that supports a wide variety of media codecs. A 150MB worth MP4 video is converted using the H.264 codec to gauge the system performance.
WinRAR is a file archive utility that can create, view and unpack numerous archive file formats. The software's built in benchmark tool is utilized to gauge the system performance.
Generally great performance overall from our real world benchmarks. Nothing to complain around this area.
STORAGE PERFORMANCE:
Crystal Disk Mark is a storage benchmarking software widely used throughout the industry. It feature synthetic benchmarks to test both the read and write performances of a storage medium.
Take these results as references alone. We still have yet to finalize our storage performance metrics with the acquisition of new drives for a variety of interfaces.
AUDIO PERFORMANCE:
RightMark Audio Analyzer (RMAA) is a tool designed to test the quality of audio devices. We utilized a quality 3.5mm stereo audio cable to loop the line-in and line-out of the system. Sample rate of 24-bit at 48 kHz.
| | | |
| --- | --- | --- |
| Frequency response (from 40 Hz to 15 kHz), dB | +0.28, -0.08 | Very good |
| Noise level, dB (A) | -37.7 | Very poor |
| Dynamic range, dB (A) | 80.0 | Good |
| THD, % | 0.014 | Good |
| THD + Noise, dB (A) | -25.5 | Very poor |
| IMD + Noise, % | 5.339 | Very poor |
| Stereo crosstalk, dB | -97.0 | Excellent |
| IMD at 10 kHz, % | 0.042 | Good |
| General performance | | Good |
The ECS Z270H4-I has the poorest noise level performance I've seen from the boards we have tested so far. This could be due to the nature of the board itself as an ITX motherboard with crammed components inside.
WRAPPING IT UP:
The ECS Z270H4-I is a proper ITX motherboard with everything we love from the form factor, dashed with performance and features of full size motherboards. It also has the looks to back it up, following a more professional design principle that we really missed from the company.
Build quality and layout wise, the ECS Z270H4-I is one properly built motherboard. Components are where we want them to be, making the board a good quality canvass for the rest of your small form factor build. Audio quality is one of its major letdowns though, but it's decent enough for our requirements.
While this is not exactly marketed as a gaming board, it has everything we required for a proper gaming solution, be it for the desk or for the living room. Overclocking is also supported with nice tuning options; and with proper heatsinks to cool off the VRM under stress, there's no need to fear pushing for the limits. The board is just begging to be utilized at its full potential.
Finally, we got the price at $109 which is a pretty good deal from ECS. It is definitely high on features, great on performance and low on the price. Availability is scarce though – which is something we'd like ECS to improve upon. Get it if you can.
PROFESSIONAL DESIGN
EXCELLENT LAYOUT
GENERAL PERFORMANCE
DUAL LAN INTERFACE
WIFI + BT COMBO
VALUE ORIENTED

AVAILABILITY
AUDIO SOLUTION
M.2 SLOT LIMITATIONS
ECS Z270H4-I ITX LGA 1151 Motherboard
PERFORMANCE -

8/10

BUILD QUALITY -

8/10

FEATURES -

8/10

AESTHETICS -

8/10

VALUE -

8/10
Summary
The ECS Z270H4-I is a proper ITX motherboard with everything we love from the form factor, dashed with performance and features of full size motherboards. It also has the looks to back it up, following a more professional design principle that we really missed from the company.