It's been a while since we last tested a GALAX XANOVA gaming gear. Our verdict back then for their products were pretty good – especially for a gaming headset, considering that it is their first product on the relatively new sub-brand catered specifically for gaming gears.

Now what we actually have here for review is the Mensa Pro gaming mouse. A right handed gaming mouse made specifically for small to medium hands. Being the Pro model, this one comes with the Pixart PMW3389 – a familiar sensor we used to see from other brands. The Pro version also comes with the Omron D2FC-F-K switches which is rated to withstand 50 million press over the standard one.
Technical Specifications
Mouse
Size
Small-Medium
Layout
Right-handed
Design
Traditional
Macro
Yes
Profile
Yes
Software
Yes
Interface
USB
Polling Rate
1000Hz
Lighting
RGB
Switch
OMRON D2FC-F-K
Buttons
6
Cable Length
1.8 meters
Sensor
Type
PixArt PMW3389
DPI
16000 DPI
Acceleration
50G
Dimensions
Length
115mm
Width
68mm
Height
39mm
Weight
95 grams
Packaging and Accessories
GALAX XANOVA had the Mensa Pro comes packed inside your usual gaming mouse packaging. The product should come with the following items inside:
Design, Layout and Build Quality
Mensa means table in Latin and it looks par-a-pro out of the box. This one is a small to medium sized gaming mouse with a proper sculpted right-handed design. This mouse weighs at about 95 grams without the cable added into account. I'd say it's actually good as a 100 gram mouse with the cable being dragged around.
The Mensa Pro features a total of 6 programmable buttons and that even includes the scroll wheel. Side buttons and scroll wheel felt good, but the OMRONs felt even better.
Side profile shows the design of the grips. These are sculpted yet not textured to a great extent. I like this simplicity since ease of maintenance is paramount for my requirements.
Top shell consists of 3 piece plastic allowing the Mensa Pro to feature a uniformed feedback for its main buttons. Scroll wheel on the other hand, again felt really good. Now while the DPI button is huge, it is flush to the shell. That allows for faster DPI changes without the accidental clicks.
The skates are 3 piece Teflons which are of course excellent gliding materials. They do not appear like one of those universal skate designs though. A little shame since you're most likely screwed if you managed to scrape them. Screws are also hidden from plain sight. For a mouse with the Pro on it, I expected a bit more tinker friendliness.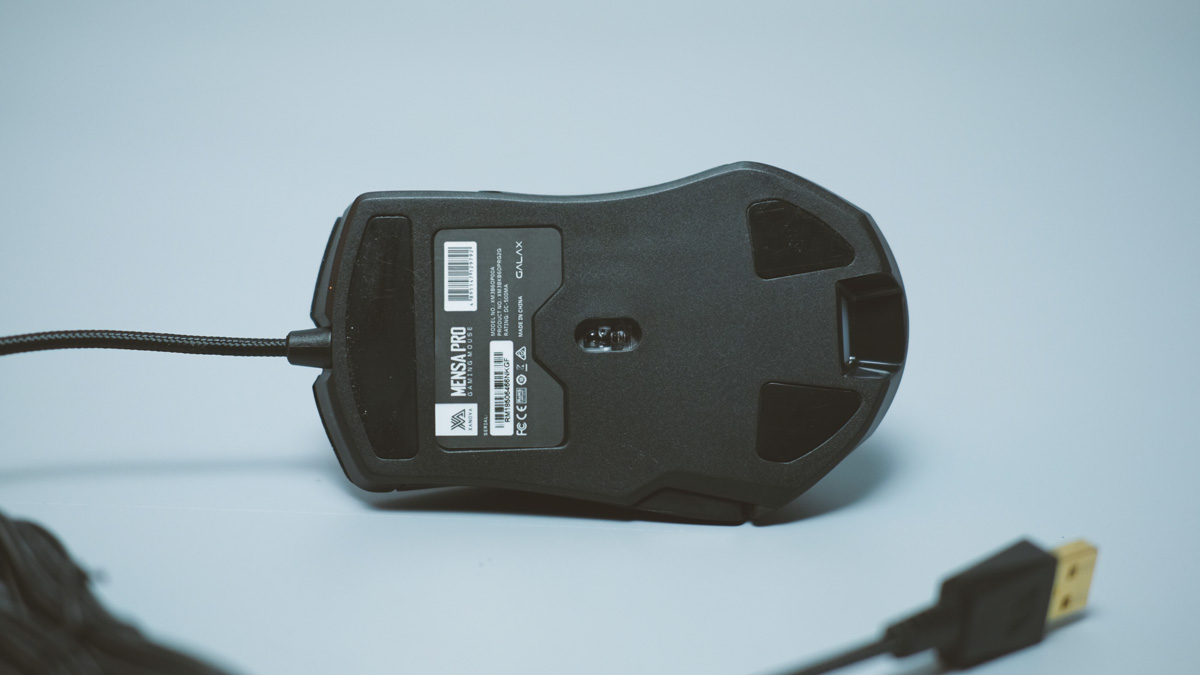 Cables are unfortunately braided. Never liked braided cables on my gaming devices really. Fortunately though, they do not drag quite as much as some other gaming mouse with braided cables out there. Stiffness is about the same tho.
Test Setup and Methodology
Testing a gaming mouse is not that difficult, but it is mostly subjective; similar to testing head gears in a sense. That said, no mouse is perfect and the verdict usually depends on personal preferences. With that in mind, we are overhauling our testing methodology by following key pointers that should matter the most; that includes the sensor performance, the size, grip and comfort. To keep our test methodology simple and free of extra variables, please note the following software and configurations used below.
Test Setup
Pointer Speed
6/11, EPP Disabled
Sensitivity
 800, 1600, 3200, If possible
Polling Rate
1000Hz, If possible
Software
MouseTester V1.5.3
Physical Layout, Functionality and Ergonomics
Your grip and aiming style are important things to consider when looking for a mouse. There are four basic types of grips here; the fingertip, claw, palm and hybrid grips. Fingertip grip is generally preferred when aiming with the wrist, while palm grip is the choice when aiming with the arm. Claw and hybrid grips are middle ground options for both aiming styles. Of course, you could go with a hybrid of both grip and aiming styles if they suit you best.
Your hand size also influences what mouse you should buy on top of your grip and aiming style. For an instance, my hands measures at 7 inches x 3.5 inches (length x width). This puts my hands on the small to medium size category. My style is finger-tip grip, so I would generally look for a mouse with a small to medium foot print.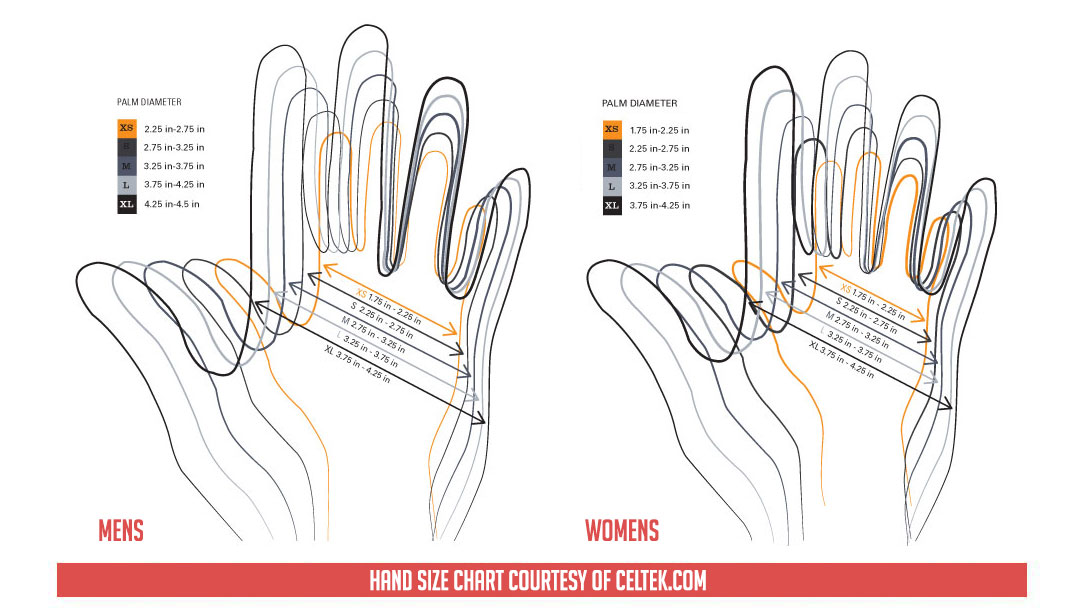 Featuring a length at roughly 4.5 inches and a grip area at around 2.6 inches, the Mensa Pro is quite a balanced one. Now the highest point of the shell is at 1.5 inches with a pronounced curvature apt for claw grip gamers. This makes the mouse even ideal for palm grip gamers with medium sized hands.
If you have larger set of hands, claw griping is also possible – but a bit cramped to be honest. Wrist aimers will find this mouse great, while arm aimers will find the not so flexible braided cable a bit troublesome at times especially with sharp edged pads.
DPI Accuracy
DPI accuracy at industry standard DPI levels is checked with the MouseTester V1.5.3. We rigged the mouse on a camera slider to check the DPI accuracy at 800, 1600 and 3200 DPI. Anything under 3% is considered accurate.
Results across the standard DPI levels are well within 3% from the norm. No problem here folks.
Mouse Acceleration
Mouse acceleration at industry standard DPI levels is also checked with the MouseTester V1.5.3. We rigged the mouse on a camera slider similar to our DPI accuracy test to measure the displacement from a slow paced movement and a fast flick. Anything under 3% is considered accurate.
The Pixart 3389 performed really well with this mouse's innards.
Polling Rate Performance
The Polling Rate of the device is evaluated with the MouseTester V1.5.3 at the 800 DPI level. This is to check the mouse update rate performance at 1000Hz if possible.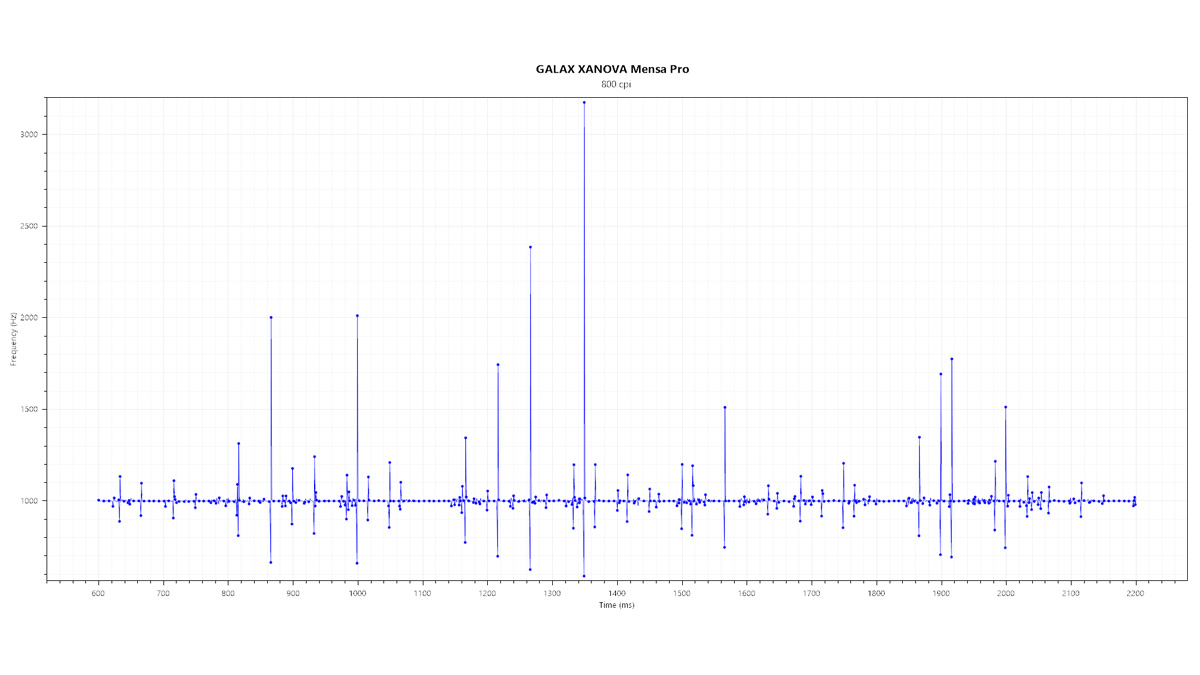 AS far as our testing goes, the Mensa Pro features good polling performance. Not the most consistent I've tested but not the worst either. A bit better than the Gladius II wireless I've tested to be honest and with the same sensor at that.
Tracking Performance
Mouse tracking performance is evaluated with the MouseTester V1.5.3 with a DPI level of 800 DPI. Our aim is to check out the sensor's performance; and to look for reporting inconsistencies and smoothing.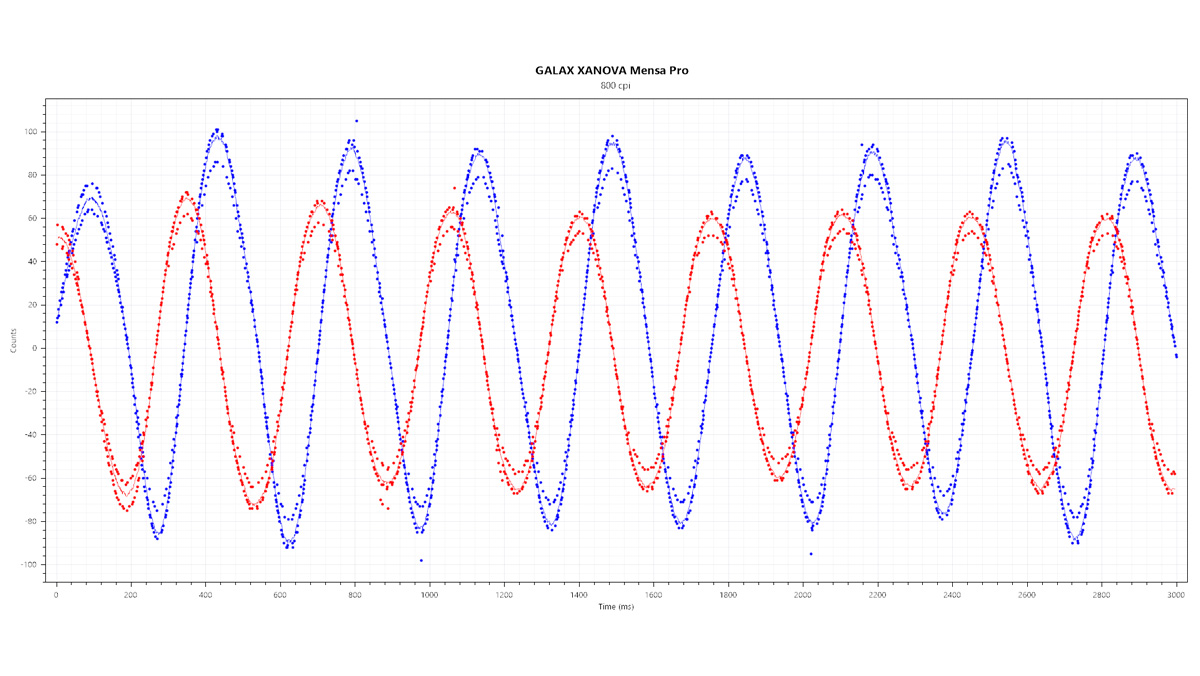 Tracking performance is good if not great with the Mensa Pro. We have a few unnecessary jumps on counts (possibly polling related) but we don't have any dips which is fantastic. This one behaves similarly with the Pixart 3389 equipped Gladius II as well.
Software, Lighting and Special Features
The GALAX Mensa Pro comes with support for the optional XANOVA Control Panel software. This is a unifying application for the GALAX XANOVA gears. Firmware updates are not included on this application though, but we appreciated the timely update tools found within their website.
Profiles and macros could be configured straight away from the software's main menu. Maps for the buttons could be changed here as well. It's worthy to note that the Mensa comes with its own memory chip so your settings are ready to be utilized on any PC.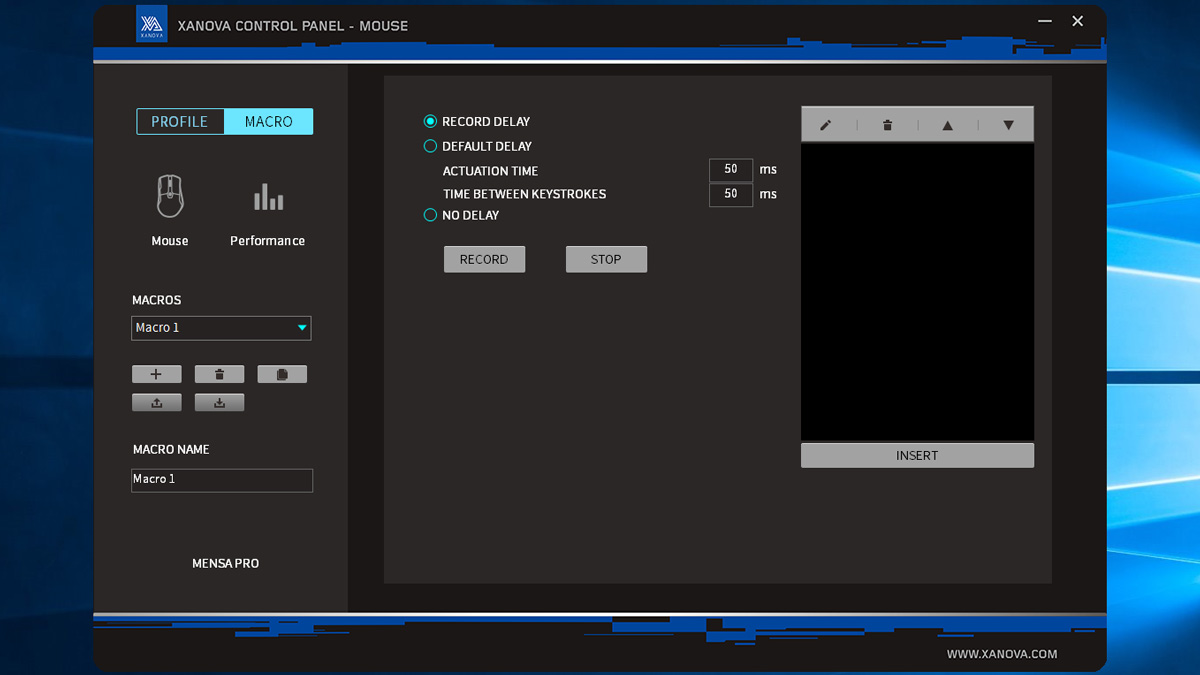 Going through the performance settings allows you to change the 5 default DPI levels plus the DPI button's LED color as well. This is a much appreciated compromise for the addressable RGB lighting.
Now there are three light zones here powered by GALAX's NOVA RGB. Brightness and speed together with modes are addressable here.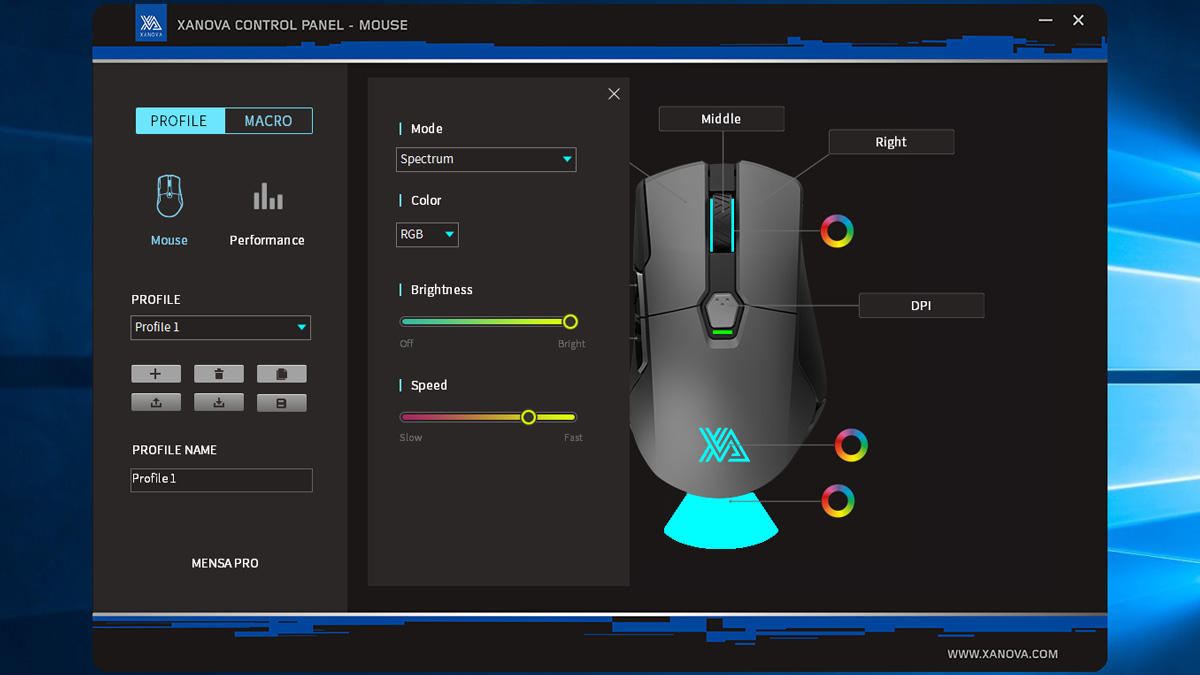 Lighting is superb if you're a fan of soft or diffused glow. The light bar below the palm rest elevates the wholesome RGB situation as well. Want a Neon Genesis Evangelion themed mouse? Consider it done with the Mensa.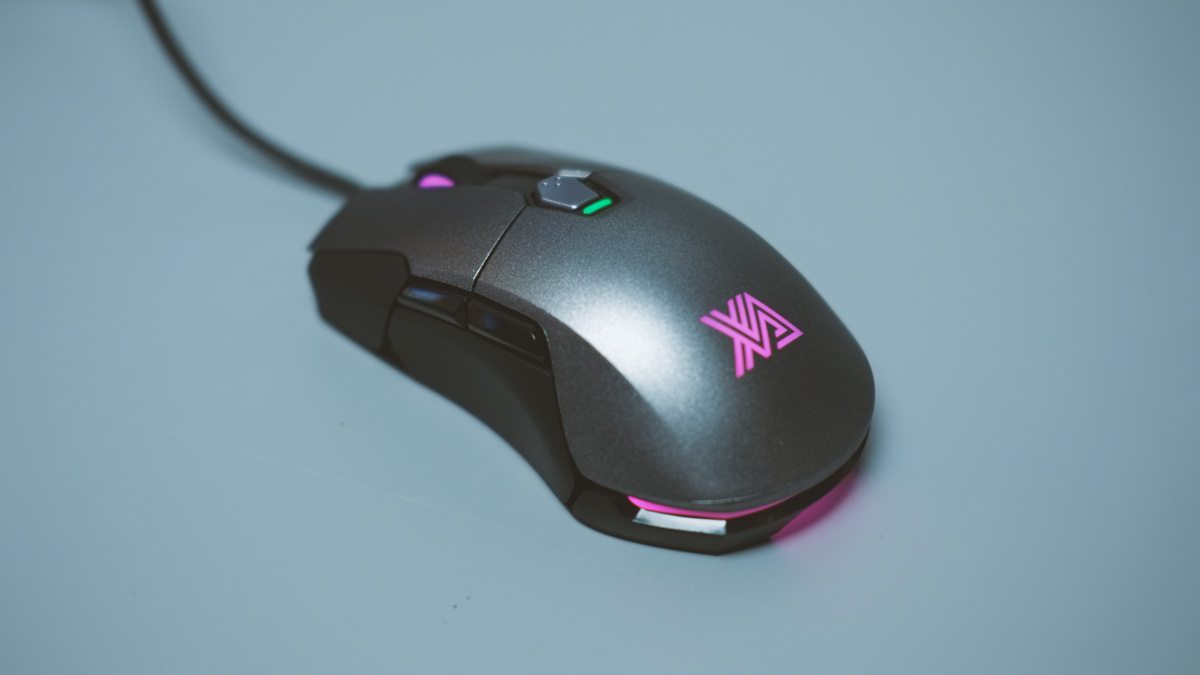 Final Thoughts
GALAX XANOVA really impressed us with the Mensa Pro on the majority of its features. That includes the tried and tested Pixart 3389 sensor, its shape, software and lighting effects.
The PMW 3389 is again, a sensor that we really like. Its basically rock solid as long as you implemented it right like what most brands does nowadays. GALAX XANOVA is no exception here but like many products, their Mensa Pro is no perfect. It a little rough on some spots.
Now pricing is about 2, 995 Pesos for the Mensa Pro and 1, 795 Pesos for the standard Mensa. Price wise, the Pro is worthy of your attention – money even, as long as you play around its strong points. Don't worry, there are many.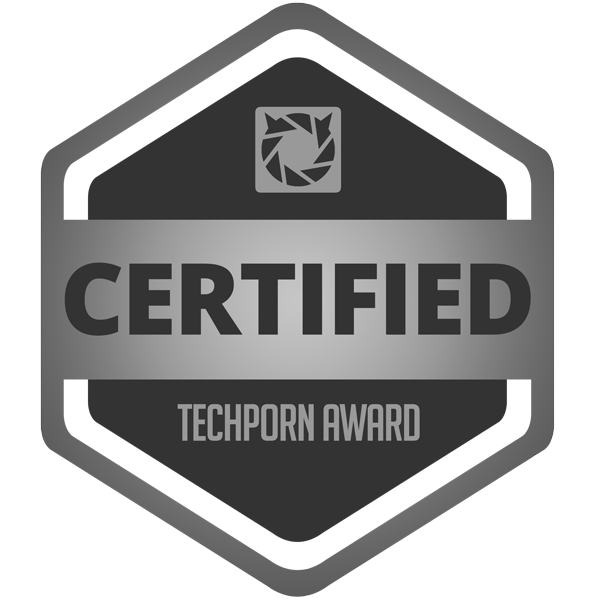 GALAX XANOVA Mensa Pro Gaming Mouse
Performance -

9/10

Build Quality -

7/10

Features -

8/10

Design -

8/10

Value -

7/10
Summary
GALAX XANOVA really impressed us with the Mensa Pro on the majority of its features. That includes the tried and tested Pixart 3389 sensor, its shape, software and lighting effects. Price wise, the Mensa Pro is worthy of your attention – money even, as long as you play around its strong points.
Pros
Excellent ergonomics
Balanced housing design
Tracking performance
Polling performance
Lighting effects
Cons
Braided cable
Price point