The NF-A12x25 is the culmination of years of research and development at Noctua. This is, on their own words, a highly optimised next-generation 120mm fan that integrates Noctua's latest innovations in aerodynamic engineering in order to achieve an unprecedented level of quiet cooling performance. This thing actually had its own technical background published at Noctua's website. It's worth the read, I promise.

Now we've actually seen the NF-A12x25 in action back at COMPUTEX 2018 and it is just impressive based on the demo – if not mind blowing. What we have here are the three sub models of the NF-A12x25, namely the ULN, PWM and FLX. These models are distinguished by their connection type, RPM, noise level, airflow and even accessories. Without further ado, let us check them out on this review.
Technical Specifications
Fan

Model
Noctua NF-A12x25 ULN
Noctua NF-A12x25 PWM
Noctua NF-A12x25 FLX
Speed
1200RPM
2000RPM
2000RPM
Noise
12.1dBA
22.6dBA
22.6dBA
Airflow
55.7CFM
102.1CFM
102.1CFM
Dimensions

Length
120mm
120mm
120mm
Width
25mm
25mm
25mm
Height
120mm
120mm
120mm
Weight
355g
355g
355g
Packaging and Accessories
The Noctua NF-A12x25 models comes packed inside a premium looking packaging. The fan models comes with the following documentations and accessories inside:
Ultra-Low-Noise Adaptor (U.L.N.A.) – FLX and ULN only
Low-Noise Adaptor (L.N.A.) – FLX and PWM only
4-pin y-cable – PWM only
3:4-pin power supply adaptor – FLX and ULN only
30cm extension cable
NA-AV2 anti-vibration mounts
Anti-vibration gasket for water cooling radiators
Fan screws
Design, Layout and Build Quality
The NF-A12x25 is, out of the box, probably the best looking non RGB fan we've seen so far – personally speaking. Hate on its color scheme if you will, but there's no denying the fact that this thing is made with top notch materials with precision and build quality in mind.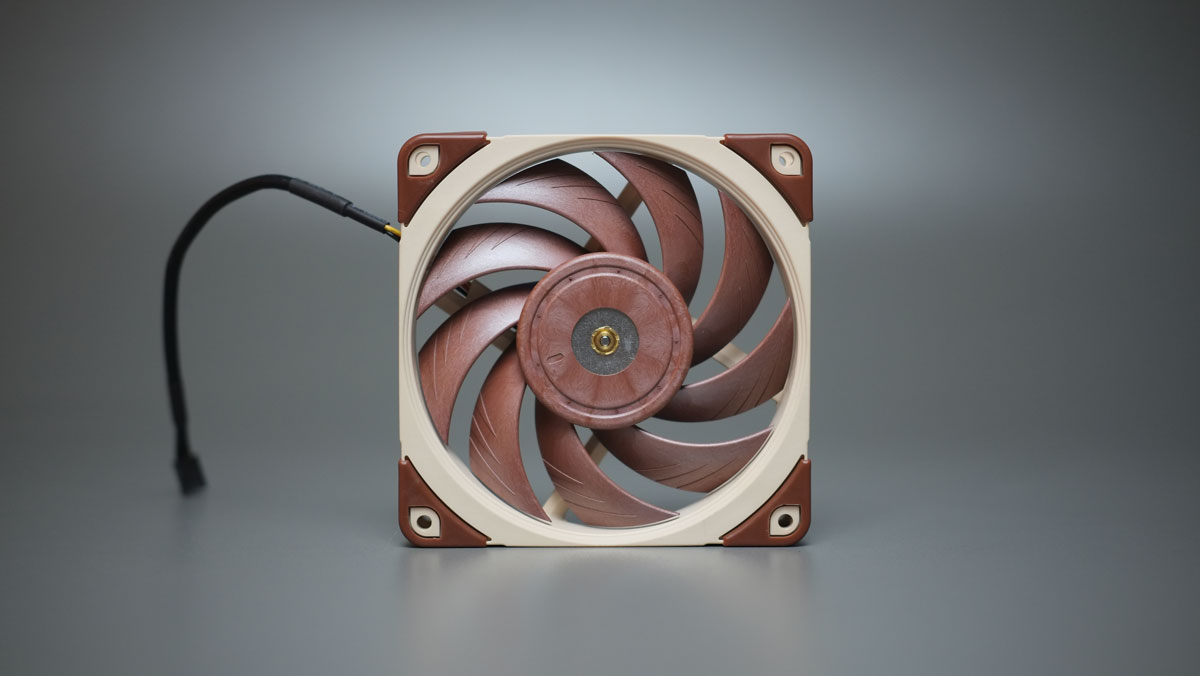 Dimensions are exactly 120 x 25 x 120mm which is still within the standards of your normal 120mm fan as far as width or depth goes. Each sides also houses removable rubber dampeners to ensure a vibration free operation.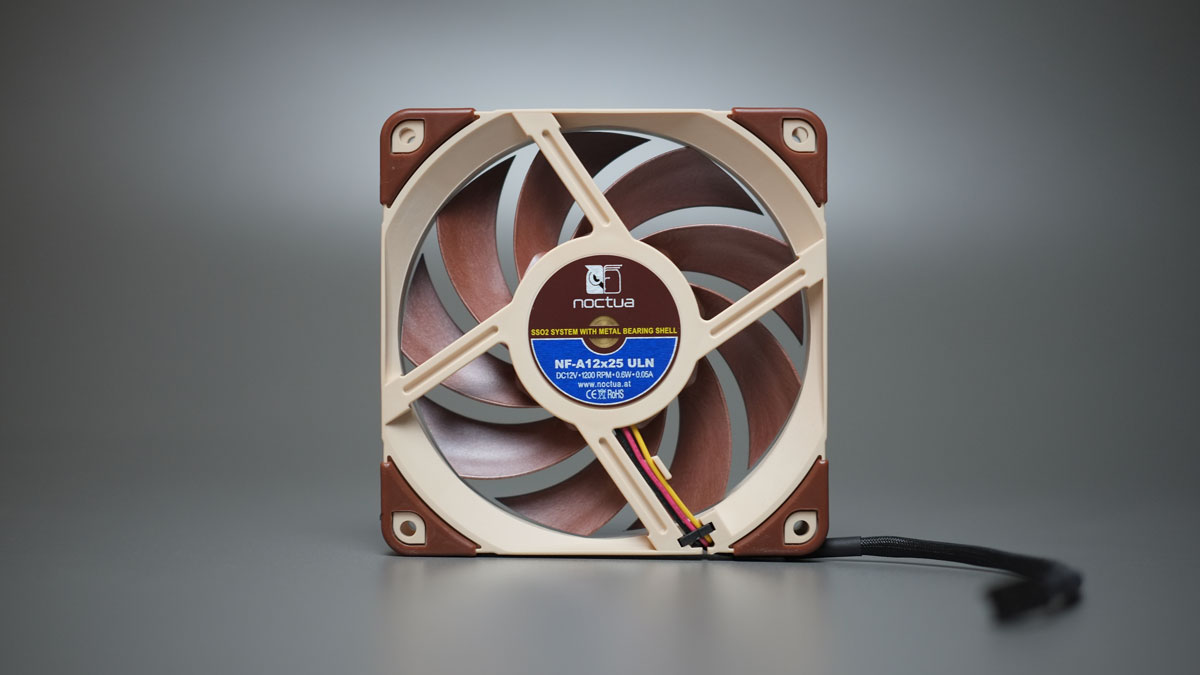 Noctua uses an in-house liquid-crystal polymer material (LCP) on the fan blades. This is called Sterrox, which is a proprietary fiber-reinforced thermotropic LCP. It is extreme tensile, has exceptionally low thermal expansion coefficient and features excellent stability. This material alone serves as the back bone of the NF-A12x25 and most likely, the future of their products. It also had a distinct texture and pattern so you'd know a Sterrox product once you saw it.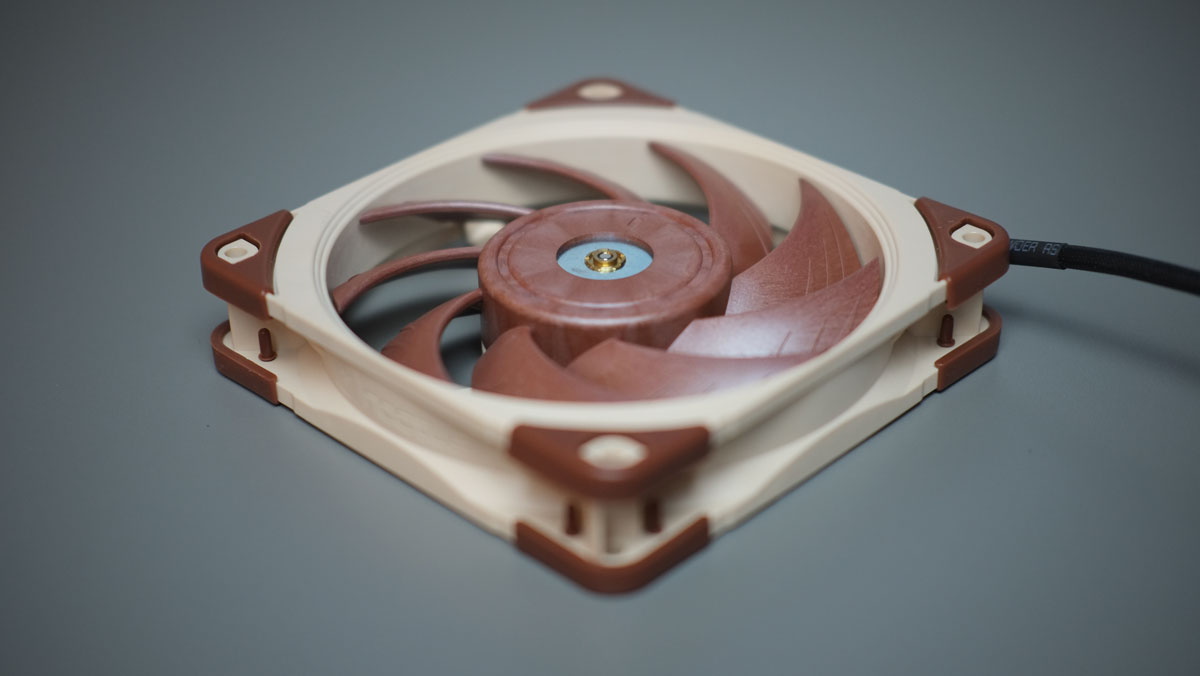 The NF-A12x25 ULN and FLX features the same 3-pin header while the PWm version had a 4-pin header. Main take aways here is that the FLX had similar specifications with the PWM – although it is more flexible with ULNA and LNA adapters. The ULN is model on the other hand is strictly built for silence.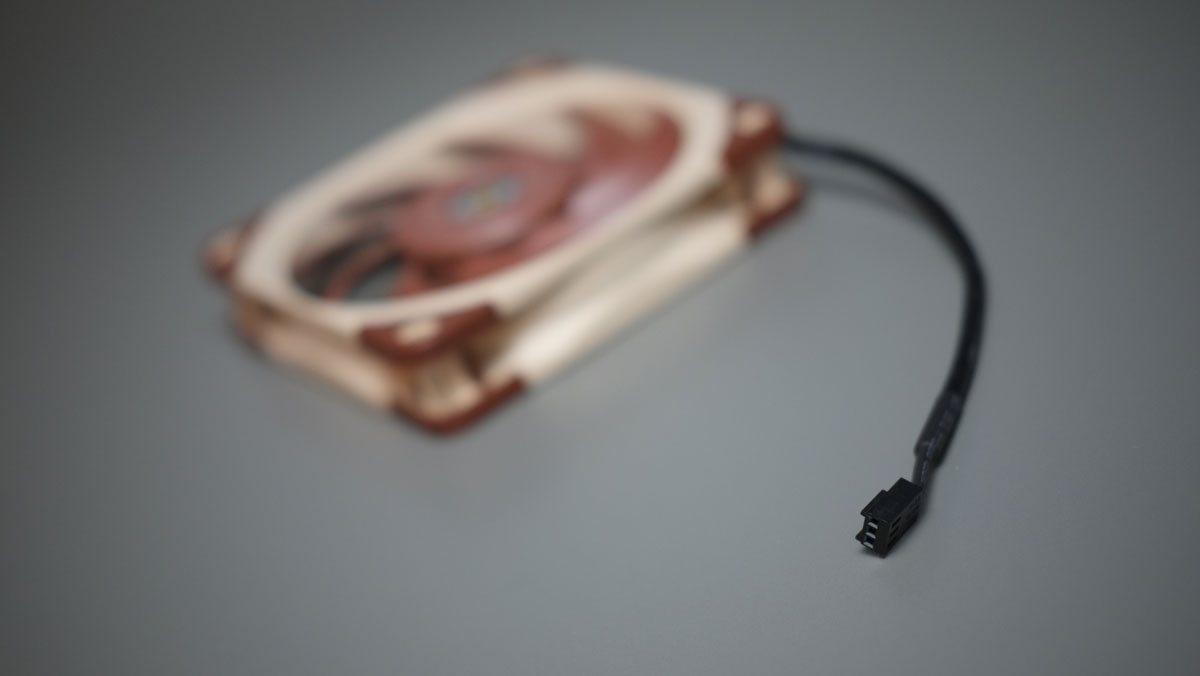 The Noctua NF-A12x25 is extremely well built and comes with a 6 year warranty. Mind blowing.
Clearance and Installation
The NF-A12x25 is easy to install like many other normal 120mm fans. Noctua being Noctua though, added a lot of accessories to precisely fill in your installation requirements.
Since we're installing this on A Cryorig cooler, we actually don't need the stuff from the bundle. We even removed the dampeners just to make sure we've got a nice but not-so tight fit.
Test Setup and Methodology
Coolers are far from the hardest components to test, but it doesn't mean they are easy enough to deal with since there are multiple factors to take into account while benchmarking. Factors includes the ambient noise, ambient temperature, the enclosure, and the test system's overall configuration.
Test System Specifications
CPU
Intel Core-i5 6600K
Motherboard
ASUS Z170-A
Cooler
Noctua NH-L9i
Memory
ADATA Premier DDR4
GPU
ASUS ROG Strix GTX 1060 OC
Storage
Crucial BX200 480GB
Case
Thermaltake Core P3
PSU
CORSAIR RM850X
Display
DELL U2715H
OS
Microsoft Windows 10 Pro
The AIDA64 Extreme Edition System Stability Test is used to stress our Intel Core i5 6600K. The CPU, FPU, Cache and Memory are selected at the options. AIDA64 has been chosen due to its inclusion of AVX, AVX2 and FMA – 3 important instructions that will help us push our CPU to its limits.
Ambient Temperature – 27°C (±1°C)
Ambient Sound Level – 34dBA (±1dBA)
Stock Profile – 3.9GHz (1.088v)
Overclocked Profile – 4.4GHz (1.248v)
Temperature
Temperatures are tested with attainable CPU clock speed configurations that should resemble common systems. To measure the cooler's capabilities, the CPU temperature is logged with HWiNFO64 and is cross referenced with AIDA64.
The Noctua NF-A12x25 showed us excellent stock cooling performance for both the PWM and FLX models. Again, identical. Even the ULN model gave the C1 Top Flow's stock fan a run for its money with a 50.1°C result on the CPU package.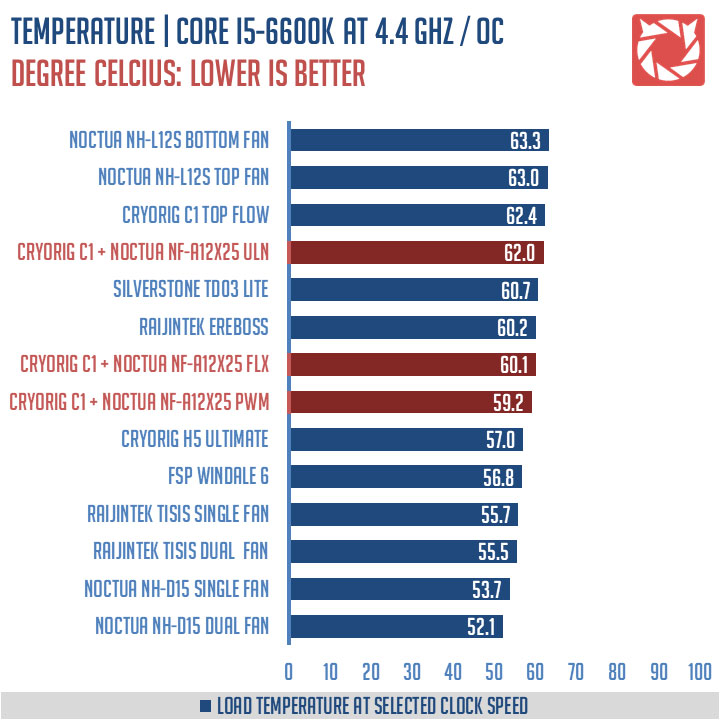 With our CPU overclocked at 4.4GHz, the Noctua NF-A12x25 again showed that it is just capable to cool off our CPU. Lowest attained is 59.2°C with the PWM model, while the highest is at 62°C with the ULN at 1200RPM.
Noise Level
Noise levels are tested on a variety of fan duty cycle settings available thru our motherboard. To measure the levels, a sound level meter is secured on a tripod with a foot of distance away from the cooler.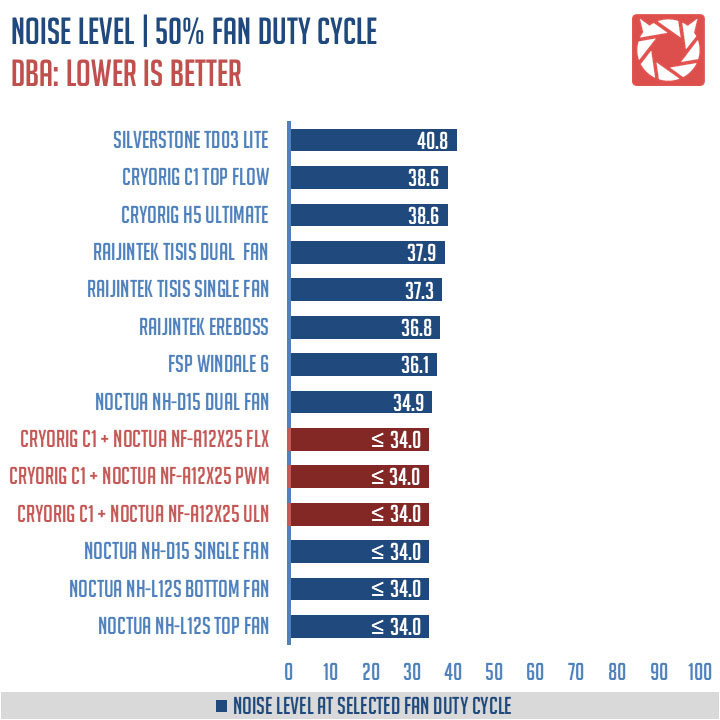 All the Noctua NF-A12x25 models are one of the quietest fans we've seen so far at 50%. That's even without the LNA and ULNA adapters.
2000RPM is a bit much for both the PWM and FLX variants. Both fans are identical, so we don't really expect much of a difference between the two, noise wise. With an LNA adapter though, the PWM and FLX model will give you a result around the 41dBA mark. As for the ULN model, it sits below our 34dBA ambient room noise even at full speed.
Software, Lighting and Special Features
The Noctua NF-A12x25 doesn't feature any software nor lighting effects. It comes with abundant accessories though and an outstanding 6 year warranty.
Final Thoughts
The NF-A12x25 is hands down, probably the best Noctua fan in years. It is the materialization of their expertise in the field and boy does it show.
Performance wise, we are basically looking at a 140mm cooling on a 120mm package. That said, you're only going to be limited by the cooler itself as far as maximum performance is concerned. Noise levels are excellent too if you are willing to sacrifice cooling performance for a more balanced output. I'd say get the ULN model if you're hell bent on building the quietest gaming PC out of the box. The PWM and FLX models are also just as capable though, provided that you tweak their RPM and or if you are able to utilize the included low-noise adapters.
Build quality wise, it'll be a disservice to say that the NF-A12x25 is at the very least great. The thing is practically a nominee for the over engineered components of 2019 and with a 6 year warranty in tow, you'd know that Noctua is not messing around.
The Noctua NF-A12x25 currently retails at about 30 USD. That's around 1500 in Philippine Peso. For that price, you could get the usual pack of pretty RGB fans at the expense of what this cooler could offer. The choice is yours but let's clear things up: The NF-A12x25 is the best 120mm fan you could find in the market right now and I doubt you'll see a competition anytime soon.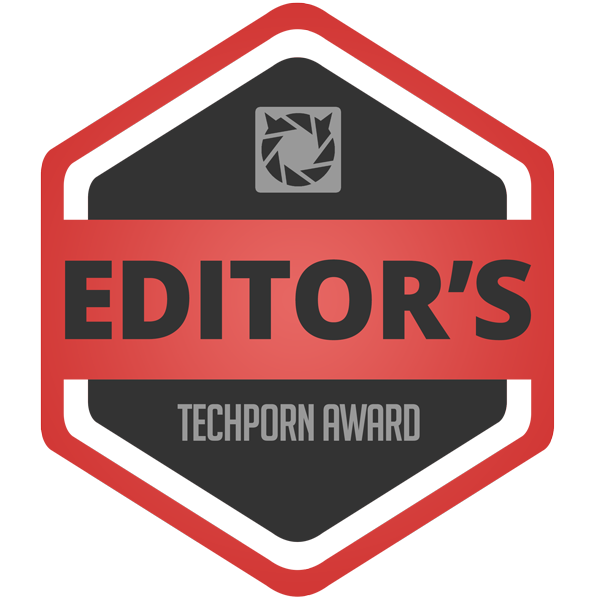 Noctua NF-A12x25 120mm Premium Fan
Performance -

9/10

Build Quality -

10/10

Features -

9/10

Design -

9/10

Value -

8/10
Summary
The NF-A12x25 is hands down, probably the best Noctua fan in years. It is the materialization of their expertise in the field and boy does it show. The NF-A12x25 is the best 120mm fan you could find in the market right now and I doubt you'll see a competition anytime soon.