Patriot sent us the Viper Steel for review. A memory kit that I've been eagerly waiting to get tested ever since I got the news mainly for a couple of reasons. First off, this is the first memory kit we'll test for 2019 which is pretty important. I don't even know if my aging test system could handle another 3200MHz kit without much effort. Price for RAM modules have also normalized for the past few months with this particular model hoovering at around $84.99 USD or about 4400 Pesos internationally.

The Patriot Viper Steel we got is the 3200MHz variant in a 2x8GB kit. It is non RGB, yet it utilizes a custom designed aluminum heat spreader for that desirable clean steel-look. The Viper Steel memory modules are also hand tested and validated for most AMD and Intel based systems. Good enough? Let's check it out on the review.
Technical Specifications
Memory
Compatibility
Intel, AMD, XMP 2.0
Type
DDR4
Capacity
16GB, 2x8GB
Frequency
2133MHz, 3200MHz
Timings
15-15-15-36, 16-18-18-36
Voltage
1.20v, 1.35V
Format
NON-ECC, Unbuffered, DIMM
Heatsink Material
Aluminum
Dimensions
Length
135.7mm
Width
7mm
Height
44.4mm
Weight
96g
Packaging and Accessories
ThePatriot Viper Steel comes packed inside your usual memory packaging. It comes with the following documentations and accessories inside:
Design, Layout and Build Quality
The Patriot Viper Steel is a sharp looking memory kit with a brushed aluminum heat-sink on top of the viper-esque detailing. This is a slim looking memory kit and will definitely look great on any build due to its neutral color scheme.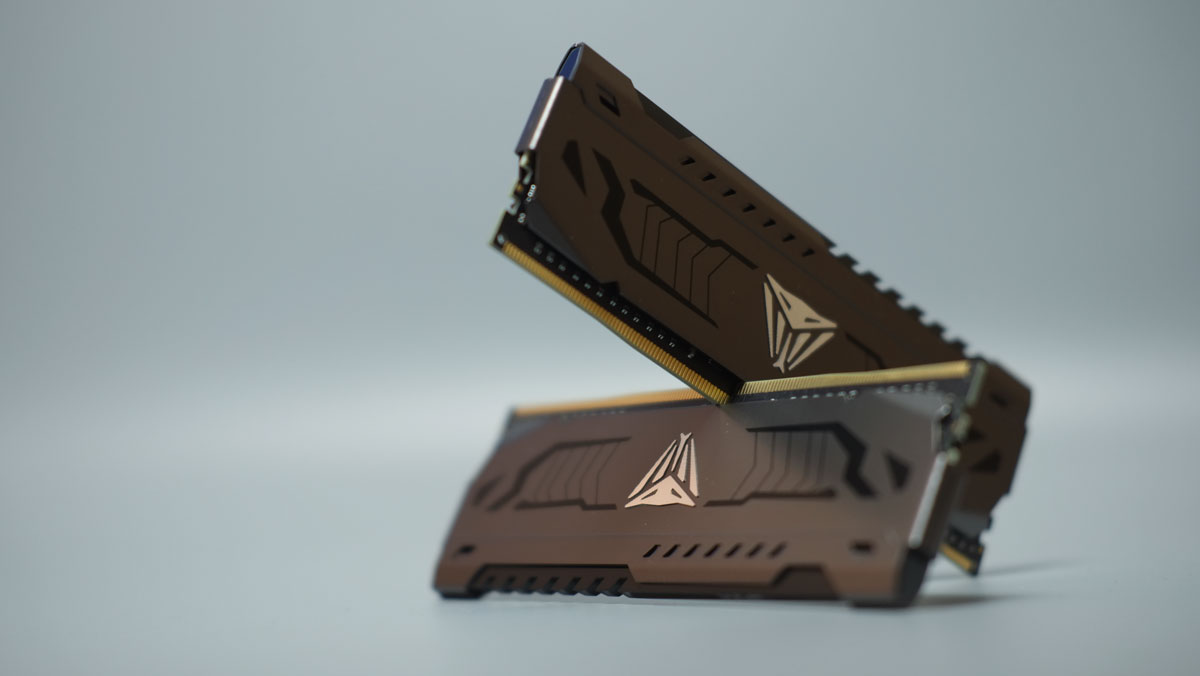 With a height of around 44mm, the Patriot Viper Steel RAM is compatible enough with most tower coolers and certain down draft coolers. Still, I would suggest a smaller memory kit if you're going to build an SFF system for better compatibility.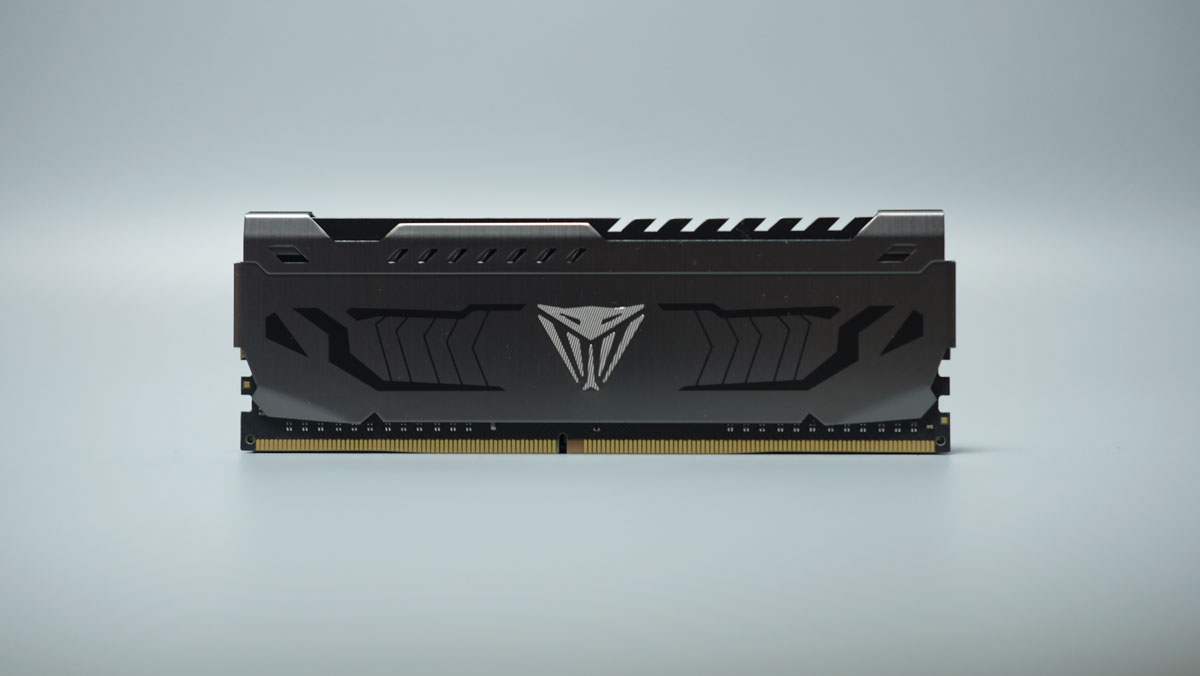 Each Patriot Viper Steel stick features a single rank module with SK Hynix chips embedded on a rather thick layer of matte-black PCB. The necessary information about each modules are located on a sticker.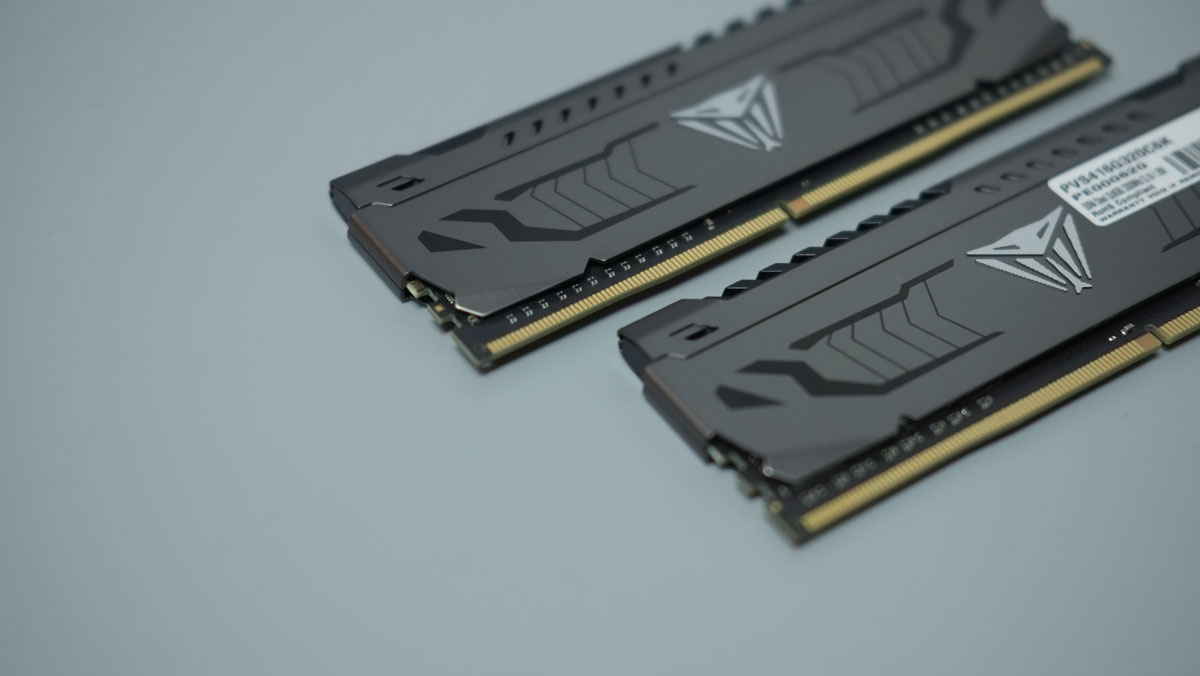 Each memory module also comes with a serrated plastic bar that runs across the top of the RAM. It's no RGB light bar but it is enough to provide a good contrast over the rest of the kit.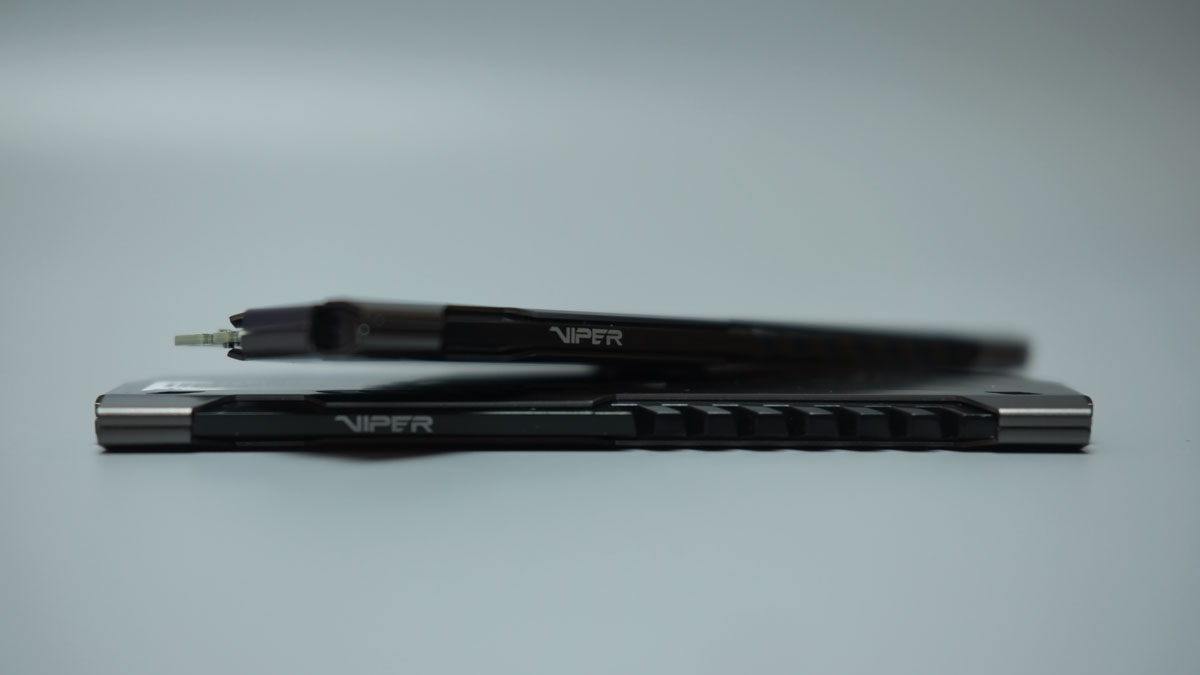 Test Setup and Methodology
The performance of the system shall be evaluated by various benchmarking tools and applications. We are testing this system with the high-performance settings enabled at the OS, with the default UEFI configuration. Background processes such as anti-virus and third-party applications are disabled as well. Outlined below are the applications and benchmark tools for reference:
Test System Specifications
CPU
Intel Core-i5 6600K
Motherboard
ASUS Z170-A
Cooler
Noctua NH-L9i
Memory
ADATA Premier DDR4
GPU
ASUS ROG Strix GTX 1060 OC
Storage
Crucial BX200 480GB
Case
Thermaltake Core P3
PSU
CORSAIR RM850X
Display
DELL U2715H
OS
Microsoft Windows 10 Pro
SYNTHETIC PERFORMANCE:
Super PI – 32M Calculations
wPrime – 32M and 1024M Calculations
AIDA64 Extreme Edition – Memory Benchmark
PRODUCTIVITY PERFORMANCE:
GIMP – 7 MB worth of image processing
HandBrake – 150 MB MP4 to H.264 video encoding
WinRAR – Internal benchmark tool
GAMING PERFORMANCE:
Battlefield 4 – Ultra Settings | V-SYNC off
DIRT: Rally – Ultra Settings | V-SYNC off
The Witcher 3: Wild Hunt – Ultra Settings | HairWorks off | V-SYNC off
The Patriot Viper Steel memory kit we got has a JEDEC standard of 2133MHz with default timings at 14-14-14-35 under 1.20v. At its XMP2.0 settings, the Patriot Viper Steel features a 3200MHz frequency, together with a 16-18-18-36 timing set under 1.35v.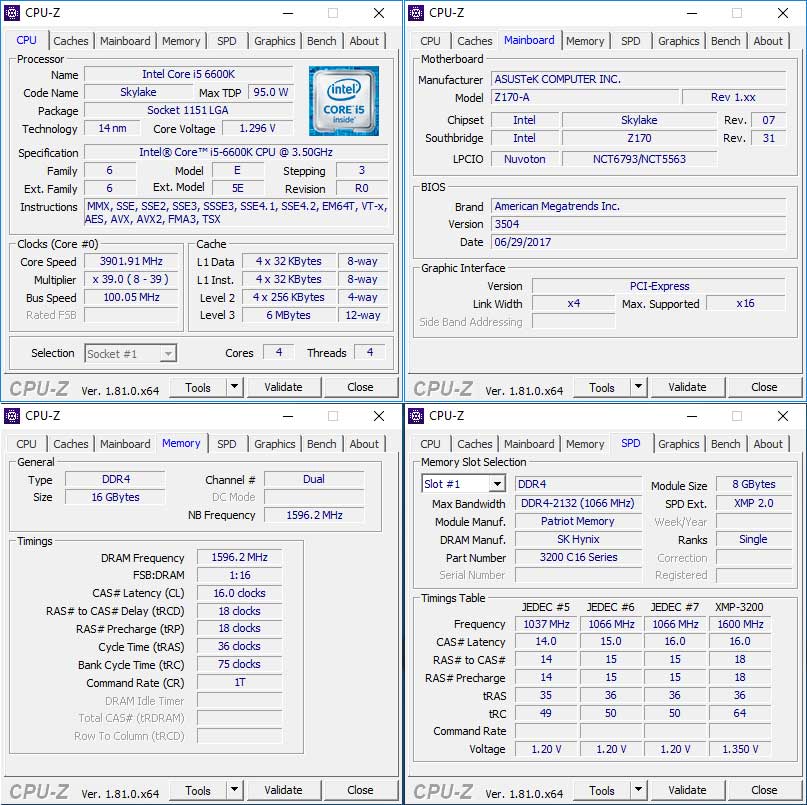 Zero stability issues here with our Z170 based test system. Among the few 3200MHz kits on review to run just fine out of the box. If you have an older generation system, say a Z170 based chipset, then you may add this to your list of possible memory kits to buy.
Synthetic Performance
Super PI is a single-threaded program that calculates pi to a specified number of digits after the decimal point. It is a widely used benchmark within the industry.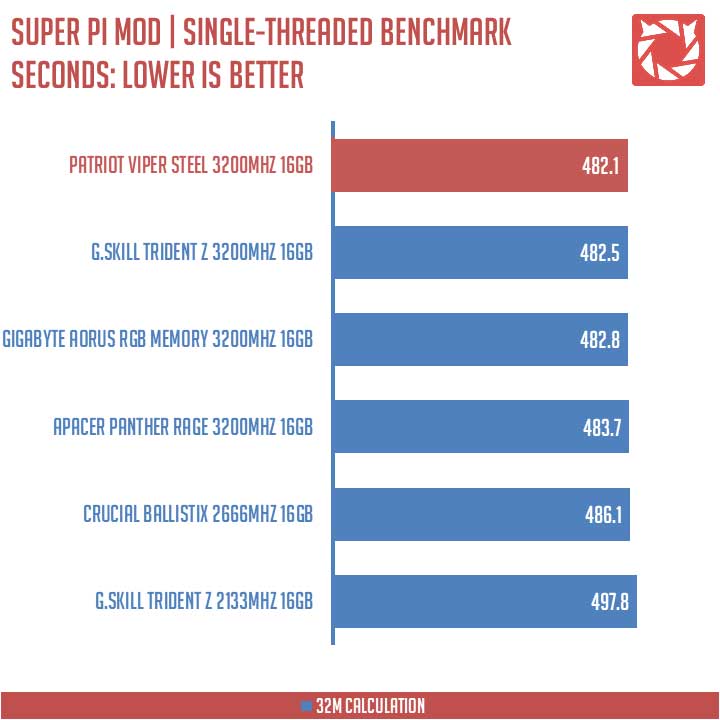 WPrime is a multi-threaded program that calculates a set number of square roots. It verifies the results by squaring them, then compares it with the original numbers.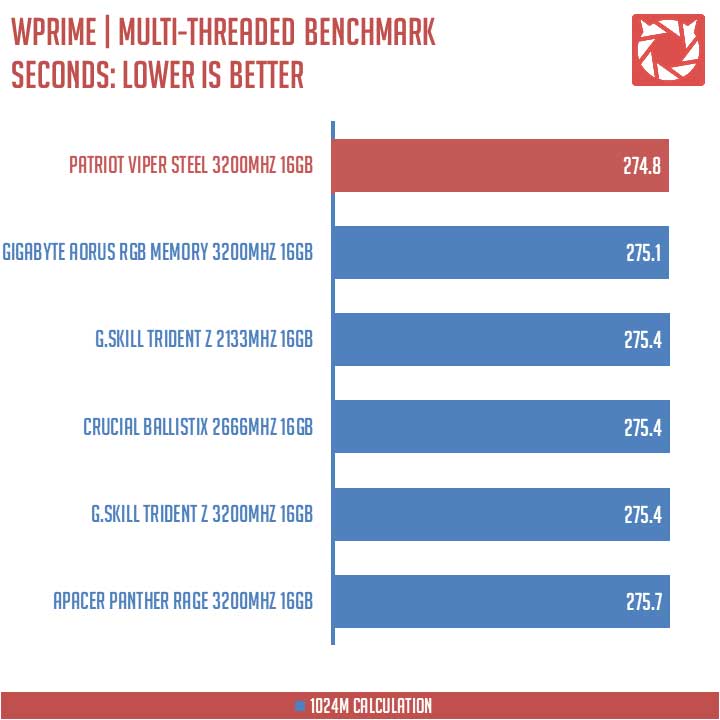 The AIDA64 Memory Benchmark measure the data transfer bandwidth and latency of the system memory.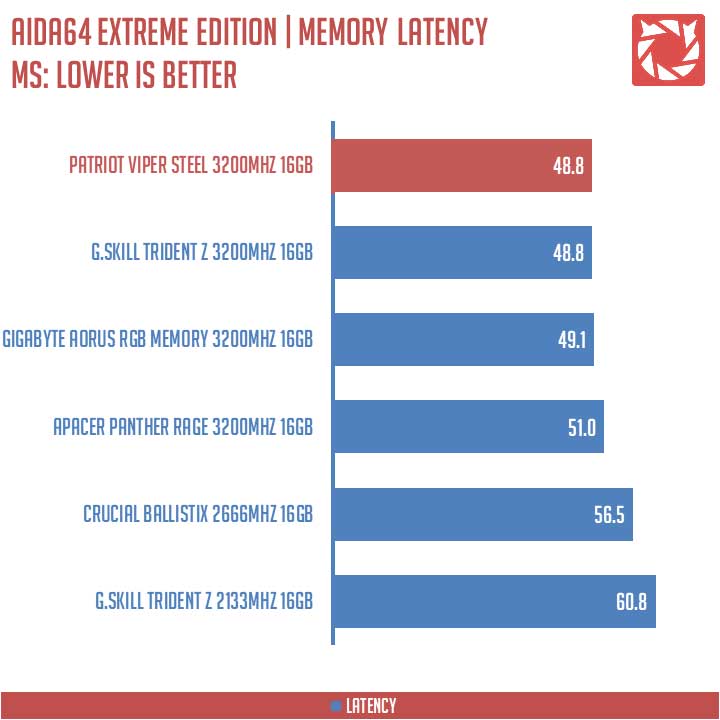 The Patriot Viper Steel showed us excellent results on all synthetic benchmarks. It is the best 3200MHz yet we've tested as far as these tests goes.
Productivity Performance
GIMP or GNU Image Manipulation Program, is a free and open-source image editing tool. A 7 MB worth of images is be processed and converted to gauge the system performance.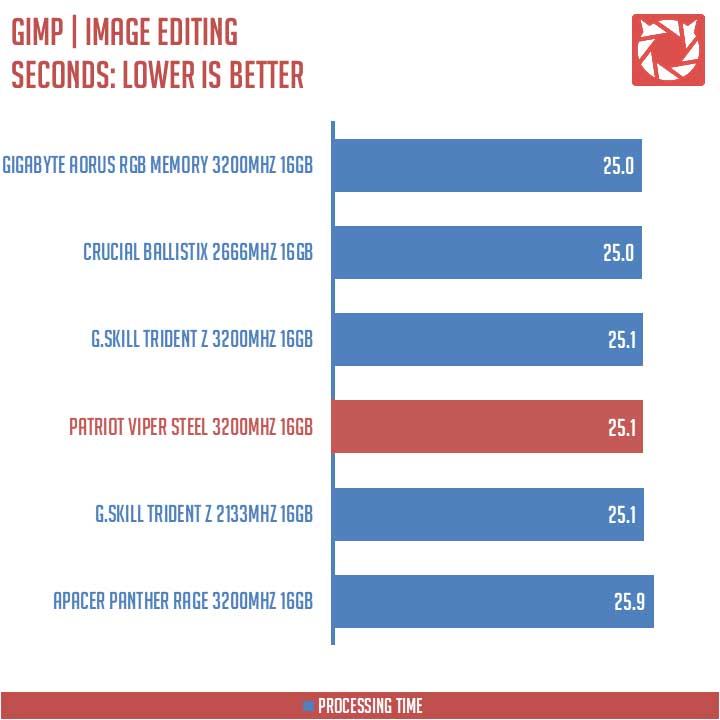 HandBrake is a free video encoding tool that supports a wide variety of media codecs. A 150MB worth MP4 video is converted using the H.264 codec to gauge the system performance.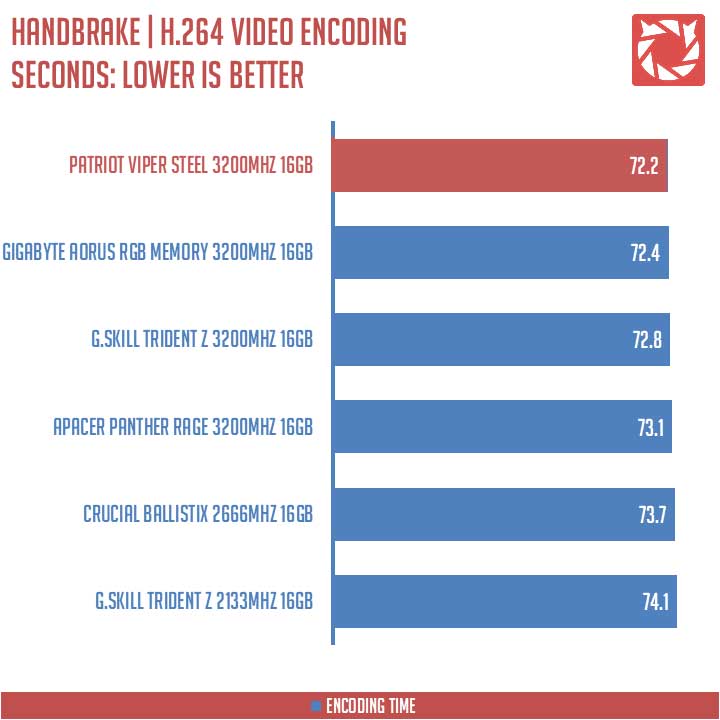 WinRAR is a file archive utility that can create, view and unpack numerous archive file formats. The software's built in benchmark tool is utilized to gauge the system performance.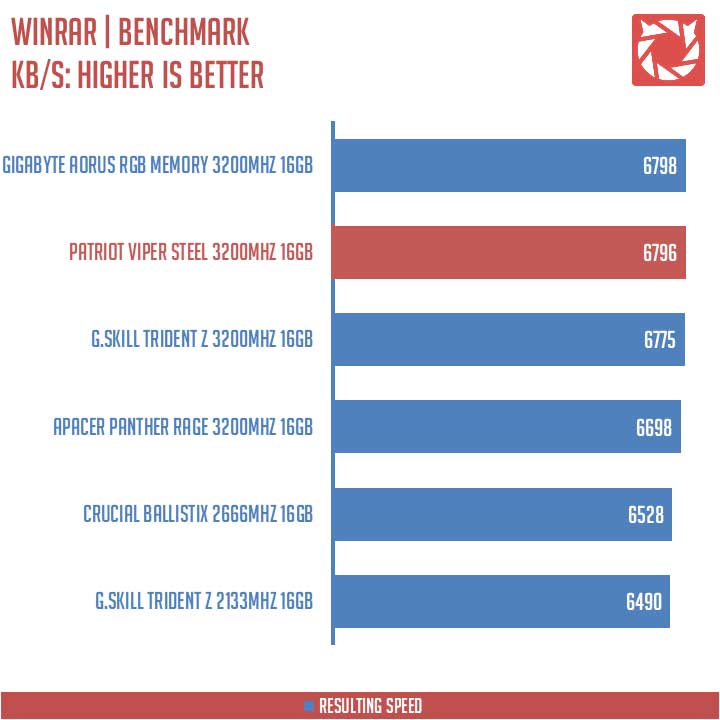 On our real world benchmarks, the Patriot Viper Steel memory kit is among the fastest we've got. Pretty much almost identical to the rest of the 3200MHz gang.
Gaming Performance
Battlefield 4 is Electronic Art's popular First Person Shooter, running on the Frostbite 3 game engine developed by DICE. It utilizes the DirectX 11 and the Mantle API.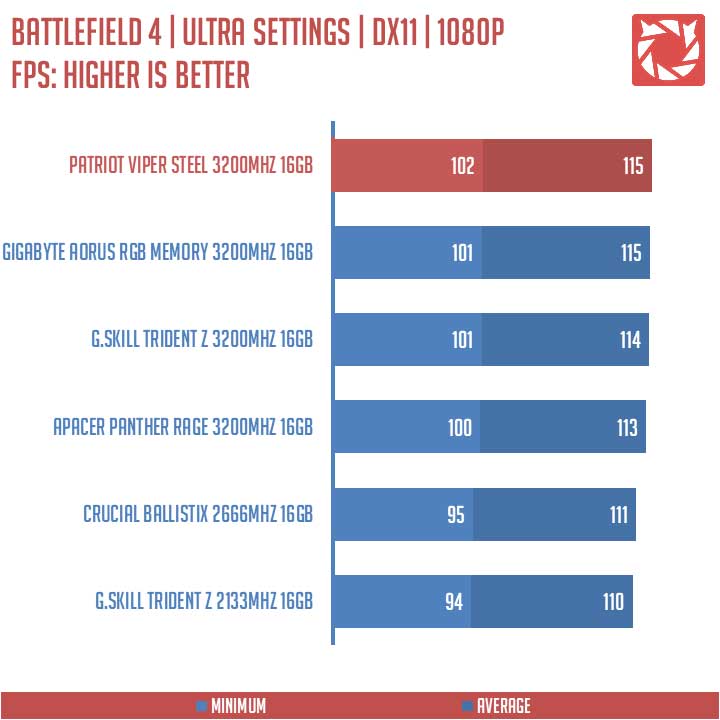 DIRT: Rally is CODEMASTER's take on the rally racing game genre. It utilizes the EGO game engine with support for the DirectX 11 API.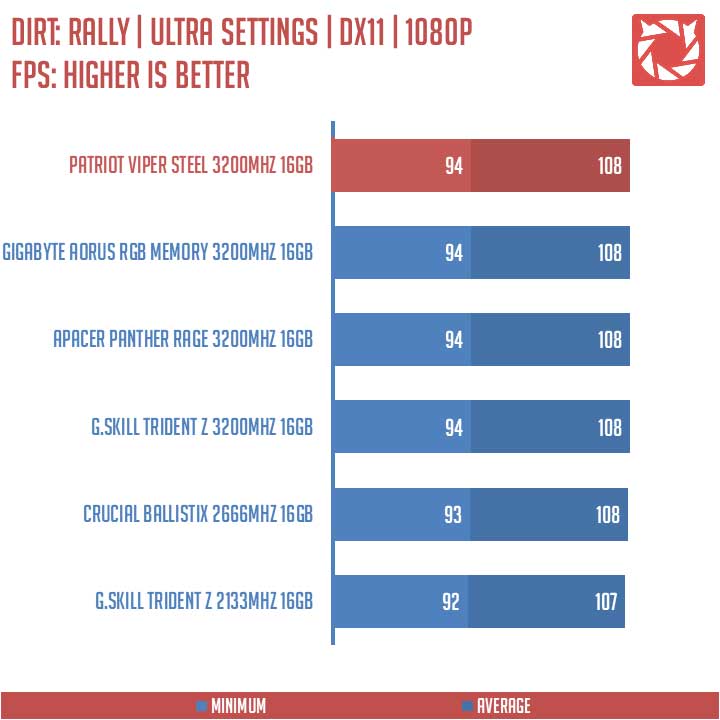 The Witcher 3: Wild Hunt is CDProjekt RED's award-winning Action Adventure RPG. The Witcher 3 utilizes the REDengine 3 with DirectX 11 support.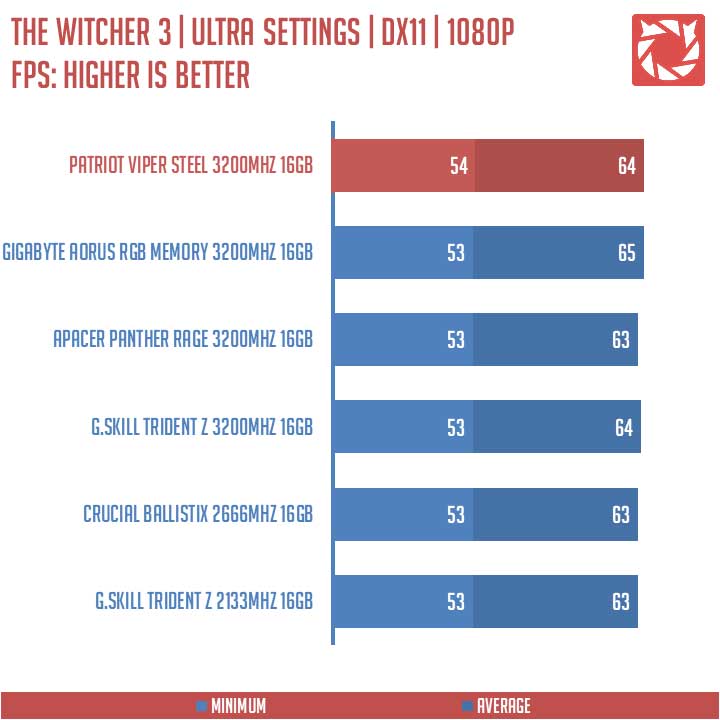 Gaming wise, the Patriot Viper Steel is pretty much the best 3200MHz kit we've got even though its performance difference compared to others is not really tangible in real world gaming scenarios.
Final Thoughts
The Patriot Viper Steel is one of those set and forget it memory kits. Well, most memory kits are – unless you're a bloke with an aging test system. Just like dear me. Note that your mileage will still vary though so I cannot fully vouch this memory's compatibility. So far, it ran great on my B450, X370, Z270 and Z170 chipset based systems.
As for performance, this is one of the fastest 3200MHz kits we've tested so far. It won over at the synthetics, traded blows with the last year's champion at real world benchmarks and is just the fastest on gaming. Even though I must say at gaming, the performance difference is hardly any different at all compared to the rest.
Price wise, you are looking at a 3200MHz memory kit with a local price of 5000 Pesos at PCHub, or about $79.99 USD at Amazon. A good value, considering the competition has around 500-1000 Pesos price offset on their dual 3200MHz kit models. It's a bit tall though – something that may put off some system builders who requires every bit of clearance they could have.
Overall, Patriot did an awesome job with the Viper Steel this side of 2019. It offers excellent performance, neutral design and value on top of its LED lit facade. A memory kit that does what it needs to without the RGB drama.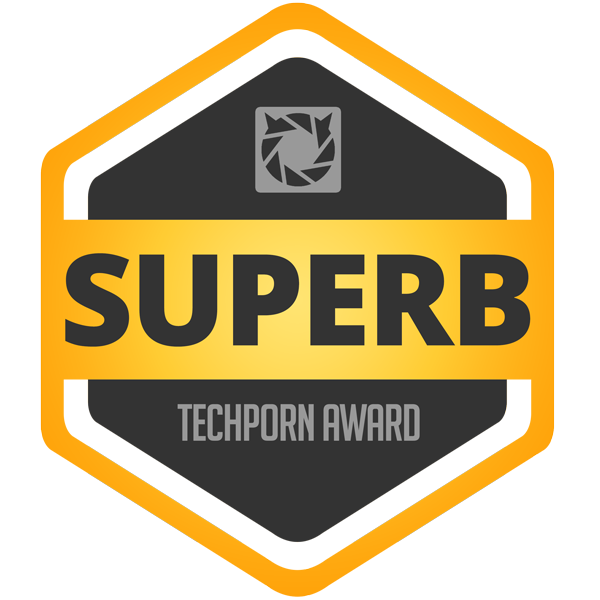 Patriot Viper Steel RAM 3200MHZ 2x8GB Memory Kit
Performance -

9/10

Build Quality -

8/10

Features -

7/10

Design -

8/10

Value -

9/10
Summary
Overall, Patriot did an awesome job with the Viper Steel this side of 2019. It offers excellent performance, neutral design and value on top of its non-RGB lit facade. A memory kit that does what it needs to do without the RGB drama.
Pros
Excellent performance
Great build quality
Great value for money
Sleek design
Compatibility