On this review, we are taking a good look at the SecureUSB BT flash drive. A storage device built from the ground up by SecureData Inc. An award winning data security company based on Los Angles, California, USA. The SecureUSB BT is by no means your simple flash drive, offering robust security features both inside and out for your precious data. 
The SecureData SecureUSB BT we got is the 16GB variant, featuring a price point of $119 USD. While the flash drive is also available at larger capacities, it shares the same amount of features across the different models. That includes a federal standard of FIPS 140-2 at Level-3. Basically, the storage device is required to be physically tamper proof, some sort of identity-based authentication and physical or logical separation between the interfaces inside. That's on top of the pending IP57 certification. Basically, this should be a tank.
TECHNICAL SPECIFICATIONS:
| | |
| --- | --- |
| Capacity | 8 GB – 64 GB |
| Data transfer speed | Up to 130 MB per second read. Up to 43MB per second write |
| Security Module Validation | FIPS 140-2 Level-3 |
| Authentication method | Wireless (Bluetooth) – Mobile App |
| Authentication mode | User Authentication via mobile phone/DataLock® app – iOS/Android (TouchID, FaceID for Apple only) |
| Interface | USB 3.0/3.1 |
| Cryptographic Processes | AES-XTS 256 Bit Hardware Encryption (OS independent) |
| Data Protection | Real time military grade AES – XTS 256-bit Full-Disk |
| Waterproof | IP57 (Certification Pending) |
| Tamper-proof | FIPS 140-2 Level 3 Compliant Design |
| Brute-force defence | Data destruction after 10 consecutive incorrect PIN entry attempts |
| Immune to Bad USB |  Yes, no firware updates allowed |
| Roles/Permissions | 1 Admin / 1 User |
| Read Only Mode | Yes |
| Inactivity Autolock | Yes, predefined times between 1 and 60 minutes |
| Step Away AutoLock | Yes, (drive will disappear from the File Explorer/Finder) when the iOS/Android device is moved about 3m away from the Drive for longer than 5 seconds. |
| OS Compatability | Microsoft, iOS, Android, Linux, Chrome, Thin Clients, Embedded Systems (No software or drivers  needed) |
| Regulatory Approvals | FCC, CE |
| Warranty | 3 Year (limited) |
| Remote Managed | Software Free – Subscription based service via Web. (Geofencing, Remote Data Wipe, TimeFencing, Password Reset & more) |
PACKAGING AND ACCESSORIES:
The packaging is a simple blister pack yet it is brimming with information about the drive's capabilities. Such a basic packaging solution with tons of information out of the box.
Bundle is not so much, but we get a pamphlet full of information on how to use the flash drive.
DESIGN, LAYOUT AND CONNECTIVITY:
The SecureUSB BT features a sleek 2 incher foot print, featuring an aluminum body without any hint of anything more than practicality. This is again, a FIPS 140-2 Level-3 compliant device, featuring a tamper proof design. Basically, the device is filled with epoxy so when someone decided to tear it apart, they'll literally tear the drive apart – rendering its components useless.
The SecureUSB BT is also IP57 compliant. That means it is dust proof to an extent and is able to withstand a meter of submersion. Helping the flash drive to achieve that feat is a rather super tight seal when the aluminum cover is in place. There's also a status LED to let you know if the device is locked, unlocked, connected via Bluetooth or if it is transferring data.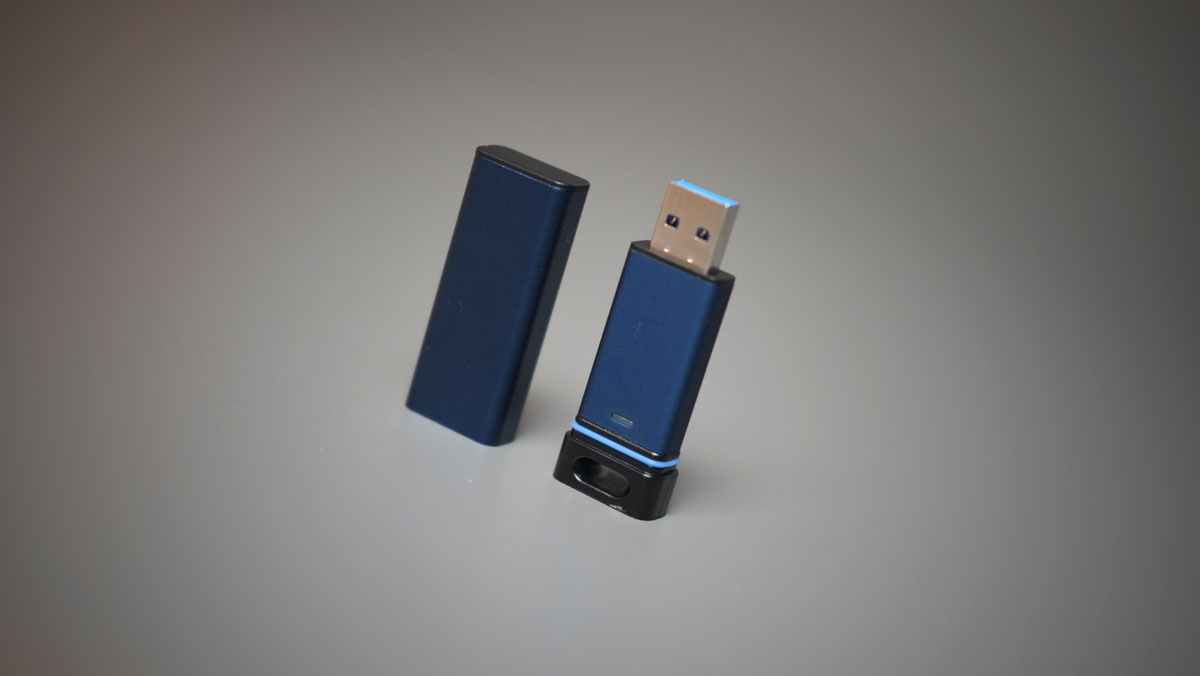 There are loads of information at the other side of the device as well and these are all important into keeping the flash drive secured. The device ID for example is etched on the USB port, which is important for Bluetooth pairing. The QR code on the other hand will point you to the DataLock App installer. An integral part of this device's interlocking features.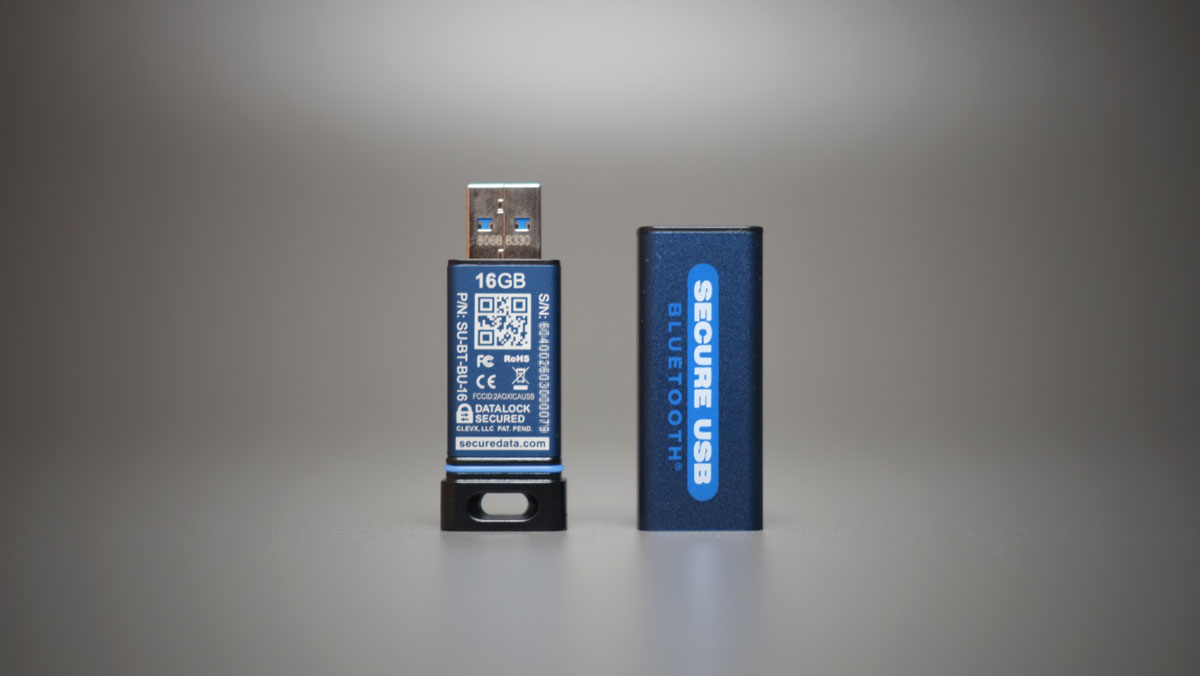 The SecureUSB BT features a USB 3.1 Gen1 interface. That said, it is basically a USB 3.0 device capable of reaching 130 MB/s read and 43 MB/s write speeds.
TEST SETUP AND METHODOLOGY:
Our storage device reviews revolves around the use of various storage benchmark tools and real world benchmarks. Our setup fills up the test drive to at least 50% of its capacity. This is done so to negate the FOB (Fresh Out the Box) performance of the drive; ensuring that we are testing the drive near its expected usage. The drive is formatted under NTFS and is attached to its natively supported interface. This is to ensure the system is at its optimal testing state.
TEST SYSTEM SPECIFICATIONS
PROCESSOR
Intel Core-i5 6600K
MOTHERBOARD
ASUS Z170-A
COOLER
Cryorig C1 Top Flow
MEMORY
Crucial Ballistix Tactical DDR4 @ 2666MHz 2x4GB
GRAPHICS
ASUS GTX 1060 STRIX OC 6GB
STORAGE 
Crucial BX200 480GB
POWER
CORSAIR RM850X 850W
DISPLAY
DELL U2715H
OS
Microsoft Windows 10 Pro
THROUGHPUT PERFORMANCE:
Throughput performance measured in MB/s is measured with CrystalDiskMark. First up on the test is the Sequential read and write performance, measured with a block size of 1MB and a 1GB transfer size. This test is more in line with large file transfers; similar to watching a movie.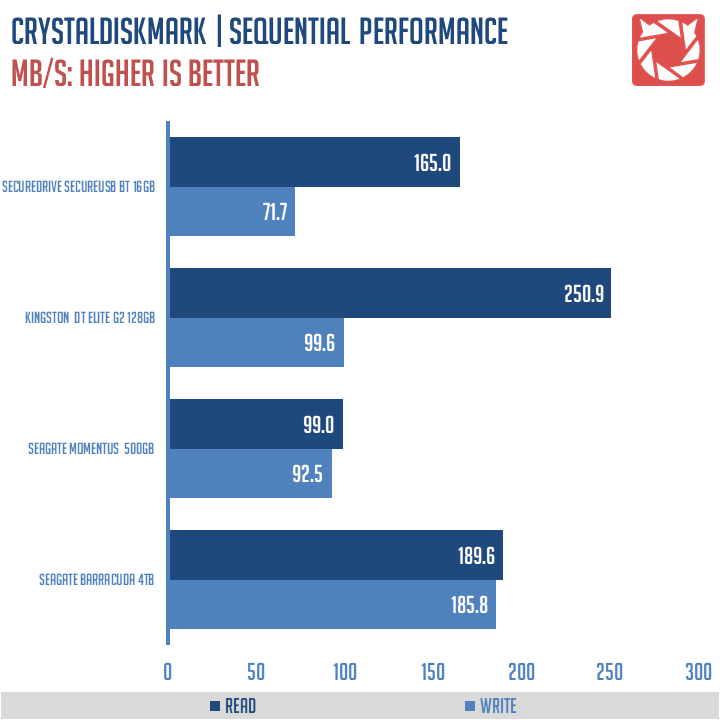 The second one is the Random 4K read and write performance, measured with a random block size of 4KB and a 1GB transfer size. This test is more in line with small file transfers; similar to transferring installation files and reading game data.
Sequential transfers rate at its best is good enough for both read and write – able to achieve higher speeds over the drive's specifications. Random 4K performance on the other hand is decent enough, although I'm not sure how this will translate with benchmarks featuring higher capacity test data.
IOPS PERFORMANCE:
Input/Output Operations per Second is is measured with AS SSD. The Random 4K-64Thrd read and write benchmark is used for this test. Performance is measured with a random block size of 4KB, a 1GB transfer size and 64-thread IO requests. This tests the storage medium's ability to use Native Command Queuing (NCQ) at higher Queue Depth. A Useful metric for server side applications.
IOPS performance shouldn't be your major concern on any thumb drive yet this one just excels with a performance even better than all the tested devices. Not SSD figures fast but it is really fast for a flash drive.
ACCESS TIME PERFORMANCE:
The read and write latency is measured with AS SSD using a 512KB block size. Access Time is just as important as the throughput and IOPS performance of the drive; allowing us to peak into how fast or slow a storage medium can access a given data. Latency is measured in milliseconds.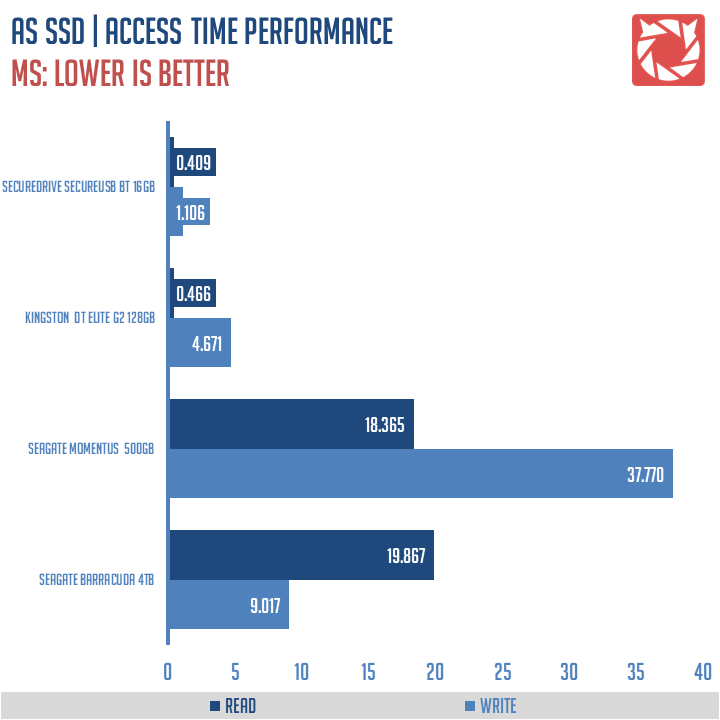 Read latency is recorded at 0.409ms, while the write latency is at 1.106ms. This is an excellent access time performance for a thumb drive.
FILE COPY PERFORMANCE:
Our real world performance test consists of 3 file folders containing 6GB worth of text files, images and videos each. The files are copied within the drive using TeraCopy to evaluate the storage medium's performance. File copy performance is measured in seconds.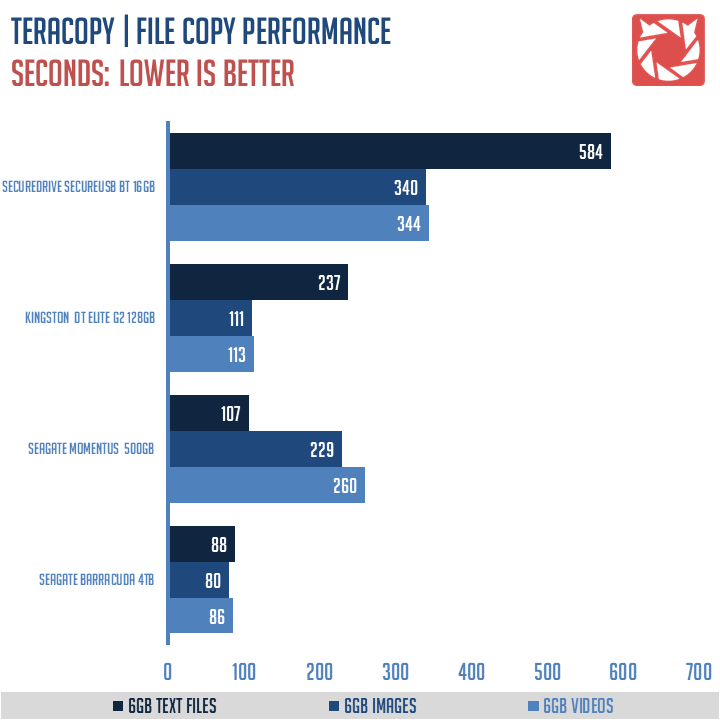 The SecureUSB BT featured a rather stale real world file copy performance. It is the slowest on this test, possibly due to our model's 16GB capacity, plus the encryption itself.
SOFTWARE, LIGHTING AND SPECIAL FEATURES:
The SecureData SecureUSB BT is not designed for speed. Rather, the flash drive is built with security in mind. There are 2 ways to use it, all requiring you to download SecureData's applications via your smart phone. First off, you could use it with the DataLock application itself. The most basic one, requiring you to simply pair the SecureUSB BT via Bluetooth. With this, you could use most of the SecureUSB's features including Touch ID, FaceID, Step-away AutoLock, Read Only mode, Remotely Reset or even fully wipe the drive. It is important to note that every time you want to use the drive, connecting it via Bluetooth and entering a password is a must. The TouchID and FaceID features only works with Apple devices.
Next up would be the DataLock Admin and the DataLock Managed. Both works hand in hand with the $25 USD value DataLock Remote Management console. This is a must if you really want to maximize the drive's potential.
Technically, Remote Management is the same with the DataLock but with value added features such as geo-fencing, time-fencing, usage logging and many more. Both DataLock Admin and the DataLock Managed are required for admin and user access features. The drive is also required to be re-initiated or formatted for this setup.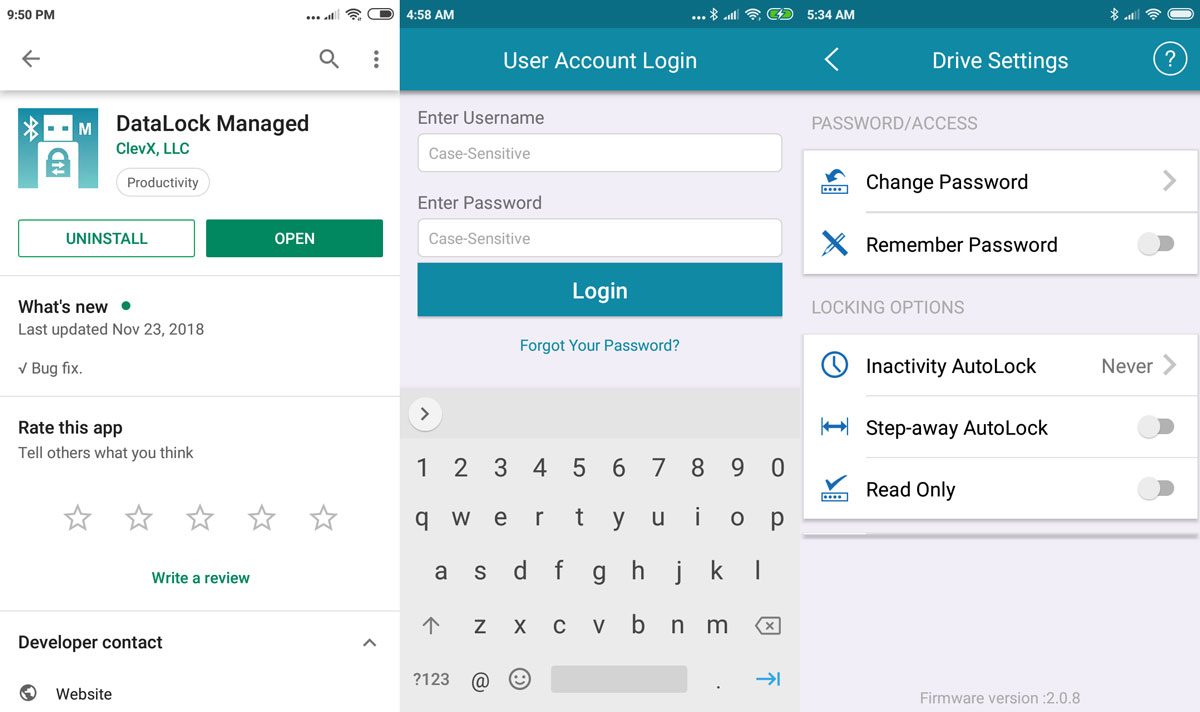 Geo-fencing requires the system to have its location features turned on; otherwise, the default coordinates are used. Time-fencing is also a powerful feature built within the web console that allows you to set a time frame a user could use the drive.
As said earlier, the Remote Management console also allows for a detailed usage logging feature. This of course includes the user who accessed the drive, the date and even the location where it has been activated.
Now the SecureUSB BT comes with two extra softwares. That's the USBCloud and DriveSecurity. USBCloud allows the user to backup anything they put onto the drive, while the DriveSecuirity is a self contained antivirus powered by ESET's Nod32. Both products included within the drive are trial versions and could be activated for a small sum.
While you could pay a sum to use the Remote Management's fencing features, users could still access the remote unlock and remote wipe feature without any extra charges.
FINAL THOUGHTS:
The SecureData SecureUSB BT with 16GB of capacity is a flash drive with a $119 MSRP. It is a flash drive intended to function data protection in mind and boy it did not missed its mark.
Performance wise, we are looking at a thumb drive with a decent sequential performance paired with an excellent IOPS performance – yet it stumbles with larger files due to its capacity. Had this been a larger capacity model and without encryption, we could be looking at better results. That said, I am not really interested on seeing better performance for such a low capacity drive. This drive is all about protection with a decent starting price tag.
What is interesting though is the flash drive's ability to feature a 360º of protection with a number of user authentication features in tow. All user data, PINs, parameters and encryption keys are also always encrypted on top of the tamper proof design. Let's also not forget the drive's IP57 feature. Essentially, the SecureUSB BT is military grade stuff in side and out.
The SecureData SecureUSB is an excellent flash drive for those who require top of the line levels of security while on the move. A storage device that any private and public sector professional would love to have.
DECENT SEQUENTIAL PERFORMANCE
EXCELLENT IOPS PERFORMANCE
GOOD ACCESS TIME PERFORMANCE
IP57, FIPS COMPLIANT
AUTHENTICATION FEATURES
3 YEAR WARRANTY
REMOTE CONSOLE CAPABLE
GEO-FENCING, TIME-FENCING
ZERO BS DESIGN

FILE COPY PERFORMANCE
REQUIRES SUBSCRIPTION FEATURES TO MAXIMIZE POTENTIAL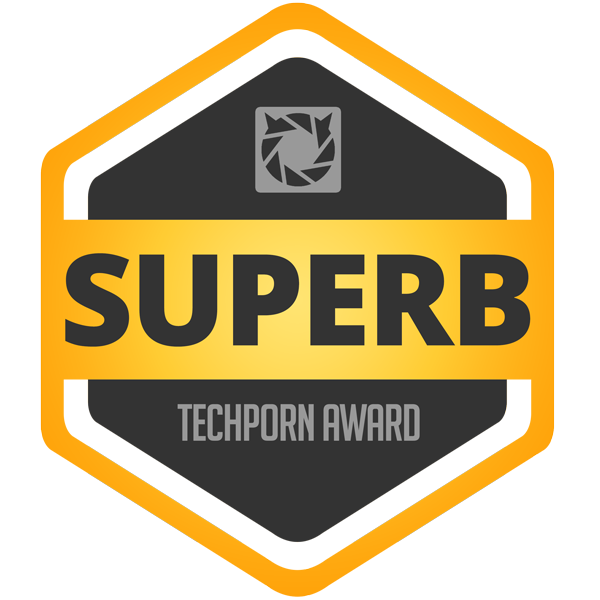 SecureData SecureUSB BT USB Flash Drive Review
PERFORMANCE -

8/10

BUILD QUALITY -

9/10

FEATURES -

9/10

AESTHETICS -

8/10

VALUE -

8/10
Summary
The SecureData SecureUSB is an excellent flash drive for those who require top of the line levels of security while on the move. A storage device that any private and public sector professional would love to have.