NVIDIA released a new GeForce Game Ready Driver for Cyberpunk 2077: Phantom Liberty which gets GeForce Gamers Game Ready for the debut of NVIDIA DLSS 3.5 with Ray Reconstruction technology.
This is also the driver to use for gamers playing Party Animals, Warhaven, and Witchfire.
DLSS 3.5 Debuts on September 21
On September 21, Cyberpunk 2077's 2.0 update launches with tons of enhancements, including DLSS 3.5. In Cyberpunk 2077's Ray Tracing: Overdrive Mode, DLSS 3.5's new Ray Reconstruction technique improves the quality and clarity of reflections, global illumination is even more accurate, and lighting is more dynamically responsive, for an even better, more immersive, more realistic experience.
GeForce RTX 40 Series users can benefit from all the performance and image quality enhancements that DLSS 3.5 has to offer – including performance-multiplying Frame Generation for the fastest frame rates – in the demanding Ray Tracing: Overdrive Mode.
Cyberpunk 2077: Phantom Liberty coming September 26
On September 26, Cyberpunk 2077: Phantom Liberty launches with full ray tracing and DLSS 3.5 with Ray Reconstruction.
Phantom Liberty is a new spy-thriller adventure for Cyberpunk 2077. When the orbital shuttle of the President of the New United States of America is shot down over the deadliest district of Night City, there's only one person who can save her — you. Become V, a cyberpunk for hire, and dive deep into a tangled web of espionage and political intrigue, unravelling a story that connects the highest echelons of power with the brutal world of black-market mercenaries.
GeForce RTX Delivers 3X to 4.9X Performance
Thanks to DLSS 3.5 and the leading full ray tracing performance of GeForce RTX 40 Series, the definitive way to experience Cyberpunk 2077: Phantom Liberty is on a GeForce RTX 40 Series graphics card, PC or laptop.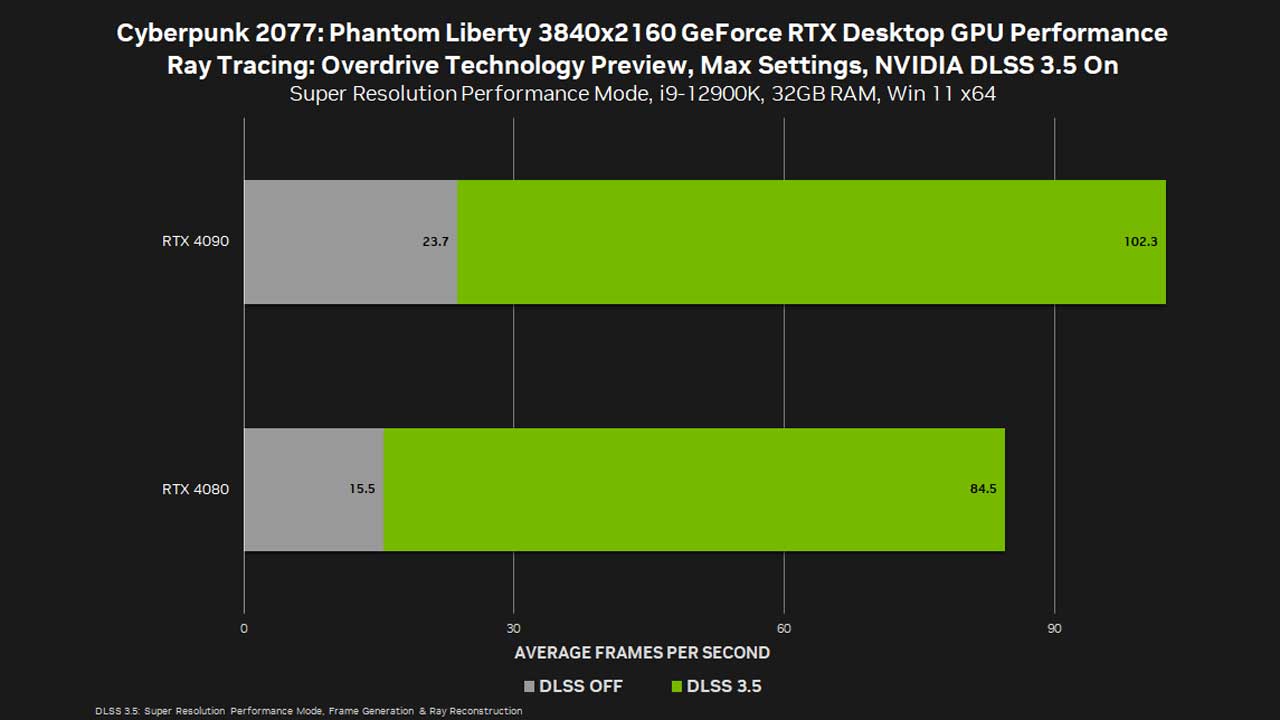 Get the ultimate Cyberpunk 2077: Phantom Liberty experience using the Ray Tracing: Overdrive Mode, at over 60 FPS, with GeForce RTX 40 Series graphics cards. At 4K, with full ray tracing enabled, along with max settings, NVIDIA DLSS 3.5 using Frame Generation, Ray Reconstruction, Reflex, and Super Resolution is 4.9X faster on average than native 4K rendering, while also looking substantially more realistic and immersive:
At 2560×1440, DLSS 3.5 multiplies performance by 3X average on average, enabling 60 FPS+ gameplay on the GeForce RTX 4070 and up:
At 1920×1080, all GeForce RTX 40 Series gamers can experience Cyberpunk 2077: Phantom Liberty at the highest levels of detail thanks to a 3X average performance multiplication courtesy of Frame Generation, Super Resolution and Ray Reconstruction:
More Game Ready Goodies and Upgrades
This is the driver to use for gamers playing:
Party Animals with DLSS 2 and Reflex
Warhaven with DLSS 3 and Reflex
Witchfire with DLSS 3 and Reflex