Kingston's HyperX Savage Receives SSD Treatment!
INTRODUCTION:
Kingston appears to never stop releasing new waves of products, as the company just launched the HyperX Savage SSD – Finally completing the SSD lineup of Kingston joining the ranks of the HyperX Fury, & Predator.
The HyperX Savage is not just an SSD dabbed in a nice coating, as it features a new flash controller courtesy of Phison Electronics Corporation, specifically the Phison S10 controller which is powered by a  quad-core CPU, and with a maximum of 8 Channels for capacity freaks (up to 2TB max). There is more to say about the Phison S10, but us talk about it later and focus on the 240 GB variant we got, which boasts 560MB/s Read and 530MB/s Write compressed data transfer rates and with a 520MB/s Read and 510MB/s Write incompressible data transfer rate which is sweet. The HyperX Savage we got is also the "With Installation Kit" variant which is geared towards consumers who wants to upgrade their PCs or notebooks with SSDs.

FEATURES & SPECIFICATIONS: CLICK HERE
Performance — incredible speeds for enhanced productivity
Unique design — stunning red casing to give an edge to the latest PC hardware
Slim — 7mm thickness to fit in most desktops and notebooks
Fast and easy migration — all-in-one kit available with premium HyperX accessories, including a handy multi-kit screwdriver and USB 3.0 enclosure for easy installation
Guaranteed — three-year warranty and free technical support
THE PRESENTATION:
This, being the "Upgrade Kit / With Installation Kit" variant, features a well endowed packaging that speaks of premium goodness even for a box. Up front, you'll find the HyperX Savage itself, its capacity, and the 3 year warranty seal which is always a good indication that you're in good hands.
The back is full of multi-lingual description about the product, along with a graphical representation of what's inside the box.
Once the packaging is opened up, the HyperX Savage SSD will greet you immediately in a premium presentation which is actually pretty cool.
The Upgrade Kit's packaging might be small, but Kingston sure did packed it with an abundant bundle of accessories to get you started. There's a set of screws, a 5.25″ bay bracket in Black, a spacer for 9.5mm notebook platforms, a set of screw heads hidden within the pen-like screwdriver, a HyperX case badge, a free copy of Acronis' Tru Image HD via an activation code, a quick start pamphlet, and a black SATAIII cable.
Kingston went for the extra mile by including an easy to use USB 3.0 enclosure complete with its own USB 3.0 cable. It's easy to use, looks really good, and is a welcome sight to the overall bundle. Kingston got you covered if you even want to use an SSD externally.
THE KINGSTON HYPERX SAVAGE SSD:
The HyperX Savage's 2.5″ casing is a combination of a matte black, blood red, and spin textured aluminum which  looks cool and refreshing – That should appeal a lot to gamers. I could see some builders utilizing this SSD as a decoration on their windowed cases.
The back is bland, with only the screw holes, I/O ports, and stickers present. There's  nothing much to discuss here.
The HyperX Savage SSD follows the 7mm SSD Z-Height standard which should enable the user to fit it on thin notebooks that doesn't have enough space for 9.5mm Z-Height 2.5″ drives.
THE PHISON S10 / PS3110-S10:
Gone are the days of the SandForce Flash Controller, or so to speak, as Kingston went ahead and took Phison's PS3110-S10 Flash Memory Controller for the HyperX Savage SSD. Basically, what's inside the gaming oriented casing is a set of Toshiba's 19nm A19 64Gbit MLC NAND flashes in 16 x 16GB packages totaling at 256GB of raw capacity, controlled by the Phison S10's Quad Core dedicated for flash management to achieve sustainable performance even when the disk space is low.
The Phison S10 with the Toshiba A19 MLC NAND is rated to feature a minimum of 550 MB/s Seq. Read, and 340 MB/s Seq. Write performance on the smallest capacity available. The 240GB variant is rated to feature a much higher Seq. Write performance, which is quite nice.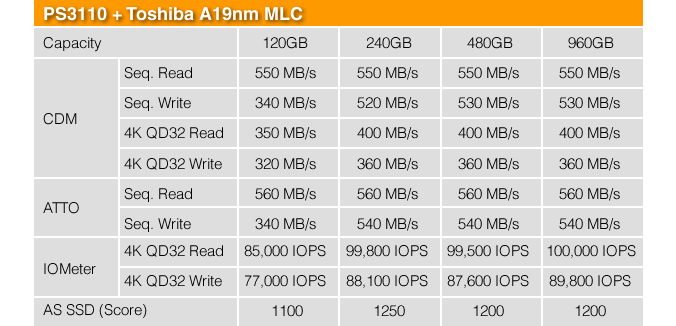 SLC, MLC & TLC: KNOW THE DIFFERENCE
Before we start pounding this thing with our tests, let us briefly discuss what is SLC, MLC, and TLC all about. You know, because you might need to know them in the near future. First thing's first. SSDs and most non mechanical storage devices operates at a certain level of element. We call it the Level Cell. There are Single, Multiple, and Triple Level Cells. Thus the acronyms SLC, MLC, and TLC. All of them have particular highs and lows depending on usage / scenarios. So, a certain level cell might be beneficial on some areas.
SLC – Stands for Single Level Cell. Stores in two possible states per cell. Advantage of SLC based storage products are the fast Write Speeds, data reliability, and power consumption. It costs more per GB compared to MLCs so they are better suited for users who needs exceptional performance regardless of the price. Think of it as a domino with two dots.
MLC – Stands for Multi Level Cell. Stores in four possible states per cell. Advantage of MLC based storage products are the improved data storage densities. It costs less than an SLC too, but at the expense of a bit higher error rate due to its nature. Think of it as a domino with four dots.
TLC – Stands for Triple Level Cell. Basically an MLC on steroids. It stores in eight possible states per cell. Twice that much compared to MLC so its denser and costs less per GB. Downside is an amplified error rate compared to MLC. Think of it as a domino with 8 dots. 8 freakin' dots.
The Kingston HyperX SAVAGE 240GB is an MLC based SSD. Meaning,  it's sandwiched between the theoretically faster SLC and the one with the best price per GB. It also features the venerable Phison S10 Flash Controller. The HyperX Fury 240GB has a maximum of 306TB Write Endurance.
TEST SYSTEM & PROCEDURES:
Storage devices, unlike motherboards, revolves around the use of various storage benchmarking tools to test their performance. We've got loads of them in the past, but we toned down the synthetic benchmarking tools to ATTO, and Crystal Disk Mark. It is important to note that we have a pre-made Test OS for the storage benchmarks and we are always aiming to fill up the drive to 50% of its capacity. This is to ensure that we are testing the drive according to its real world usage along with a very small margin of error.
The Kingston HyperX Savage with 240GB flavor has a total capacity of approximately 240 Billion bytes, translated roughly at 223GB of available space to play with. The test system's specifications are as follows:
| | |
| --- | --- |
| CPU | Intel Core i5 4670K |
| MOTHERBOARD | ASUS Z97-PRO WiFi AC |
| CPU COOLER | Cooler Master Seidon 120XL |
| MEMORY | ADATA XPG V2 @2400MHz 16GB |
| GRAPHICS CARD | ZOTAC GTX 970 4GB |
| INT. STORAGE | Kingston HyperX Savage SSD 240GB |
| PSU | Cooler Master Silent Pro Hybrid 1300W |
| DISPLAY | DELL S2340L 23″ IPS |
| OS | Microsoft Windows 7 Ultimate x64 SP1 (Updated) |
| SOUND CARD | Realtek ALC1150 |
| EXT. STORAGE | 2TB Western Digital My Passport |
MANLY THANKS TO KINGSTON, ASUS, & WD FOR PROVIDING THE TEST SYSTEM COMPONENTS
SYNTHETIC PERFORMANCE:
First up in the benchies is ATTO Tech's Disk Benchmark. It basically measures the system's storage performance with various transfer sizes and test lengths for reads and writes. An industry standard.
Next up is the venerable Crystal Disk Mark. This storage benchmark software aims to measure sequential, and random read/write speeds of storage devices. Check out the author's page HERE.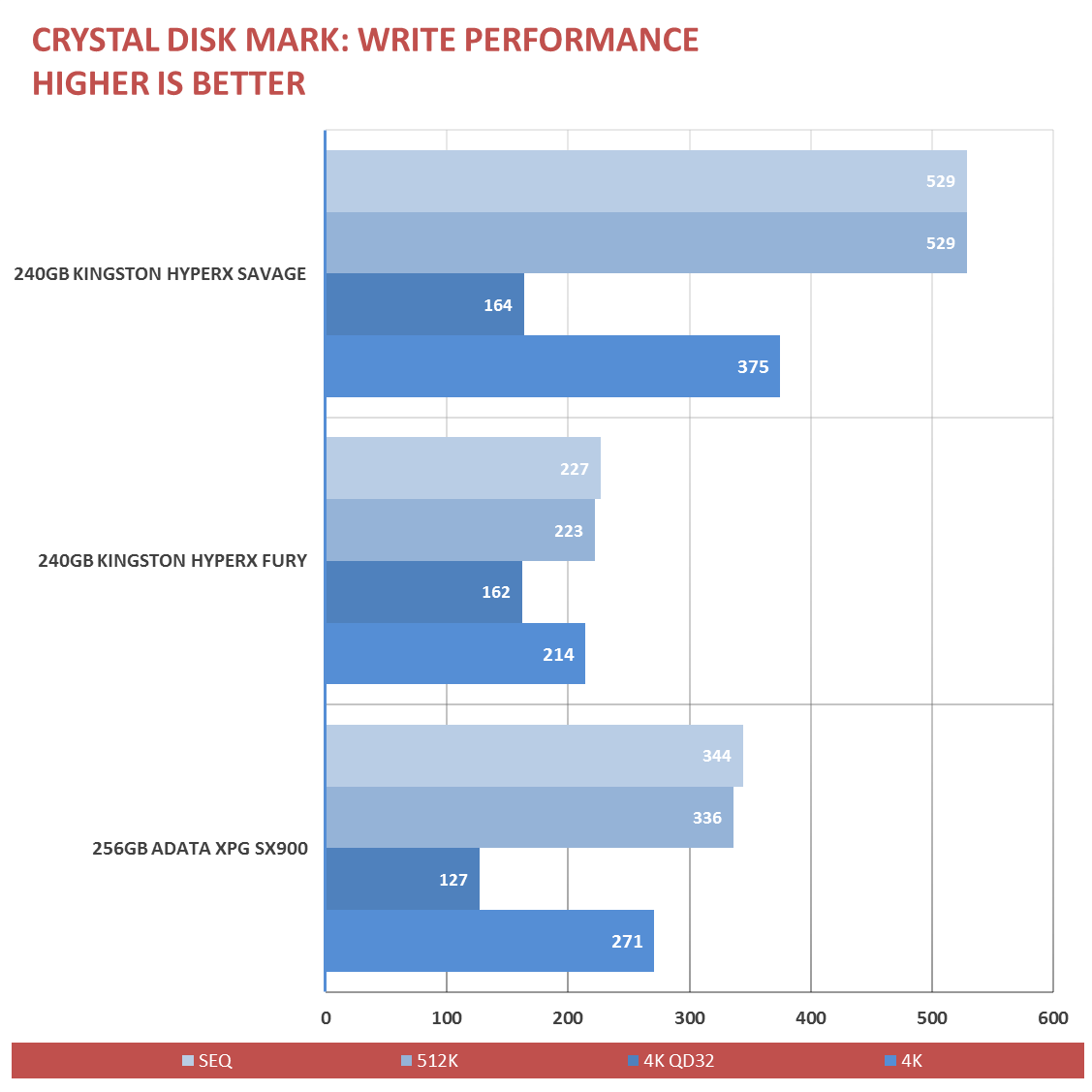 AS SSD features read / write specific tests without using the cache, which is great for testing SSDs. We used AS SSD's extra benchmarks to check out the drive's file copy performance.
REAL WORLD PERFORMANCE:
First up in the list of the real world performance tests is the file copy test which involves copying of Images, Videos, PSD files, DOC, XML, PDFs, etc. you name it, to simulate a real world file copy scenario.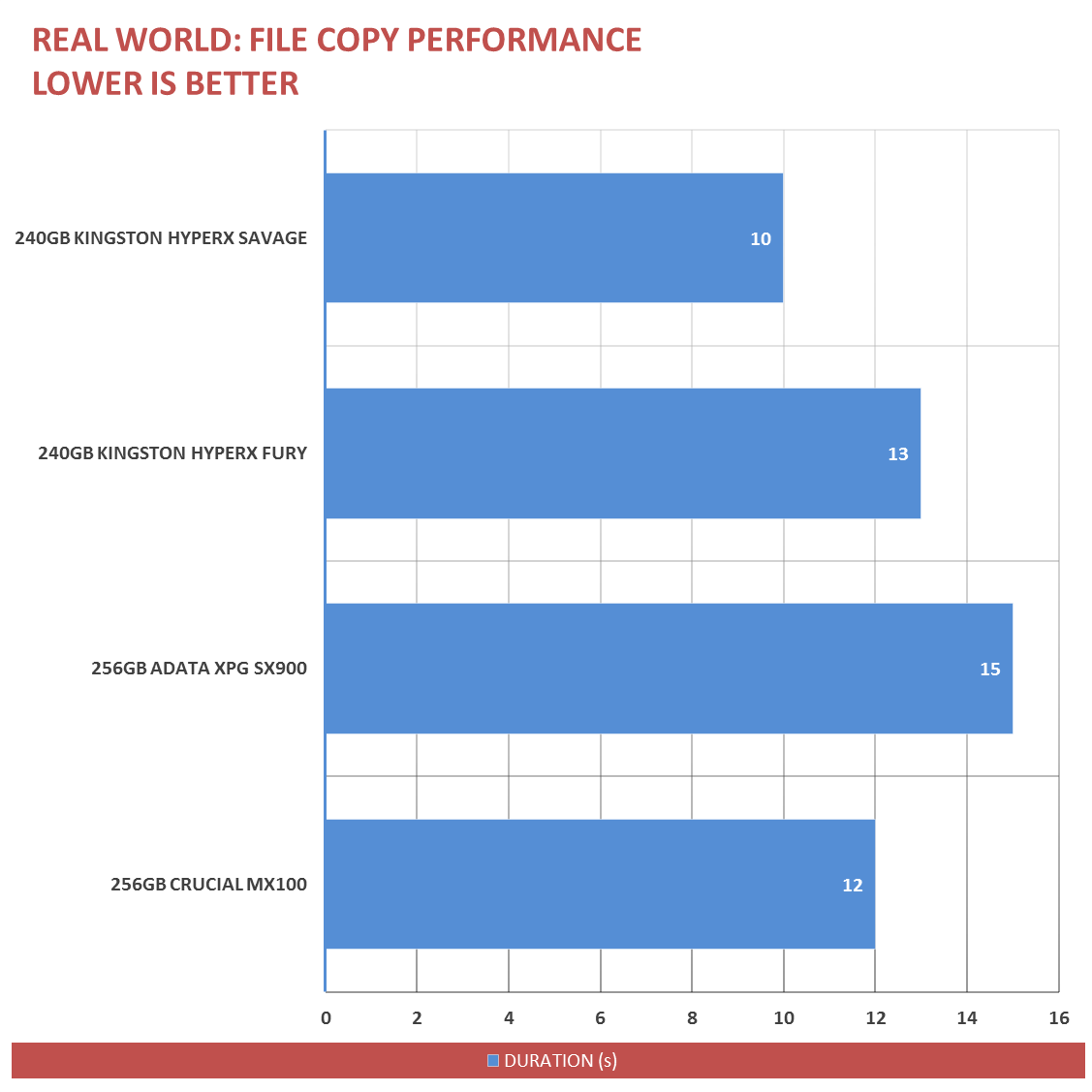 Next up is the boot speed of the storage drive where some consumers mostly based their SSD purchase. Boot speed is recorded right after the PC passed POST and figures will be recorded when we hit the desktop.
Another real world performance test, our newly added application launch speed test checks out how fast a storage device could open up a PSD file in Adobe Photoshop CC. Again, this is a simple yet effective way to gauge a storage device's performance.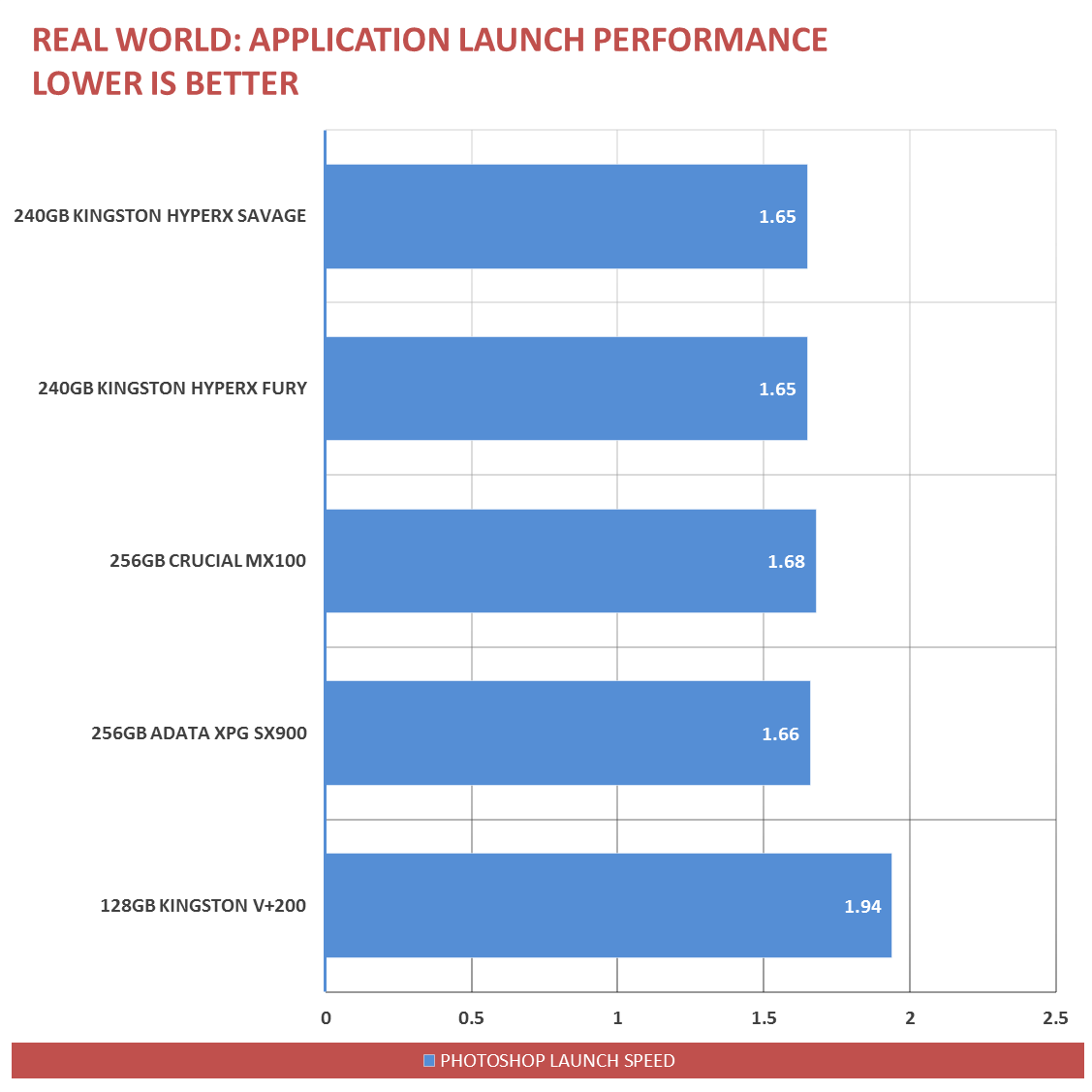 PERFORMANCE ANALYSIS & CONCLUSION:
The HyperX Savage SSD ushers a new era of 2.5″ SSDs for Kingston, offering great performance across the boarder thanks to its Phison S10 Flash Memory Controller that decimated the SandForce SF-2881 controller by offering a fast and consistent Read & Write performance. The HyperX Savage SSD easily broke its rated Sequential Read & Write performance, be it a benchmark of compressible or incompressible data, and that's not an FOB figure, as we maintain around 50% of disk space used to simulate real world scenario.
In addition, the HyperX Savage's 4K QD32 performance is quite nice, revealing that the SSD's performance will most probably be great in real world. It does showed great real world performance actually, by officially crowning itself as the fastest SSD on our file copy test, beating other drives by seconds. Imagine the benefits if the total file size is doubled, tripled, or quintupled, even.
Build quality is great, and aesthetics are leaning towards to the gamers which is most probably, the reason why this SSD exists in the first place where games are now requiring 50GB of installation space. In addition, the bundle kit will save you from major headaches, as everything included has been taken seriously into consideration. For example, if you have games on other PCs or you wish to copy a friend's game files without downloading from the net, you could always use the included external enclosure. This only applies to the Upgrade Kit though, but for just 10-20 USD premium over the drive only option based on online retail stores, there's no reason not to grab it.
At around 170 USD,  the Kingston HyperX Savage SSD in 240GB flavor is hard to miss. It might be a little steep for the introductory price, but  there's already a good amount of value on it, especially if you're looking forward to your first SSD, or if you're still using a 1st or 2nd generation SSD and wants to experience the full potential of SATAIII connectivity. If you are a hardcore gamer, enjoys a good blend of gaming oriented aesthetics, functionality, and absolute performance, then this might be the drive for you.
THE 240GB KINGSTON HYPERX SAVAGE SSD RETAILS FOR AROUND 170 USD AND IS BACKED BY A FULL 3 YEAR WARRANTY.
THE VERDICT
PROS:
GREAT READ & WRITE PERFORMANCE

UPGRADE KIT BUNDLE IS A HEAVEN SENT

AESTHETICALLY APPEALING

GREAT BUILD QUALITY

GOOD VALUE FOR MONEY

3 YEAR KINGSTON WARRANTY
CONS: