The ASUS ROG Strix B450-F Gaming is the mellower sibling of the Strix X470-F Gaming that we tested a couple of months ago. Basically, it features most of what the X470-F Gaming has to offer but with practicality in mind.

The ASUS ROG Strix B450-F Gaming features the same updated design from its bigger ROG Strix brothers. Most notable of these design elements are the inclusion of a pre-mounted I/O shield, distinct heat-sinks and the SupremeFX audio solution. That's on top of bundled accessories and software tools to get you started gaming.
TECHNICAL SPECIFICATIONS:
For the full technical specifications, visit the official product page.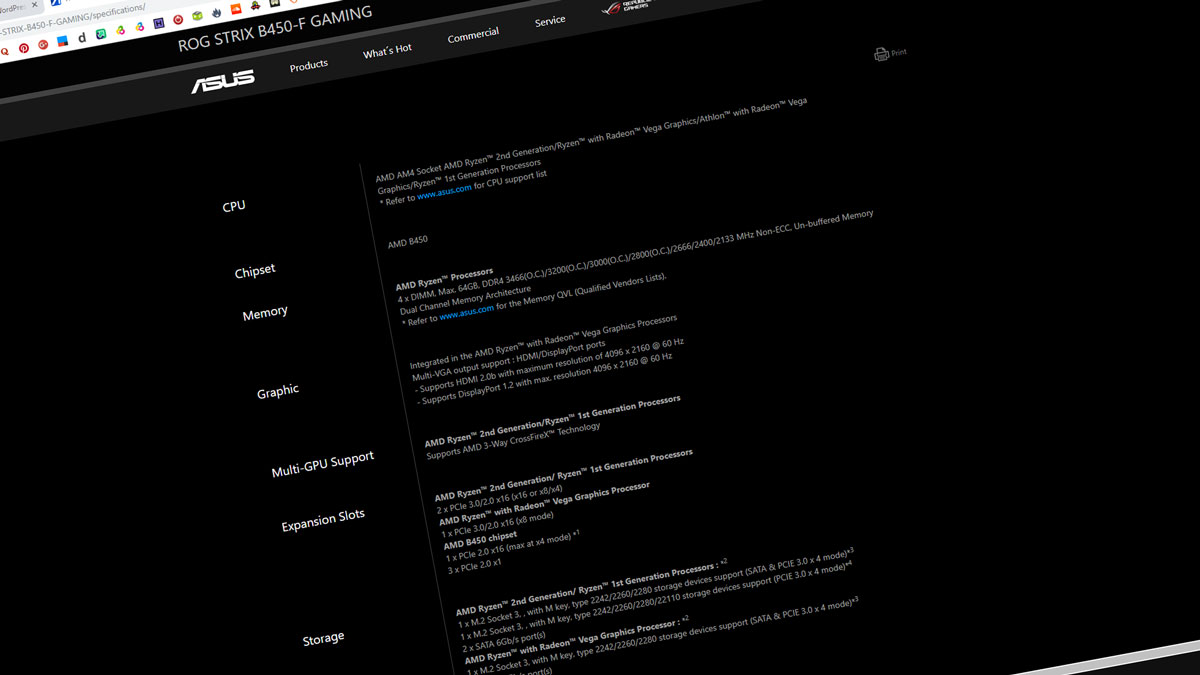 PACKAGING AND ACCESSORIES:
The ASUS ROG Strix B450-F Gaming comes in a standard 2018 issued ROG Strix packaging. Nothing bad about it, nothing exceptional.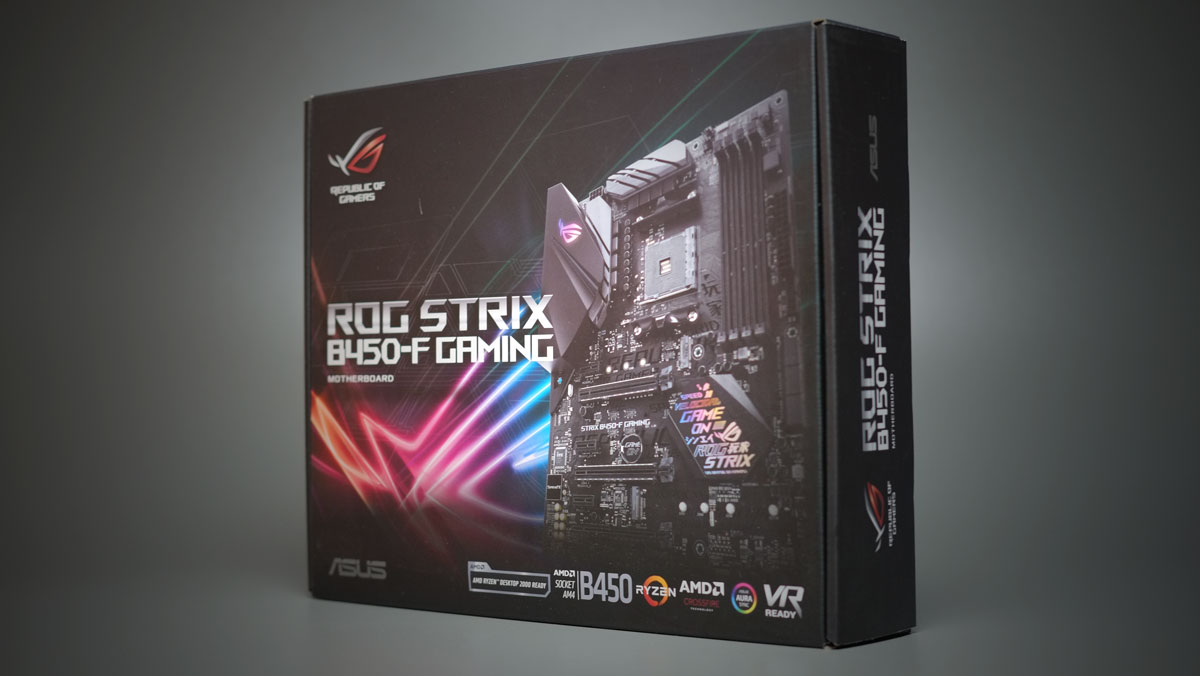 The motherboard comes with four SATA cables, RGB extension cables and even a set of zipties. The B450-F also comes with a set of screws and pegs for any M.2 SSD.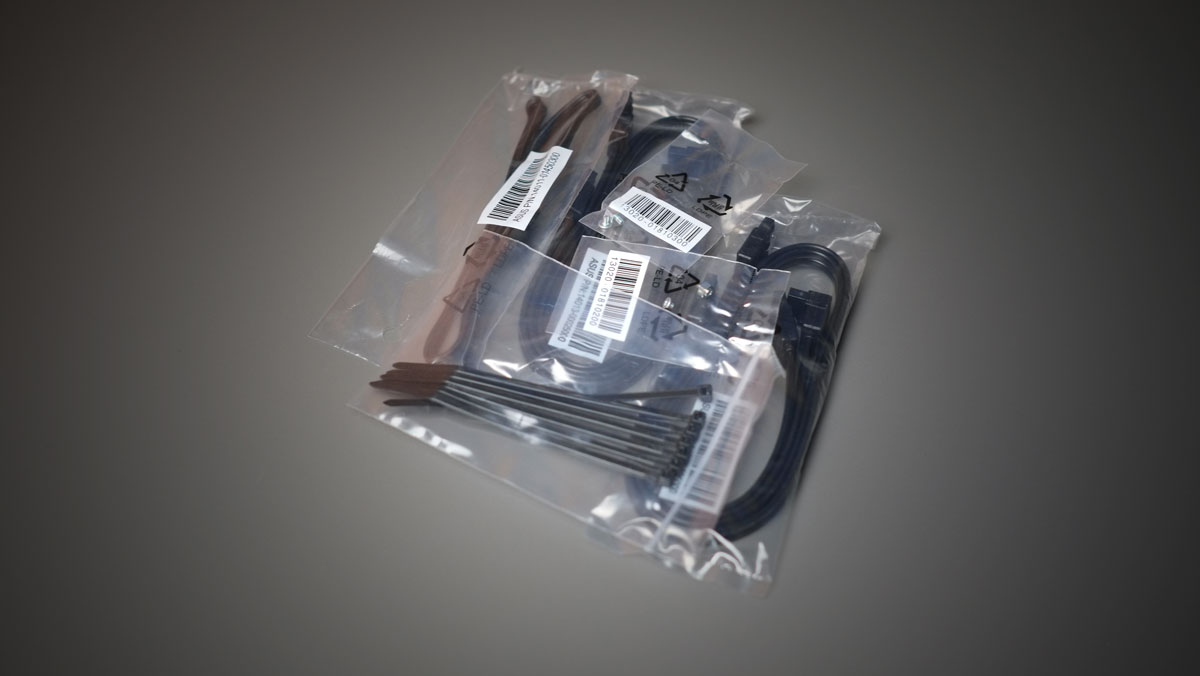 Paper works are lavish. We got stickers, a door hange, a welcome note and an extra chipset decal to customize your board. Nothing to dislike here.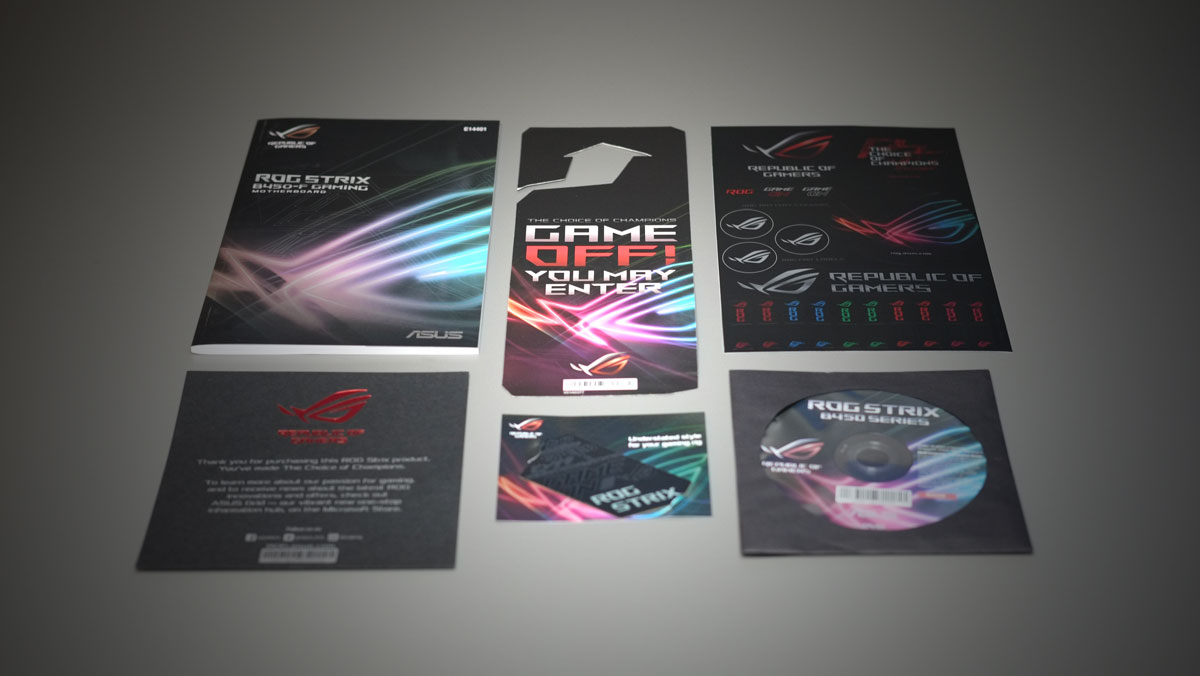 DESIGN, LAYOUT AND CONNECTIVITY:
The ASUS ROG Strix B450-F Gaming like the ones before it, is a fresh motherboard with updated design elements. This time though, we don't have a heat-sink to cover up the top M.2 slot as seen from the higher-end Strix model.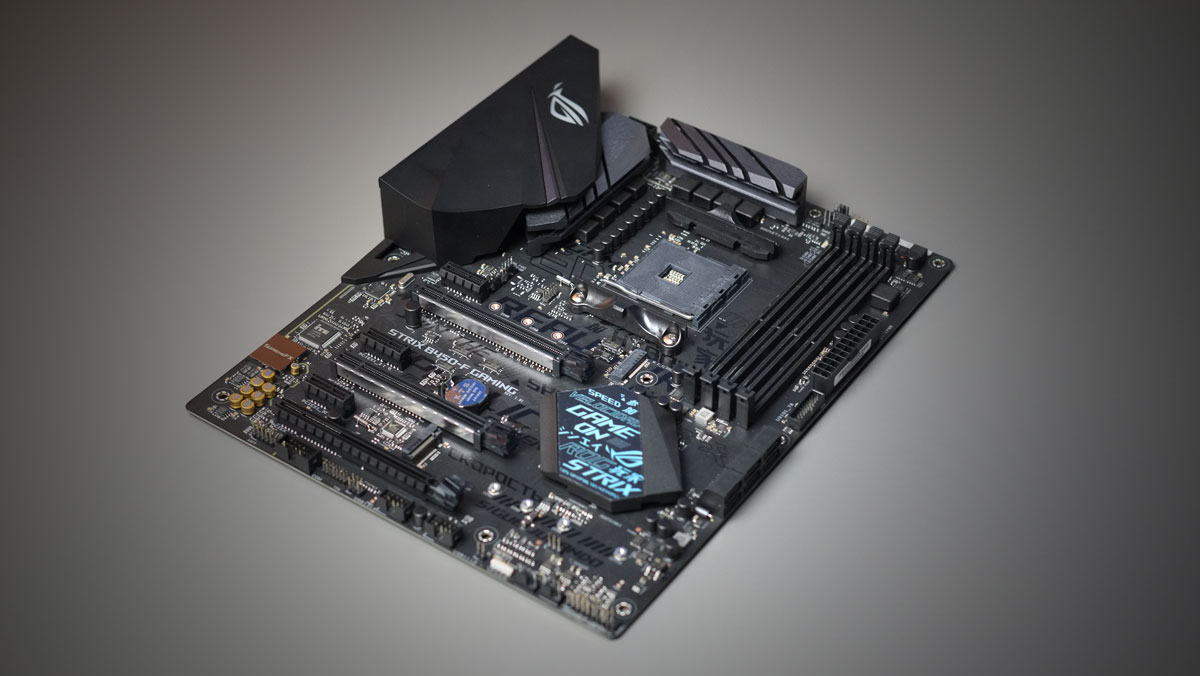 Layout is modern and organized just like its bigger brother. Fan header placements are excellent too and everything else is generally great. As for the VRM, ASUS appears to use a 4+2 power phase design with a doubler IC.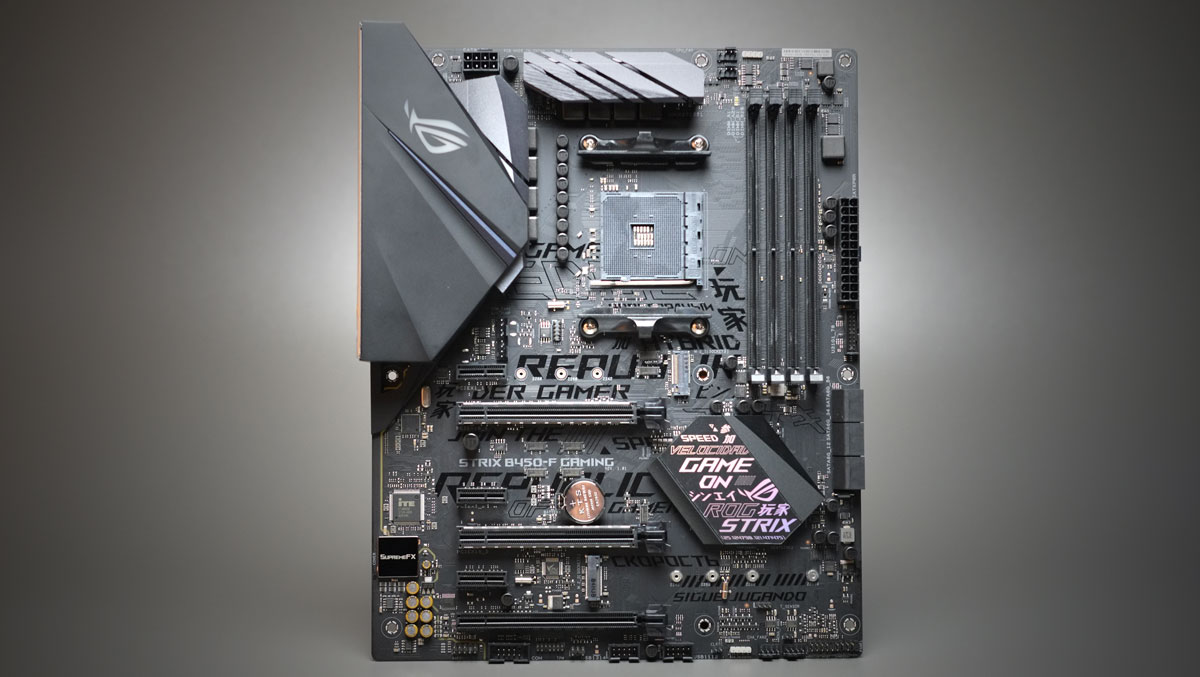 The back shows off the electrical properties of the PCI-E slots, along with the PCB gout separating the audio from the rest of the components. From top to bottom, we have a x1, x16, x1, x8, x1, and a x4 slot. The ASUS ROG Strix B450-F Gaming support AMD CrossFireX technology in a 3-way setup.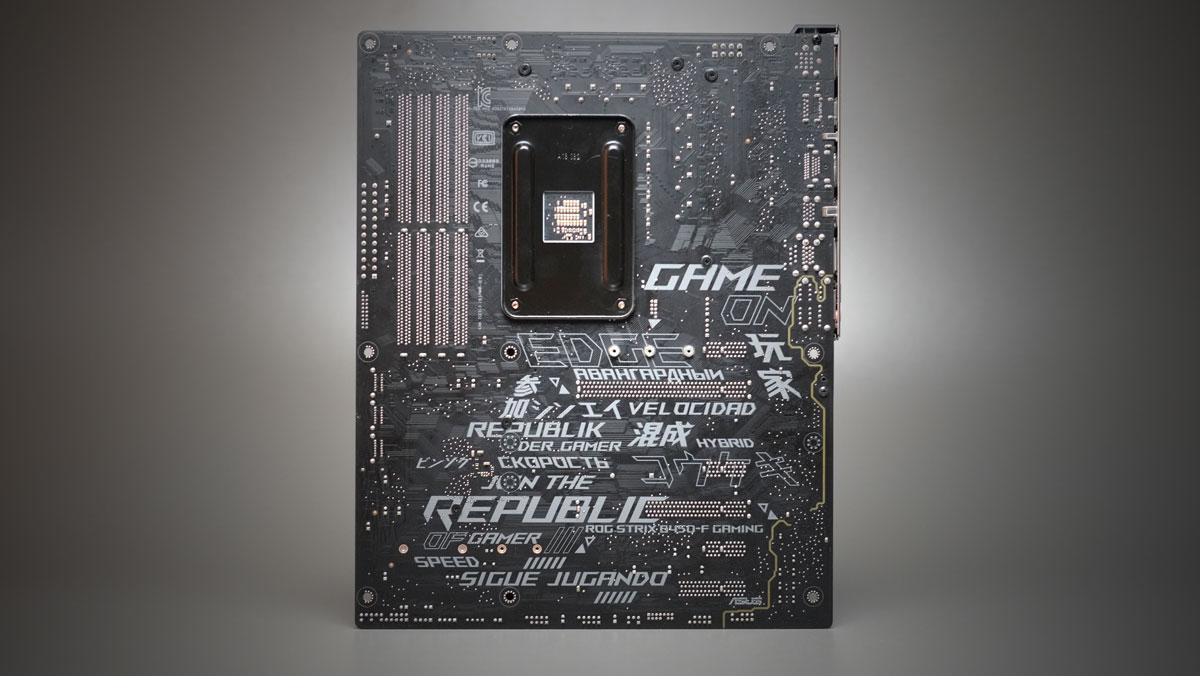 There are plenty of internal headers at the bottom of the B450-F Gaming. Nothing's out of place here I must say.
As for the other side of the board, we have 6 SATA ports along with a USB 3.0 header. No buttons here which is not really a surprise this side of the year.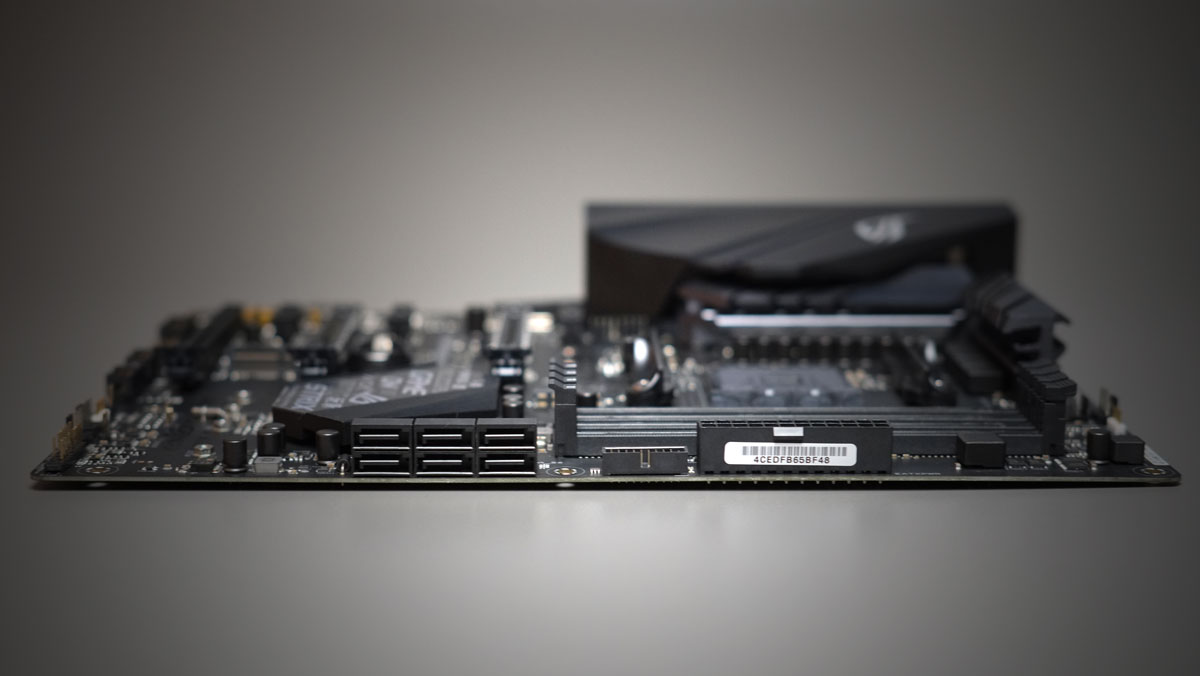 The VRM area is clean enough with only a few headers at bay. That said, cable routing should be hassle free even for a tight case.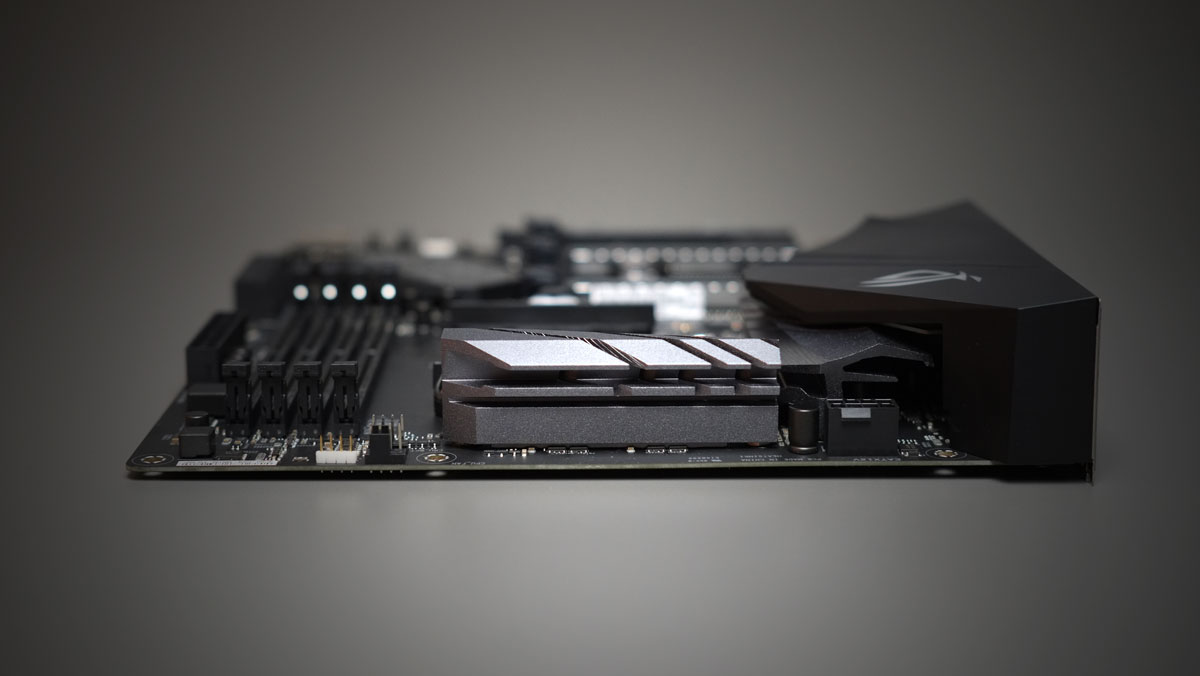 Back panel options are good, if not great. We have plenty of USB 2.0, 3.0 and 3.1 ports on this area, together with display options to choose from. Again, this motherboard features a built-in back-plate.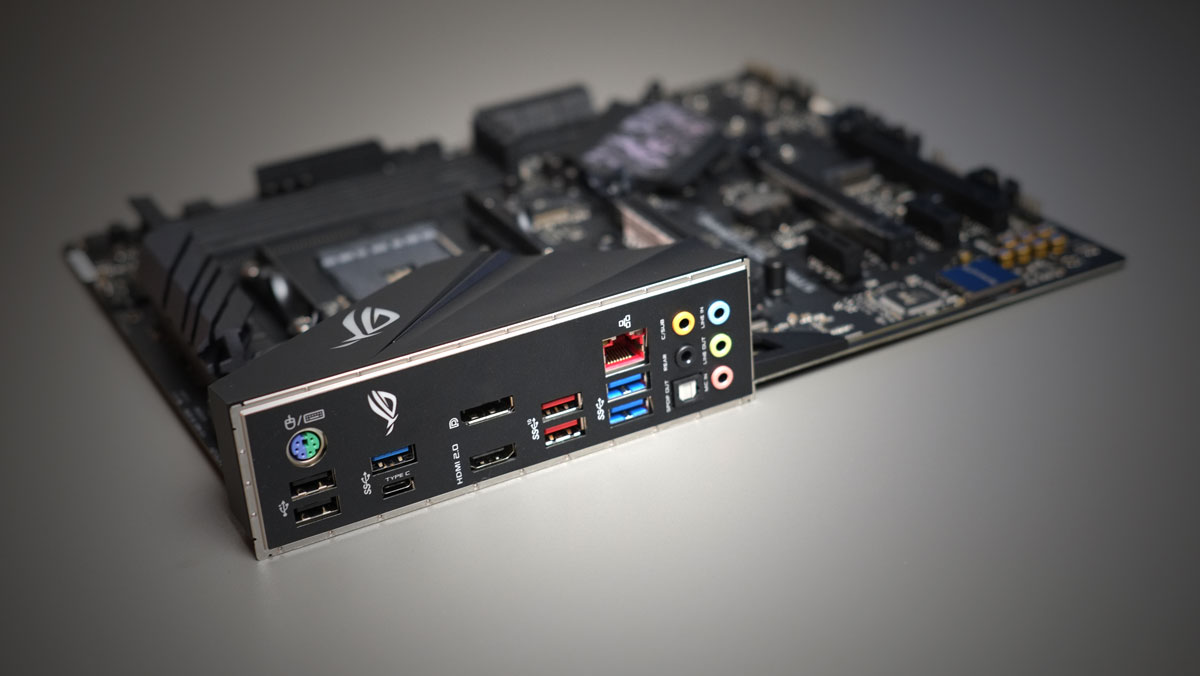 FIRMWARE INTERFACE:
The ASUS ROG Strix B450-F Gaming motherboard shares the same UEFI layout with the rest of ASUS' latest releases. That said, if you're coming from a recent ASUS board, then this interface should feel right at home.
There are 8 main menus to choose from, with the Advanced mode offering the best settings to tweak your setup. Compared to let say, an Intel B360, the B450 chipset allows CPU overclocking. A value added feature that we really love about AMD's mainstream offerings.
The EZ system tuning is where you'll probably look at most of the time and it is not bad at all. ASUS provided a plethora of features here so it is a fitting interface.

TEST SETUP AND METHODOLOGY:
The system performance shall be evaluated by various benchmarking tools and applications. We are testing this system with the high-performance settings enabled at the OS, with the default UEFI configuration. Background processes such as anti-viruses and third-party applications are disabled as well. Outlined below are the applications and benchmark tools for reference: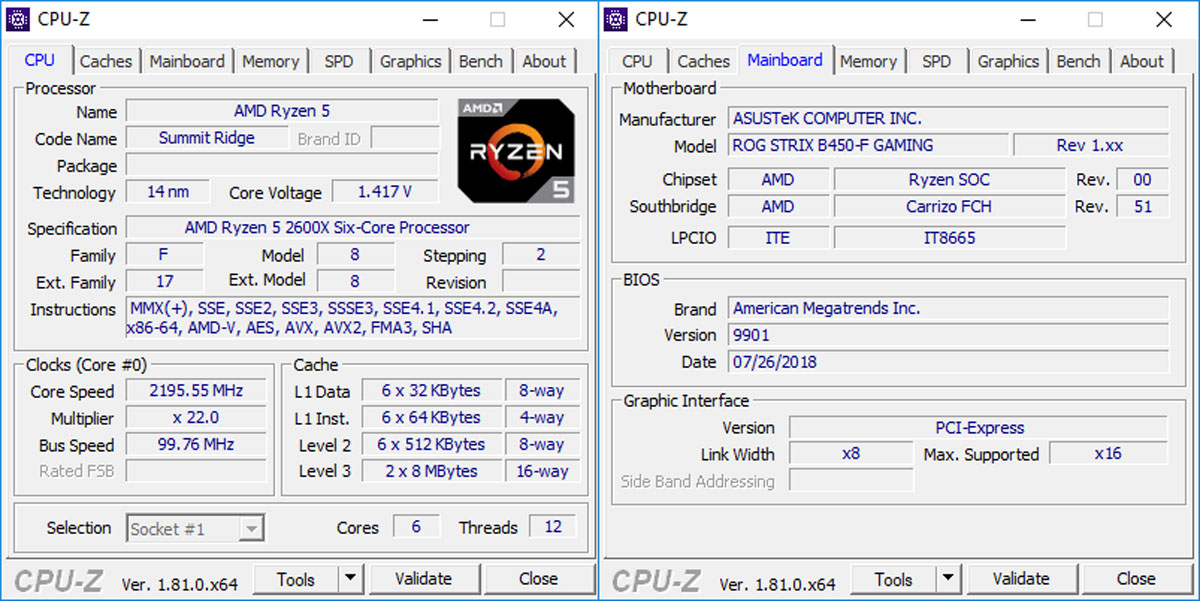 TEST SYSTEM SPECIFICATIONS
PROCESSOR
AMD Ryzen 2600X
MOTHERBOARD
ASUS ROG Strix B450-F Gaming
COOLER
Cryorig C1 Top Flow
MEMORY
Crucial Ballistix Tactical DDR4 @ 2666MHz 2x4GB
GRAPHICS
ASUS GTX 1060 STRIX OC 6GB
STORAGE 
Crucial BX200 480GB
POWER
CORSAIR RM850X 850W
DISPLAY
DELL U2715H
OS
Microsoft Windows 10 Pro
CPU AND MEMORY PERFORMANCE:
Super PI – 32M Calculations
wPrime – 32M and 1024M Calculations
AIDA64 Extreme Edition – Memory Benchmark
PRODUCTIVITY PERFORMANCE:
GIMP – 7 MB worth of image processing
HandBrake – 150 MB MP4 to H.264 video encoding
WinRAR – Internal benchmark tool
MISCELLANEOUS:
AS SSD – Storage performance
RightMark Audio Analyzer – Audio performance
AIDA64 Extreme Edition – Power consumption
NetIO-GUI – Network Performance
POWER CONSUMPTION:
The AIDA64 System Stability Test uses a 64-bit multi-threaded stress testing module to drive the system to its limits. Power readings are recorded with a watt-meter.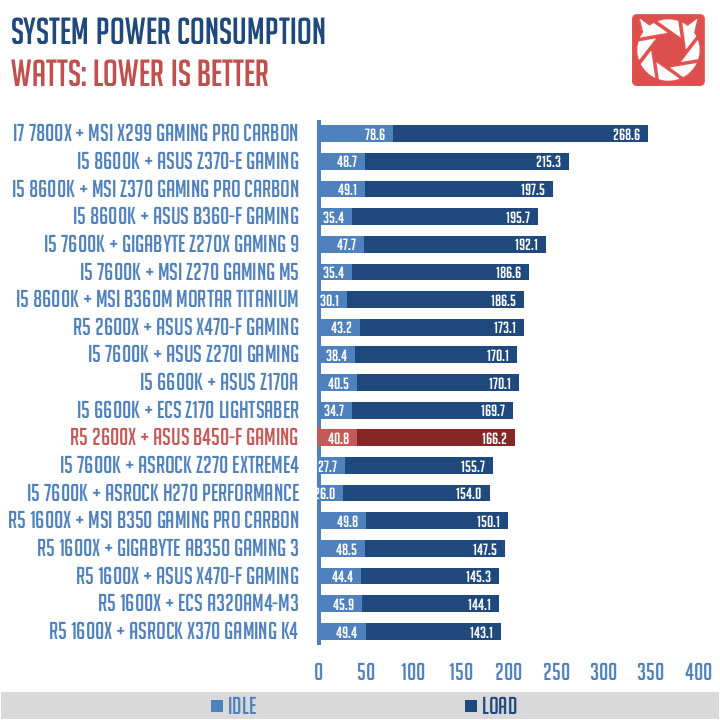 The ASUS ROG Strix B450-F Gaming is an energy efficient motherboard with a 40.8W idle and 166.2W load power consumption.
CPU AND MEMORY PERFORMANCE:
Super PI is a single-threaded program that calculates pi to a specified number of digits after the decimal point. It is a widely used benchmark within the industry.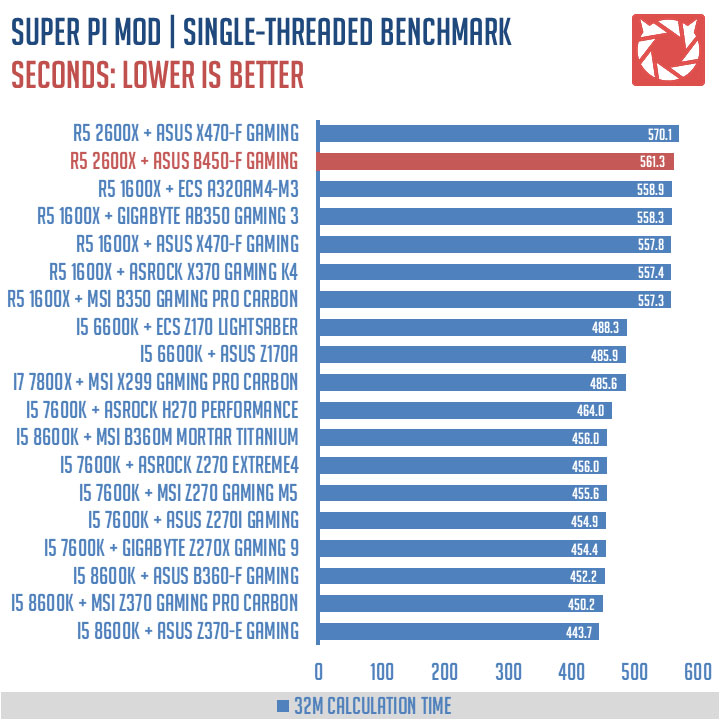 WPrime is a multi-threaded program that calculates a set number of square roots. It verifies the results by squaring them, then compares it with the original numbers.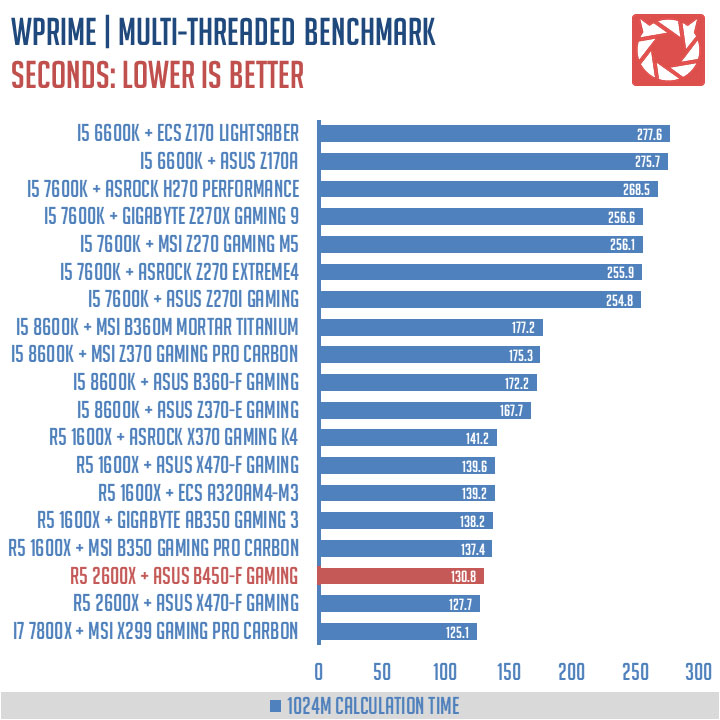 The AIDA64 Memory Benchmark measure the data transfer bandwidth and latency of the system memory. We are measuring the latency on this benchmark.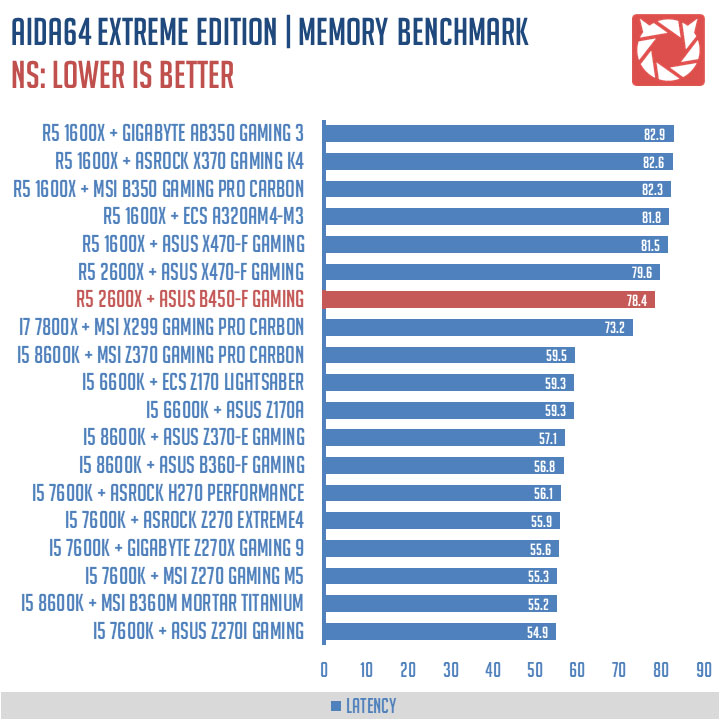 The ASUS ROG Strix B450-F Gaming scored well at SuperPI and AIDA64, even beating the higher end X470 chipset on the tests. At wPrime though, the X470-F Gaming is still the top performer. This is not a fluke folks. I tested the board over and over and the results stayed the same.
PRODUCTIVITY PERFORMANCE:
GIMP or GNU Image Manipulation Program, is a free and open-source image editing tool. A 7 MB worth of images is be processed and converted to gauge the system performance.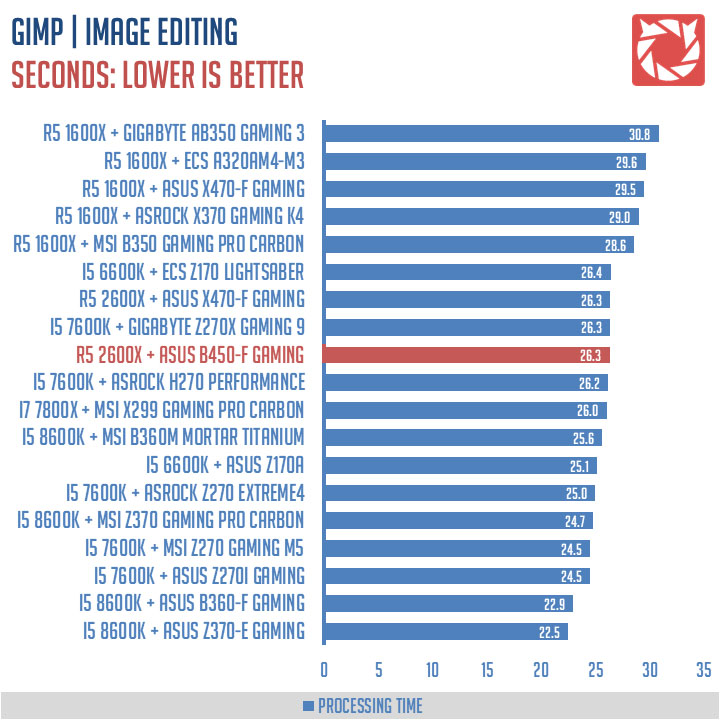 HandBrake is a free video encoding tool that supports a wide variety of media codecs. A 150MB worth MP4 video is converted using the H.264 codec to gauge the system performance.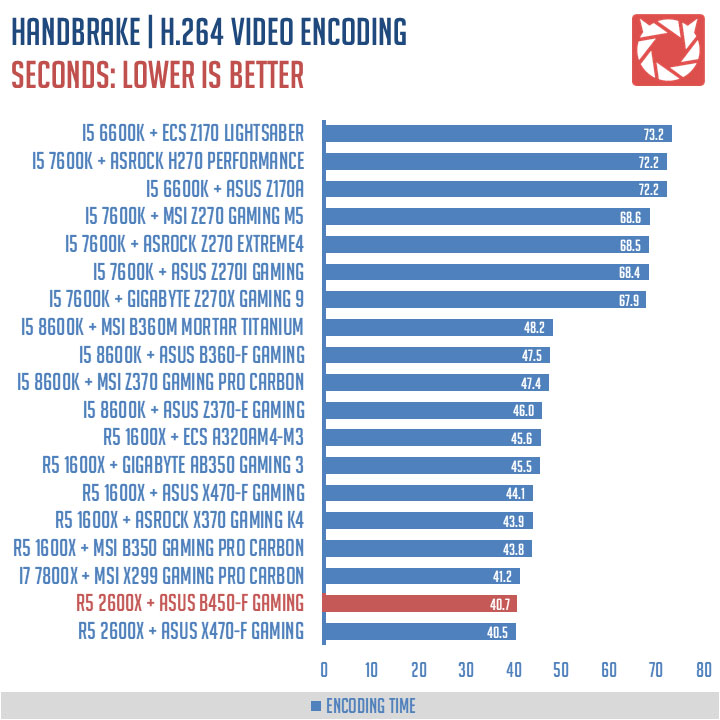 WinRAR is a file archive utility that can create, view and unpack numerous archive file formats. The software's built in benchmark tool is utilized to gauge the system performance.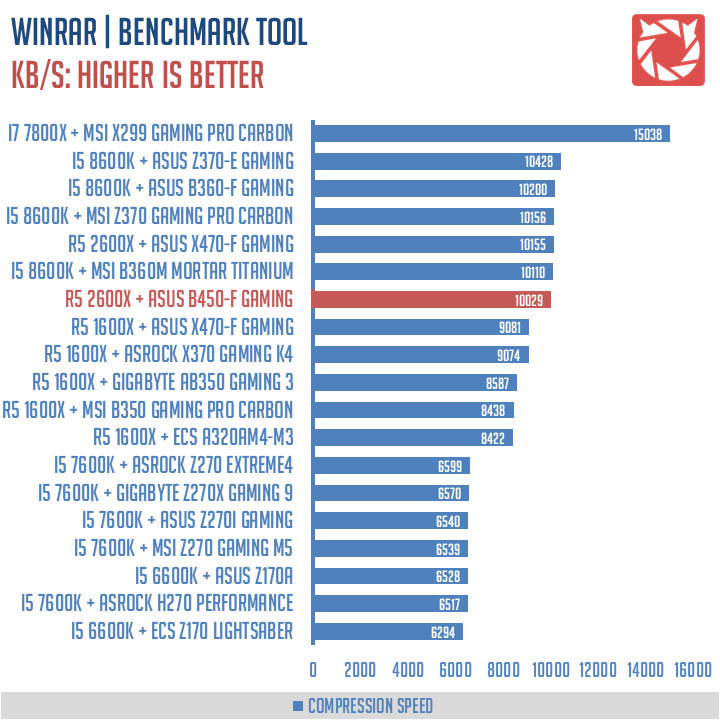 The ASUS ROG Strix B450-F Gaming scored well at GIMP, HandBrake and WinRAR.
STORAGE PERFORMANCE:
AS SSD is a storage benchmarking software widely used throughout the industry. On this test, we are using its scoring system to evaluate our Crucial BX200 SSD's performance using the system's native SATA controller.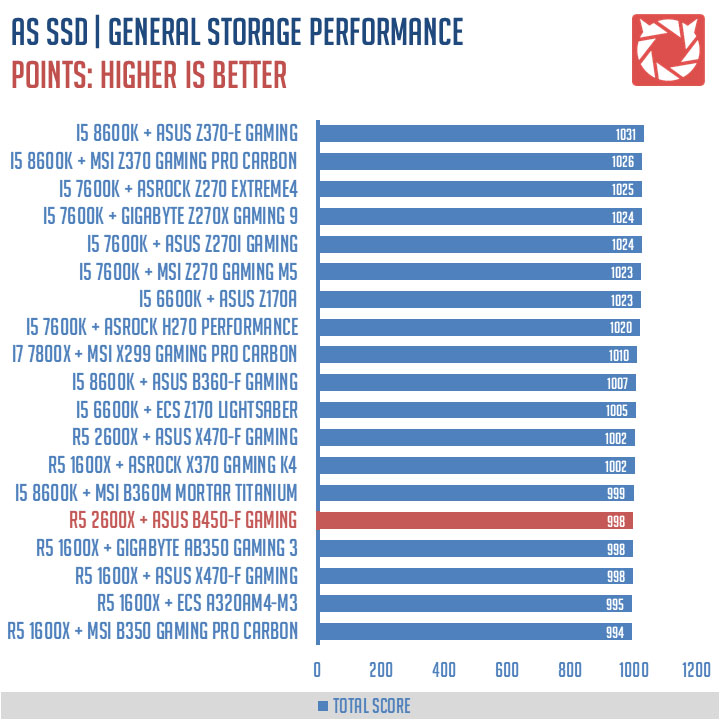 Nice consistent result here from the AMD B450 chipset. Intel is still the best though when it comes to the SATA III interface storage performance.
AUDIO PERFORMANCE:
The RightMark Audio Analyzer (RMAA) is a tool designed to test the quality of audio devices. We used a sampling rate of 24-bit at 48000Hz for the loopback test. We are essentially testing the quality of the line-in and line-out of the audio solution.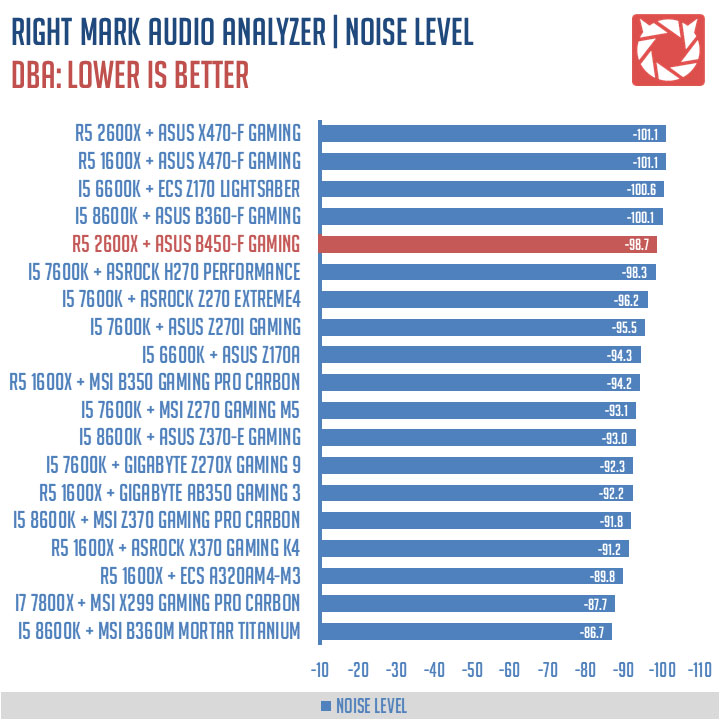 The ASUS ROG Strix B450-F Gaming scored -98.7 dBA of noise level at RMAA. Taking the 5th spot from the ASRock H270 Performance as far as noise levels go.
NETWORK PERFORMANCE:
The NetIO-GUI is a good application to test any network's performance. The LAN round trip time is our concern here, checking out latency anomalies if there are any. The client and server are connected on the network via Cat5 cables using a 100Mbps router.
The ASUS ROG Strix B450-F Gaming featured a wired network performance at 1ms of latency on any packet sizes tested.
SOFTWARE, LIGHTING AND SPECIAL FEATURES:
ASUS had the ROG Strix B450-F Gaming bundled with tons of applications that should help you optimize your system's performance. That should include the following software tools:
Fan Xpert 4
ASUS AURA
AI Suite 3
AI Charger
ASUS Grid
Turbo APP
Sonic Radar III
Sonic Studio III + Sonic Studio Link
FINAL THOUGHTS:
The AMD B450 chipset is already a well designed product, allowing gamers to overclock both the CPU and memory without spending an extra. ASUS capitalized on that one with the ROG Strix B450-F Gaming, offering the base features with value added ones.
Build quality wise, we are looking at a motherboard with good quality components, excellent soldering and a thick PCB to keep everything in place nice and tidy. As for features, this board is almost comparable to the X470-F Gaming minus some. That excludes the M.2 shield, yet we've got the same VRM design.
The ASUS ROG Strix B450-F Gaming retails for about 8030 Pesos. That's a settling price for a mainstream yet feature rich product.
GENERAL PERFORMANCE
EXCELLENT AUDIO SOLUTION
CONNECTIVITY OPTIONS
VALUE ORIENTED FEATURES
GOOD PRICE POINT

VRM COULD BE A LITTLE BETTER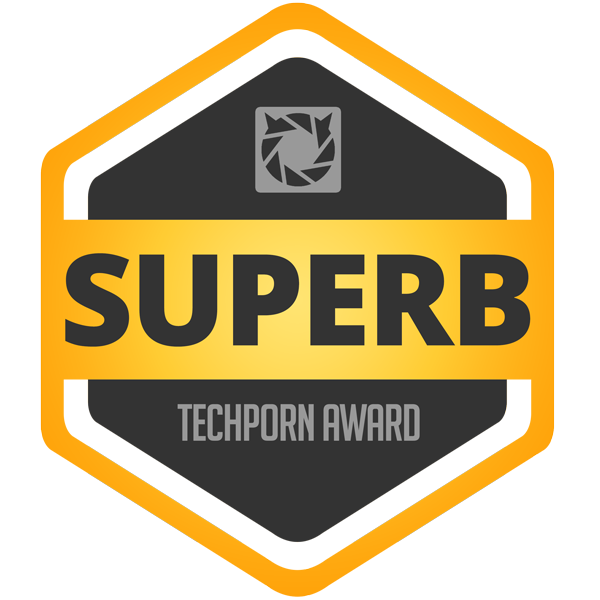 ASUS ROG Strix B450-F Gaming Review
PERFORMANCE -

8/10

BUILD QUALITY -

7/10

FEATURES -

8/10

AESTHETICS -

8/10

VALUE -

9/10
Summary
The ASUS ROG Strix B450-F Gaming is a compelling choice for gamers who wants a budget oriented option with value added features.