On this review, we are checking out the ASUS ROG Strix B360-F Gaming. The second Intel B360 motherboard to land on our doorsteps.

The ASUS ROG Strix B360-F Gaming features an updated design compared to their older motherboards. Most notably of these design elements are the inclusion of a pre-mounted I/O shield, an onboard M.2 heatsink and the distinctive sleek cut design. There's a lot more going on in this motherboard so it's better to check out its features directly from ASUS for more information.
TECHNICAL SPECIFICATIONS:
ASUS ROG Strix B360-F Gaming
CPU Support
8th Generation Intel Core Processors, Pentium Gold, Celeron Processors, Socket LGA1151
Chipset
Intel B360 Chipset
Form Factor
ATX
Power Phase
10+2
Memory
Frequency
2666MHz
Slots
4x DIMM (Non-ECC)
Capacity
64GB
Channel
Dual
Connectivity
Slots
1x PCIe 3.0 x16

2x PCIe 3.0 x4

4x PCIe 2.0 x1

Onboard Graphics
Integrated Graphics Processor – Intel HD Graphics support
Multi-GPU
AMD 3-Way CrossFireX Technology
Storage
6x SATA 3.0

2x M.2 slot

SATA / PCIE 3.0 x2
PCIE 3.0 x4

USB
2x USB 3.1 gen1 ports

2x USB 2.0 ports

3x USB 3.1 gen2 ports (back)

4x USB 2.0 ports (back)

Audio
8 Channel ROG SupremeFX S1220A High Definition Audio CODEC
Network
Intel I219-V
Miscellaneous
Fan Connectors
1x 4-Pin CPU_FAN connector

1x 4-Pin CPU_OPT fan connector

1x 4-Pin AIO_PUMP connector

2x 4-Pin CHA_FAN connectors

1x 4-Pin M.2_FAN connector

1x 5-Pin EXT_FAN connector
PACKAGING AND ACCESSORIES:
The ASUS ROG Strix B360-F Gaming comes in a simpler packaging. A similar trend we've seen with ASUS' recent offerings.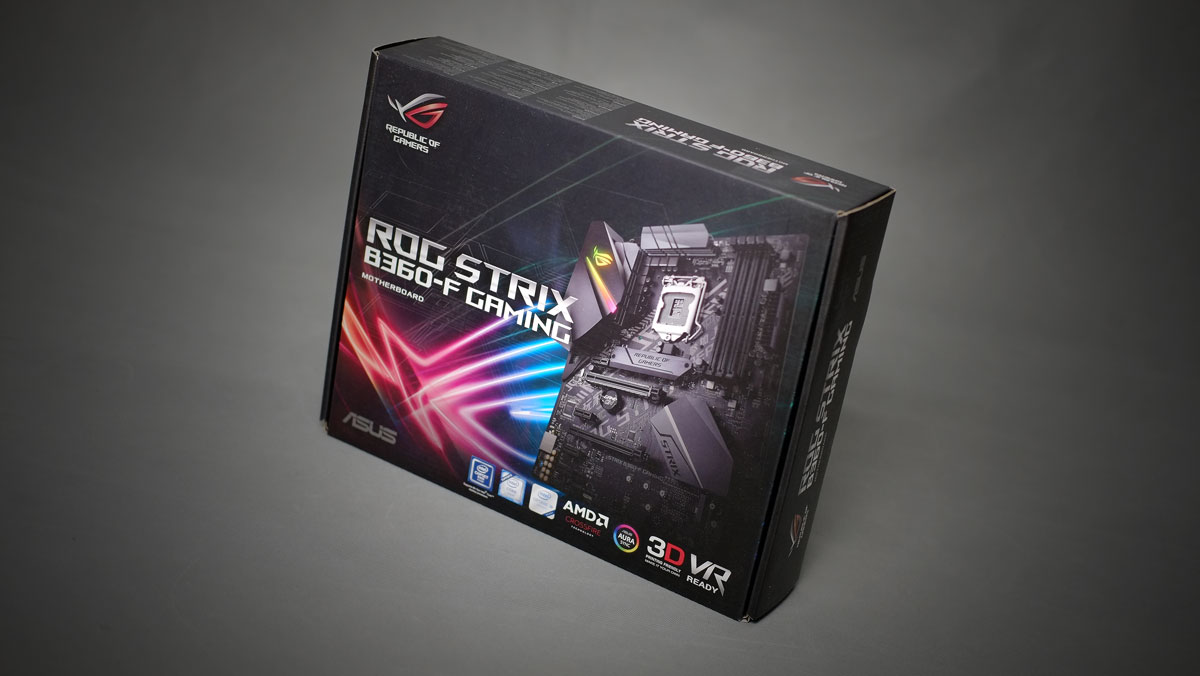 The board comes with four SATA cables, RGB extension cables and even a set of zipties. The B360-F also comes with a set of screws and pegs for any M.2 SSD.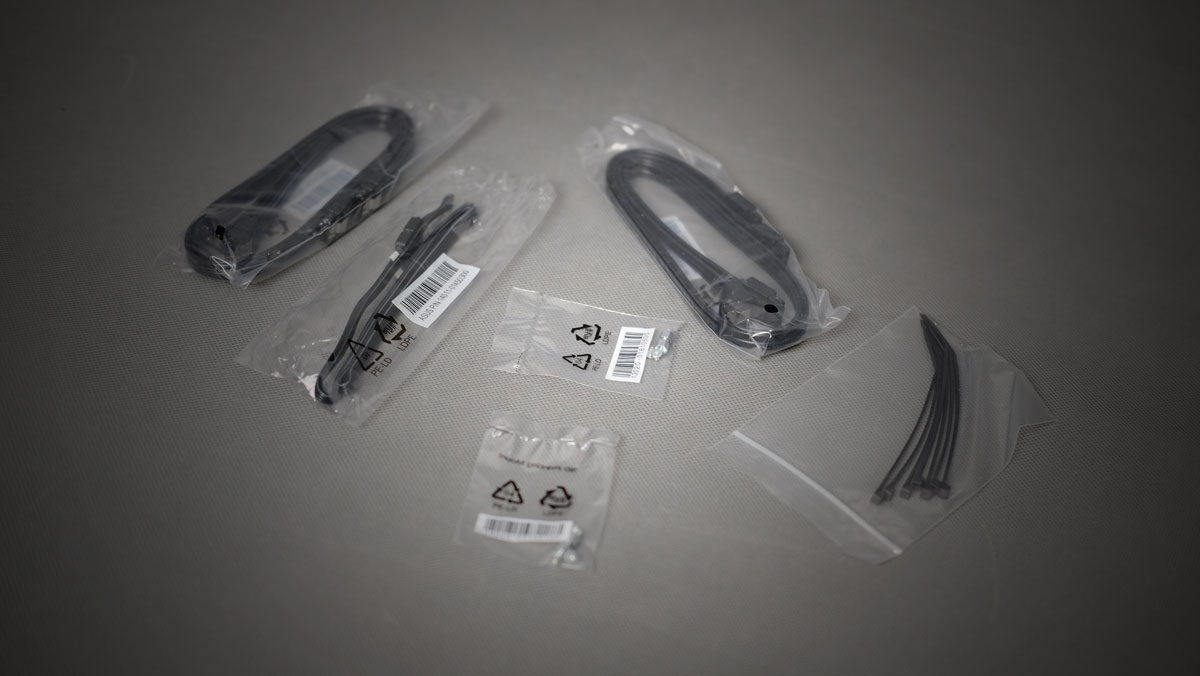 Paper works are lavish. There's that obligatory thank you pamplet, the manual, a door hanger and a set of decals. What's not to like?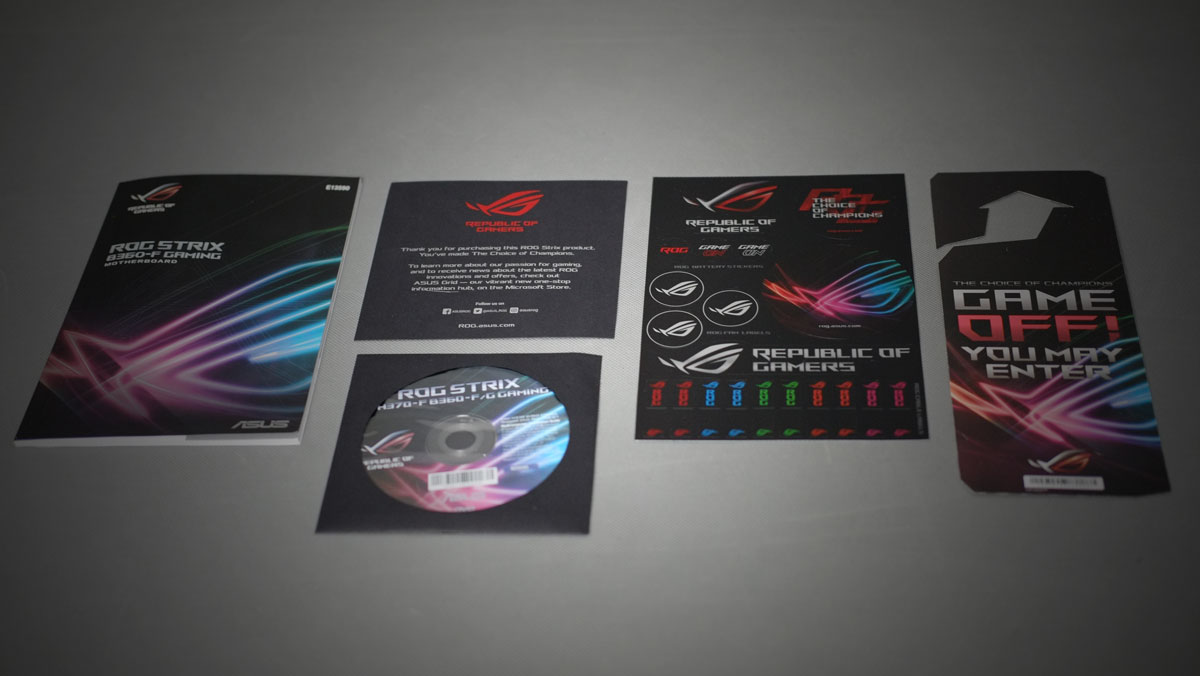 DESIGN, LAYOUT AND CONNECTIVITY:
The ASUS ROG Strix B360-F Gaming is a fresh motherboard from the oven with updated design elements to fit this year's requirements. Back in the days, we only get to see a heatsink at the north bridge and ASUS took that nostalgic design in mind for the M.2 slot. That's while talking clearance into equation for the top most PCI-E slot.
Layout is modern and organized. Fan header placements are excellent and everything else is generally great. The only downside here is the CMOS battery placement.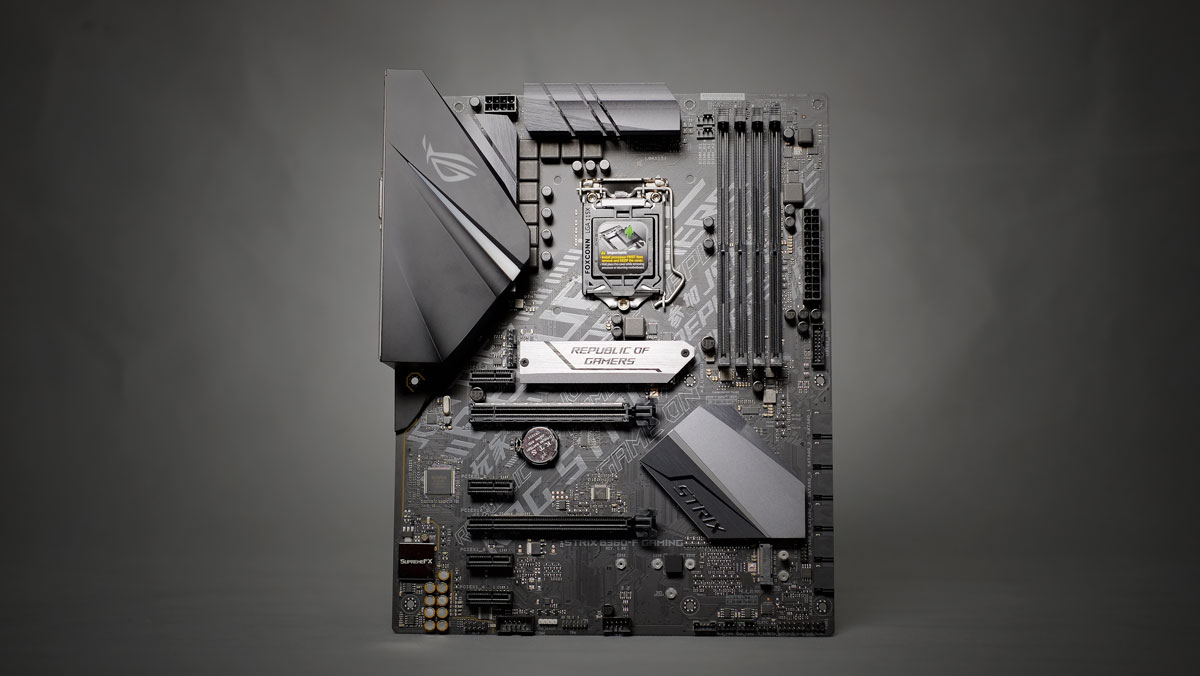 The back shows off the graphically enhanced PCB together with the electrical properties of the PCI-E slots. From top to bottom, we have a x1, x16, x1, x4, x1, and another x1 slot. The ASUS ROG Strix B360-F Gaming features the AMD CrossFireX technology in a 2-way setup. Gamers looking for Nvidia SLI compatibility should look elsewhere.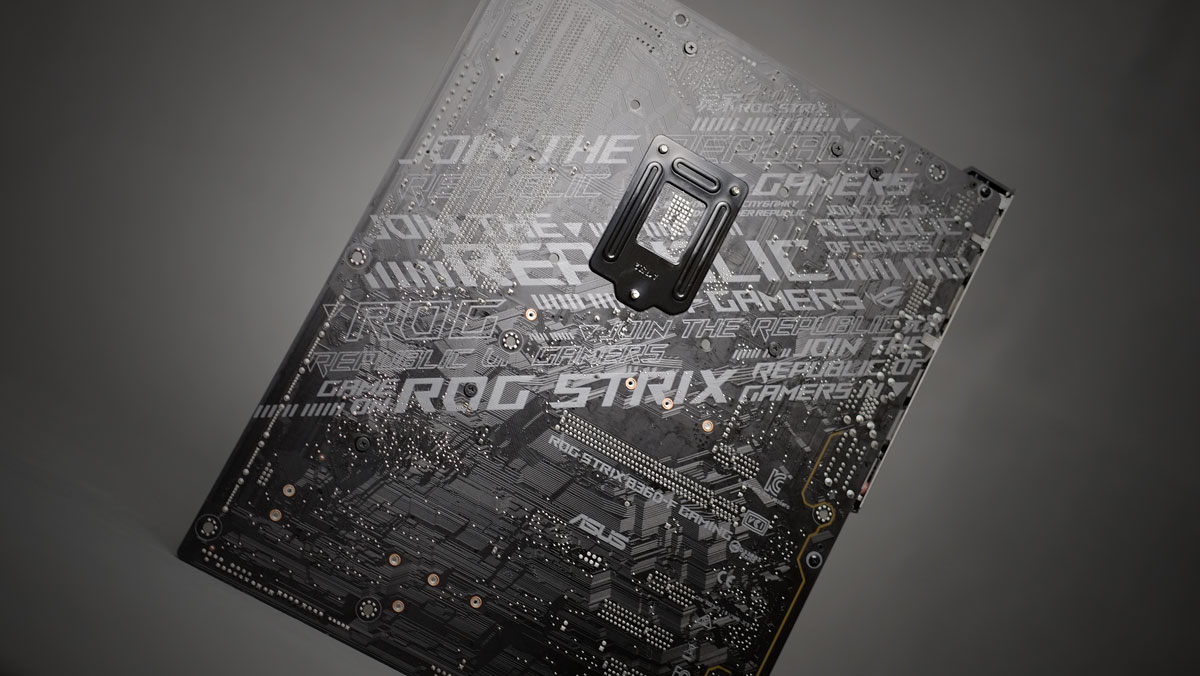 There are plenty of internal headers at the bottom of the B360-F Gaming. There's still enough room here though, wishing that ASUS had the CMOS battery situated on this area.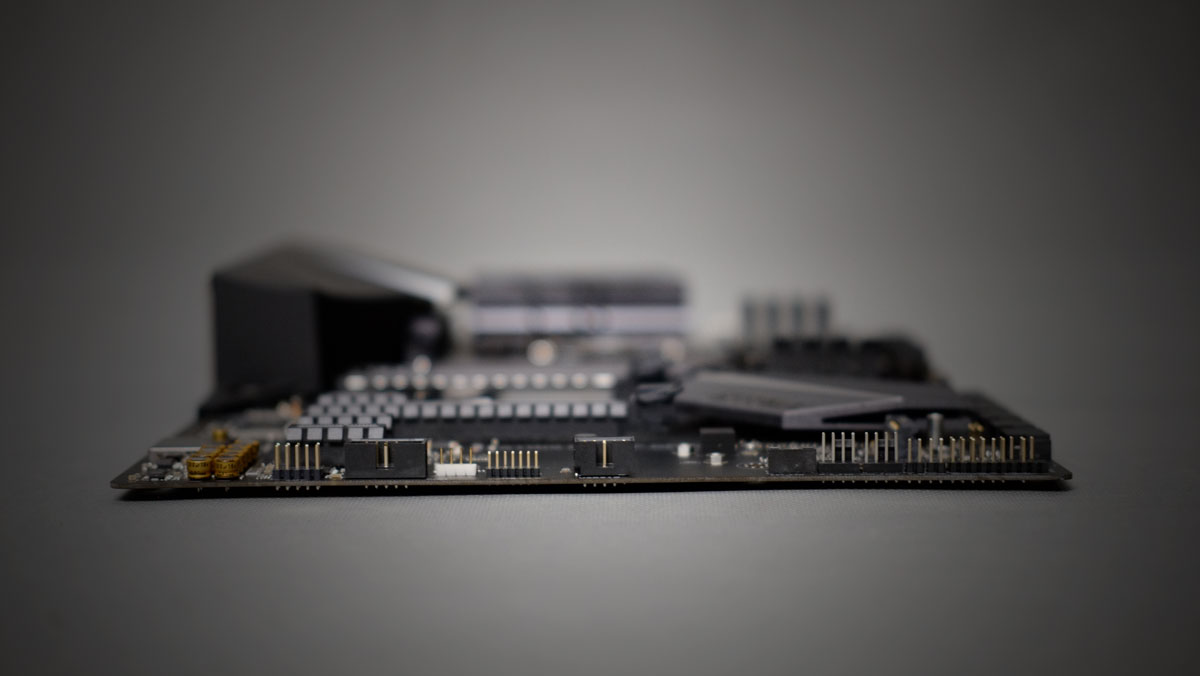 For the other side of the board, we have 6 SATA ports along with a USB header. We like what ASUS did with the SATA ports on the B360-F Gaming. Sure this design takes 2x more space, but it is easier to use.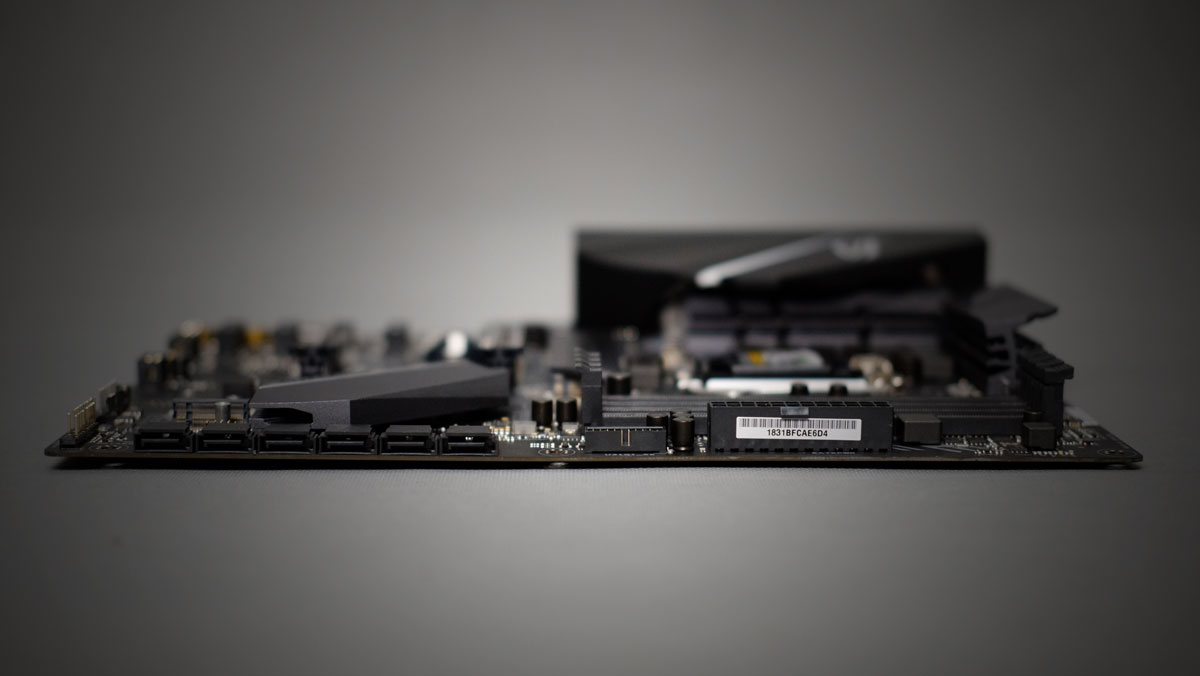 The top most part of the board near the VRM is clean, making it easier to route cables on this area.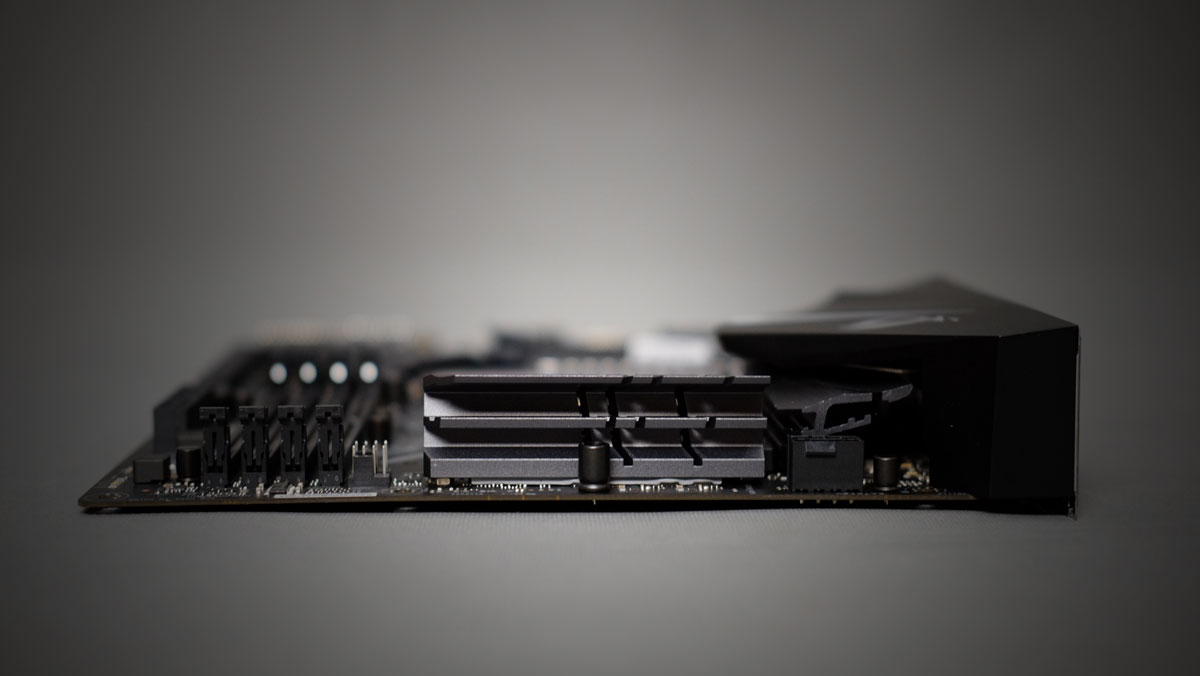 Back panel options are good, if not great. We have plenty of USB 2.0, 3.0 and 3.1 ports on this area, together with display options to choose from.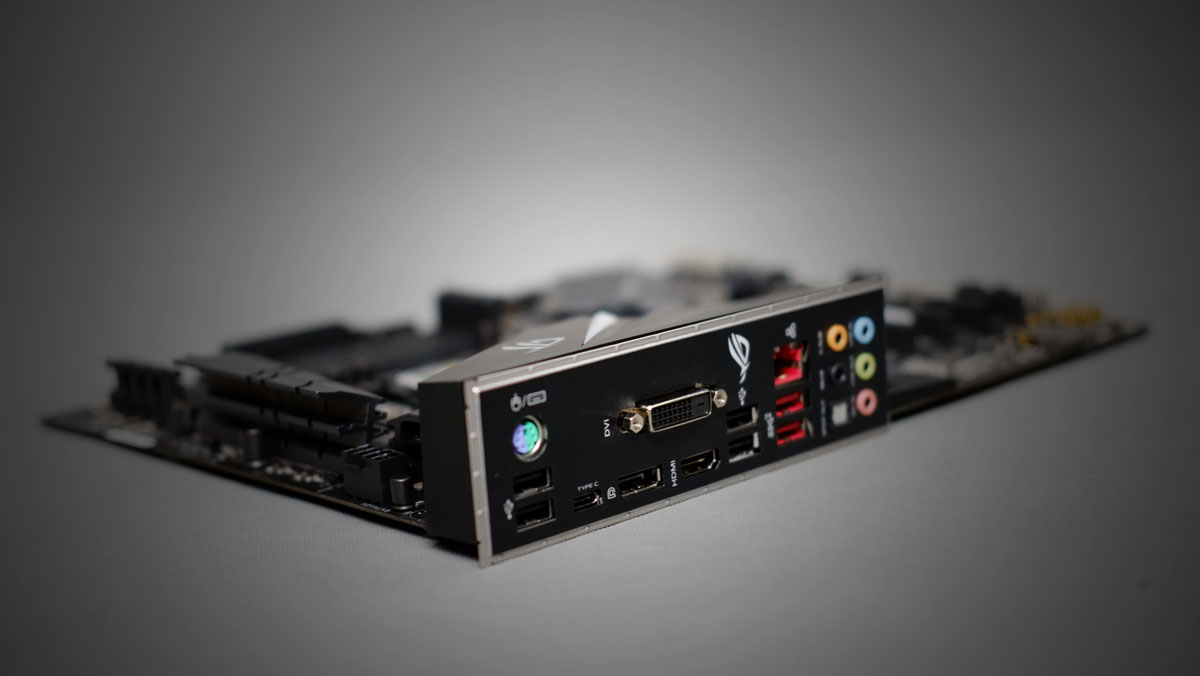 INTERFACE:
The ASUS ROG Strix B360-F Gaming motherboard shares the same UEFI layout with the rest of ASUS' latest releases. That said, if you're coming from a recent ASUS board, then this interface should feel right at home.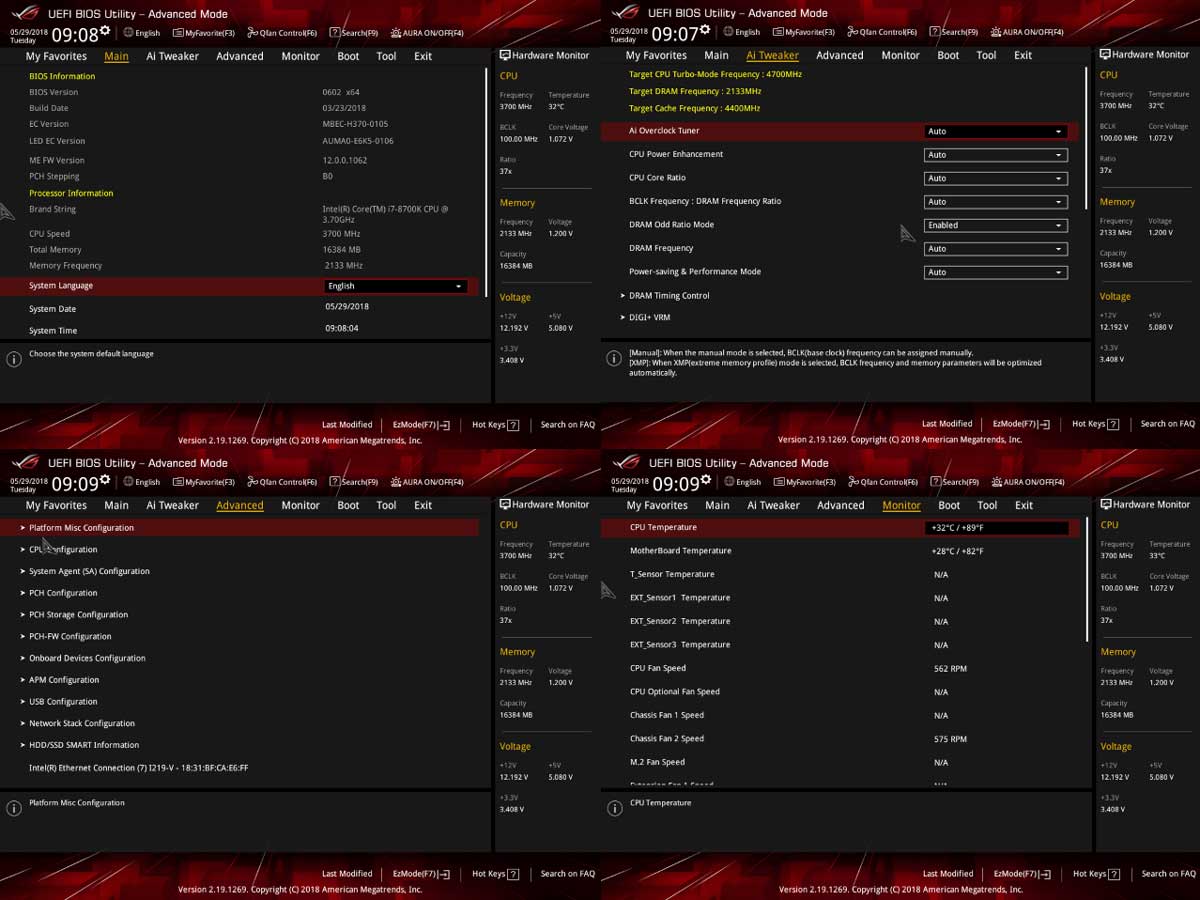 There are 8 main menus to choose from, with the Advanced mode offering the best settings to tweak your setup. Since this is a B360 motherboard, CPU overclocking is disabled. ASUS had nothing to do with this of course and the company still offered memory overclocking.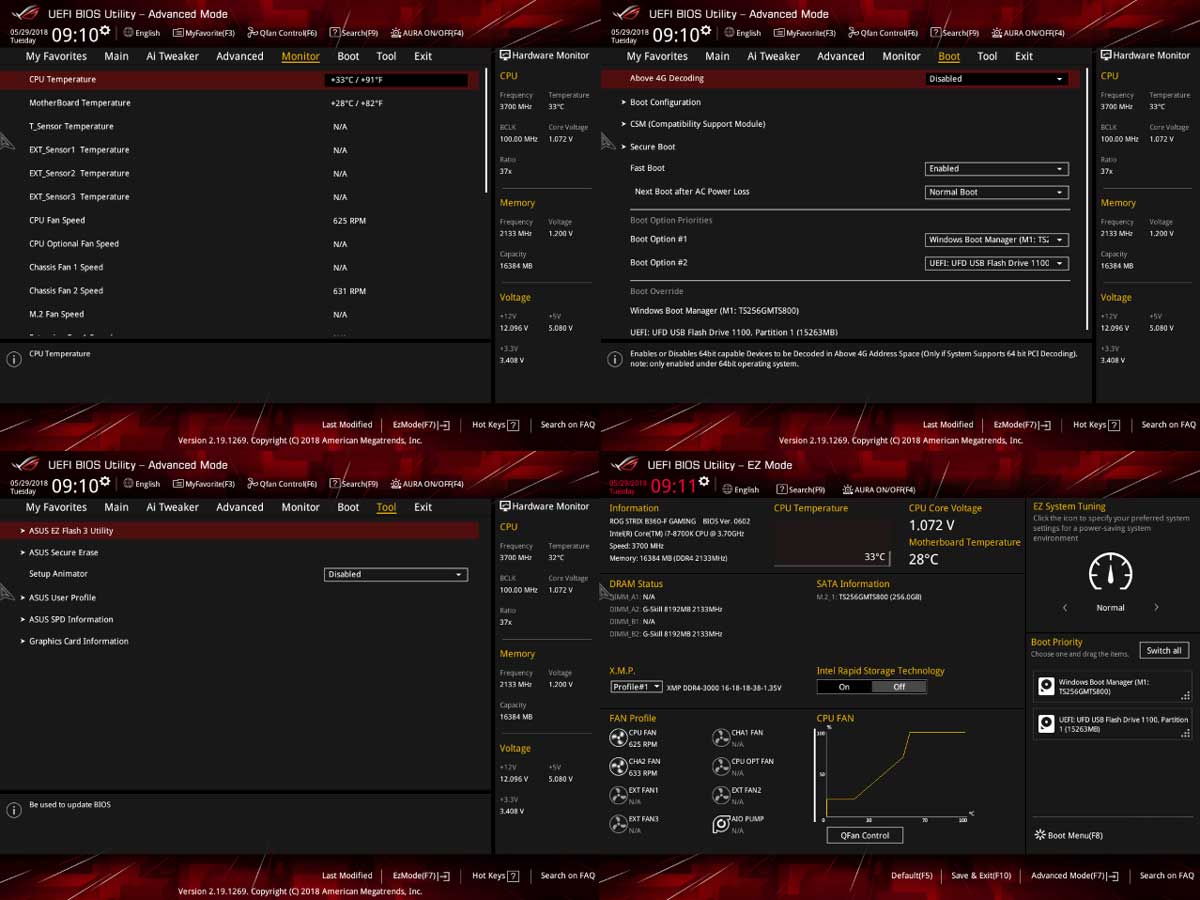 The EZ system tuning is where you'll probably look at most of the time and it is not bad at all. ASUS provided a plethora of features here so it is a fitting interface for a rather limited board, overclocking wise.
SOFTWARE:
ASUS had the ROG Strix B36-F Gaming bundled with tons of applications that should help you optimize your system's performance. That includes the following software tools:
ROG RAMCache II
ROG CPU-Z
Overwolf
GameFirst IV
Sonic Radar III
Sonic Studio III
Sonic Studio Link
TEST SETUP AND METHODOLOGY:
The system performance shall be evaluated by various benchmarking tools and applications. We are testing this system with the high-performance settings enabled at the OS, with the default UEFI configuration. Background processes such as anti-viruses and third-party applications are disabled as well. Outlined below are the applications and benchmark tools for reference:
TEST SYSTEM SPECIFICATIONS
PROCESSOR
Intel Core i5-8600K
MOTHERBOARD
ASUS ROG Strix B360-F Gaming
CPU COOLER
Cryorig C1 Top Flow
MEMORY KIT
Crucial Ballistix Tactical DDR4 @ 2666MHz 2x4GB
GRAPHICS CARD
ASUS GTX 1060 STRIX OC 6GB
INTERNAL STORAGE 
Crucial BX200 480GB
POWER SUPPLY
CORSAIR RM850X 850W
DISPLAY
DELL U2715H
OPERATING SYSTEM
Microsoft Windows 10 Pro
CPU AND MEMORY PERFORMANCE:
Super PI – 32M Calculations
wPrime – 32M and 1024M Calculations
AIDA64 Extreme Edition – Memory Benchmark
PRODUCTIVITY PERFORMANCE:
GIMP – 7 MB worth of image processing
HandBrake – 150 MB MP4 to H.264 video encoding
WinRAR – Internal benchmark tool
MISCELLANEOUS:
AS SSD – Storage performance
RightMark Audio Analyzer – Audio performance
AIDA64 Extreme Edition – Power consumption
NetIO-GUI – Network Performance
POWER CONSUMPTION:
The AIDA64 System Stability Test uses a 64-bit multi-threaded stress testing module to drive the system to its limits. Power readings are recorded with a watt-meter.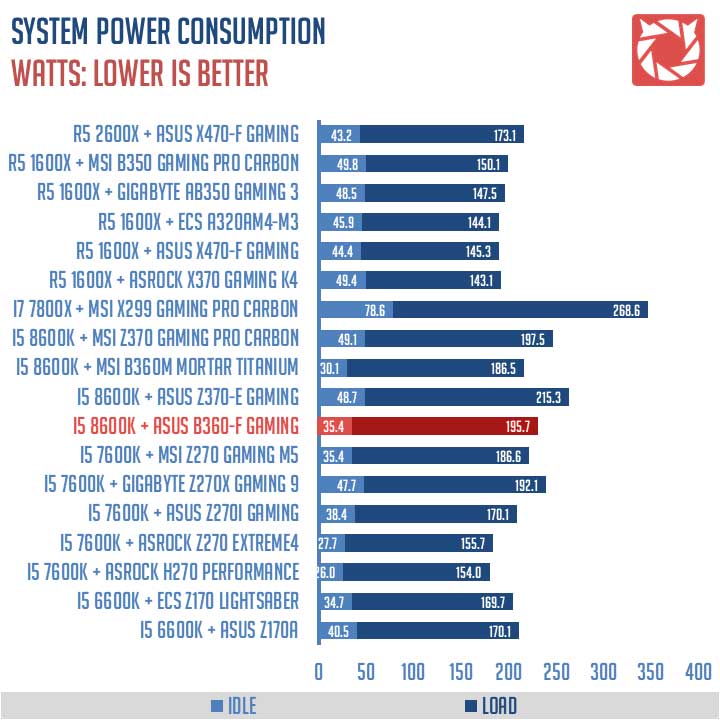 The ASUS ROG Strix B360-F Gaming is an energy efficient motherboard. Able to feature a 35.4W and 195.7W power consumption at typical idle and load scenarios.
CPU AND MEMORY PERFORMANCE:
Super PI is a single-threaded program that calculates pi to a specified number of digits after the decimal point. It is a widely used benchmark within the industry.
WPrime is a multi-threaded program that calculates a set number of square roots. It verifies the results by squaring them, then compares it with the original numbers.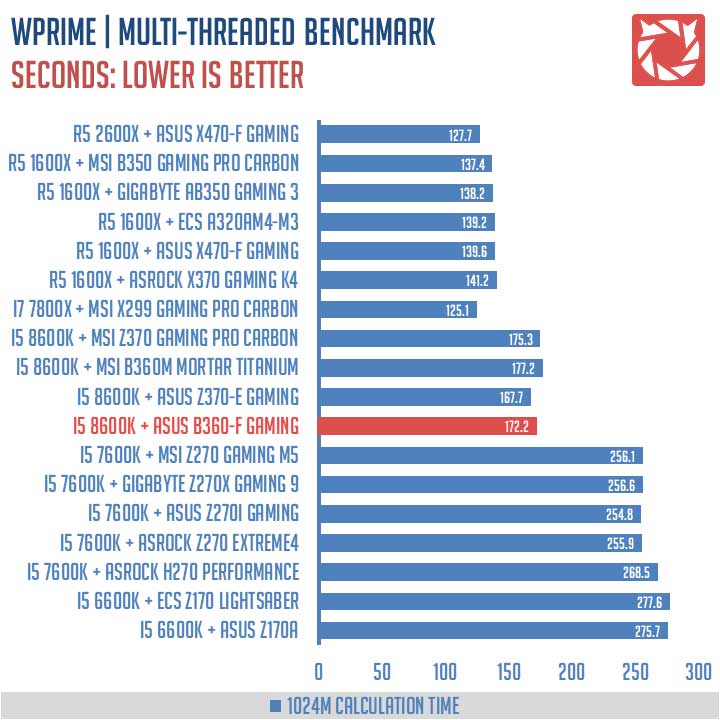 The AIDA64 Memory Benchmark measure the data transfer bandwidth and latency of the system memory. We are measuring the latency on this benchmark.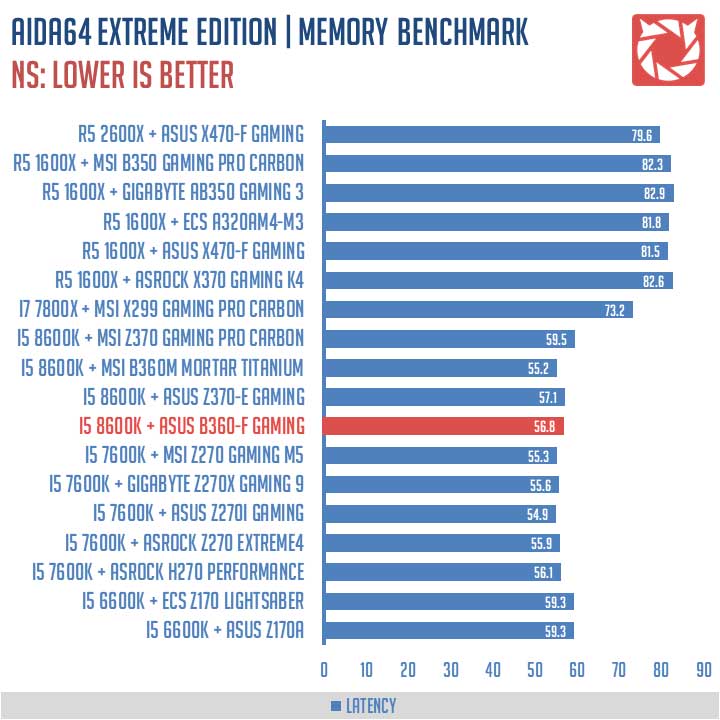 The ASUS ROG Strix B360-F Gaming scored 452.2 seconds at SuperPI, 172.2 seconds at wPrime and has 56.8ns of latency at AIDA64.
PRODUCTIVITY PERFORMANCE:
GIMP or GNU Image Manipulation Program, is a free and open-source image editing tool. A 7 MB worth of images is be processed and converted to gauge the system performance.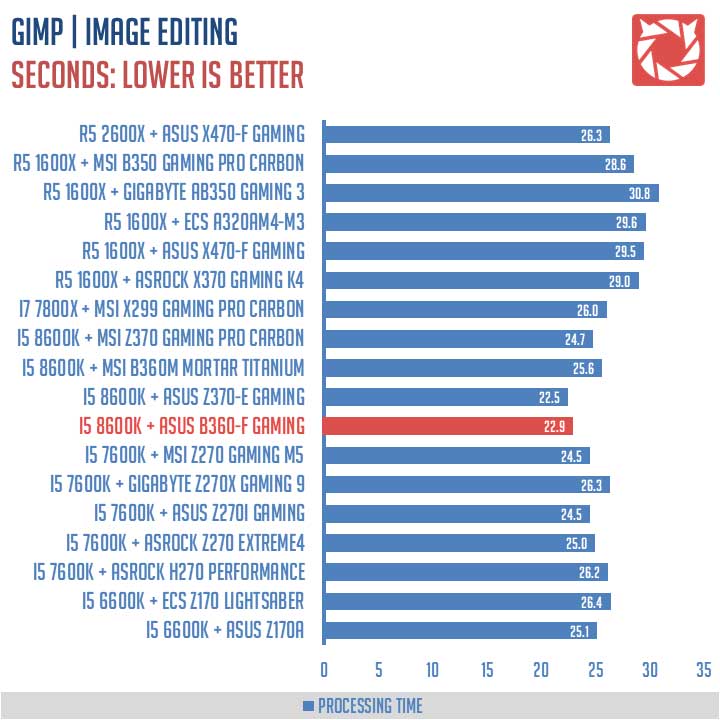 HandBrake is a free video encoding tool that supports a wide variety of media codecs. A 150MB worth MP4 video is converted using the H.264 codec to gauge the system performance.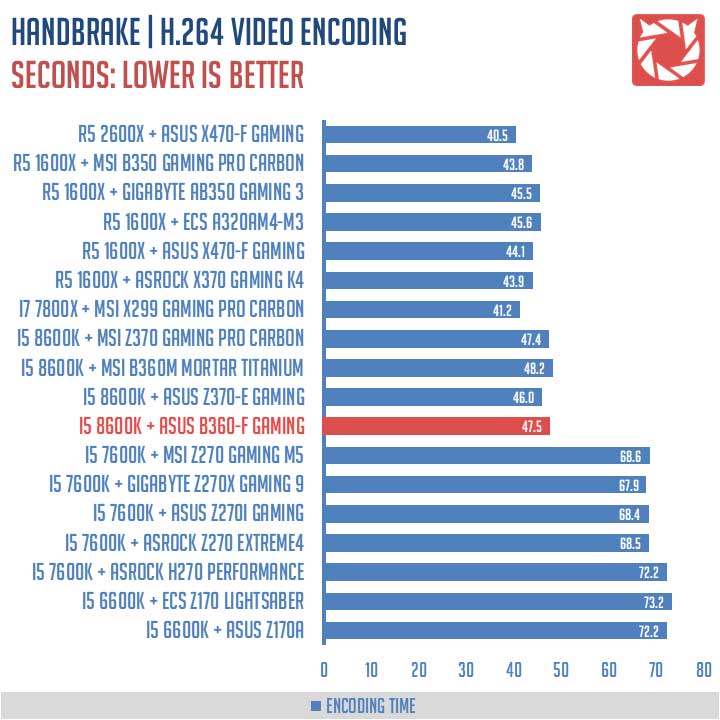 WinRAR is a file archive utility that can create, view and unpack numerous archive file formats. The software's built in benchmark tool is utilized to gauge the system performance.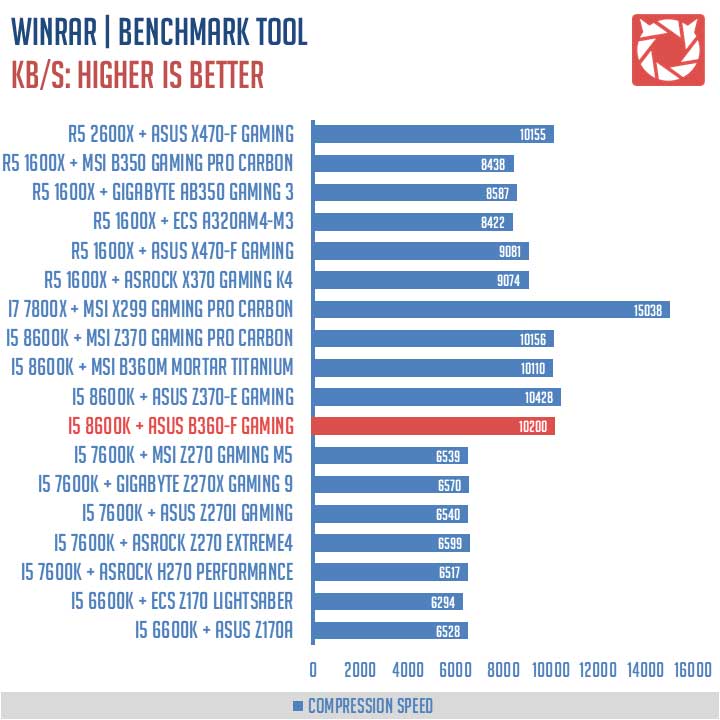 The ASUS ROG Strix B360-F Gaming scored 22.9 seconds at GIMP, 47.5 seconds at HandBrake and featured a 10200 KB/s at WinRAR.
STORAGE PERFORMANCE:
AS SSD is a storage benchmarking software widely used throughout the industry. On this test, we are using its scoring system to evaluate our Crucial BX200 SSD's performance using the system's native SATA controller.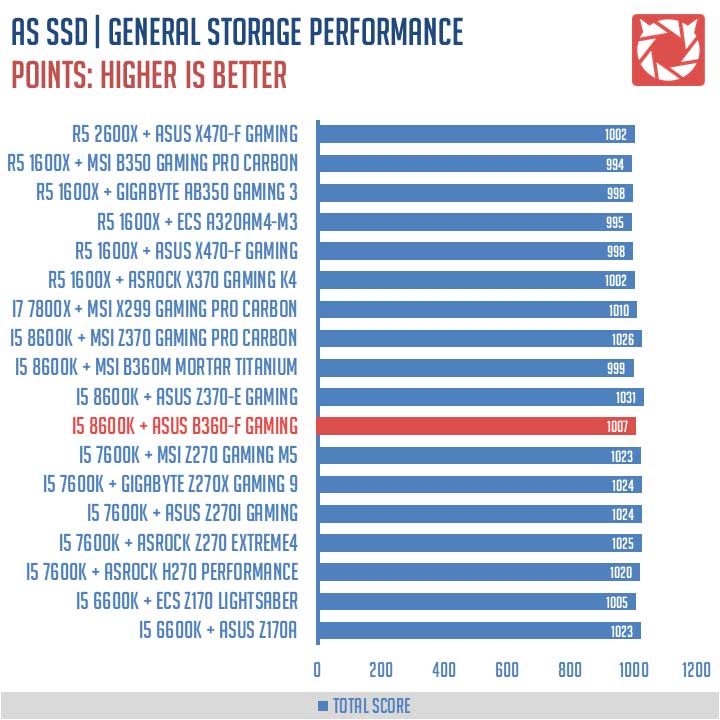 The ASUS ROG Strix B360-F Gaming scored 1007 points at the AS SSD general storage benchmark.
AUDIO PERFORMANCE:
The RightMark Audio Analyzer (RMAA) is a tool designed to test the quality of audio devices. We used a sampling rate of 24-bit at 48000Hz for the loopback test. We are essentially testing the quality of the line-in and line-out of the audio solution.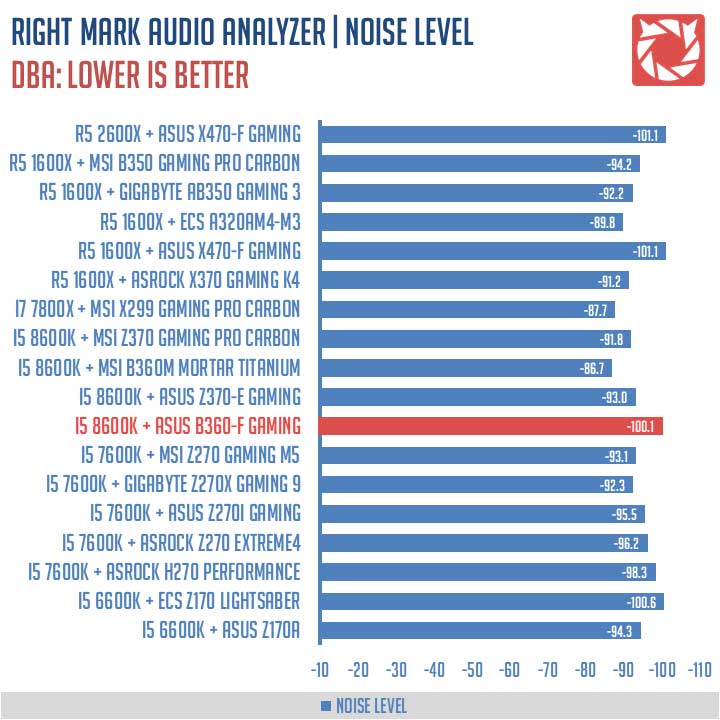 The ASUS ROG Strix B360-F Gaming scored -100.1 dBA of noise level at RMAA.
NETWORK PERFORMANCE:
The NetIO-GUI is a good application to test any network's performance. The LAN round trip time is our concern here, checking out latency anomalies if there are any. The client and server are connected on the network via Cat5 cables using a 100Mbps router.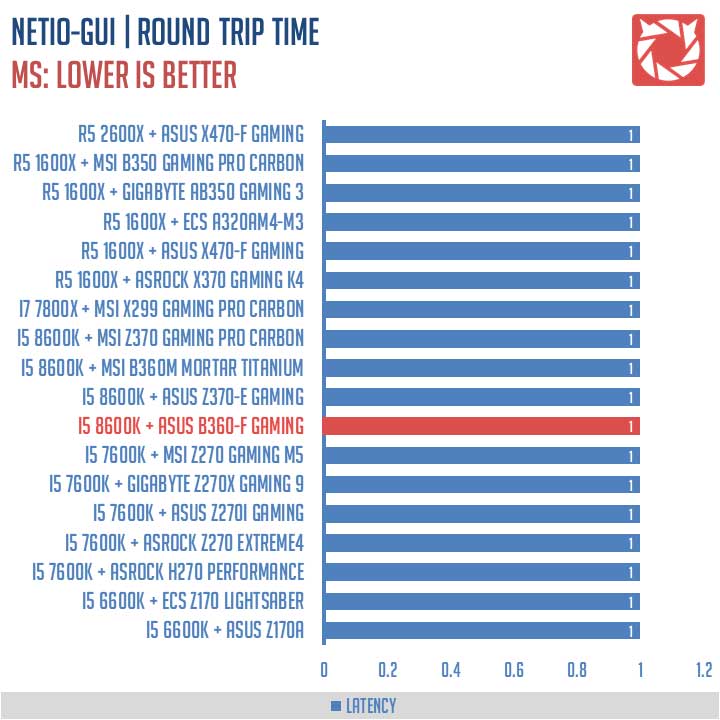 The ASUS ROG Strix B360-F Gaming featured a network performance at 1ms of latency on any packet sizes tested.
WRAPPING IT UP:
Choosing a B360 chipset over a Z370 chipset for your build is a no-brainer. It is for gamers who do not intend to overclock their CPUs and could live with the lower PCI-E lanes. The B360 also appears to be a better platform over the H370 if we are talking about maximum savings while keeping the minimum requirements for today's gamers at check.
With those things said, ASUS made good use of the B360 chipset's budget oriented approach with the ROG Stirx B360-F Gaming. They dressed it up for the occasion and slapped their own ideal features into it. Basically anything they deemed suitable to call it a gaming motherboard – with a price to match at 9360 Pesos. That's about 175 USD at the current exchange rate and is among the highest rated B360 chipset motherboard to date.
GENERAL PERFORMANCE
AUDIO SOLUTION
CONNECTIVITY OPTIONS
AESTHETICS
FEATURE SET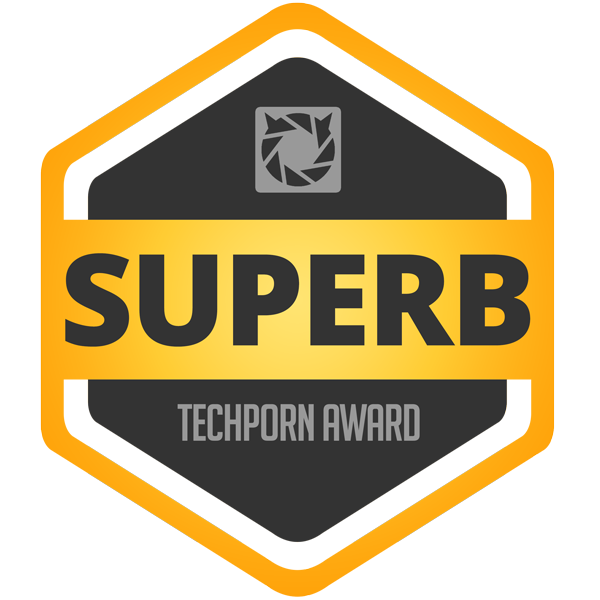 ASUS ROG Strix B360-F Gaming
PERFORMANCE -

8/10

BUILD QUALITY -

8/10

FEATURES -

8/10

AESTHETICS -

9/10

VALUE -

7/10
Summary
The ASUS ROG Strix B360-F Gaming is a motherboard dressed properly for the occasion. With gaming features in mind, it excels at what it does – and that's to provide a meaning gaming experience, without breaking the bank.