The ASUS ROG Strix X470-I Gaming is a straight up ITX offering of the AMD X470 chipset. That said, this motherboard got the best AMD had to offer with a clear trade off for its diminutive stature. Those are obviously the lack of extra expansion slots, less DIMM slots and a really jam packed design.

Being an ITX motherboard, those are expected. What we don't expect though are the value added features that ASUS decided to slap onto it. That includes a MU-MIMO network solution, loads of cooling options and a daughter board that features a souped up audio solution in combination with an M.2 slot and a passive RGB cooler. Priced at around $200 USD or just above 10000 Pesos, the X470-I Gaming seems to be a good choice – or is it?
TECHNICAL SPECIFICATIONS:
Processor
CPU
AMD Ryzen 1st Gen, Ryzen 2nd Gen, 7th Gen A-series, 7th Gen Athlon
Chipset
AMD X470 Chipset
Memory
SDRAM
DDR4
Slot
2x DIMM
Channel
Dual Channel
Frequency
3600MHz
Capacity
32GB
Graphics
GPU
Radeon Vega, 7th Gen A-Series APU
Output
HDMI 2.0
Expansion
PCI Express
1x PCIe 3.0 x16
Storage
SATA
4x SATA
M.2
2x M.2, SATA + PCIe 3.0 x4
Network
Wired
Intel I211-AT, Gigabit Ethernet
Wireless
Wi-Fi 802.11 a/b/g/n/ac, Bluetooth v4.2
Audio
Codec
ROG SupremeFX, Realtek S1220A
USB
USB 2.0
2x USB 2.0
USB 3.0
6x USB 3.0
USB 3.1
2x USB 3.1
PACKAGING AND ACCESSORIES:
Before we proceed with the review, I got the ASUS ROG Strix X470-I Gaming as a replacement for my daily driver. That said, I can't provide actual pictures of the product for this review.
Now as for the packaging and accessories, ASUS managed to cram a lot of stuff inside a small yet conspicuous package. There's a boat load of cables, paper works and even stickers. I'm just surprised that ASUS went with a standard yet padded back plate over an integrated one.
DESIGN, LAYOUT AND CONNECTIVITY:
The ASUS ROG Strix X470-I Gaming is a jam packed ITX motherboard with a styling that should be enough to attract gamers and the seasoned system builders as well.
Layout is modern, organized and well thought of even. The VRM heatsink for example, while huge, is not detrimental to most cooling solutions. I even had the Noctua NH-L12S fitted on this one perfectly. RAM clearance is excellent too yet the CMOS battery placement could be better. To add, it is secured by a double sided tape so the thing is not that easy to replace.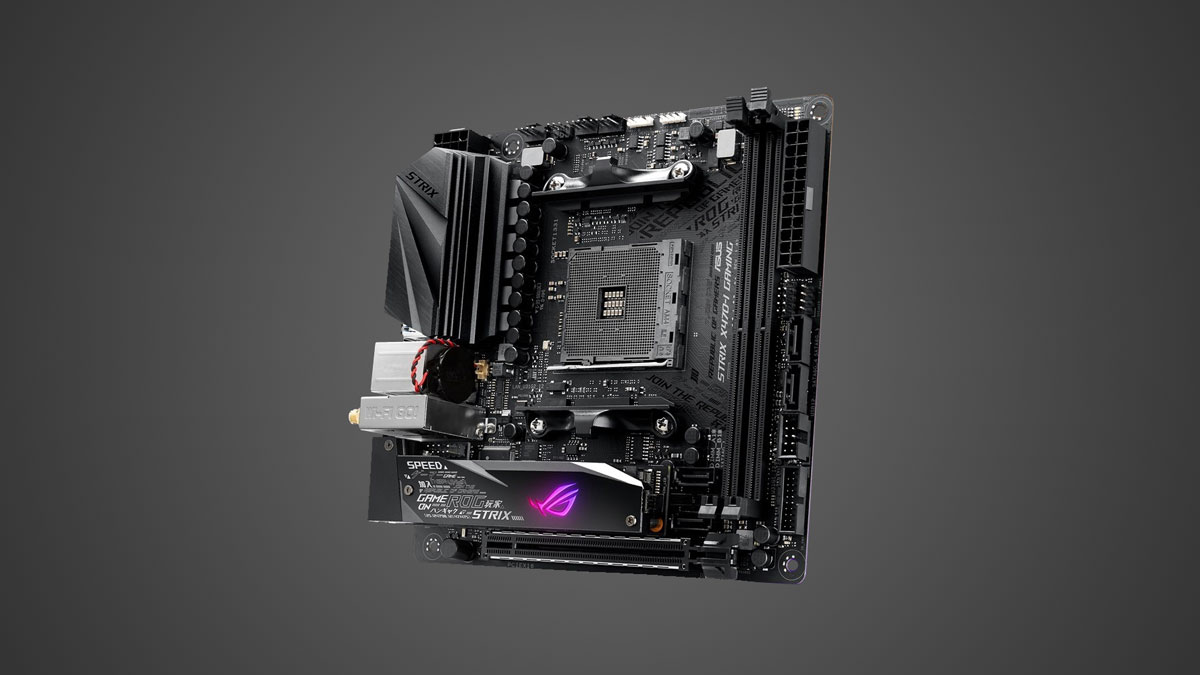 There are plenty of internal headers within the X470-I Gaming, yet the star of the show here is the daughterboard. It is technically an audio solution, an M.2 slot, a PCH slash M.2 heatsink and a LED lit RGB enhanced smorgasbord. It is an excellent all in one solution, allowing ASUS to cram as much components in one package.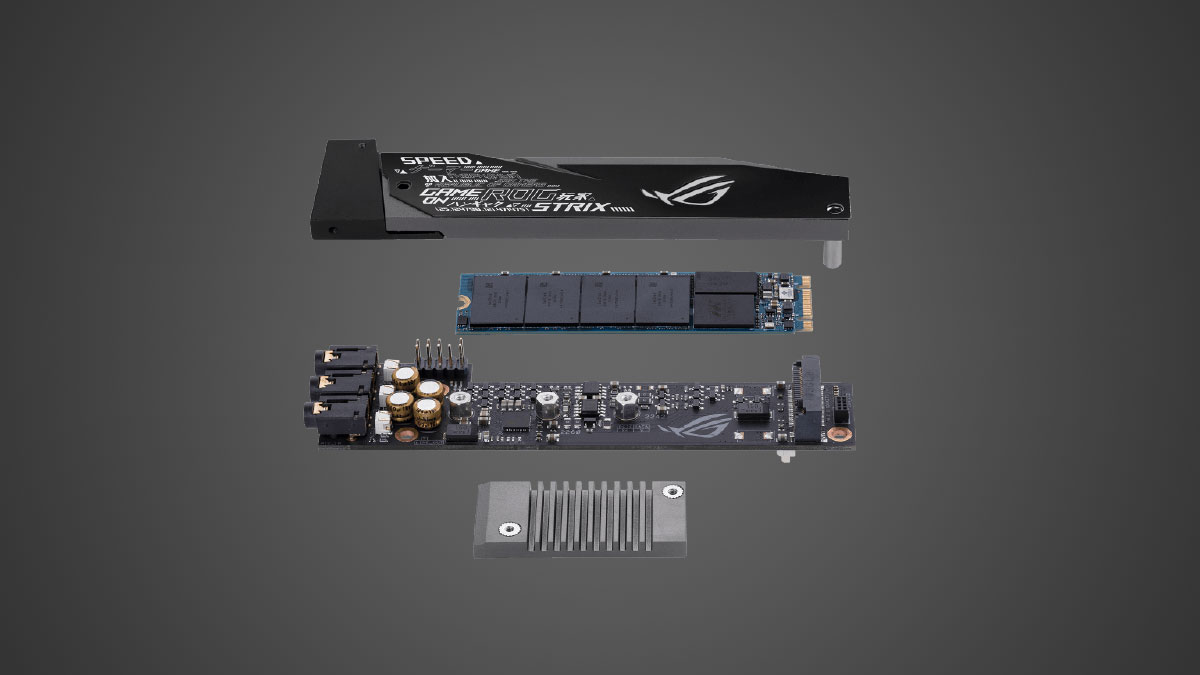 Back panel options are where ASUS kinda skimped on with this board. The only display option we've got is an HDMI 2.0 port while the rest are comprised of 4x USB 3.0 ports, 2x USB 3.1 ports, a LAN port and the three LED lit audio ports. No USB Type-C ports here and digital audio though.
Overall, the ASUS X470-I Gaming appears to be a solid ITX motherboard with an X470 chipset. Back panel ports could be better though. That's something I want ASUS to work on for the next iteration if there will be any, anytime soon .
FIRMWARE INTERFACE:
The ASUS ROG Strix X470-I Gaming motherboard shares the same UEFI layout with the recently released AMD based ASUS motherboards. There's the EZ Mode for the novice to crank stuff up, while the Advanced Mode will get the seasoned tuner excited with loads of options to play with.
There are still 8 main menus to choose from with the Ai Tweaker acting as the most important menu out of the bunch – if you are overclocking. It is worthy to note though that the BCLK frequency is locked at 100.

With a number of sensors on board, the Monitor menu allows us to check with accuracy the voltages, temperature and RPM of our devices. The Boot menu on the other hand is full of handy options for your storage devices.
The Tool and Exit menus are self explanatory.

The UEFI of the  Strix X470-I Gaming is hiccup free and works really well with our devices – with a few exceptions. Using the Logitech MK235 keyboard and mouse combo introduces lag, while the Qfan Control doesn't reset even if we clear the CMOS.
TEST SETUP AND METHODOLOGY:
The system performance shall be evaluated by various benchmarking tools and applications. We are testing this system with the high-performance settings enabled at the OS, with the default UEFI configuration. Background processes such as anti-viruses and third-party applications are disabled as well. Outlined below are the applications and benchmark tools for reference:
TEST SYSTEM SPECIFICATIONS
PROCESSOR
AMD Ryzen 2600X
MOTHERBOARD
ASUS ROG Strix X470-I Gaming
COOLER
Noctua NH-L12S
MEMORY
Crucial Ballistix Tactical DDR4 @ 2666MHz 2x4GB
GRAPHICS
ASUS GTX 1060 STRIX OC 6GB
STORAGE 
Crucial BX200 480GB
POWER
Corsair SF450 450W
DISPLAY
ASUS MG278Q
OS
Microsoft Windows 10 Pro
POWER CONSUMPTION:
AIDA64 Extreme Edition – Stability Test
CPU AND MEMORY PERFORMANCE:
Super PI – 32M Calculation
wPrime – 1024M Calculation
AIDA64 Extreme Edition – Memory Benchmark
PRODUCTIVITY PERFORMANCE:
GIMP – 7 MB worth of image processing
HandBrake – 150 MB MP4 to H.264 video encoding
WinRAR – Compression speed
MISCELLANEOUS:
AS SSD – Storage performance
RightMark Audio Analyzer – Audio performance
NetIO-GUI – Network Performance
POWER CONSUMPTION:
The AIDA64 System Stability Test uses a 64-bit multi-threaded stress testing module to drive the system to its limits. Power readings are recorded with a watt-meter.
The ASUS ROG Strix X470-I Gaming is an energy efficient motherboard with a 39.8W idle and 160.2W load power consumption. These results are expected for the motherboard's size and components.
CPU AND MEMORY PERFORMANCE:
Super PI is a single-threaded program that calculates pi to a specified number of digits after the decimal point. It is a widely used benchmark within the industry.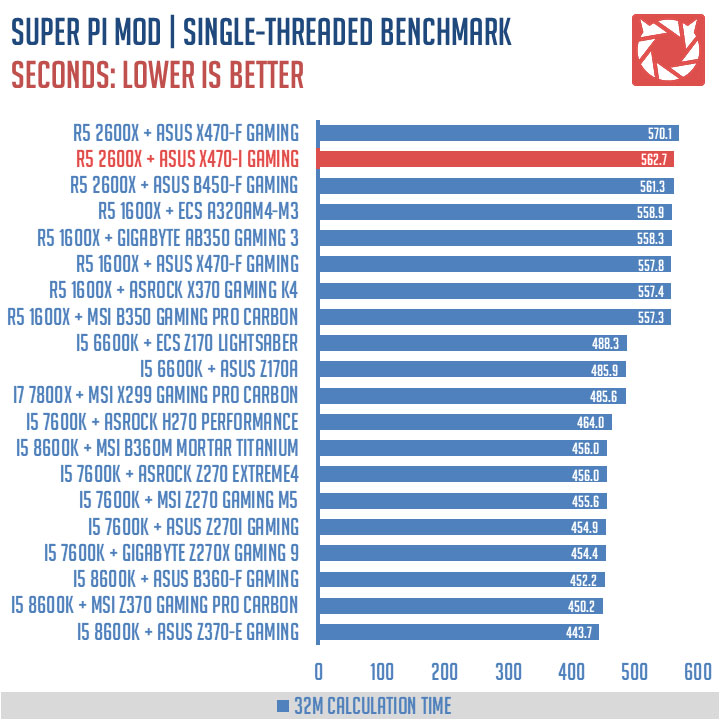 WPrime is a multi-threaded program that calculates a set number of square roots. It verifies the results by squaring them, then compares it with the original numbers.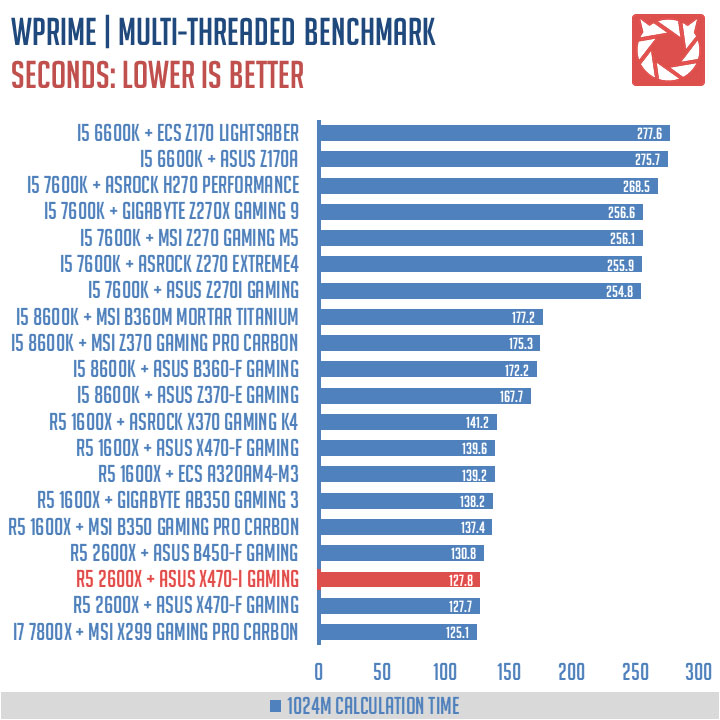 The AIDA64 Memory Benchmark measure the data transfer bandwidth and latency of the system memory. We are measuring the latency on this benchmark.
The ASUS ROG Strix X470-I Gaming scored pretty well, even beating the other AMD chipsets on the AIDA64 memory latency test.
PRODUCTIVITY PERFORMANCE:
GIMP or GNU Image Manipulation Program, is a free and open-source image editing tool. A 7 MB worth of images is be processed and converted to gauge the system performance.
HandBrake is a free video encoding tool that supports a wide variety of media codecs. A 150MB worth MP4 video is converted using the H.264 codec to gauge the system performance.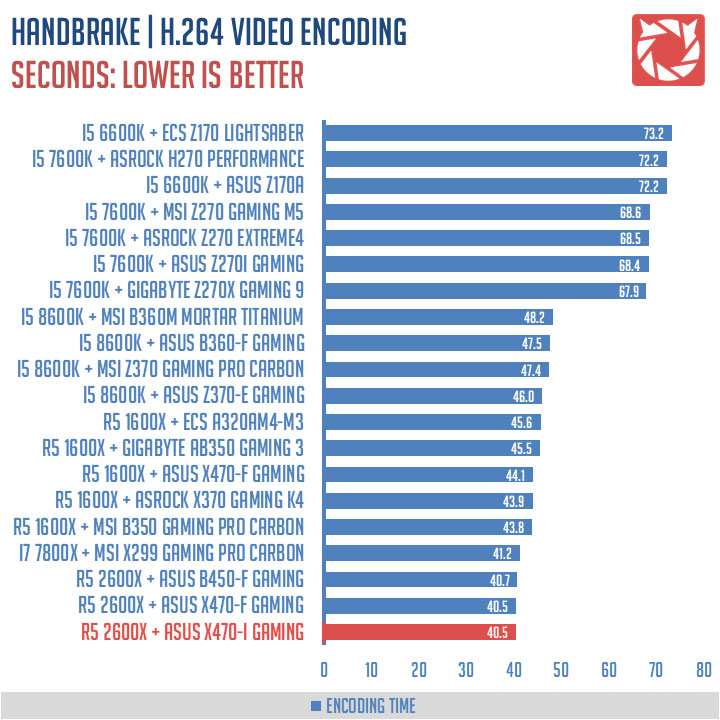 WinRAR is a file archive utility that can create, view and unpack numerous archive file formats. The software's built in benchmark tool is utilized to gauge the system performance.
Real world performance is superb, as expected from the top-end mainstream chipset and our Ryzen 5 2600X CPU.
STORAGE PERFORMANCE:
AS SSD is a storage benchmarking software widely used throughout the industry. On this test, we are using its scoring system to evaluate our Crucial BX200 SSD's performance using the system's native SATA controller.
The result for the SATA performance is a-ok. Nothing concerning nor extravagant to see here.
AUDIO PERFORMANCE:
The RightMark Audio Analyzer (RMAA) is a tool designed to test the quality of audio devices. We used a sampling rate of 24-bit at 48000Hz for the loopback test. We are essentially testing the quality of the line-in and line-out of the audio solution.
The ASUS ROG Strix X470-I Gaming scored -97.2 dBA of noise level at RMAA. The Supreme FX on this board is easily one of the best iterations of the Realtek S1220A audio codec.
NETWORK PERFORMANCE:
The NetIO-GUI is a good application to test any network's performance. The LAN round trip time is our concern here, checking out latency anomalies if there are any. The client and server are connected on the network via Cat5 cables using a 100Mbps router.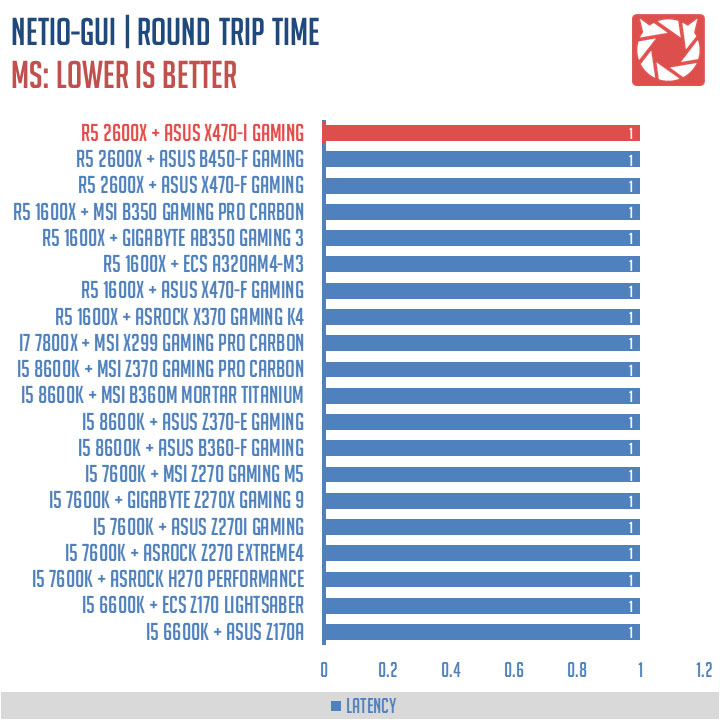 The Strix X470-I Gaming featured a wired network performance at 1ms of latency on any packet sizes tested.
SOFTWARE, LIGHTING AND SPECIAL FEATURES:
ASUS had the ROG Strix X470-I Gaming bundled with tons of applications that should help you optimize your system's performance. That should include the following software tools:
ROG RAMCache II
ROG CPU-Z
Overwolf
GameFirst IV
Lighting is unobtrusive and appealing, especially the LED lit passive cooler from the daughterboard's M.2 slot. While ASUS AURA is nothing new, the X470-I Gaming now adds support for the Philips Hue ecosystem.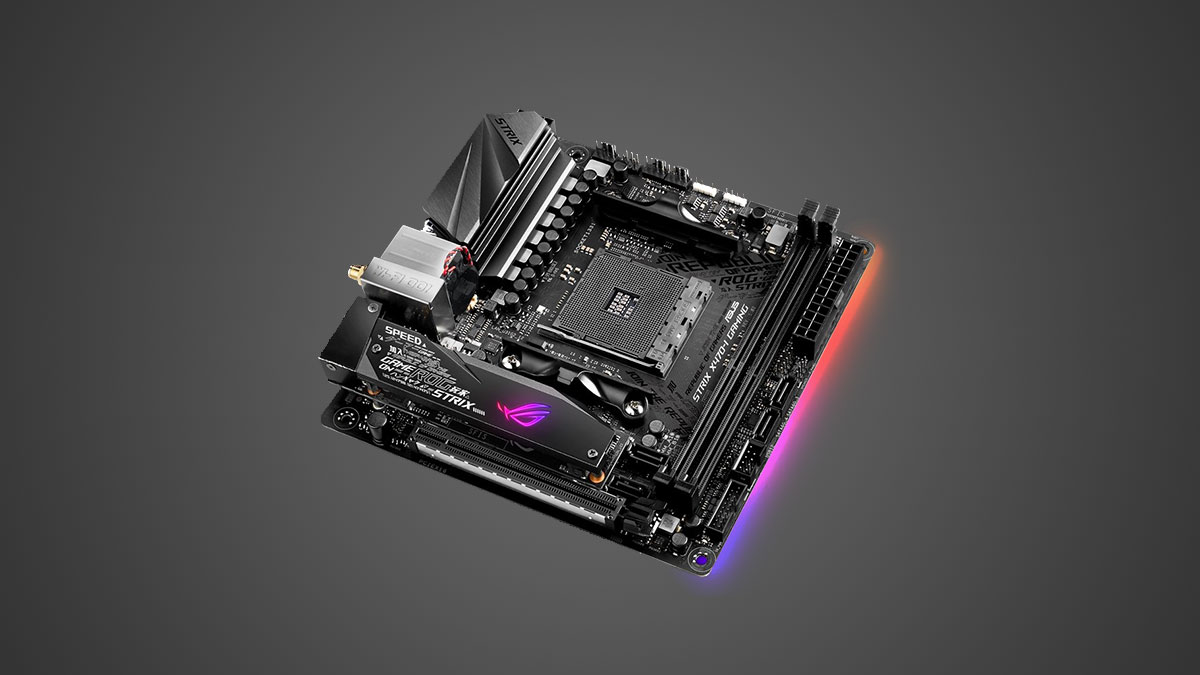 Now overclocking is something we really miss from our older motherboard reviews. That said, we tried overlocking the X470-I Gaming with our AMD Ryzen 7 2700X together with the G.Skill Flare X.
Overclocking our 3200MHz capable memory via D.O.C.P. is a breeze, while going with a higher frequency kit is not exactly that easy. For example, my 3600MHz Trident Z kit requires me to set every available timings manually to get it working and even had it loosen up just to keep it stable under stress testing. Granted, those sticks are not exactly made for AMD Ryzen systems but rather they are made for Intel's HEDT platform.
As for the Ryzen 7 2700X, I have yet to push that chip. I tried setting the multiplier to 42, had the CPU voltage up at 1.4v and that's about it. I don't really want to push this thing on an ITX system due to temperature constraints. Again, it is my personal setup.
Other features includes Dual Intelligent Processor 5, Fan Xpert4, Gamer's Guardian, TPU, EPU and others that could be found at the official product page. It is linked at the second paragraph of this review.
FINAL THOUGHTS:
ASUS ROG once again showed us that it is possible to cram ATX like features on an ITX motherboard. The X470-I Gaming is just jam packed with features along with a performance comparable to its larger siblings.
Build quality and layout wise, the X470-I Gaming is insane. We have a beefy VRM cooler and a PCH cooler to keep things cool, while the daughterboard is just a marvel to look at. I really appreciated ASUS' effort into building this one. That's… Minus the sad Back panel IO though. An array of extra USB Type-C or the addition of a DisplayPort are expected for the board's caliber.
The ASUS ROG Strix X470-I Gaming retails for about 12000 Pesos. An excellent board with performance and usability in mind.
EXCELLENT GENERAL PERFORMANCE
EXCELLENT AUDIO SOLUTION
VALUE ORIENTED FEATURES
LIGHTING THAT DOESN'T SUCK
GENIUS DAUGHTERBOARD SOLUTION
BUNDLE AND PRESENTATION

BACK PANEL IO OPTIONS
SOME MINOR UEFI ISSUES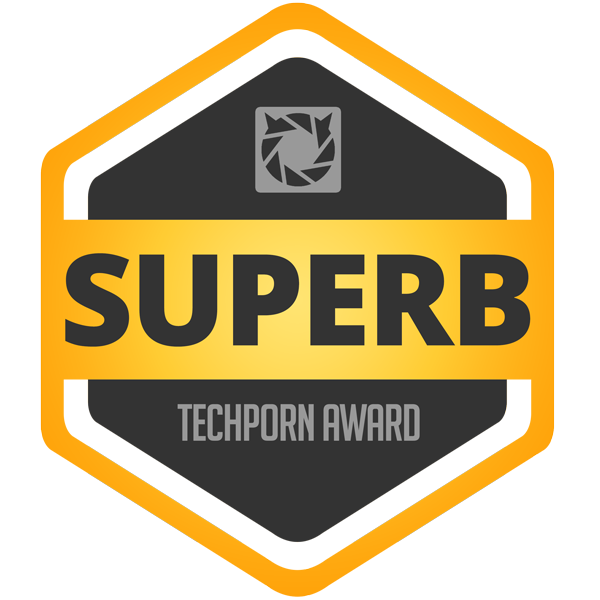 ASUS ROG Strix X470-I Gaming AM4 ITX Motherboard Review
PERFORMANCE -

9/10

BUILD QUALITY -

9/10

FEATURES -

8/10

AESTHETICS -

9/10

VALUE -

7/10
Summary
The ASUS ROG Strix X470-I Gaming retails for about 12000 Pesos. An excellent board with performance and usability in mind.